Despite being dated and a little corny by today's standards, The Wizard of Oz is one of those musicals that most theatre-goers have seen at least once in their lives and it is still a winner. Remembered mostly for the 1939 MGM film, reputedly the most watched film ever made, it famously starred a juvenile Judy Garland whose rendition of 'Over the Rainbow' captured the imagination of a generation. The story of Dorothy who, with her dog Toto, discovers the Land of Oz beyond the rainbow with its witches, a wizard, the munchkins and flying monkeys, enjoys a fairy tale, happy ever after ending that continues to attract audiences.
Following a critically-acclaimed inaugural production of Singin' in the Rain – In Concert in 2022, Prospero Arts has repeated that successful formula with a semi-staged costumed concert of The Wizard of Oz – In Concert. Based upon the original motion picture film in an adaptation by John Kane for the Royal Shakespeare Company, this version faithfully follows the traditional narrative and style of delivery.
A full-width, huge elevated screen was used to project the various settings and video elements of the story. Various levels and staircases, neatly sandwiching the orchestra, were well used by director and choreographer, Amy Campbell. Campbell created some first-rate choreographed sequences and kept the action moving at all times with interesting staging and effects.
However, some things that a film can achieve proved difficult to realise on stage. The revelation of the Wizard was tricky to emulate, and the actor's subsequent entry from the wings was feeble. Much of the business around Dorothy and her friends in the Wicked Witch of the West's castle was confusing, lacking clarity of purpose. Additionally, it was impossible to launch the hot-air balloon on stage, though we did see its reappearance on the big screen.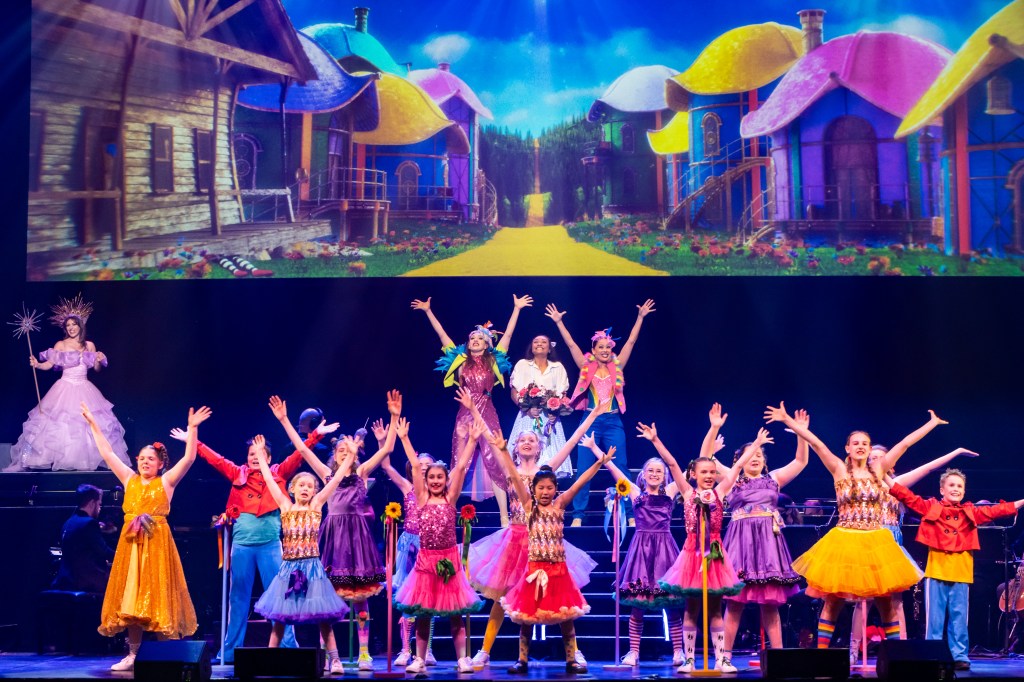 All credit must go to video designer, Craig Wilkinson, and his production company, optikal bloc, for some extraordinary and excellent moving effects within the magical settings projected on the screen. This included the Witch's legs disappearing from under the fallen house, the poppy field coming to life and subsequently being covered in snow, and the many introductions of colourful smoke effects. The pièce de résistance was the geometric visioning of the powerful Wizard. Such effects were assisted by an excellent soundscape from designer, Geoff McGahan, and greatly enhanced by the atmospheric and colourful lighting of Ben Hughes.
The traditional approach included language and text lifted directly from the film, with well-delivered US and specifically mid-West accents. This solidly grounded the work in the period and in its time and place. Costumes supervised by Cornelia Cassimatis were also realistic for the farming community, even down to Dorothy's chequered pinafore dress and bobby socks. Cassimatis had a field day with the Land of Oz costumes, from the colourful and delightfully eccentric Munchkins through to the prettily dressed Glinda, the black-hatted and clothed Witch of the West and the glittering green costumes of the Emerald City.
Elandrah Eramiha gave a finely nuanced performance as Dorothy and was suitably childlike in her actions and speech, singing well and making a good fist of 'Over the Rainbow', though it was rendered more as a modern pop song than as the poignant dream of a child. Clearly a relatively tall adult, she failed to convince physically as a young adolescent, however skilful her acting abilities. Additionally she had two real dogs playing Toto (Peggotty and McGinty), who alternated in each half of the opening night performance. Eramiha controlled them with great aplomb.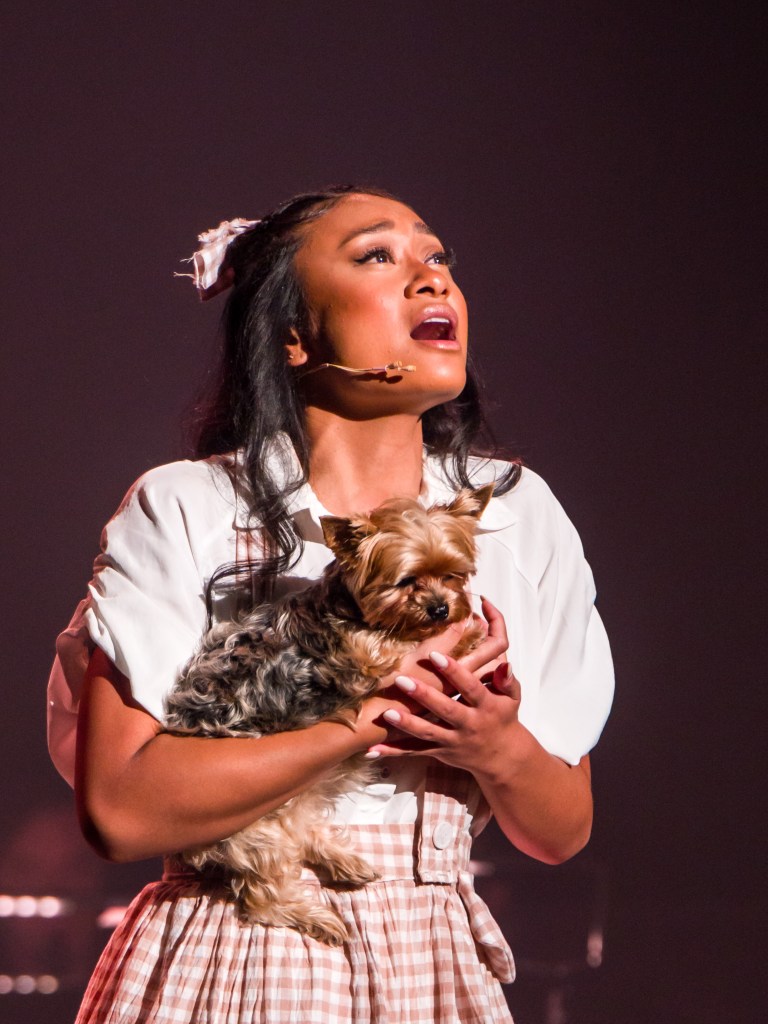 Dorothy's three companions – Euan Fistrovic Doidge as Scarecrow/Hunk, Mark Hill as Tin Man/Hickory and Monique Sallé as Cowardly Lion/Zeke – were all splendid in their respective roles. Fistrovic was a delightful Scarecrow, with some great lines about "hay" and "stuffing" as well as avoiding lighted matches. Hill's Tin Man was equally as impressive and, once he had been oiled, demonstrated some of the tap dancing that impressed when he played Cosmo Brown in last year's Singin' in the Rain concert. Sallé was a skilfully impressive and very funny Lion and her contemporary reference to The Lion King was well-appreciated by the audience. Her powerful vocals and ability to sell a song made 'If I Were King of the Forest' one of the highlights.
Angelique Cassimatis as the nasty bicycle-riding Miss Gulch and then the Wicked Witch was suitably unpleasant and evil, but not particularly frightening. Her range of high-pitched screams and cackles, so endemic to the film, were less effective here and it was often hard to distinguish her words.
The good Witch, Glinda, played by Loren Hunter was charming and sweet, whereas as Aunt Em she appeared far too young and pretty. Tim McCallum gave a well-rounded performance as Uncle Henry and the officious Ozian Guard. Michael Tuahine made the thankless role of the Wizard believable and was equally convincing as the charlatan Professor Marvel.
READ: Musical Review: Singin' in the Rain – in Concert
The six-person ensemble who danced and sang their way through much of the score were excellent, including playing two crows completely unfazed by the scarecrow, three talking apple trees, as well as a variety of winkies, monkeys and additional munchkins. The Voices of Birralee, consisting of 16 students aged between six and 18, played the Munchkins, singing with commitment.
The score was masterfully directed by the musical director Andrew Worboys with the 17-piece orchestra sourced by Camerata – Queensland's Chamber Orchestra. Played extremely well with some lovely period jazz orchestrations that helped make the score sparkle, the musical sonority added greatly to the production visuals to make this overall concert version a fun and entertaining evening.
The Wizard of Oz – in Concert, Concert Hall Queensland Performing Arts Centre
Presented by Prospero Arts and QPAC
Script: L Frank Baum
Music and Lyrics: Harold Arlen and E Y Harburg
Background music: Herbert Stothart
Dance and vocal arrangements: Peter Howard
Orchestration: Larry Wilcox
Director and Choreographer: Amy Campbell
Musical Director: Andrew Warboys
Lighting Designer: Ben Hughes
Sound Designer: Geoff McGahan
Costume Supervisor: Cornelia Cassimatis
Video Designer: Craig Wilkinson
Video Production: optikal bloc
Cast: Elandrah Eramiha, Euan Fistrovic Doidge, Mark Hill, Monique Sallé, Angelique Cassimatis, Loren Hunter, Michael Tuahine, Tim McCallum, Peggotty and McGinty
Ensemble: Max Bimbi, Antonia Marr, Maddison Price, Ethan Ritchie, Hannah Stanton, Suzanne Steele
Camerata – Queensland's Chamber Orchestra
Voices of Birralee
The Wizard of Oz – In Concert was performed from 30 June to 2 July 2023.