Wicked is a global theatrical juggernaut. Since opening on Broadway in 2003 this musical prequel to the The Wizard of Oz, telling the origin story of the Wicked Witch of the West and Glinda the Good, has embedded itself into the modern consciousness. Although not particularly critically acclaimed or award- winning upon its debut, the show has gained a fiercely fanatical fan base and over the past two decades has packed in audiences the world over.
It is currently the fifth longest running Broadway show in history. This new Australian production is the third time in 15 years Wicked has toured the country; it has now become a somewhat predictable fixture on our local stages akin to Chicago or Mamma Mia. A two-part film adaptation starring Cynthia Erivo and Ariana Grande will be released at the end of 2024 and this ravishing production is sure to capitalise on that anticipation.
On stage Wicked remains a feast for the eyes and the ears, and gives audiences just what it says on the box, a big blockbuster Broadway musical. The sets and costumes are exquisite – mashing together elements of steampunk, theatrical glitz and Hogwarts aesthetics – and the thrilling 'Defying Gravity' remains arguably the greatest musical theatre Act One closing number of all time. The political and social themes of the plot elevate the material and the careful pacing of the narrative is impressive. This latest production successfully reiterates why Wicked remains so popular and you walk out of the Lyric Theatre feeling delighted and dazzled.
When I saw the original Australian Wicked in Melbourne in 2008, I was impressed by the epic production values, tickled by the clever Wizard of Oz Easter eggs peppered throughout Winnie Holzman's book (adapted from Gregory Maguire's original novel) and enjoyed much of Stephen Schwartz's pop-driven score. However, I was less impressed by the depiction of the central relationship between Elphaba, the Wicked Witch, and Glinda.
I didn't fully buy into the conceit that these two would become best friends and the character development seemed hackneyed and a little too convenient for my tastes. Perhaps age has softened my scepticism, for this time when Sheridan Adams and Courtney Monsma, playing Elphaba and Glinda respectively, started singing the closing duet 'For Good' with such delicacy and warmth I found myself forgiving these shortcomings and finally embracing the central relationship.
Any successful production of Wicked relies heavily on the casting of the two lead characters. This empowering story of female friendship requires performers who can not only deliver the demanding vocals, but also bring complexity and heart to their roles. After stealing the show as Anna in Disney's stage version of Frozen last year, Monsma practically kidnaps and holds this production for ransom as Glinda. The early stages of this Wicked feel a tad undercooked and lacking in excitement, but once Monsma launches into 'Popular' the show finally kicks into high gear; this is hands down the best performance of this song I have seen in a very long time.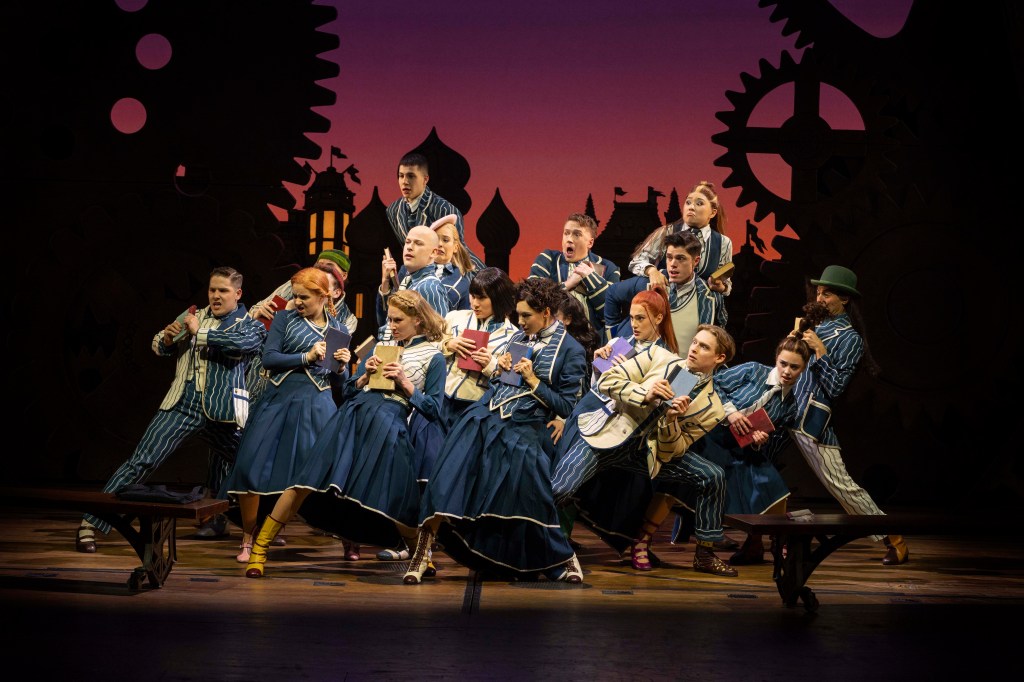 This prodigiously talented and charismatic young performer makes this role uniquely her own. Monsma is infectiously giddy, hilarious, touching and delightful and is in full command of her skills as a performer. This performance is sure to be buzzed about for years and it looks like our next musical theatre star has well and truly arrived.
In the complicated and courageous lead role of Elphaba we have a relative newcomer to the professional stage, Sheridan Adams. Make no mistake, this is one of the most demanding leading roles in theatrical history, and while Adams nails the steely determination and passion inherent in the character, she seemed to be holding back vocally on opening night. Adams has a strong voice, but she didn't really reveal its true power until her riveting rendition of 'No Good Deed' late in Act Two. I would have liked a few more vocal pyrotechnics and energy from her Elphaba, but I'm sure this element of Adams' performance will develop as the season progresses. It must also be said that she and Monsma have wonderful chemistry and the development of their friendship is very affective.
Legend of the Australian stage Robyn Nevin makes a welcome return to musical theatre as the villainous Madame Morrible, turning in a deliciously dry and campy performance. Todd McKenney brings energy and a twinkle-in-his-eye charm to the role of the Wizard and Adam Murphy elicits a powerful sense of pathos with his portrayal of the kindly Doctor Dillamond.
As Fiyero, the dashing young prince desired by both Glinda and Elphaba, Liam Head has the requisite good looks, although on opening night his vocal performance was a little unsteady in Act One. He definitely recovered after interval and his performance of 'As Long as You're Mine' with Adams was sensual and dynamic. The ensemble are great, although there seems to be a bit of vocal fatigue among some of the cast and a few awkward moments where you could see performers momentarily distracted by hitting their mark on stage.
Read: Exhibition review: Atmospheric Memory, Powerhouse Ultimo
Wicked has inspired a generation of performers and writers, the phenomenon that is Frozen wouldn't exist without it, and watching this new production it's not hard to see why. Having experienced two previous local incarnations, I was hoping for some more distinctive characterisations from some of the cast and it does take a while for the show to truly take flight. However, if you've never taken the trip to Oz before then this latest production will surely satisfy new audiences and inspire a whole new generation of fans.
Wicked
Lyric Theatre, Sydney
Music and Lyrics: Stephen Schwartz
Book: Winnie Holzman
Original Novel: Gregory Maguire
Director: Joe Mantello
Musical staging: Wayne Cilento
Set Design: Eugene Lee
Lighting Design: Kenneth Posner
Costume Design: Susan Hilferty
Sound Design: Tony Meola
Projection Design: Elaine J Mccarthy
Hair and Wig Design: Tom Watson
Makeup Design: Joe Dulude II
Music Supervisor and Arranger: Stephen Oremus
Orchestrations: William David Brohn
Music Arrangements: Alex Lacamoire
Dance Arranger: James Lynn Abbott
Associate Set Design: Edward Pierce
Associate Director: Lisa Leguillou
Special Effects: Chic Silber
Cast: Courtney Monsma, Sheridan Adams, Robyn Nevin, Todd McKenney, Liam Head, Adam Murphy, Shewit Belay, Kurtis Papadinis, Zoe Coppinger, Christian Ambesi, Conor Bann-Murray, Brittany Carter, Olivia Castagna, Eli Cooper, Matt Cranleigh, Joseph Donovan, Sage Douglas, Bayley John Edmends, Todd Jacobsson, Rohan Khanna, Andrew Kroenert, Elisha Zion Lee, Jordan Malone, Emily Monsma, Matilda Moran, Jackson Reedman, Amelia Sanzo, Edward Smith, Ksenia Teliatnikova, Lucas Van Rhijn, Jessica Vellucci, Mietta White, Jun Woodfield