Atmospheric Memory, billed as a 'multisensory experience at the intersection of art and science', has a lot to say on many topics. Presenting the work of Mexican-Canadian artist Rafael Lozano-Hemmer, the exhibition is inspired by Charles Babbage, a 19th century academic who theorised that the air is a 'vast library' storing every word ever spoken. Touching on notions of surveillance, climate change, technology and more, the messages Atmospheric Memory hopes to deliver are sometimes overawed by the marvel of its pieces, but this does not detract from the overall experience.
Atmospheric Memory comprises interactive installations, museum-like displays and audiovisual presentations, all of which invite reflection on the idea of air capturing our actions. Incorporating both Lozano-Hemmer's works and 50 objects from the Powerhouse Museum's collection, the exhibition begins with a monochrome video of Darug Country parkland. Visitors are then able to view the first modern calculator, text from Babbage's Ninth Bridgewater Treatise (a book exploring the clash between science and religion) and ask a question of an artificial intelligence (AI) system. 
More tech-focused exhibits follow before reaching a series of Lozano-Hemmer's key installations. Inside a long black room, light and sound transport viewers through a rainforest landscape. Further down the exhibition space is a large chamber with an interactive fountain, a voice-controlled light beacon and 360-degree audiovisual projections. This projection cycles through material like Babbage's Bridgewater Treatise and surveillance footage of the viewer, captured by the earlier AI system, CCTV cameras installed in the chamber and heat maps.
Through these elements, Atmospheric Memory addresses many concepts. Chief among those is an overwhelming sense of observation. In a successful move by Lozano-Hemmer, there is never a time when the viewer feels truly alone, away from the sight of a camera or motion tracker. Even where this observation is not explicitly imposed, the feeling of being watched is palpable. Yet, Lozano-Hemmer cleverly avoids creating fear or suspicion. In collaboration with curator José Luis de Vicente, the immersive nature of this exhibition invites visitors to interact and engage with the installations, rather than be passively observed. This decision was deliberate; on a tour of the exhibition (24 August), Lozano-Hemmer said he hoped that the exhibition's more 'Instagrammable' features would lead to thoughtful engagement with his work.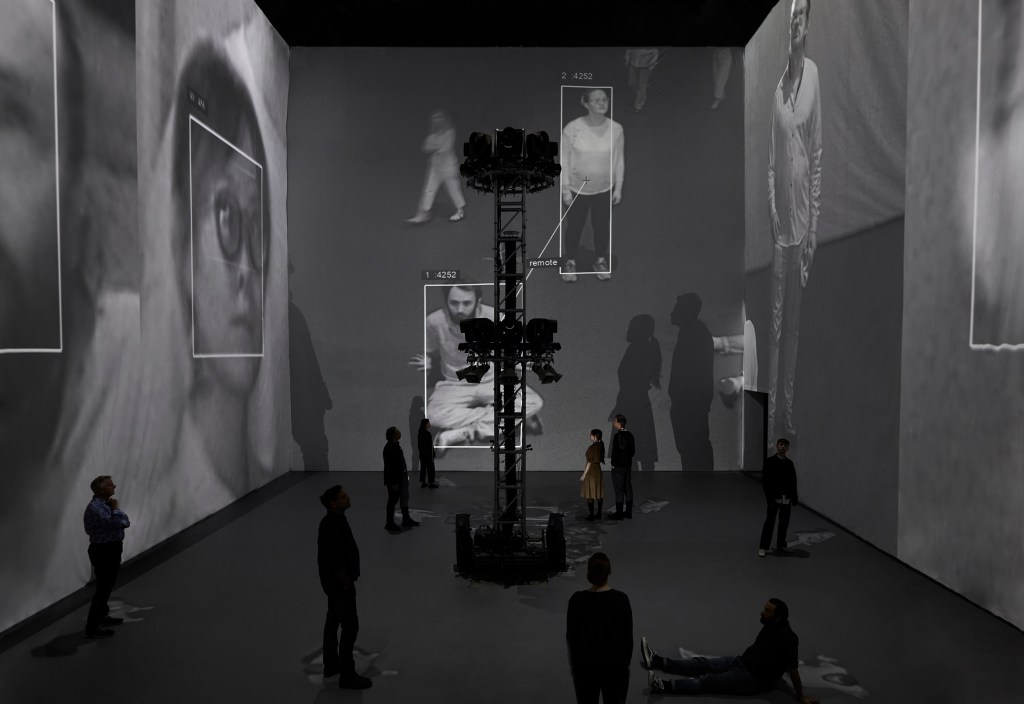 Yet, there are moments where this intention loses its power. Atmospheric Memory packs so much science, technology and critical exploration into its works that it occasionally becomes overwhelming. As a result, viewers are left with the option to either engage with the exhibition in its entirety – and recognise the immense conceptual framework underlying it – or simply take it all at face value. Though this would usually create issues for an exhibition, both options fortunately lead to the same outcome here: the viewer will enjoy what they see and what they get out of it. The extent of their experience, and direction they wish to take, is entirely up to them.
Read: Exhibition review: Zoe Leonard: Al río/To the River, MCA
Ultimately, Atmospheric Memory achieves what it sets out to. Though proud of its complexity, its features are accessible enough for all audiences to take something from it – viewing the exhibition is well worth the time and effort.
Atmospheric Memory is on view at the Powerhouse Museum from 11 August until 5 November; tickets start from $15.
Atmospheric Memory is commissioned and produced by Manchester International Festival, and premiered at the Festival in 2019. A new version of the exhibition is produced for Powerhouse.
This review is published under the Amplify Collective, an initiative supported by The Walkley Foundation and made possible through funding from the Meta Australian News Fund.