The National Gallery of Victoria is presently showing one of the European Masters, Pierre Bonnard, but as dusk falls, if you wander a little beyond the museum space, the Royal Botanic Gardens itself becomes an impressionist wonderland: once again sparkling and bedecked in thousands of lights.
Lightscape was originally developed 11 years ago at Royal Botanic Gardens, Kew in the UK and since then the specially curated illuminated trails have been showcased at various National Trust and UNESCO World Heritage sites across the UK and the US.
Last year's Melbourne Lightscape was a sold-out event, so it was no surprise that the organisers have returned with the promise of a completely different trail that focuses more around the lake area in the north-western part of the gardens.
Except for the Winter Cathedral, which was a crowd favourite, and thus featured again this year, all the installations are new. Having said that, if you went last year to the first iteration, you'd know what to expect – after all, there are only so many ways foliage can be festooned and lit up.
It takes a little over an hour to walk the meandering path if you do so in a leisurely fashion – which is recommended for a lingering appreciation of what's on offer. There are many attractions that will arrest the eye: flashing, colour-changing exhibits and large-scale sculptures set up on the lawns that impress through their sheer size. But aside from these human-made constructs and bespoke creations designed especially for the event, some of the giant trees themselves have been decorated, and even reflected in all their majesty in still waters. There's a conversation between organic and artificial in Lightscape, between natural and enhanced beauty.
This year, a distinctive Indigenous theme has been introduced, to pay homage to the fact that the original path of the Yarra (the Birrarung) once flowed through what is now the Botanic Gardens' Ornamental Lake. Hence there are eel illustrations projected on the footpath as well as on bodies of water by artist Mandy Nicholson. There are also totem poles – gorgeous decorated pillars with Indigenous artwork by Warwick Keen that stand tall and proud.
There is a field of over a metre-high crocuses that sway and change colour in time to music, a section given to fire structures and enormous puffball dandelion seeds suspended in the air. There are big inflatable mushrooms towering over their smaller counterparts, serene water lilies, an oak tree with branches and trunk that are a striking red neon, and a flashing tribute to the Aurora Australis – or Southern Lights.
The Winter Cathedral itself is a walk-through immersive archway illuminated by thousands of tiny lights, so passing through the thoroughfare and being cocooned in this magical structure feels like a quasi-spiritual experience.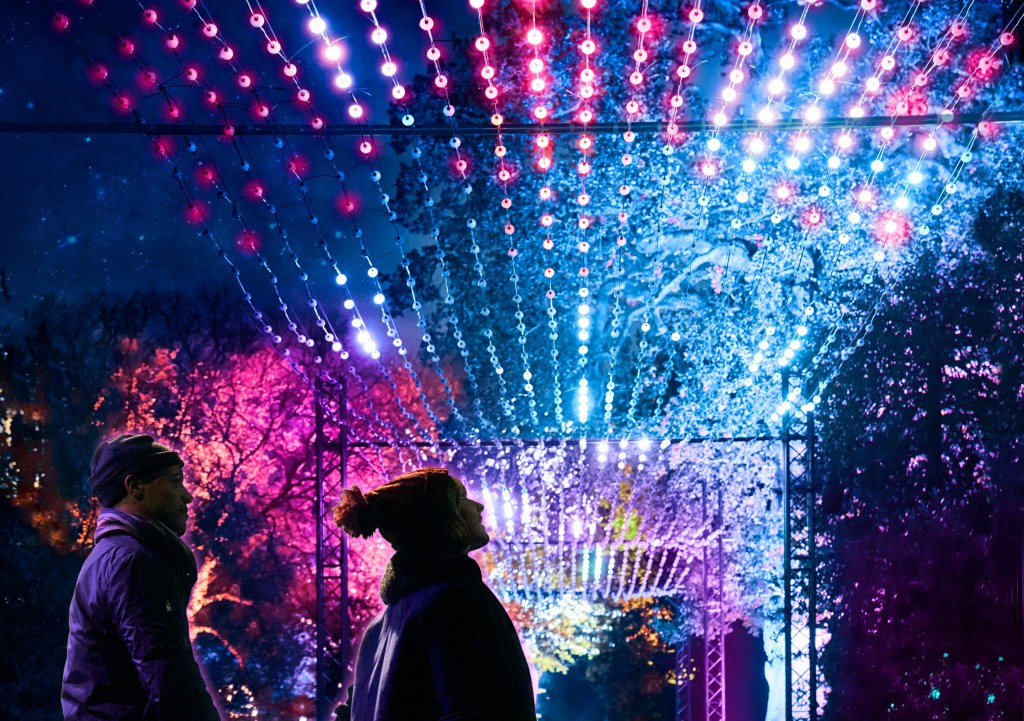 The first exhibit visitors are guided along is a row of elongated flowers, bright tall, green stalks and red tips, with a burst of music stationed nearby of Miley Cyrus' 'Flowers' song. It is inappropriately loud and does not cohere with the contemplative nature of Lightscape. For a moment I despaired that the whole night would be full of glary contemporary pop, but luckily the rest of the installations are more appropriately accompanied, with unobtrusive ambient tunes and movie soundtracks from Avatar, The Imitation Game and Inception.

Read: Exhibition review: Monet in Paris, Le Grand Palais

Lightscape is very organised; there are food trucks positioned around the entry point, via Observatory Gate near the Visitor Centre, opposite the Shrine of Remembrance. During the trail itself, more food trucks are positioned at strategic corners. You can, should you choose, partake in mulled wine as you take in the sights of this Winter Impressionist painting au naturel and en plein air.
Lightscape
Royal Botanic Gardens Melbourne
Tickets: Peak: Adult: $40, Child (4-12 years): $32, Family: $144
Off-peak: Adult: $36, Child (4-12 years): $28, Family: $128
Anytime pass: $55
Lightscape will be exhibited until 6 August 2023.