Currently showing at the Perth Institute of Contemporary Arts (PICA) in association with Perth Festival is Monumental by Bunjalung/Ngāpuhi artist and choreographer, Amrita Hepi, and We Hold You Close, by Yindjibarndi artist, Katie West – two ambitious new projects that share a common interest in the construction of existential spaces. 
Curated by Rotterdam based, Eloise Sweetman, the immersive installation We Hold You Close from Katie West sees the entire ground floor transformed into an earthy sanctuary of hand-made floor cushions, lingering plant smells and gentle sounds. Featuring two video works and an ambient score created in collaboration with local composer, Simon Charles and musicians Djuna Lee and Jameson Feakes, West has designed an interactive and multisensory journey that honours the interconnectedness of family, friends and Country. Described by the artist as a work for and of her ancestors, it also speaks to the existence of a greater collective spirit that the audience is invited to engage with and contribute to. 
The first leg of the journey into West's world is a softly lit space demarcated by sheer floating banners emblazoned with depictions of dillybags and a lounge-like oasis comprising of a bench seat, hand-dyed floor cushions and rug. The viewer is invited to step into an intimate dreamworld and observe close-up footage of the artist's hands going through the rhythmic motions of hand-twisting string from strips of repurposed fabric. Playing in response to the patterns and movements of the string-making process is a six-channel audio work featuring the sounds of human voices, fire, and rain, lulling the viewer into a meditative state that negates and transcends the gallery environment.
In the adjoining space is a sensory tonic of understated pleasures titled Tea for we hold you close – an interactive installation that invites the audience to twist a piece of string over a cup of native tea and add it to an evolving textile wall structure. Within those actions and celebrations of culture is a gentle reminder to slow down our breathing, and to ease our pace of fabrication and rate of consumption.
We Hold You Close is an open invitation to temporarily co-habitate with the artist and reflect on our relationship with nature and each other. It prompts us to consider the colours, textures and scents that define our lives and traces those sensations back to a primary source – a deep well of collective memories and embedded knowledge.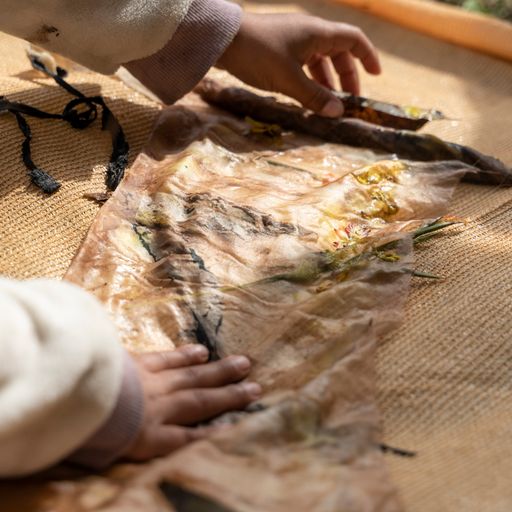 Like a spider's web, the patterns we twist, stitch and weave throughout our lives are connected to the past as much as they are to the future, and while not always visible, they give form to the collective structure that West refers to as 'the others for whom we would not exist without and who need our presence too'.
On the upper level of the gallery is Amrita Hepi's Monumental – a single channel video installation that places the tradition of building monuments under scrutiny. To Hepi, monuments are dialectical. They are often realised as grand, physical structures that reach up towards the heavens; signifiers for the infinite realm that welcomes individuals who have done good and accomplished much. Monuments bring meaning and understanding to future generations, yet they are also pillars of myths, legends and lies, enabling devices for the perpetuation of desired truths that continue to spread and take root in unexpected places.
Read: Exhibition review: Groundwork
Set against the glowing backdrop of a sun setting (or rising) over the ocean, the video installation begins with seven dancers including Hepi, surrounding a monument of a marshmallow-like figure constructed from crude globules of expanding foam. The dancers initially parade around the structure in celebration before proceeding to topple and destroy it. The dancers then mount the plinth and create a new monument from their interlocking bodies, raising questions around who and what gets to be memorialised. Throughout the contemporary performance are crosscuts with archival footage of anticolonial activism from around the world, including the more recent BLM rallies that called for the removal of offensive statues of individuals associated with racism and genocide.
Monumental cleverly reimagines the traditional memorial through the body in motion, in which it takes on the role of both historical repository and spatial informant, while the sun in the background continues to rise and fall, indifferent to the evolving human continuum of victory and tragedy.
We Hold You Close by Katie West and Monumental by Amrita Hepi
Perth Institute of Contemporary Arts (PICA)
Free
We Hold You Close and Monumental will be exhibited until 24 April 2022