Olana Janfa's exhibition, What Is Your Gov'ment Name, is a perfect way to kick off Museum Victoria's Culture Makers Program, a new initiative that promotes diversity, belonging and inclusivity. Janfa's exhibition achieves this by fostering a sense of belonging and community.
Self-taught Ethiopian-Norwegian artist Olana Janfa has been making waves in the art scene since 2018. He has collaborated with major events and brands, including Melbourne Fashion Week and Nike, and taught art to migrant youths.
In the Immigration Museum's latest exhibition, Janfa showcases striking murals infused with social commentary and humour, and illustrates his experience as a migrant.
There is something intriguing about the exhibition title, What Is Your Gov'ment Name, as many migrants (including me) are often asked that question. A government name is a legal name that appears on official identification documents, which is sometimes different to what the person prefers to use in daily life.
In What is your Gov'ment name, Janfa's colourful, funny and relatable artworks include social and political commentary, and guide viewers along Janfa's journey as a migrant.
A highlight of this exhibition is a stunning mural that depicts a migrant journey on a boat, seamlessly assimilated into the surroundings. It evokes motifs of ethnic assimilation, cultural blending and an examination of old and new structures relating to migrant experiences. It is a continuous journey that blurs where one way of knowing and being ends, and another begins.
Janfa's works are often filled with characters, striking bold shapes, colours, graffiti-style text with political overtones and cutting social commentary. The artist uses acrylics, oil and pastels to paint his distinctive works on recycled timber, scaling up the pieces to adorn the entrance hall walls of the Immigration Museum. Janfa's works explore the past, present and ongoing cultural struggles faced by culturally diverse communities as he draws from his lived experiences.
Read: Exhibition review: Troy-Anthony Baylis, QUT Art Museum
Janfa's Privilege Party is an excellent example of his trademark social commentary, depicting white hands holding a variety of popular cocktails to portray white privilege in contemporary Australian culture.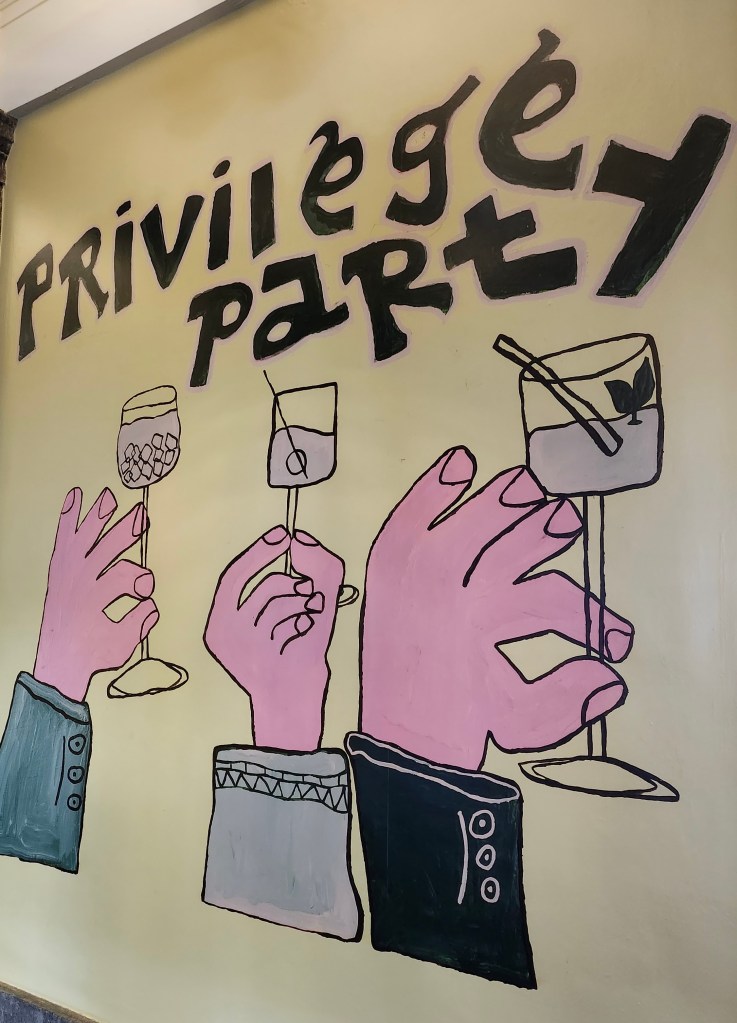 While each artwork encapsulates fun and vibrant energy, they make viewers feel a sense of community and belonging that evokes reflection. Janfa shares his perspective on life and the experiences that have shaped him in the past. He writes in his artist statement: 'Art is my way of expressing inequity, inequality and exceptions to all of us.'
Individually the murals are beautiful, but as a whole they are mesmerising, with each artwork integrated into the Museum's architecture. The exhibition left this reviewer wanting to see more artwork, and a sense of anticipation for Janfa's future works.
The real achievement of What Is Your Gov'ment Name is it brings together societal commentary on race, status, language and the migrant label. The exhibition creates a cohesive, immersive and colourful experience that feels fun, yet thought-provoking. Visitors will find meaningful, evocative art that leaves an impression.
What Is Your Gov'ment Name is presented as part of the Culture Makers Program and is on view until 24 August at the Immigration Museum; free entry.
This article is published under the Amplify Collective, an initiative supported by The Walkley Foundation and made possible through funding from the Meta Australian News Fund.