It's almost immediately obvious upon entering Twist at the Tasmanian Museum and Art Gallery (TMAG) that this exhibition is ambitious as much as it is nuanced and developed with care. While Twist takes its cue from the writings of Charles Dickens, TMAG Senior Curator of Art, Dr Mary Knights has placed works by Australian and Irish contemporary artists among historic paintings, artefacts and displays from the Museum's permanent collection.
Twist references Dickens' 1838 novel Oliver Twist, which highlighted poverty and crime in Victorian era London, but the word also suggests that which is kinky and abnormal. These ideas, and more, emerge from an expansive exhibition that spans six separate gallery spaces.
Twist begins in the Argyle Galleries with a wide selection of works by Julie Gough, Yhonnie Scarce, Christl Berg, Milan Milojevic, Sue Kneebone, Ursula Halpin and more. The exhibition captures just as many mediums as artists involved – across painting, photography, installation, sculpture and video. This kaleidoscopic presentation shines a spotlight on the intertwined webs of past and present while offering visitors a glance into history, culture, humanity and fate.
A central display is the recreation On Miss Havisham Table from Dickens' novel Great Expectations (1861). Ornate silverware features in the lavish set, accompanied by Sarah Mashman's audio work Crows (2023) to complete this visual and aural portal into Dickens' vivid descriptions.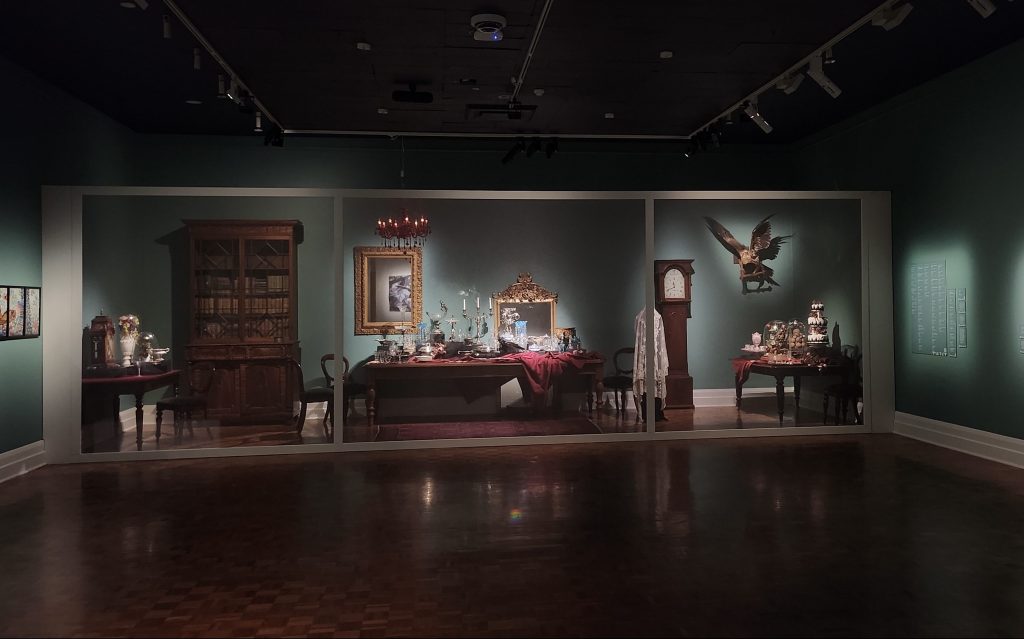 Works that surround the set expand on Dickensian themes through myriad perspectives on nature, taxidermy, marriage, dreams and stereotypical associations with the bride. This includes a late photograph of writer and illustrator Louisa Anne Meredith (1812-1895) and Milan Milojevic's intricate and bizarre series of animal mutants, Night and Day (2016).
Read: Exhibition review: James Drinkwater, Drill Hall Gallery
Works by Sue Kneebone highlight the dark side of the British Empire and historical expeditions. Tin food cans with bone handles and embellished cutlery with beastly claws in Out of Flavour: Tasteless Desires from an Avaricious Empire (2023) speak to the disparity between poverty and wealth. Video and installation works from the same series highlight how fatal quests arise from the desire to conquer nature, as was the case with Sir John Franklin's 1845 polar expedition.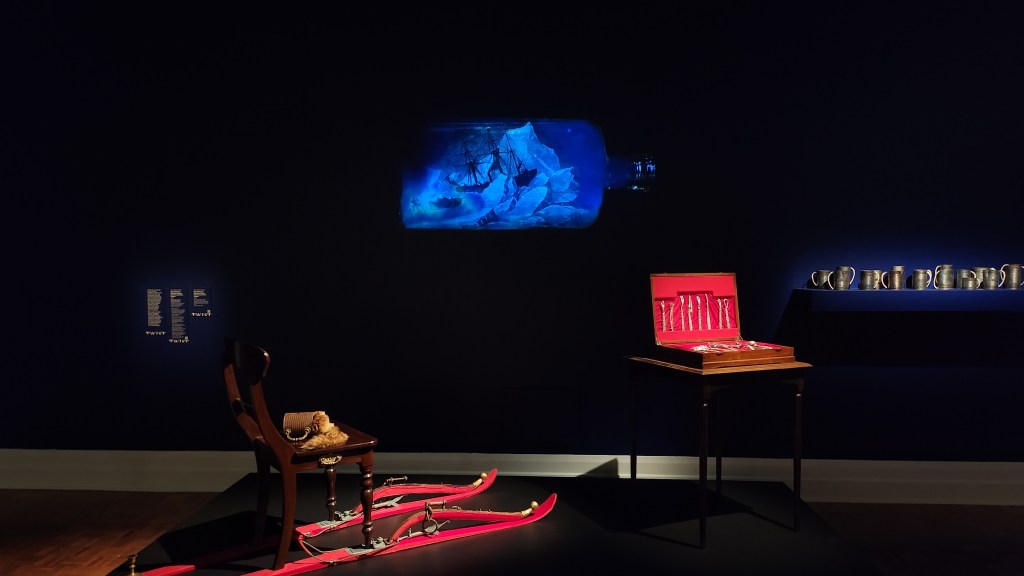 Apart from the main exhibition, Twist flows through TMAG like water, at times seeping into permanent displays, as with works by Fiona Hall, and at others into a pool for full immersion, such as Heather B Swann's solo showing in the Salon Gallery.
It's a moment of pure magic walking into the dimly-lit room to find Swann's wood-carved sculptures and drawings. A small hole in the wall reveals a tiny figure that seems to be bobbing and dancing to the ambient soundtrack, composed and performed by saxophonist Christina Leonard.
Mish Meijers and Tricky Walsh's Transhumance in the Bond Store basement is equally transportive. The rustic space has become an incubator of the weird and unsettling, which simultaneously repel and enthral. Sculptural assemblages from a mix of found material and artworks are made as if pulled together by magnetic force – each operating in their own orbit.
Curiosity comes in favour over expectations and logic, as the artists offer visitors a glimpse into their speculation about the future, one that is corrupted by our current state of chaos, greed and exploitation.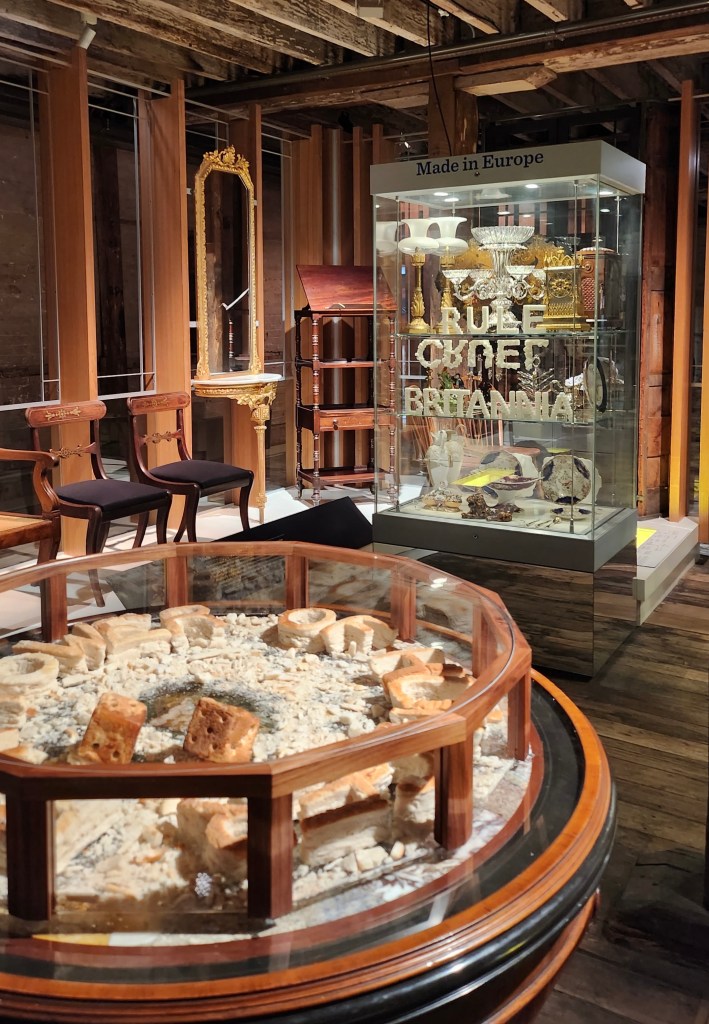 Upstairs in the Bond Store Fiona Hall's bread and sugar cube slogans infiltrate TMAG's display of historic and luxury objects from Tasmania's early colonial era.
Hunger for Power/Power of Hunger is not only powerful in its message, but also exemplifies the courage and openness of an institution that is willing to work with the artist and curator on this critical interference. It's a bold statement tied to thinking around the inherent biases in museum displays, and the role that cultural institutions should play in filling gaps in these narratives.
When exhibitions are advertised as blockbuster cultural events focusing on the rarity of artworks on display and big powerhouse partnerships elsewhere, Twist quenches the thirst for curious encounters that are rooted in contemplation. It's unapologetically critical towards structures of inequality, but also presents visual storytelling that is beautiful and arresting.
Twist is on view at Tasmanian Museum and Art Gallery until 22 October; free entry.