Mid-career – it is a term we throw around in the arts, but what does it feel like? A new exhibition at the Drill Hall Gallery (Canberra) presents an At mid-career look at the paintings of James Drinkwater.
It is the last exhibition to be curated by outgoing Director Terence Maloon, and is a fitting farewell in terms of bridging Maloon's zeal for modernism and abstraction, suturing the new with the past.
The exhibition fills the entire gallery – three spaces – and the paintings cover a 20-year period from 2014 to 2022. Notable is the large scale of many of the artworks, when seen in volume. Drinkwater received a boost early in his career, when awarded the National Art School John Olsen Prize for Life Drawing (2002), the Marten Bequest Scholarship (2011) and the pivotal Brett Whiteley Travelling Scholarship (2014).
That confidence at 40 reverberates off the walls – bold gestural, consistent paintings. Maloon's exhibition builds upon the Newcastle Art Gallery's survey the sea calls me by name in 2019 – a celebration of a homegrown talent.
But it feels different here. Walking around his oeuvre, one can't help but see hints of modern art's legacy – a passion for the mark that sits outside geography. Maloon writes in the room sheet: 'His work responds critically to intergenerational rifts and the "culture of forgetting",' adding that Drinkwater celebrates simple old-fashioned things that define life.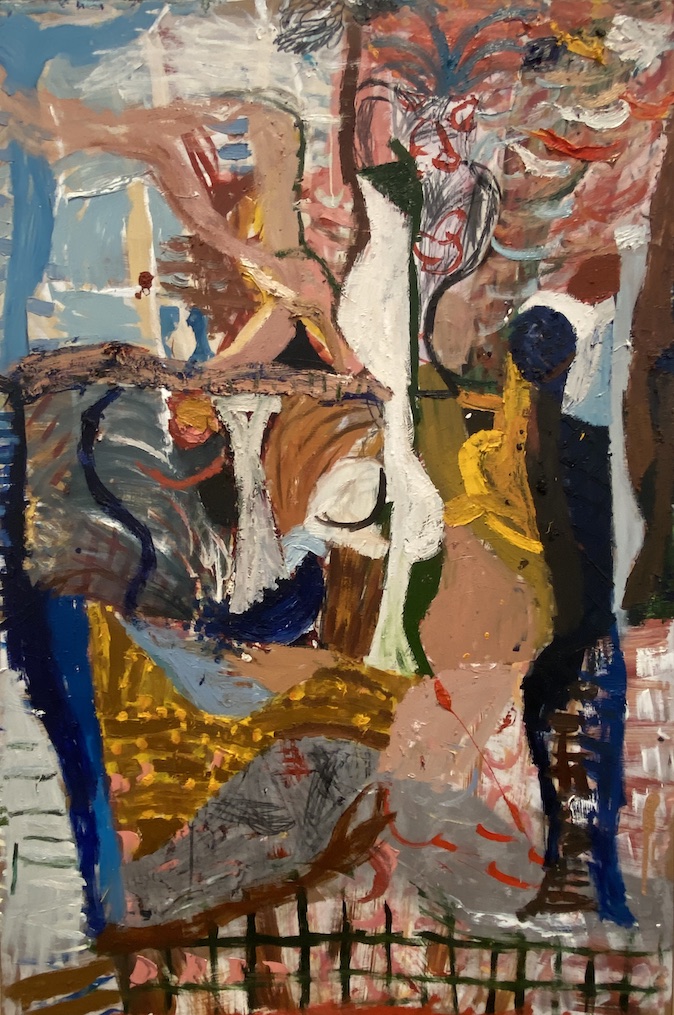 The viewer can recognise floating snippets – a jockey, a horse, a chair, a bird, lettering – grounding elements in a sea of meaty abstraction. Largely Drinkwater's paintings are delivered in a matter-of-fact frontal style. In other words, they don't pretend to be anything or aspire to some formula of art making now.
This is felt immediately entering the gallery – faced with paintings largely from 2016. The main gallery covers the period from 2018-2019, while the smaller galleries (with a hint of oil paint in the air) look at the later works from 2019-2022 – the pandemic years.
While life shrank for many of us during the pandemic to home and life's smaller pleasures, for Drinkwater it was just a continuation of what he had always painted. The figure is a constant also, slipping in and out of the picture's textured plane. These paintings are felt, as well as viewed – they have a physicality to them.
Writer Tai Mitsuji described it in 2020 as 'a generosity to James Drinkwater's work that lures you in. It's there in his robust application of paint and rich materials, and also in the vulnerability contained within his art'.
While in many ways the works are a self-referential journal, viewers don't feel as if they're looking at a life chronicled when walking around this exhibition. It just feels overwhelmingly assured in its visual language. This, in part, is why Drinkwater has enjoyed commercial success across his career. It is also why he will hold a significant place in Australian art history for his generation. This is a stunning exhibition, not to be missed.
James Drinkwater: At mid-career
Drill Hall Gallery
Australian National University, Canberra
24 June – 20 August 2023