Trauma is not unfamiliar to artist Tamara Dean. When she was a young photojournalist with The Sydney Morning Herald, she was thrown into the belly of the aftermath of the 2004 Aceh Tsunami, in Indonesia.
It is not surprising then, that water has often featured in her work, most recently her award-winning series In Our Nature and Stream of Consciousness (2018) – despite her fear of water.
However, trauma manifests in a different way across her latest body of work, High Jinks in the hydrangeas, which on first glance embraces beauty and the much loved Australian trope of 'figure in the landscape'.
It is a classic case of don't trust your first impression.
In the inaugural exhibition of Ngununggula, Australia's newest regional gallery located in Bowral, Dean has given viewers an incredibly cohesive, probing and layered exhibition that takes it trigger point of 2020's devastating bushfires, followed by the isolation of the pandemic.
Read: Australia's newest regional gallery opens
The galleries are painted black, which seemingly exaggerate Dean's use of lighting in her photographs, with their signature pre-Raphaelite tone playing off light and dark, and making the everyday appear almost divine.
Walking into the first gallery, visitors are not only struck by this choreographed drama, but our subconscious is evoked too, through all our senses – a scent has been developed for each of the galleries by Ainsley Walker to complement the images.
Adding to this theatricality, classic gallery pedestals are stacked high with lumps of coal. Atop them are fresh fruits – fig, pear, pomegranate, apple, grapes – that smoulder, and will eventually deteriorate over the exhibition period.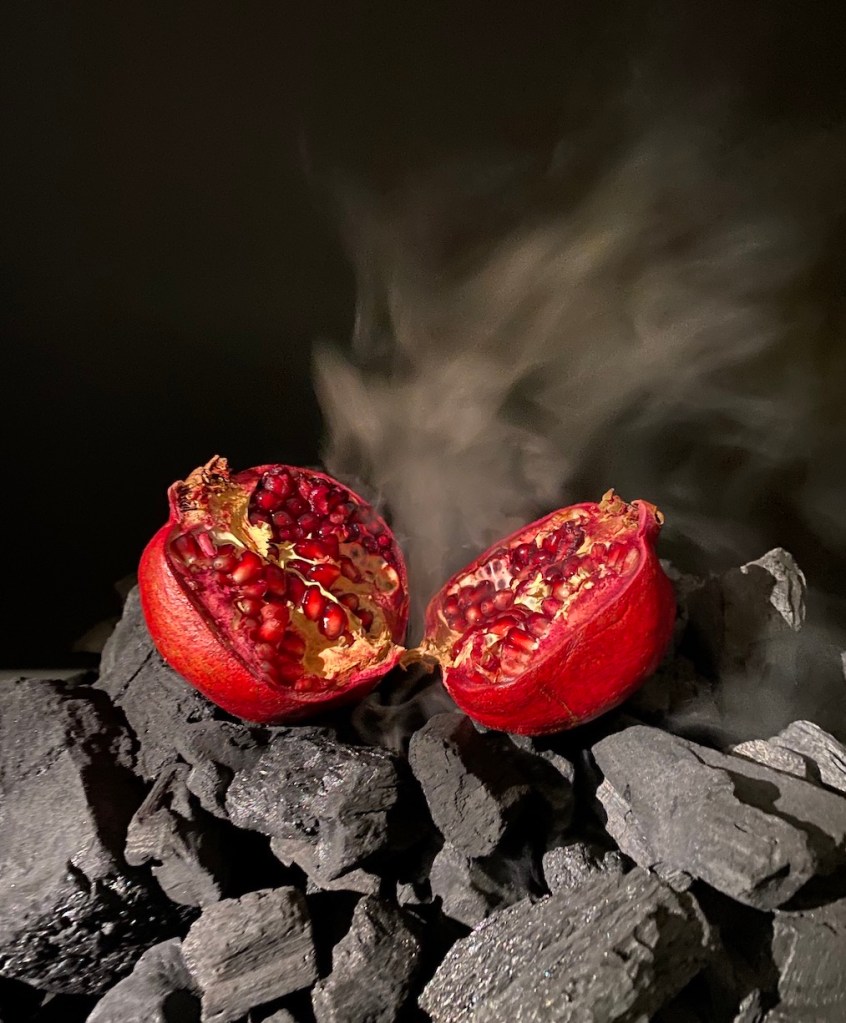 While it might have a sense of bounty and the beauty of the still life, the coal and smoke subtly trigger thoughts of resources, of environment and industry, of loss through the fires, and cycles of life, fertility and eventual decay and death.
The scale of the new galleries are perfect for offering chapters of investigation across a space; large enough to present a solid and cohesive body of work without overwhelming an artist.
Moving into the second, and larger, gallery, the sculptural installation What doesn't bend breaks (2021) sits central to the room, comprised of driftwood from Seven Mile Beach (on the South Coast) washed up after the Currowan fires, and plaster casts of Dean's own limbs.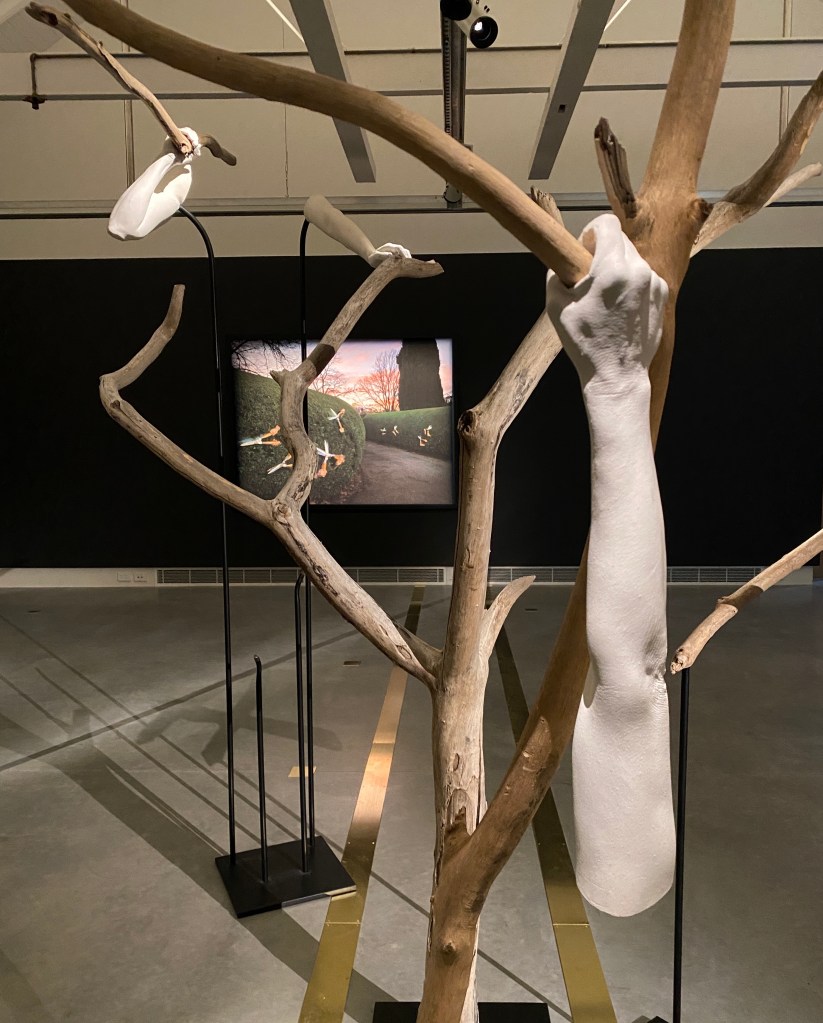 There is a curious tension at play here; the limbs hold on fiercely, while others reach out – all are dismembered. This is the first time Dean has worked in large format sculpture. But when we look around the room at the images on the walls, it feels like a very natural progression.
For example in the photograph Peeling back the layers (2020), two bodies push and pull at a massive tree stump, which has been lopped but remains firmly rooted – new growth sprouting from it.
That very physicality and transference of energy is beautifully captured in the diptych, Leap of faith #1 and #2 (2020), where the bodies feel weightless to a force larger than themselves. It feels so now, a time when we must place our faith in others to get through this pandemic, and yet there is a trepidation that goes with that.
Dean says that she is, '…using my photographic process as a form of escapism from my pandemic induced anxieties.'
She shows that she is also not adverse to humour in her photograph, Self care (2020), where a team of hands emerge from a hedge frantically trimming it. Are they trying to break out – break free – or is Dean tapping into that obsessive making we all went through in the pandemic to keep us sane?
Where this show really starts to sing across the space is how this image, conceptually, pushed through to the next gallery. Here a murmuration of gardening shears – almost menacing – swell up and around the space.
Its title, There is something in the air (2021) gives us a further hint. The work is a response to the airborne disease we are all bracing against. Speaking with Dean she said it was a little like the bushfires – you could smell them, and the fear that came with that – not unlike COVID.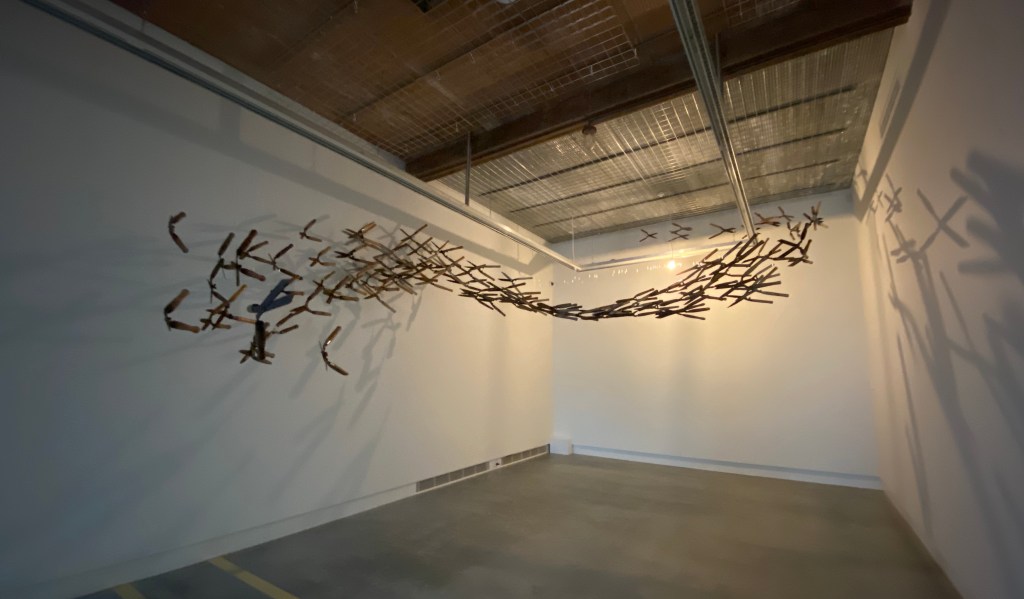 The final gallery is dominated by a new video work Dysrhythmnia (2021) – and for those of you (like me) who scratched your head on that term – dysrythmnia is a problem with the rate or rhythm of your heartbeat caused by changes in your heart's normal sequence of electrical impulses.
Here Dean is pummelled over and over by blue and yellow pigment, quelling her desire to shield her face until the very end of the 16 minutes. Again, she takes an emotion we have all felt recently: from repeated lockdowns or from drought to bushfire that cause us to teeter on that brink of determination to cope or to give into it – where we succumb to those changes of the 'normal sequence'.
Damien Lane's score is perfect for Dean's work, building that tension of the airborne and its impact.
The richness of the pigment in this video work plays off the images on the walls – bluebells, hydrangeas, azaleas, wisteria – an incredible pop of colour from gardens in the Southern Highlands and where Dean lives.

The body and foliage becoming one pushes that long-explored theme of body in the landscape, favoured in Australia, with their psychological and transcendental immersion in nature..
What makes these images work is the lighting – shot at night with choreographed highlights – they almost feel like lightboxes in they way they emerge from the gallery's black walls.
Overall there is incredible synergy and deep thought across this exhibition. It is scaled beautifully for the space. It is about now, but it is also a very personal for Dean and one that speaks of an evolution in her work.
Definitely worth a journey to Ngununggula to view.
Tamara Dean: High Jinks in the hydrangeas
25 September – 12 December, 2021
Ngununggula is located in Bowral, Southern Highlands (NSW).