The WA Maritime Museum's latest exhibition, Sea Monsters: Prehistoric Ocean Predators, takes families back to the prehistoric past. With more than 70 exhibits and a range of engaging hands-on activities, Sea Monsters facilitates scientific inquiry by encouraging creative play and inciting sheer curiosity. Although this exhibition is targeted towards children under 10, people of all ages can enjoy the marine-themed immersion it provides.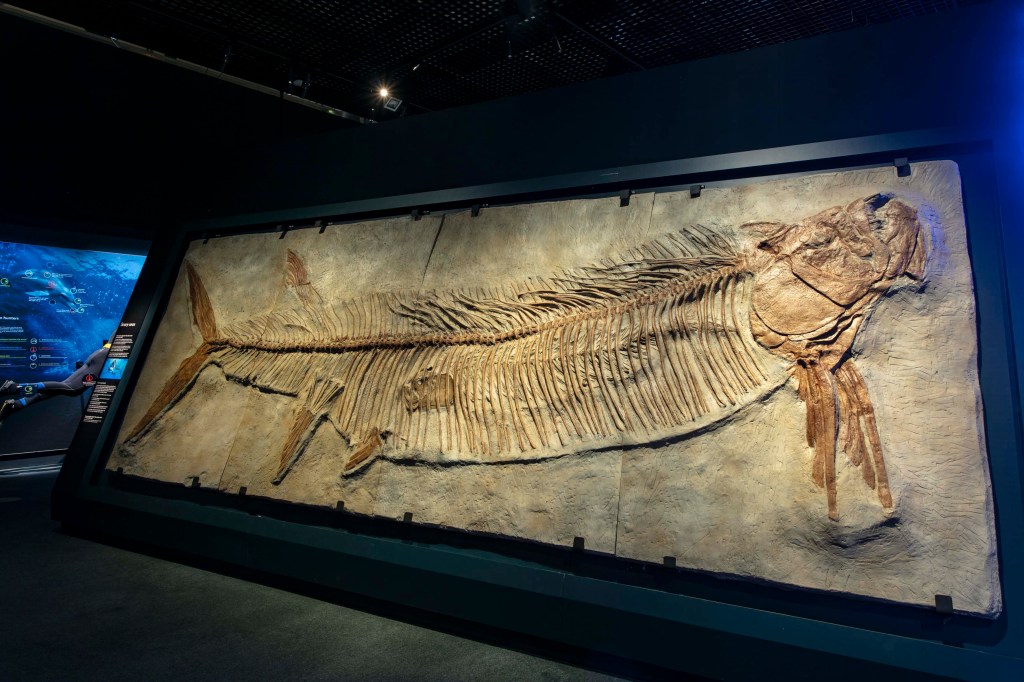 Evoking sensations of the sublime, a massive marine reptile ribcage invites attendees to walk through immediately upon entering. This impression of being swallowed whole sets a high bar for excited young children, who are not disappointed by what follows. To the left, visitors are dwarfed by a reconstruction of the 'fish-within-a-fish' fossil discovered by George F Sternberg in 1952. This wall-length replica depicts a five-metre Xiphactinus (one of the largest Cretaceous period fish), which died after swallowing a Gillicus fish, still visible millions of years later.
Physically massive highlights of the exhibition include a gigantic reconstructed Shonisaurus skull (taken from a 21-metre long fossil), the cast of a Platypterygius skull (with eyes as big as dinner plates), and a 13-metre Thalassomedon fossil cast.
The combination of ancient eras and modern technology works beautifully to create an engaging pre-historical experience for today's tech-savvy young people. Screens are put to effective use, without ever detracting from the physical exhibits. Three-dimensionally printed models of various plesiosaurs include a short-necked Kronosaurus, sharp-toothed Tylosaurus and long-necked Eromangasaurus, cyber-sculpted in virtual reality by the talented Ross Gibbs.
Hands-on children's activities include a monstrous dress-up station with a terrifying backdrop for uniquely posed photographs, a kinetic puzzle themed around Ichthyosaurus teeth, drawing activities that bring children's creations to life in a virtual ocean and a creature-creation game that reinforces an understanding of evolutionary adaptation. There are other fun activities on offer, all of which provide innovative educational opportunities disguised as awe-inspiring fun.
An accompanying documentary, also called Sea Monsters, plays in the museum theatre throughout the day. This film brings context to many of the artefacts on display, by building an emotionally engaging narrative around the marine reptiles by delving into their lives, pre-fossilisation.
Sea Monsters is the kind of exhibition that excites young people to their core by igniting curiosity, and nurturing a deep appreciation for history, science and museum exhibitions. Families with children will not regret dropping whatever plans they may already have to see this exciting exhibition before it becomes extinct.
Read: Exhibition review: Between Waves, ACCA
Sea Monsters requires a separate ticket to general museum entry. Booking online ahead of time is advisable, as sessions sell out quickly. The Sea Monsters film screening is free for exhibition ticket holders.
Sea Monsters: Prehistoric Ocean Predators
WA Maritime Museum, Fremantle, WA
Tickets: $0-15. Family: $50
Sea Monsters will be on display until 16 July 2023.