Navigating liminal realms is an inherently precarious venture. Way-finding in these third spaces is inhibited by the stripping away of binarised categories. Much like searching in the dark with a flickering candle, we cannot see; therefore, we must feel.
Between Waves, currently showing at the Australian Centre for Contemporary Art (ACCA) is the third body of work in the Yalingwa series. Jessica Clark has curated a genealogy between 10 new commissions by First Nations artists, crafting an exhibition that positions audiences to succumb to in-betweenness. In a subtle space where self-reflexivity is nurtured, our internal worlds crawl out from beneath and reveal themselves in unexpected ways.
Spatiality is essential to this suggestive introspection. Weaving together diverse art forms, Between Waves draws forth the power of place in shaping how we understand the world around us.
Maree Clarke's now you see me: seeing the invisible #1 (2023) surveys us as we enter the space. The kaleidoscopic collage is visible from almost anywhere in the gallery. River reeds, captured at the microscopic scale, highlight the history of Southbank: pre-colonisation wetlands. The work forcefully reminds us of where we are: the lands of the Wurundjeri Woi Wurrung and Bunurong peoples. It is an apt invitation to come inside – for Country is the nucleus of all experience, a cosmology that reverberates through skies, waters, land, peoples and knowledges. Clarke shines an important light on truth-telling through material means.
This is not, however, a simple fusing of traditional knowledges with scientific investigation. Clarke draws ACCA (and cultural institutions more broadly) into question. Her work explodes from beneath the architecture, screaming: "Country remembers!" Histories and stories once concealed, hidden and forgotten are blown up. Country is not a passive entity – succumbing to industrialisation – rather, a dynamic spirit that is always moving, jittering.
The colonisation of knowledge is similarly explored in Matthew Harris' Consigned to oblivion (2023). Seven minimalist paintings plaster the back wall. Figurative representations of archive boxes form a monotonous backdrop for Clarke's now you see me: seeing the invisible #1. The "archive" becomes a dead-zone, concealing, hiding and restricting material; Western models of control (architecture, categorisation) are thrown into the crossfire.
The thoroughfares in Between Waves function as portals, our bodies float between shifting spatio-temporal realms. Upon entering the second gallery space, the world minimises. The expansiveness of the prior is juxtaposed by a delicate soundscape, designed by e fishpool as an accompaniment to Jazz Money's infinite iterative piece (2023). In a mixed-media haze, Money provides intimate glimpses into their world through varying short videos. As they fade in, and melt away, the moving images alter the climate of the space – a sunset offering a warm glow, shifting waters crafting a soft vignette.
Quaint lines of poetry imbue visceral emotions within tiny moments. 'An uneasy tide moves slowly in,' reads one line, hovering above a golden rock pool. The ever-changing work allows us to bring forth our own contexts – sites of personal, cultural and political significance arise. The distinctive sense of dynamism reassures us, however, that fluctuation can be a safe place; it is OK to sit between states of being. Identifiers, categories and linearity become burdensome.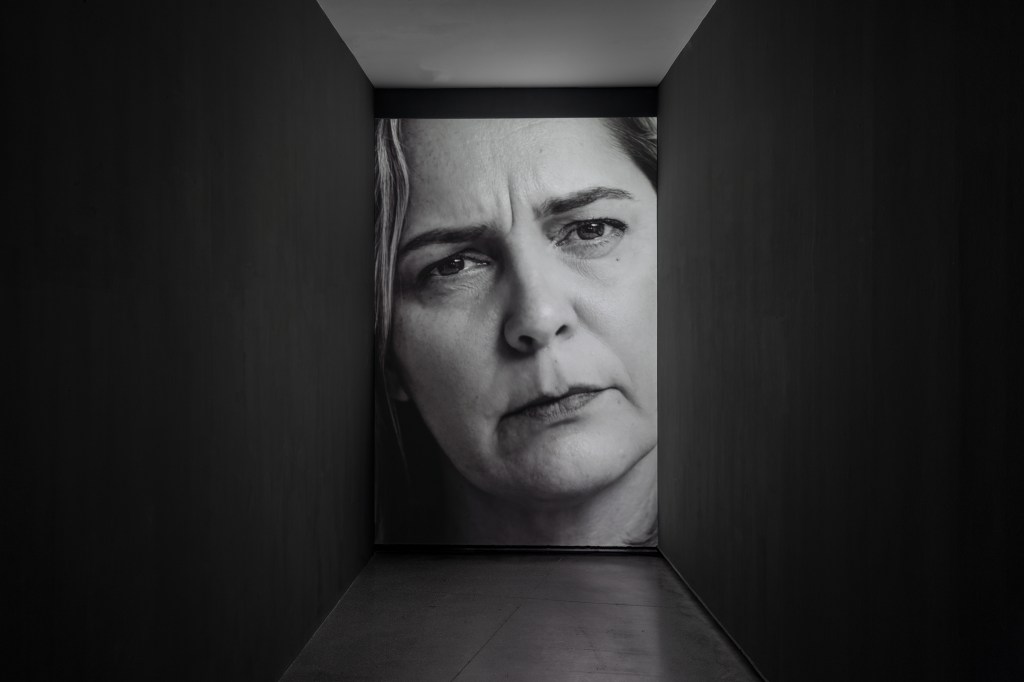 One work in particular has stuck with this reviewer over the week since the opening. Hayley Millar-Baker's Entr'acte (2023) mobilises a harrowing atmosphere that penetrates the audience through theatricality. Positioned in a dimly lit corner, the didactic indicates the work's proscenium. Black curtains function as the fourth wall; whether we pass through that plane is left to our discretion. I opted to stand behind the curtains, feeling as though crossing that threshold was to rupture the eerie intimacy of the moving portrait. Other viewers breezed in and out of the "theatre space" – each one staring into the gaze of the woman. The actor (or Protagonist) – as the didactic outlines – Clothilde Bullen, conjures a devastating collage of emotions. The tear that rolls down her cheek carries intense emotional weight. The sometimes staunch, often tired gaze speaks strikingly to the disregarded role women play in varying domains.
Read: Exhibition review: What Is Your Gov'ment Name: Olana Janfa, Immigration Museum
The interpretive tools for each artwork call for celebration, too. The artist's ancestral connections to place are not simply stitched on; rather, they are woven into the narrative. Accompanying this, each artist has been given space to speak to their practice – there is an imagined connection between viewer and maker. The curator-artist role begins to bleed and the collaborative nature of the show is drawn forth.
The crux of Between Waves is a delicate imagining of a sovereign-poetics – thematically engaged with Country, memory, identity and ecologies. On the surface it is lyrical, a zephyr, a whisper (but never ephemeral). But lying beneath that veil is a rumble – a desire to enact change, question and destabilise comfortabilities.
Between Waves is on display at the Australian Centre for Contemporary Art (ACCA) until 3 September; free.
This article is published under the Amplify Collective, an initiative supported by The Walkley Foundation and made possible through funding from the Meta Australian News Fund.