For frequent visitors to White Rabbit Gallery, located in the back streets of the inner Sydney suburb of Chippendale, this latest exhibition offers some surprises. Considering the Gallery was established in 2009 with a focus on contemporary Chinese art post-2000, it could feel pigeonholed by that charter, especially when charged with rolling out new collection-based exhibitions every six months.
But Curator David Williams gets playful for I Am The People – the 27th exhibition delivered by the Gallery, most of which Williams has curated. And the result is a testament to the collection holdings of patron Judith Neilson, and for the many layered and current conversations these artworks offer to audiences, both familiar with and new to contemporary Chinese art.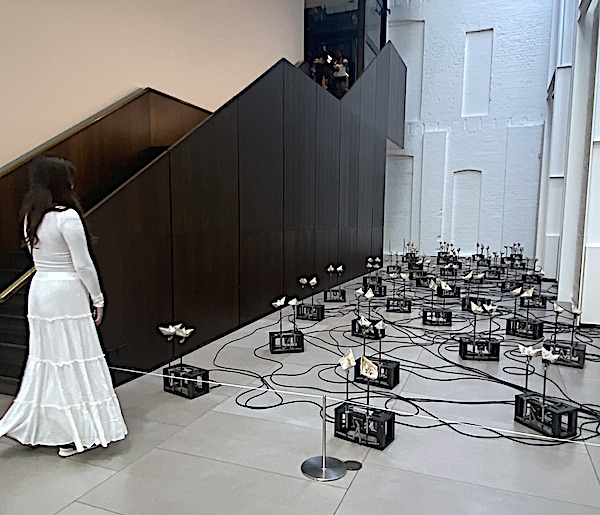 What sets this exhibition apart is that every level of the Gallery takes a startlingly different tone – one that is navigated through exhibition design. On the lower level, visitors are greeted by the lyrical installation River of Childhood (2011) by Shyu Ruey-Shiann, a flotilla of 80 ceramic boats, as if torn from the pages of books and folded in childhood play. They are motorised, churning on a sea of technology and dreams.
Climb the stairs to the first level and enter a sombre world, triggered by black walls and low lighting. Yang Zhenzhong's Fences (2013) is a dramatic installation that wraps around two walls. It mimics visiting time at a prison, where you see yourself in the mirrors placed behind bars. It is sited opposite Lu Nan's installation of photographs, Prison Camps in Northern Myanmar (2006), where viewers have to peer into a closed "cell" to see images of impoverished villagers-cum-drug traffickers. Both offer a physical experience for the viewer that heightens the engagement and contemplation.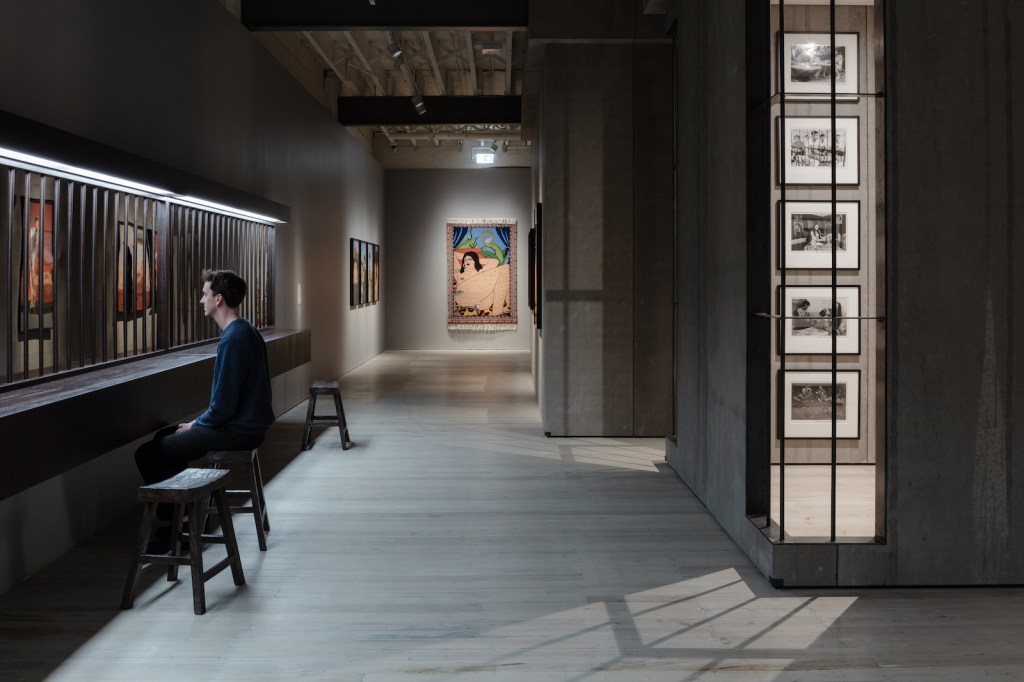 A further highlight on this level is Li Ming's installation Disposable Lighters – Apple (2014-16), which is a documentary-style video installation that looks at the factories producing plastic cigarette lighters. The space is strewn with pelletised lighters that have an odd candy-like attraction, and speak of both addiction and waste.
Sculptural installations by Gao Rong, including Station (2011) and Some Days Later (2015), are again sensitive in their material questioning, using traditional embroidery techniques to create everyday objects destined for discontinuation.
Climb the stairs again, and the tone changes as one is faced with Ge Hui's large paintings that sit askew on curved walls – their edges flying off into space. Overall this level is airy and playful. Within Ge Hui's painting, he re/constructs unnatural states and bodily positions using multiple perspectives and, just like their presentation that flies in the face of accepted museological behaviour, they are familiar but challenging.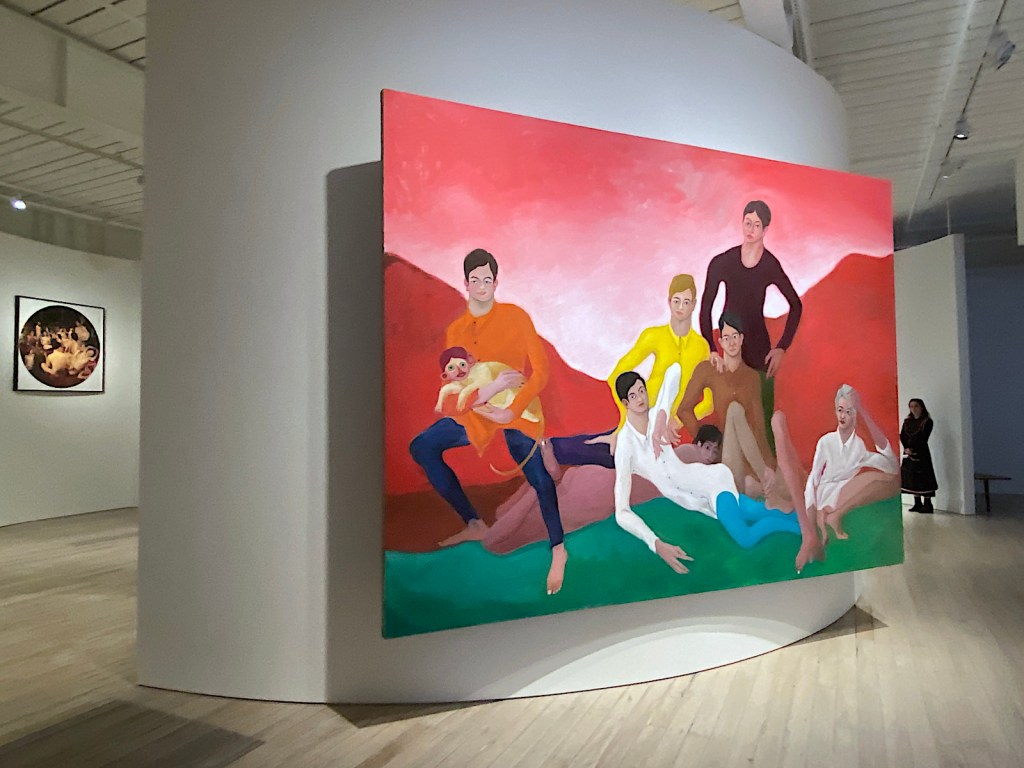 One walks through this network of built curved walls with a lightness, discovering paintings and videos that similarly challenge expectations of normal behaviour. A further highlight on this level is Yang Xinjia's Dusk of a Solitary Walker series, which has manipulated found images of world leaders (Queen Elizabeth II, Aung San Suu Kyi, Donald Trump, Angela Merkel, Theresa May and Kim Jong Un) walking away from the camera, their backs turned to the viewing public.
Williams explains that the artist, 'dissects the ways public image is crafted and investigates how photographs have become a tool for producing history'. The images are an interesting point of difference to Shi Guowei's propaganda-styled photographs, which borrow from some of Western art history's most famed paintings. The Blue Boy and Clown (2009) use traditional hand-colouring techniques and see Chinese culture collide with Western canons.
Take the elevator up to the top gallery, and be greeted by a spectacle of neons in a new work by Chen Wei titled Where Are You Going Tonight (Sydney) 2023, that punches life into the darkened space. He is interested in neon as detritus of the city – their glitches and broken patterns speaking of China's rapid development and momentary optimism falling in the wake of something "newer" shaping an imagined future utopia.
Around the walls are photographs from his In the Waves series, which feature anonymous figures in a crowd, nightclub-style with smoke machines and coloured haze. China's club scene emerged in the 1990s, providing one place where people could gather without government scrutiny. The artist is interested in the way the club setting makes everyone "the same".
Through the shifting tone of the exhibition, one might posit that Williams has metaphorically charted out the range of personalities and emotions of "people", making the point that we all offer nuanced and engaging conversations regardless of a point of difference. It argues "within a community, how can we build a society of the self?"
Read: Dance review: Shifting Perspectives, Queen's Theatre
Williams writes: 'The artists in this exhibition offer their nuanced perspectives, highlighting both the struggles and the aspirations of different groups within Chinese society. Whether we are viewing the world from the perspective of a factory worker in Guangzhou or a wealthy entrepreneur in Beijing, cutting across all boundaries is the need for harmony and belonging. Uniting the divide, between the poverty stricken and the politicians, labourers and ethnic minorities, clubbers and cowboys, is the rallying cry – I Am The People.'
This exhibition is definitely worth a visit to White Rabbit Gallery.
I am the People
White Rabbit Gallery
30 Balfour Street, Chippendale
30 June – 12 November 2023
Free