A two-metre zip line fabricated from rusted corten steel and black acrylic sheeting, or a weighty dense field of metal sheet paired with cast matte glass, or steel filings fused into a solid cube through rusting… these are not the artworks you would expect to find in an artist-run space in a coastal tourist town.
Seven Marks Gallery is presenting its third exhibition since opening in November 2022. Vault is by Chick Butcher, one of the founders of the Gallery, along with partner and award-winning glass artist Cobi Cockburn, and Nina and Cesar Cueva, of the specialist jewellery gallery Courtesy of the Artist. The exhibition is testament to the high bar these four have already set for themselves.
Located in the suburban backstreets of Kiama (regional NSW), Seven Marks could be anywhere – and I mean anywhere – internationally. It is slick, it enjoys challenging and it is not willing to tone down its ambitions or vision.
Vault comprises 11 wall-based sculptures and one floor piece, all fabricated meticulously from cast glass, steel and acrylic sheet – materials that Cockburn describes as 'demanding precision'. 
All the works in the exhibition are titled Unhurried Study (#1-12), and are presented without dates. They represent 12 years of making, remaking, consideration, refinement and presentation. They are rigorous in their fabrication, and while that pristine, sharp, honed aesthetic is the foundation to these objects, for Butcher that is more a meditative outcome of a much broader probing of art history lineages and a kind of aesthetic lived-reckoning with the world around him.
Alert to how the natural and the artificial worlds sashay in proximity, Butcher finds a moment of simple balance and eloquence in his sculptures. By extension, the viewer finds themself within these works, caught in their surface reflection or positioned at a bodily scale.
This is perhaps most literally played out in Unhurried Study #10, a coffin-like form that stands upended, its reflective black acrylic sheeting drawing the viewer into its chamber and, by doing so, presents a threshold or precipice – a psychological space to step across, and into. 
While it is not a new device or consideration for an artist, it makes sense within this suite of works that bridge the aloof, the spiritual and esoteric, with the cold hard precision of geometric abstraction.
It is easy to see Butcher's heroes in these works – Donald Judd (especially in the stacked work Unhurried Study #9), Colin McCahon and Mark Rothko (Unhurried Study #4 clearly pays a nod with its velvety fields) – but it is a lazy rattle of names, caught in an aesthetic veneer.
Rather, in considering Butcher's works, I find an introspection that is driven by materiality that has a very personal connection, over form or narrative. One can't help but situate these works alongside the home of Butcher and Cockburn – essentially just a larger corten steel box on the same property (which Butcher has built).
To add another American great alongside Judd and Rothko, Unhurried Study #6 wells memories of Barnett Newman's zip paintings. Its classic horizon line division evokes an inky night sky over an earthy field. While it is a stretch to call these sculptures landscapes, Butcher's alert embrace of arts aesthetic lineages could also find an Australian trigger in the colonial zips – the 9 by 5 Impressionist paintings of the late 19th century (aka Tom Roberts, Charles Conder and Arthur Streeton), which diffuse the landscape into jewels of light, atmosphere, weather and moment. In essence, they were about recording time.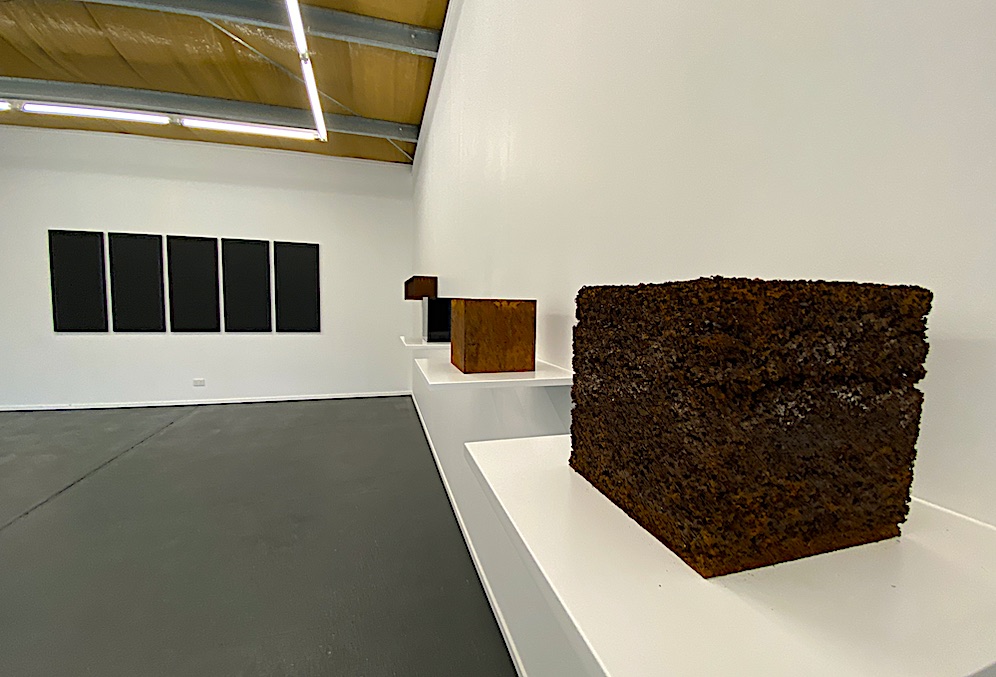 While Coburn says Butcher's works 'ask you to be comfortable with the colour black', equally, they are about time. To use a fashionable term of our day, they embrace 'slow art'. They invite a consideration of time in a lateral sense – made over 12 years, the metal rusted in real time, and the passion for refined aesthetic that is the culmination of a lifetime of making.
And if ever there was a study of form and material – captured like a haiku – it is Unhurried study #2, the blatant presentation of a cube of cast glass, a cube of rusted steel sheet and a cube of swarf (the end filings from a drill press cast into a form through the rusting process). Surface is everything.
Read: Exhibition review: Hannah Quinlivan and Dobell Drawing Prize
Overall, the exhibition is formally tight, with the repetition of the square and cube – or stacked linear forms that collectively create a square field. For many works, the void is equal to the elements that make up their parts.
A good example is the six-panel installation Unhurried Study #12, where the glass panels have been arranged in a cruciform, but with the central element pulled out and push to a side. Within it, the plane is again perfectly divided into quarters by the finest line in red glass.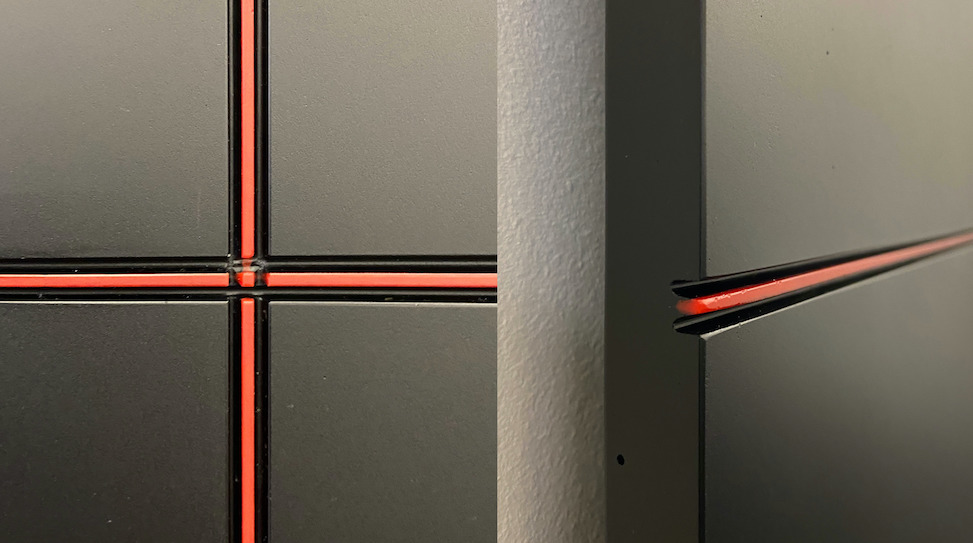 Glass is an unforgiving and difficult material to work with. Rusting steel is unpredictable, but also rigid and static. Butcher doesn't take the easy path. But it is less about a challenge, and more a religiosity in its unwavering commitment. Vault is a credit to that vision, and also to the gallery in its brave embrace of the individual artist journey.
Chick Butcher: Vault
Seven Marks Gallery
7 Marks Street, Kiama (NSW)
1 April – 25 May 2023