Sculpture by the Sea (SXS) is currently being staged at Bondi Beach in what might be its last edition, due to mounting tensions with Waverley Council, while in the neighbouring suburb, the 19th edition of the Woollahra Small Sculpture Prize (WSSP) is underway in partnership with Woollahra Council.
Together, these two events create a complex contemporary narrative around the presentation of sculpture practice today – its means of support, capacity for commercial success, opportunity for career profile, impact of scale, and politics.
SXS rolled out its 23rd edition this year (24 October – 10 November) under a cloud. Earlier this year, the organisation lost its battle with Waverley Council over the construction of paths and upgrades to Marks Park, where the annual event's onsite headquarters and green-field location for a large number of exhibited works are situated.
Two pages of the exhibition's catalogue are dedicated to SXS's campaign – or should one say complaint – against the changes to the park.
Read: Council path puts Sculpture by the Sea at risk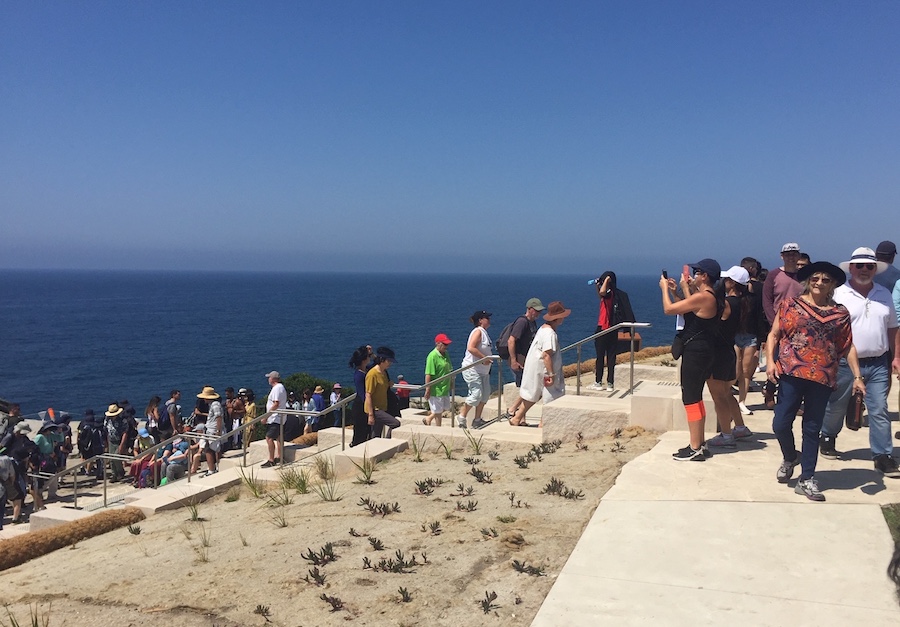 New paths at Sculpture by the Sea, Bondi. Photo ArtsHub.
The organisation's case is that of the loss of 12 sites for sculptures – one of which will become the site for a permanent sculptural commission by Waverley Council in 2020, and enjoyed by the public year long – has compromised the 18-day event.
While school kids excitedly clamber over the sculptures and punters pose for their "insta shot" with the artworks, a crowd of over 450,000 visitors jostle for a look, making Marks Park insanely congested.
Arguably, it has become a less than ideal venue as site lines are compromised and large-scale works sit cheek-to-cheek.
For some the loss of 12 sites might be a relief.
This year's event event boasts 111 sculptures from 19 countries, with a special focus on ten Czech and Slovak artists in celebration of the 30th anniversary of the Velvet Revolution.  
SXS Founding Director David Handley explains the connection between the Czech Republic and the Bondi event.
'I lived in Prague for a few years shortly after the end of communist rule … During this time, I "got" the drama and theatricality of sculpture thanks to an exhibition staged by Vaclav Fiala. This led directly to the first exhibition of Sculpture by the Sea,' Handley said.
An enormous pink tank by Czech Republic's most controversial artist, David Černý (who famously painted the Monument to Soviet Tank Crews memorial in Prague pink in 1991 and was arrested for hooliganism), is reborn in Marks Park, as a large-scale steel sculpture titled, Pinktank Wrecked (pictured top).
Amidst the rhetoric surrounding this year's SXS, you have the subtle sense that Handley and his team are taking on that revolutionary spirit as their differences with Waverley Council mount, with the organisation now publicly announcing it is looking for an alternate site.
In contrast, and with a slightly shorter history, Woollahra Small Sculpture Prize (11 October until 3 November) has a "love fest" with its partnering organisation.
Exhibited in a more traditional style within the Woollahra Council Chambers, the prize was initiated to support artistic excellence, but also to encourage the local community to access the then newly renovated Woollahra Council Chambers (2001).
Installation view 2019 Woollahra Small Sculpture Prize. Photo ArtsHub.
What sets this sculpture prize apart is that each entry must be no larger than 80cm in any dimension.
This year sees the work of 43 emerging and established artists (roughly half the number of SXS and in a space a fraction of the size of Marks Park) packed in as tight as a tin of sardines. Woollahra Small Sculpture Prize has been slowing growing its international wings – but truthfully, has little room to grow physically.
One question arises: as this prize expands will it also extend? After all, the surrounding grounds of the Council building feature a spectacular view of Sydney Harbour. It would have an interesting parallel with SXS, which "went small" in recent years by exhibiting the the sculptors' maquettes in a marquee.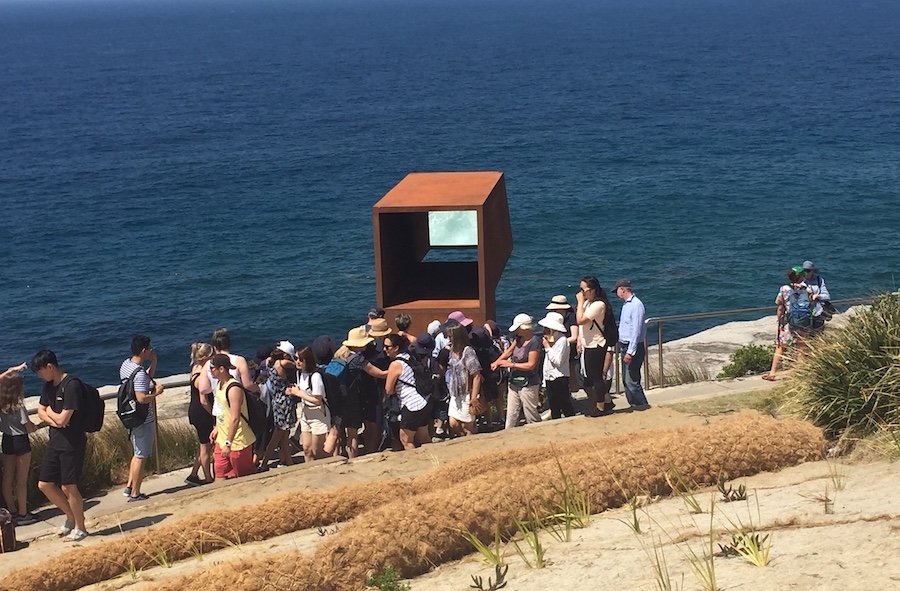 Joel Adler Viewfinder. Installation view with crowds, SxS Bondi 2019. Photo H Fanti.
The Politics of Sculptural Events
Funding, as with any art event, is an increasing challenge, though one perhaps less felt by Woollahra Small Sculpture Prize.
Handley said of SXS: 'After 23 years we are … still unable to secure the funding required to assist each artist with their freight and fabrication costs, which average $18,000. This means the artists underwrite to the tune of $1.8 million the cost of the exhibition, which delivered $38.9 million to the NSW economy from tourism last year and an additional $11 million to the cafes, bars and restaurants of Waverley.'
Create NSW and the Australia Council are the source of financial support for the artists' installation costs and a minimum of $2,000 towards each artist's other costs.
Sculpture by the Sea's economic contribution is a massive bargaining chip as the event looks to the future. It has been touted that SXS may move to that other famous Sydney coastline – Manly.
The Northern Beaches Council is well advanced in its construction of a 36-kilometre public art coastal walkway capable of accommodating Australia's largest free sculptural event next year.
In March this year, Northern Beaches Council announced that the major public art projects for the Northern Beaches Coast Walk with the Coast Walk Public Art Strategy will be delivered in 2020.
Northern Beaches Mayor Michael Regan said: 'Community engagement has been an important platform in developing the draft Coast Walk Public Art Strategy, with the main objective being to understand what the community wants the Coast Walk to provide in the long term as an interactive experience.'
Council will soon call for expressions of interest from artists with a view to commissioning artworks for this environmentally sensitive coastal area.
The draft Strategic Plan provides guidance for Council to deliver high quality public artworks at various sites along the walkway, stretching from Manly to Palm Beach. Two million dollars over a four-year period has been allocated to the project from Council's Merger Savings Fund.
SXS organisers have also discussed relocation with Sutherland Shire and Woollahra since their relationship with Waverley Council soured.
SXS Chair Alice Spigelman said that the challenges of staging an event of this scale were enormous, 'from raising the $2.7 million to put on the exhibition to ongoing misconceptions about what we are, a small not-for-profit led by a dedicated Director.'
In this year's exhibition catalogue, Handley publicly apologised to the artists whose works could not be presented in this year's exhibition due to the new path, and thanked the others 'for their patience while we tried to understand the implications for their sculptures.'
One source even recounted to ArtsHub: 'It's no longer enjoyable to visit. I feel sorry for the artists.'
For these events, ambition is both a win and a loss. The works at SXS seem to have got bigger and the crowds along with it. The work also feels more frivolous in their desire to be "snapped and posted". If anything the smaller event across town has become a more serious conversation about sculpture now.
Merran Esson Autumn On The Monaro, winner 2019 WSSP. Photo: ArtsHub.

Prize versus Festival
Prize money for WSSP this year totals $24,000 across four categories, all of which are supported by the Council.
SXS in contrast offers a main prize of $70,000 sponsored by Aqualand, three Helen Lempriere Scholarships at $30,000 each, and then an additional pool of four smaller prizes totalling $20,000.
Both major prizes are acquisitional. Aqualand came on board four years ago, and its contribution makes SXS the 'most generous sculpture award in the Southern Hemisphere.'
On top of that SXS attracts an additional $174,500 in artist subsidies and mentorships (bringing the total prize pool to $354,500). No one can deny this is great support for sculpture and artists, but clearly these corporate and community sponsors are attracted by the scale and profile of the event. 
However, as SXS Chair Alice Spigelman reported: 'Because artists sell their works we are sometimes regarded as a commercial enterprise which is far from the truth.'
New Zealand sculptor Morgan Jones was named recipient of the $70,000 Aqualand Sculpture Award for his corten steel work The Sun Also Rises this year.
The Sun Also Rises will be gifted by Aqualand for permanent public placement to North Sydney Council, and becomes part of their public sculpture collection, one of three that make up the Sydney Harbour Sculpture Collections.
The placement is a particularly interesting one when you look at the politics that underlie this years SXS.
And if we are to get more confused by this year's events, the three $30,000 Helen Lempriere Scholarships went to Nadia Odlum (emerging), Louise Paramor (mid-career) and Michael Snape (established).
Many might argue that Louse Paramor has crossed the boundary as a mid-career artist, being one of the more highly commissioned public art sculptors. Last year the National Gallery of Victoria presented a major survey of her work. She is using the $30,000 to travel to Japan for research.
Michael Snape is using his $30,000 on research to open his own sculpture park.
Sculpture by the Sea, Bondi
24 October until 10 November 2019
Bondi to Tamarama coastal walk, free
Woollahra Small Sculpture Prize
11 October until 3 November 2019
Woollahra Council Chambers, Sydney, free.