Installation view TARNANTHI: Festival of Aboriginal and Torres Strait Islander Art, featuring Yhonnie Scarce, Thunder raining poison, 2015, Art Gallery of South Australia. Photo: Ben Searcy; supplied
In recent years we have seen a growing resurgence for the ceramic medium. There has been a spate of exhibitions globally that have explored the contemporary application of this diverse medium, bringing making now in sync with its long history.
What has been exciting about this movement is the way it has punched beyond craft perceptions and entered the museum. Grayson Perry's recent exhibition at Sydney's Museum of Contemporary Art Australia is a good example, as is Juz Kitson and Glenn Barkley's inclusion in this year's Adelaide Biennale of Australian Art, opening next weekend.
Read: New ceramicists don't care to be cool
Art schools say the trend has driven up enrollments for ceramic courses in recent years. But ceramics are not alone in this swing back to the maker's studio.
This week has demonstrated an uncanny alignment of announcements turning attention to another traditional medium: the art of the glassmaker.
The short list for the 2016 Tom Malone Prize for glass was announced; entries were called for the $15,000 KIGA (Kirra Illuminating Glass Award) 2016 Award; Giles Bettison solo exhibition opens at the Geelong Gallery, Tom Moore's work will be profiled as one of the key installations at next week's Adelaide Biennale, and today Asialink announced its first-ever craft-focused residency, partnering Canberra Glassworks with Toyama Glass Studio in Japan.
Timing has drawn a spotlight on this consideration, and it begs the question whether it is just coincidence or is something more going on with glass?
The story of glass
Just like ceramics there has always been a strong fraternity of makers and activity by Australian glass artists, both nationally and internationally, who have been persistent despite changing trends and fluctuating markets.
The high time for glass was in the 1980s, when glass was celebrated as the bling of the crafts, its prices ratcheting ever higher and Australian artists being pulled into international collections.
Where ceramics was seen as homey; ​ glass was viewed at the time as seductive, alluring. But tastes changed, and so did the economics of production.
Sydney College of the Arts (now part of Sydney University) established the first glass workshop in 1978, set up by Maureen Cahill who is also credited with running the Glass Artists' Gallery in Glebe since the 1980s. It will be interesting to see if glass will continue to be offered when the School moves from its Rozelle campus within the next three years.
But Canberra and Adelaide have ​ been the strongholds for the medium in Australia. German-born Klaus Moje set up the glass program for Australian National University (ANU) in 1982. It was unlike any glass workshop at the time and focused on fusing and cold-working techniques, rather than glassblowing.
​The medium developed a contemporary application, pushing glass into large-scale sculpture and installation, perhaps fueled by the celebrity and flamboyance of the day, American Dale Chihuly whose work internationally pushed glass into its acceptance as sculpture. One of his chandeliers sits in the entrance of London's Victoria and Albert Museum, and in 2004 his sales were estimated at US$29 million,.
Today the core Australian art glass production is at Canberra Glassworks, a factory-style furnace workshop established in 2007 and the JamFactory in Adelaide, which has been very pro-active in touring exhibitions of glass in recent years.
Another important player also in this ecosystem is the National Glass Gallery, housed and collected by the Wagga Wagga Art Gallery in regional NSW.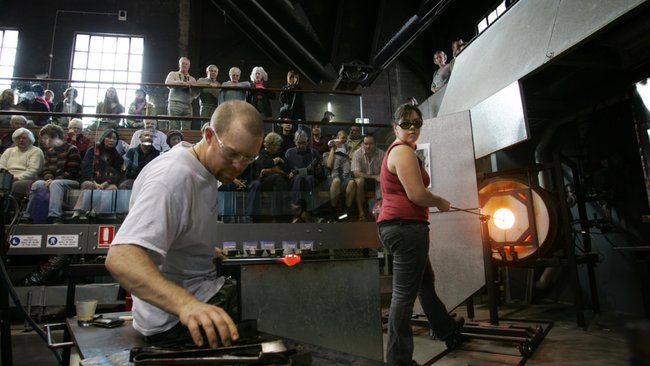 Source Canberra Glassworks
Glass gets political
One of the key artists in last year's Tarnanthi Festival of Indigenous Art at that Art Gallery of South Australia was Yhonnie Scarce (pictured top). As the gallery's website states: 'She uses the medium of glass to explore the treatment of Aboriginal Australians in both historic and contemporary contexts.'
Her work was used predominantly in the exhibition's marketing, which placed a curious emphasis on it. Scarce was also taken by Melbourne's Tolanaro Gallery to Art Basel Hong Kong last year, a city that is home to the glass galleries Gaffa and Koru Contemporary Art.
A year earlier, indigenous artist Jenni Kemarre Martiniello also hit the spotlight for her use of glass. In 2013 she scooped both the $40,000 National Aboriginal & Torres Strait Islander Art Award for one of her glass fish traps, and a few months earlier a $90,000 Indigenous Art Fellowship.
Continuing this recent zeitgeist, the National Gallery of Australia's Contemporary space is currently showing artists Ken and Julia Yonetani (pictured below), with their major installation of chandeliers made from uranium glass. It had recently toured regional venues in Australia.
Both Scarce and Yonetani are using glass in a political context, working beyond the vessel. This work is being celebrated in the wider museum frame, not boxed off in a side gallery but part of the main stage.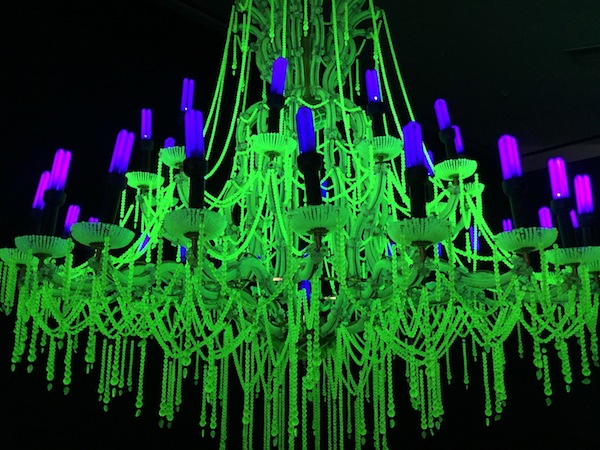 Read: The Last Temptation: Ken + Julia Yonetani
Sculptors embracing glass
Many celebrated artists internationally have worked with glass artists to create contemporary or installation based artworks for major museum exhibitions including Louise Bourgeois (who has a partially glass work in the NGV Collection), Kiki Smith, Tony Cragg, Mario Merz and Jeff Koons​.
Indeed, the celebrated Australian sculptor Ken Unsworth is blowing with a team this month at Canberra's Glassworks.
By its very nature glass is a material that invites collaboration, and fits in well with the contemporary trend to push the boundaries of how we make across disciplines and materials.
Glass in Biennial spotlight
It is not surprising Tom Moore is among the 25 artists selected by Biennial curator Lisa Slade, and with the title Magic Object, Slade makes a decisive statement about the value of such making in contemporary dialogue.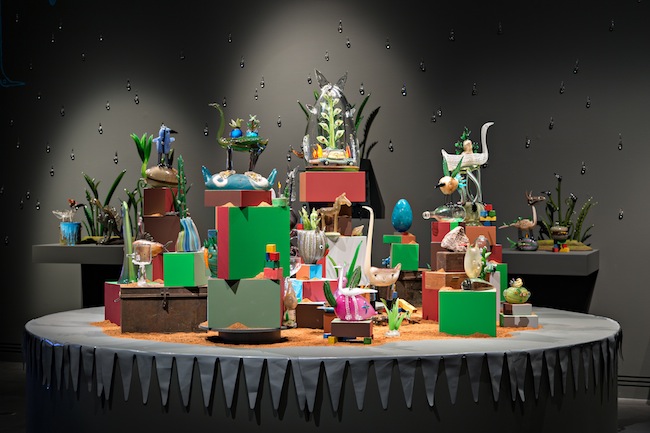 ​
Installation view 2016 Adelaide Biennial of Australian Art: Magic Object, featuring Tom Moore, Art Gallery of South Australia, 2016; supplied
The proliferation of his work across the exhibition is a persistent reiteration of its place. His work can be seen from the front forecourt and façade of the Art Gallery of South Australia on North Terrace, to inside the Art Gallery itself and then east along North Terrace to the last standing Museum of Economic Botany in the world in the Adelaide Botanic Garden.
'Such abundance and proliferation is perfectly apt for an artist with a generative practice founded on the arcane and secretive art of glass making,' said Slade and her team. It is like a jewel rediscovered.
Art constantly moved in cycles. What we might be witnessing now is a blossoming interest by those who did not go through the 80s glass revolution, discovering the material with new eyes. That presents exciting opportunities.
Prizes fill the gaps
While the pick up of contemporary glass has been slow, prizes and international exchange have offered Australian artists working in glass the opportunity to extend those dialogues.
The Tom Malone Prize has been around for 14-years, and is presented by the Art Gallery of Western Australia and is an acquisitive prize intended to promote glass in Australia. Moore won the prize in 2013.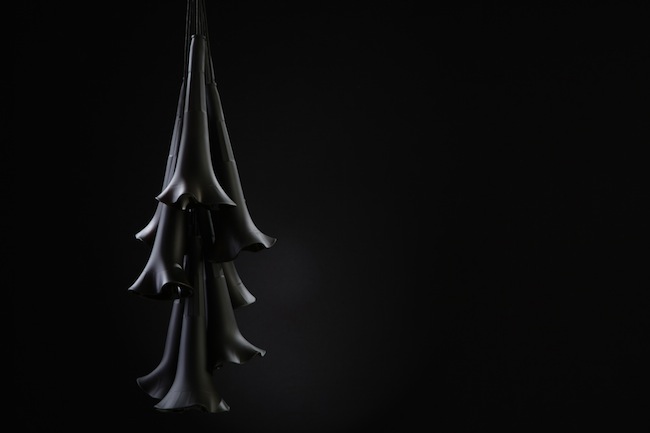 Ruth Allen's Black beauty (2015) shortlisted for this year's Tom Malone Prize and made from sandblasted up-cycled Sambuca bottles; © Ruth Allen, 2015; Photo credit: Eddy Khayat from Liquid Photography
This year's shortlist is currently on display with the exhibition Luminous, until 2 May. The artists are: Ruth Allen, Andrew Baldwin, Gabriella Bisetto, Brian Corr, Mark Eliott and Jack McGrath, Kevin Gordon, Marc Leib, Jeremy Lepisto, Jessica Loughlin, Kumiko Nakajima, Kirstie Rea, Janice Vitkovsky, Zoe Woods and Jamie Worsley.
AGWA curator Robert Cook said: 'Glass is one of the most exciting and dynamic art forms in this country. It is a uniquely captivating medium, capable of almost endless transformation. Glass provides a perfect vehicle for the exploration of a range of themes, from the personal to the observational.' The winner will be announced early March.
Also this week, Kirra Galleries and Fed Square (Melbourne) have called for entries for the third Kirra Illuminating Glass Award (KIGA) held in association with The Light in Winter program in June.
Kirra Galleries Director, Peter Kolliner OAM said: 'Hand blown glass when combined with an electrified light source was in vogue soon after electricity became harvested as a source of energy, after light bulbs were developed. However, illuminated glass quickly fell out of favour as decorative items when mass production techniques were applied to the manufacture of coiled coil light bulbs.
'In recent days halogen and more recently LEDs (light emitting diodes) provide glass artists a new, exciting and endless scope in which to practice their talents – hence Kirra Galleries and Fed Square's interest in the re-development of the art form.' The deadline to enter is 22 February 2016.
Canberra Glassworks is also calling for entries for its inaugural Hindmarsh Prize, which closes 31 March and is open to ACT artists, while and JamFactory is presenting a $20,000 glass prize for established Australian and New Zealand artists. Again, 2016 is its first edition and entries for FUSE close 11 March.
In a similar rethinking as KIGA, later this year QUT Art Museum in Brisbane will present GLASS: art design architecture, (19 November – 5 March), which reflects upon how glass intersects with us on a daily basis from cutting edge technologies to objects of beauty.
The exhibition is toured by the JamFactory, who are also responsible Giles Bettison's exhibition Pattern and perception of murrine vessels, which opens this week at Geelong Gallery (20 February – 8 May).
This juxtaposition of shows – from an ancient technique of European masters to science's application of glass – shows how diverse and sustainable glass is a creative material. There is no uniform signature to glass – and that is exciting.
Shifting perception seems to be the future path.
Perhaps it will be a key topic in the 2017 Ausglass Conference held in Canberra 26-29 January. With the theme (r)evolve: create, sustain, evolve it will unpack and debate some of the current issue arising from glass today.