This week we conducted a poll asking you how confident you are about returning to art events as we adapt to living with the pandemic.
According to the government's four-stage plan, once Australia hits 80% of its eligible population vaccinated, states should end the practice of 'generalised lockdowns' and begin opening up. As of 7 October 2021, Australian Department of Health data notes that 58.4% of people aged 16 and over are double vaccinated.
So how safe do you feel with the 80% vaccination target?
36% of our sample group said they were 'not very confident' about attending art events at the moment.
However, 48% said they would feel confident about attending art events once 80% of the population is vaccinated.
And when it comes to what you need to return, 57% of you said you wanted all of the suggested measures to feel safe including audience check-in, face masks, limiting capacity to 75% and taking temperatures on entering.
So there is some faith in the 80% vaccination target, but the majority of survey respondents want to see more measures in place to feel safe enough to go out.
'THE CURTAIN CAN RISE AGAIN'
The majority of our respondents are 'not very confident' in returning to events at the moment, with some saying community cases are still too high. You also expressed continued frustrations with event cancellations.
'You just don't know if something is going to be cancelled or not at the last minute,' said one participant.
Read: Understanding pandemic audiences: latest data
However, 33% of you are 'very confident', noting that the vaccine and organisations adhering to COVID-19 safety measures have given you some comfort.
'I have attended several Art Museums in the Northern Territory in the past two weeks, as I am a Territorian. I am very confident because I have followed all COVID-19 safety measures correctly,' one person responded.
Another person stated that the arts sector is doing a good job of getting vaccinated. 'With vax rates climbing fast and those amongst art professionals and arts lovers much higher than the average, the curtain can rise again,' they told us.
HAPPY TO ATTEND IF COVID-SAFE POLICIES ADHERED TO
More than half of you said you will feel more confident in returning to events when 80% of the population is vaccinated. Readers suggested that hitting this target adds an extra layer of safety.
'80% of the population being vaccinated would mean that I am safer and unlikely to be at risk. Plus, more people would be out, and art events would be more easily sociable.'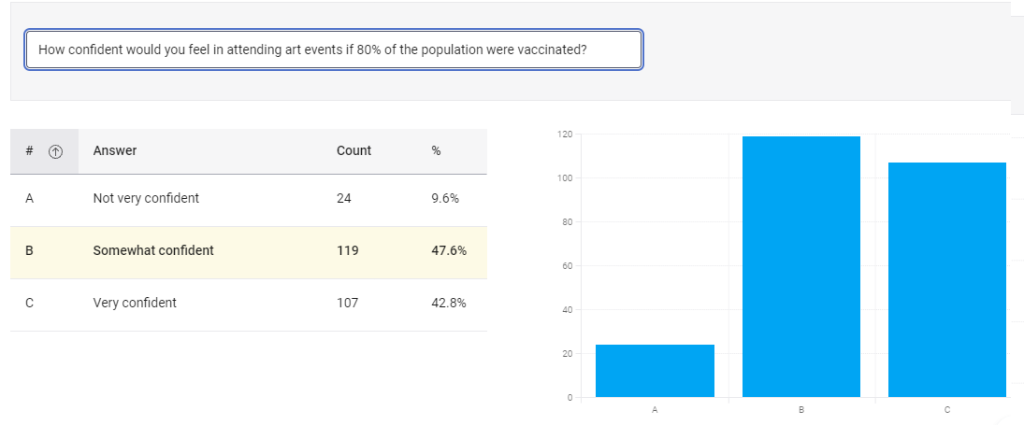 When asked what are the most important COVID-19 safety measures art venues need to demonstrate, 57% said 'all of the above' indicating that a combination of all existing safety measures was preferred. Audience check-ins and use of face masks were the next biggest measures that you saw as important.
Participants commented on the importance of checking in to venues and following the Chief Health Officer's public health directions, 'making sure this is clearly communicated to audiences.'
HOW THE ARTS HELPS US RECOVER
Many of you suggested that not only will the arts play a huge role in economic recovery, art will also improve the public's mental wellbeing.
One respondent said the arts will give people something to look forward to and 'will do wonders for those who have been in lockdowns.' Other comments in response to the role of the arts in the recovery process included:
'The arts and culture are the most creative industries that can show us the ways to pivot and adapt through these challenging times.'
'To heal our souls, to reconnect with others, to re-learn how to interact physically and socially again. To create, express, to feel, to share.'
There was also an emphasis on the importance of paying artists who have been without income for the past 18 months. But overall, participants agreed that the arts will play a major role in reconnecting communities.
'We've been playing a role throughout this pandemic! It's one of the few industries that despite its decimation, has continued to keep people entertained & full of hope!'
This poll was run online through the ArtsHub website for three days (4-6 October 2021) with 322 respondents.