Wominjeka (or 'Come with purpose') was the Woi-wurrong word that Aunty Janet Galpin offered in her Welcome to Country for ArtsHub's virtual conference, Visions 2020. That idea of purpose found its way across all of the panels – one perhaps not expected, but a foundation as our arts sector put closure to a year and brace for another.
It was not the events of 2020 that peppered conversations, but rather the lessons we learned, and how they can prepare us for 2021. There was a tone of self-assertion across Visions 2020; to harness the groundswell of resistance and to push it forward – in funding, digital access, cultural safety, and climate action. The warning, however, on everyone's lips was to be vigilant, and to not let complacently slide back to the 'old normal'.
Damaging luxury tag
Editor and co-founder of Hyperallergic, Hrag Vartanian set the tone from the get-go with his keynote speech titled, The future can't get here fast enough.
He used the history of artist protest in America to leap to the urgent conversation about what protest might look like in 2021.
Vartanian said: 'So many in public think of artists as only conveyors of luxury, but that view is limited.' He spoke of the commercial art world winning a kind of PR or propaganda war on the arts, that has, 'positioned the artist into a rarefied thing.'
His view is that label does not serve our sector well. He made the point that it is our job to fight that perception and how it is influencing public opinion.
Hyperallergic published about 30+ art reviews a week last year, but realised less than 1% of its income from those commercial galleries. 'Something is out of whack, and artists are realising that there is more than the gallery models,' he said. He gave some wonderful examples of how artists are working outside of that system.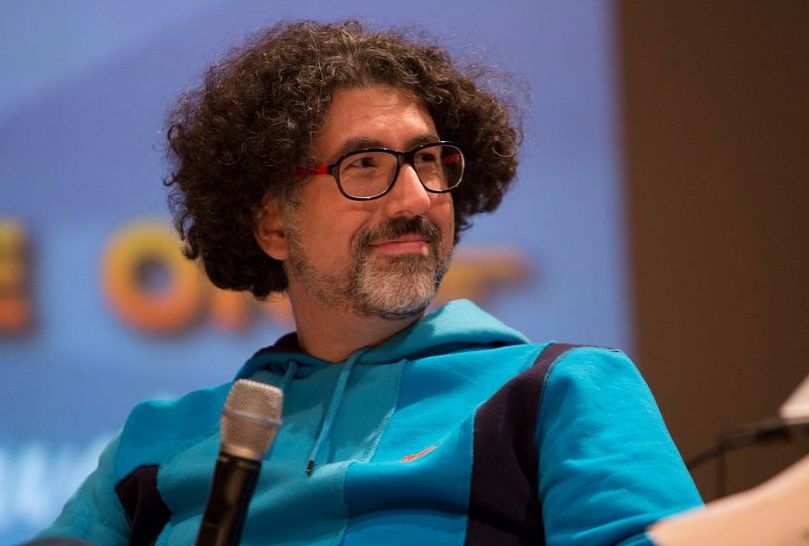 Our Keynote speaker Hyperallergic editor and co-founder Hrag Vartanian.
Fresh funding for sustainability
Rethinking funding was explored by Dr Jackie Bailey, Terry Wu and Shelagh Magadza in a panel which really pushed beyond the box of tried-and-true solutions for our sector.
Bailey's view was that we need to, 'think about impact investment and setting funds up for ourselves, and not to wait for government. Governments tend to follow, not lead.'
She said the key is working more collectively to create wealth that can then sustain artistic practice.
Wu has put that theory into reality. He and a co-investor bought a warehouse for artistic activities. Bailey spoke of a similar example, the Cultural Land Trust in London, which turns to an impact investment model of blended capital.
Wu described himself as a bit of a financial activist, asking 'What can we do to make funding more sustainable? [answering] …Sustainability comes from a system where people are involved.'
The collective message was that we were not really involved in our funding – we just applied and hoped.
Wu joined Vartanian in his view that individual artists and small organisations have become 'forgotten in this big machine' of funding. As Vartanian, Wu and Magadza all pointed out, so much is happening at a grass roots level – through things like Kickstarter, Go Fund Me, add-on donations at online box offices – that we can use alternative funding channels in an activist way.
Magadza said that we need to start 'decoupling' the two things – artistic activities and funding. She believes the answer is in the question, 'What motivates funding?' rather than the start point of the need for X dollars.
She said that we are overlooking opportunities through the 'silo nature of these conversations, and if we think more cross-sector – the arts and mental health; the arts and education; art and environment,' opportunities arise.
'We are not linking those things in a cohesive way to have more impact,' she added.
Magadza followed that thought by pointing out that 'we are currently faced with an interesting moment where there is a lot of money washing around and needs long term investment,' also pointing to property owners thinking how to repurpose their buildings in the year ahead.
Cultural safety = decolonising our minds
In the panel on cultural safety, Ana Tiwary said: 'We have to really work at decolonising our minds to ensure we get cultural safety right in our spaces; we need to move away from extreme individualism toward a more community spirit.'
It was a message picked up by Dawn Casey: 'We need to be asking how they [artists and communities] want to design their displays; how to do it in a way they feel safe to be displayed.'
Casey said that the acknowledgment of intellectual property is critical for First Nations artists, and that movements made in copyright over the past 10 years have been critical. 'For me, that's self-determination,' said Casey.
It was an underscoring of the point Aunty Janet made in her welcome: 'It is also a contract between people as custodians of this land and yourselves.'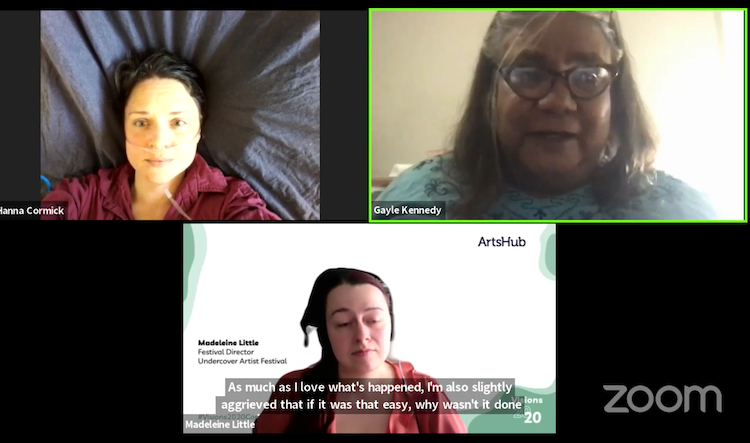 Post-pivot digital and access panel, Visions 2020. Top L-R Hanna Cormick, Gayle Kennedy and Madeleine Little.
Cultural safety rubbed shoulders with access
There was a synergy across the panels that discussed cultural safety and digital access.
First Nations Author Gayle Kennedy asked: 'What were your excuses for keeping our noses up against the window pane, always the ones outside looking in? You can't make excuses anymore; we are not going back!'
She was speaking about the recent digital boon for artists with disability that meant they could attend events that were previously held in the physical space only.
Madeleine Little continued: 'Removing these digital tools is now discriminating. By not using these [in the future], is actively saying these people are not welcome in these spaces or able to consume art.'
It was a discussion that picked up on a broader zeitgeist swelling across the sector this year.  
Kennedy captured that feeling: 'The arts sector needs to start asking the hard questions: Why aren't these people turning up? Are we not producing what they want to see, or are we not making them feel welcome, or is it that they just can't access [our spaces and programs]?'
Little added that as a sector we should be embracing the idea that greater access – digital and physical – will lead to more 'bums on seats', with the inference that inclusion is a no-brainer.
'It is especially important to any arts organisation if they claim the tag line "diversity". It is one thing to say we have these programs for First Nations artists, but if you don't have those access measures there [for First Nations audiences to attend], then they are excluded from those opportunities.'
Videos of Visions 2020 panel discussions will be available to attendees soon.