WARNING: This story features the names and an image of deceased Aboriginal people.
The visual arts sector is mourning the loss of senior artist Mrs Esme Timbery, who died in a nursing home on 6 October, aged 92.
The Bidjigal Elder, from the Aboriginal community of the south-eastern Sydney suburb of La Perouse* (NSW), was known for her decorative shellworked sculptures, which often took the form of Sydney attractions, such as the Harbour Bridge, and small slippers that paid honour to the Stolen Generations.
Within days of her death, the Yirrkala community in north-east Arnhem Land (NT), was mourning the loss of another bold and individual talent, with the death of Yolŋu painter and printmaker Mrs Noŋgirrŋa Marawili, celebrated for her innovative use of printer toner ink on bark.
Marawili was a Maḏarrpa/Galpu woman from Baniyala, and daughter of the late artist Mundukul Marawili (who was an ally of the great pre-contact warrior Wonggu Mununggurr). She was a respected Elder in her own right.
Both women played a significant part in shaping contemporary voices within Aboriginal art, and were collected by major institutions in both Australia and abroad, and their works were exhibited in significant museum shows.
Jump to:
Two women who were true innovators
While Marawili is most remembered for her use of printer cartridges – in particular her signature magenta-toned works created from toner cartridges salvaged from the printmaking workshop – in some ways, her unique and progressive grasp on the world reaches back to her very images themselves, rather than their materiality.
She had an incredible capacity to distil the known clan designs of the Djapu and Maḏarrpa, considering them as compositional elements. Marawili would say that her works were conceived for "outsiders", and that her paintings were devoid of the sacred. In 2017 she told the National Gallery of Australia, 'I just do my own design from the outside… This is the painting I do. You may spy on me and think that I am painting sacred things. This would be a lie.'
On social media this week, artist Ben Quilty captured a feeling shared by many, describing Marawili as 'one of the greatest painters of my generation, in my country, in my life'. It was a view echoed by Director of the Art Gallery of NSW, Michael Brand: 'For me, she was truly one of Australia's most excitingly adventurous artists, as she strove to balance tradition with innovation.'
In a similar way, Timbery diverted from the norm. While shell art wasn't considered traditional cultural practice, it was very much a continuation of Aboriginal life, taking something inherited and bringing it into contemporary relevance, and resilience.
'Aunty Esme and other La Perouse artists re-craft Australia's image and history, to provide a richer understanding of the Sydney landscape,' said the AGNSW, in paying tribute to Timbery's vision on social media this week.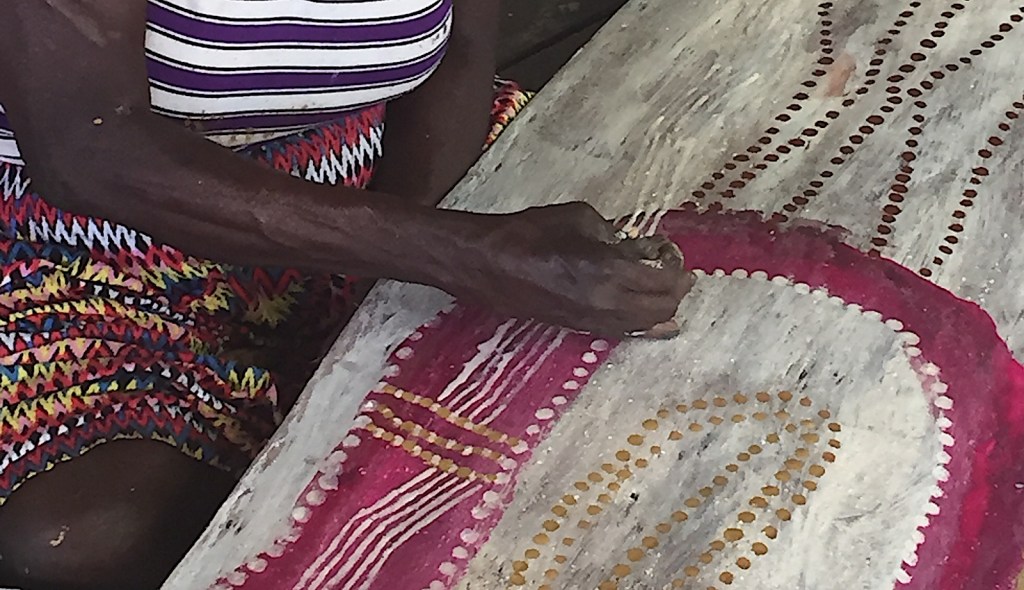 Who was Marawili?
Marawili's paintings reference natural occurrences of lightning, wind, rain and sunlight in a distinctive style of lines and strings of dots. She would influence many artists to follow in both materiality and technique.
Marawili (c. 1939) was born on the beach at Darrpirra, and lived a nomadic family existence, often as part of a flotilla of canoes and camps at Maḏarrpa clan-related sites between Blue Mud Bay and Groote Eylandt.
She settled permanently at Yirrkala when she married and, in later years, was a regular fixture at the Buku-Larrnggay Mulka Centre, where she began painting in the courtyard in 2011, usually with a "cheeky" dog in tow. It was here that I – along with many others working in the sector – had the great honour of meeting Mrs Marawili, and seeing her genius first-hand.
Hayley Megan French writes in Art Collector, of viewing a painting by Marawili: 'If you stand up close to one of Nonggirrnga Marawili's monumental bark paintings, you will likely see fingerprints in the paint, hairs trapped in the glue, drawing marks not fully erased… The materiality of the works [is] striking: sculptural in the way they protrude off the wall, embedded in their locality. When asked by Buku-Larrnggay Mulka coordinator Will Stubbs where is this place she is painting, Marawili replies that it could be anywhere, "my Country, your Country" – it is not what she is painting, but that she paints, that is important.'
Marawili, however, didn't start with painting, which was traditionally a male activity in Yolŋu culture, charged with passing down lore. While Marawili started out in the 1980s assisting her husband, the late Djutadjuta Mununggurr, she found her own expression in printmaking.
It was at a time when the Yirrkala Print Space had just opened (1995), under art coordinator Andrew Blake. For close to a decade she worked across different print mediums – screenprinting, etching and woodblock prints. She received her first major commission in 1994, and another in 1996 by the notable US collector, John Kluge.
In 2005, however, Marawili turned to painting regularly. A turning point came in 2013 with the solo exhibition And I am still here, presented by Alcaston Gallery in Melbourne. Things quickly escalated – her Manhattan debut at the James Cohan gallery in 2015, followed by the inclusion of her work in the major US touring exhibition, Marking the Infinite: Contemporary Women Artists from Aboriginal Australia (2016-2019).
Read: Vale Cal Wilson
Back in Australia, Marawili had won the bark painting prize at the 2015 National Aboriginal and Torres Strait Islander Art Awards (NATSIAA), for her work Lightning in the Rock (which was subsequently acquired by the National Gallery of Victoria). She was included in Defying Empire: 3rd National Indigenous Art Triennial, at National Gallery of Australia, Canberra (2017). And then again she took out the 2019 NATSIAA award for her painting Lightning Strikes and the 2019 Wynne Prize, at the Art Gallery of New South Wales (AGNSW).
AGNSW presented her first survey exhibition, along with a major publication, Nonggirrnga Marawili: From My Heart and Mind (2018), and in 2020 her work was featured in Nirin: The 22nd Biennale of Sydney at both Campbelltown Arts Centre and the Museum of Contemporary Art Australia (MCA).
That same year, her work again travelled to the US for the exhibition, By the Strength of Her Skin, at Second Street Gallery in Charlottesville, Virginia. Her works are held in major state collections, as well as the international collections of the Auckland Art Gallery Toi o Tāmaki, the Metropolitan Museum of Art, and the Kluge-Ruhe Aboriginal Art Collection of the University of Virginia.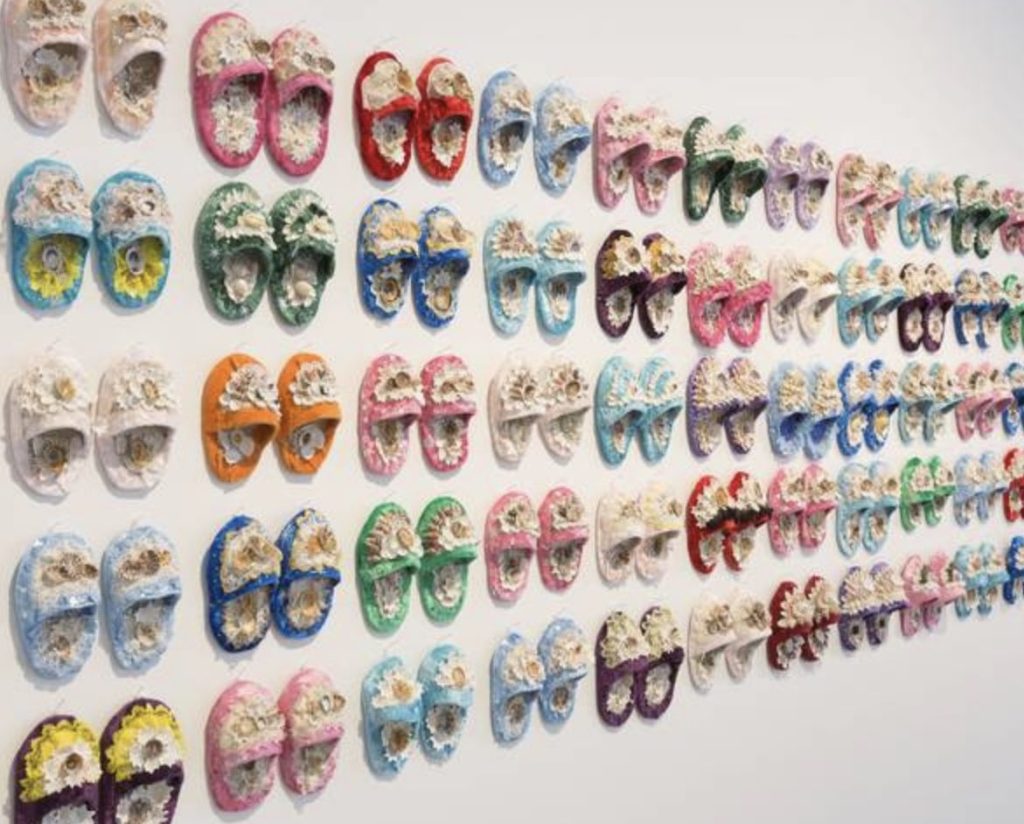 Who was Mrs Timbery?
Born the year before the Sydney Harbour Bridge was opened (1931), Timbery was the daughter of a fisherman, and she remembered as a child him coming in with the day's catch, giving fish to the gathered women for breakfast. Fishing and shell collecting had been part of the La Perouse community for generations, with the idea of shellworking objects as a source of income introduced by Christian missionaries in the 1880s.
It is not surprising, then, that her form of artwork of more than eight decades stayed close to the sea. Known for her shellworked sculptures of tourism icons, boxes and shoes, she learned the skill as a child, working alongside her great-grandmother Queen Emma Timbery – who often displayed shellwork at Sydney's Royal Easter Show and, in 1910, was included in an exhibition of Australian manufacturing in London.
That kind of exposé presentation extended to Timbery, with her work first exhibited for the opening of the Powerhouse Museum in 1988. It was, however, an exhibition at Manly Regional Gallery and Museum in 1997, Djalarinji – Something that Belongs to Us, that was a tipping point to her work being perceived as art objects.
This triggered an outpouring of interest in her work, which has subsequently led to it being collected by AGNSW, the MCA, the National Museum of Australia in Canberra, Wollongong Art Gallery and Powerhouse Museum in Sydney.
Among her most important pieces is the installation, Shellworked slippers (2008), comprising 200 pairs of shell-encrusted baby slippers, which was presented at the 21st Biennale of Sydney. She described it as a memorial to the Stolen Generations.
The installation was originally commissioned by curator Djon Mundine for the 2008 exhibition Ngadhu, Ngulili, Ngeaninyagu – A Personal History of Aboriginal Art in the Premier State, for Campbelltown Arts Centre (2008).
Timbery worked with artist Judy Watson on a public art installation in the arrivals hall at Sydney International Airport in 2000. Then, in 2002 she was commissioned by the Sydney Opera House to create Sydney landmarks in shellwork for its annual Message Sticks program. The most significant public work, however, was a collaboration in 2015 with Wiradjuri/Kamilaroi artist, Jonathan Jones, creating the first project for Sydney's $9 billion Barangaroo precinct. She also decorated shoes for the design label, Romance Was Born for its Spring/Summer 2009/2010 collection.
In 2005, Timbery became the inaugural winner of the Parliament of New South Wales Indigenous Art Prize, with two shelled bridges. She was the subject of an ABC TV 'Artists at work' documentary, She Sells Sea Shells, in 2007, and in 2019 the Esme Timbery Creative Practice Lab (ETCPL) building at the University of New South Wales was named in her honour and decorated with a mural titled In her hands. It was the first building at the University named after an Aboriginal woman. In 2020, a river-class ferry on the Sydney Ferries network was named after Aunty Timbery, leaving her city-strong legacy to be experienced for generations to come.
Note: The La Perouse Aboriginal Mission, on the shores of Botany Bay, was officially gazetted as an Aboriginal reserve in 1895, and became one of the first government-sanctioned missions designed to segregate Aboriginal people from mainstream Australia.