This week, Craft ACT: Craft + Design Centre announced a rebrand that would take in, and merge with, Design Canberra Festival, the peak body's annual flagship event. Meanwhile, one of the founding galleries for Aboriginal art, Cooee Art, rebrands too. It will be known as Art Leven, taking on the name of long-term Director, Mirri Leven.
Rebranding an Aboriginal icon
Cooee Art was established in 1981 as 'a hybrid model to represent and support artists in an ethical and sustainable way'. Leven joined the gallery in 2007, and in 2016 spearheaded the opening of Cooee's Paddington gallery, and in 2021 the flagship gallery in Redfern. Growth during its last decade has been greater than in its past 40 years.
Having become part-owner of the gallery with Adrian and Anne Newstead, in 2017 Leven launched the auction wing, Cooee Art Auctions. This latest rebrand is a signal to the sector that she is now the sole owner, and is shifting the vision.
In a formal statement, Leven explains: 'Art Leven intends to honour the legacy of Cooee Art as Australia's oldest Indigenous gallery. While project-based partnerships with non-Indigenous artists mark a new direction for the gallery, we remain strongly committed to promoting Indigenous art and culture.'
Key to the new brand is mixing things up, and to exhibit non-Indigenous alongside First Nations artists. Leven adds of her vision: 'Through this new direction, we aim to foster an environment of openness, transparency and communication that will bridge the gap and encourage exchange between Indigenous and non-Indigenous artists.'
Read: Reasons we paint: Indigenous artists speak on tampering allegations
The rebrand is poorly timed and comes at a time when the sector is moving more cautiously, with the recent exposure of white hands on Black art at some Aboriginal Art Centres, and a review conducted by the National Gallery of Australia.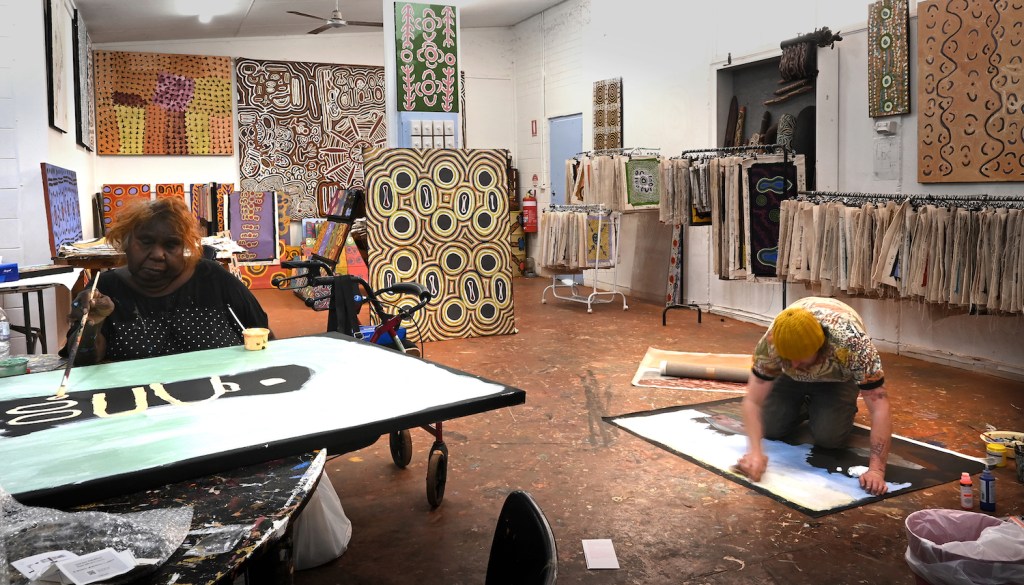 Leven says, 'In an industry with a sometimes murky past, I hope that part of the dialogue we foster can focus on what an artist can and should expect of a gallery or representative. Art Leven means to embody the evolution of Cooee, providing a pathway to new ways of working together.' This means that the gallery will also show artists who are not in an exclusive relationship with Art Leven.
A formal statement continues: 'The new gallery vision will focus on transparent dialogue, offering an opportunity beyond the ordinary commercial relationship between artist and gallery, fostering an environment of openness and direct exchanges between artists. Art Leven will work directly with First Nations curators, Art Centres and represented artists.'
Art Leven's inaugural exhibition will be Country X Country with Sydney landscape painter Neil Tomkins presented alongside Warlpiri artist Kitty Napanangka Simon, running from 27 July to 26 August. The works were created on Country in May, in the Warlpiri community of Lajamanu (NT).
Rebranding a craft icon
Taking on the new name Craft + Design Canberra, CEO Jodie Cunningham says the rebrand of the ACT peak organisation, 'combines the strengths of both and builds on our 52-year legacy of supporting the best in contemporary Craft + Design of our region'.
For some, the name change may come across as single-focused in its dropping of the statewide acronym for the Australian Capital Territory (ACT), with artists living outside the city centre of Canberra questioning their place.
Cunningham says in a formal statement: 'Our new name provides incredible opportunities for year-round collaborations and activations to celebrate Canberra as a creative capital and a global city of design.'
She continues: 'The new Craft + Design Canberra continues to connect local artists, designers and makers with the wider community,' adding that uniting the two brands, 'enables us to build on our partnerships, collaborations and activities, providing year-round benefits for our members and our community.'
It may make strategic sense, but arguably that connective tissue already existed in the background between these enmeshed brands. What the rebrand does, however, is potentially set up a diluting of Craft ACT, losing some of the statewide subtle nuances of craft, which are so key to that former brand's identity.
Craft + Design Canberra worked with the Inklab Creative Agency to develop the brand concept.
Let's watch this space.