Last year was undoubtedly an 'on again, off again' affair. And until we get a successful vaccine for the Coronavirus (and its various mutations), big events may remain on ice or online. At the beginning of last year we listed over 90 arts festivals in our annual wrap but only a fraction of them went ahead.
But arts festivals were reimagined this past year in interesting ways and that has made for a more dynamic 2021 in which many arts festivals have committed to going ahead.
ArtsHub gives you the essential Australian arts festival and events calendar for 2021 (as it stands now). So start planning your domestic travel and support our grassroots arts communities in a year when they will need it most.
JANUARY
Wesley Enoch and his team at Sydney Festival (NSW) have realised an entirely Australian made program that manifests throughout the city with 130 events across three weeks from 6–26 January. Featuring everything from circus and cabaret to a merger of science and classical music, the festival is set to embrace the outdoors like never before, with a spectacular new COVID-safe pop-up stage at Barangaroo Reserve – but will the rain hold up?
Surrounded by rolling lawns and stunning views of Port Phillip Bay (VIC) will be the inaugural Quarantine Art Fair from 7–10 January. Described as an afternoon of contemporary art, fine food and champagne, it draws on Point Nepean's history as a quarantine station and is a cheeky nod to the year we have all experienced.
SCOOP! is a new three-day summer celebration at Home of the Arts (HOTA) on the Gold Coast. Running from 15-17, the festival program includes the world premiere of site-specific works by contemporary circus companies Circa (in a new performance choreographed by Elise May) and Company 2, who will tightrope across the lake in The Wired Moon and the Ice Cream Floor.
Sydney Writers' Festival (NSW) will present four major events at Carriageworks under the banner, Something to Talk About, which showcase the best of public discourse: imaginings and arguments, polemics and poetry, declarations and conversations. Whack it in the diary for 16-17 January.
The third largest Fringe in the world, Perth's Fringe World  (WA) runs from 15 January to 14 February, transforming the city's Northbridge precinct, and expanding out across venues throughout Perth. Over 450 events are featured in the 2021 program, which FRINGE WORLD Festival Director Amber Hasler described as 'the most supportive and flexible platform for our artist's work' and 'a shining light to look forward to'.
Flickerfest (NSW) will be celebrating its 30th birthday at Bondi Beach and has announced its dates: 22-31 January.  'We are thrilled that despite this year's obstacles we have received over 2,500 entries from at home and around the world, hats off to all of our filmmaking teams for their passion and creativity,' said organisers.
Mona Foma (Tas) will go statewide in January 2021. Taking place over two weekends in two cities, the festival will run in Launceston (15-17 January 2021) and Hobart (22-24 January 2021). The program features over 352 artists, 90% of them drawn from Tasmania. Brian Ritchie, Curator, Mona Foma said: 'These are interesting times. Mona Foma has embraced them by engaging with many of the artistic and architectural gems of Launceston and Hobart. We are thrilled to present site specific performances and installations that could only happen here and now.'
Moogahlin Performing Arts, together with Sydney Festival and Carriageworks, will present six ground-breaking works from eight First Peoples storytellers as part of the fifth biennial Yellamundie Festival (NSW) from 22-24 January 2021. 'Yellamundie Festival is the only Festival of its kind in Australia – a launchpad for new work and pioneering First People's creatives,' said Lily Shearer.
Woodland Film Festival (NSW) will break its four-year hiatus to return for Arbour Festival on 30 January and, for the first time in its history, will be able to fulfil its original vision of producing the festival in the true forest setting. It is part of the broader Arbour Festival produced by Eastern Riverina Arts from 28 December to 15 February; a celebration of the Snowy Valleys region led by local bushfire-affected artists.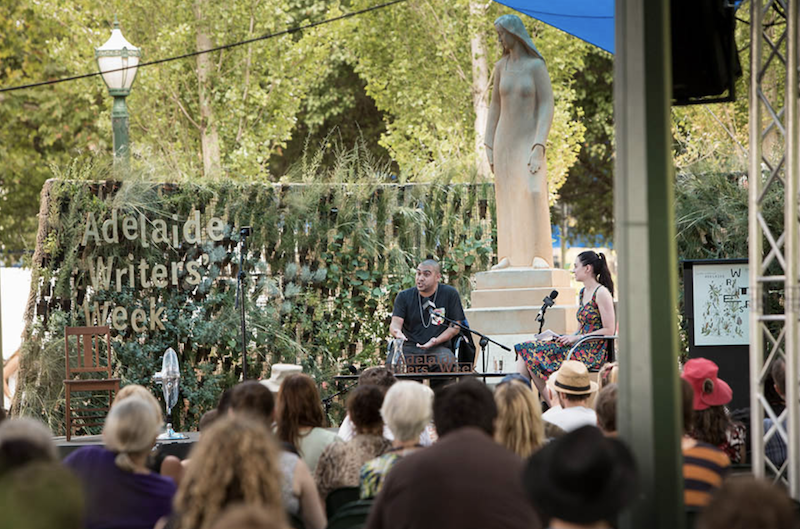 Adelaide Writers Week 2020.
FEBRUARY
The Perth Festival 2021 theme is Bilya (river). The extensive 2021 program includes 18 world premieres and 44 Festival commissions, more than twice as many as in 2020. Perth Festival runs 5 – 28 February 2021. Lotterywest Films runs until 28 March 2020. Highlights include Barkiung Gecko's new production House, about 'a Rescue House' which 'rescues the Loneliest Child in the World'; The Last Great Hunt's live action film meets theatrical role-playing game Whistleblower; and MoveMoveMove, a guided dance adventure through Northbridge.
Created by the Victorian Society of Women Writers, For the Love of Writing Festival (VIC) will be presented via Zoom over 14-20 February. 'For the past 50 years, the Society of Women Writers Victoria has been providing a safe and encouraging space for women writers. By supporting women's voices it has contributed to cultural change that now sees women's writing enjoying almost as much airtime as men's. It is an honour and a pleasure to be part of the Society's 50th anniversary festival – For The Love of Writing,' said author Pip Williams.
The City of Newcastle's inaugural arts festival, New Annual (NSW), featuring more than 50 events across 10 days, runs from 12-21 February. 'New Annual is the catalyst for Newcastle's cultural events sector to take centre stage alongside leading national events,' said Newcastle Lord Mayor Nuatali Nelmes. 'It will shine a spotlight on Newcastle's reputation as a creative city where ambitious and accessible contemporary art and culture grow and thrive within a prosperous, diverse and resilient community.'
Sydney Gay and Lesbian Mardi Gras (NSW) returns from 19 February – 7 March with a program that marches fearlessly into the future, under the theme Rise. 'It's a new dawn. Let's lift the bar and watch our spirits rise again,' says organisers. The iconic Sydney Gay and Lesbian Mardi Gras Parade on Saturday 6 March.
The Inaugural PHOTO 2021 International Festival of Photography (VIC) will reanimate the streets and galleries of Melbourne and regional Victoria on 18 February – 7 March 2021. Postponed from April, a completely brand-new festival is set to reveal a revolutionary vision of post-COVID possibility for the world of photography, art and culture. Their program was launched this week. Over 120 artists will showcase work at over 65 cultural institutions, museums and galleries and outdoor spaces.  
The Adelaide Festival (SA) returns this year from 26 February – 14 March, steered once again by co-Artistic Directors Rachel Healy and Neil Armfield. Highlights include Armfield's production of UK composer Benjamin Britten's opera, A Midsummer Night's Dream making its Australian debut with an exclusive season at the Adelaide Festival; Gravity and Other Myths new production The Pulse (featuring 30 acrobats and a 30-strong choir) and the Adelaide premiere of Back To Back Theatre's acclaimed Small Metal Objects.
2021 Adelaide Writers' Week (SA) will run from Saturday 27 February – Thursday 4 March as part of the Adelaide Festival, and will be one of the first literary festivals in the world to return with authors and audiences gathering together in person. So far 77 local and international authors have confirmed for the program.
Adelaide Fringe (SA) will be presented from 19 February – 21 March. Close to 800 events across 13 different genres in 285 venues, including a variety of open-air and outdoor amphitheatre performances and a number of digital experiences for people to enjoy from home are offered in 2021.
Enlighten Festival (ACT), Canberra's annual showcase of culture, creativity and illuminations, returns from 26 February – 14 March, featuring the Canberra Balloon Spectacular (6–14 March), where each day from 6am pilots inflate their balloons on the lawns of Old Parliament House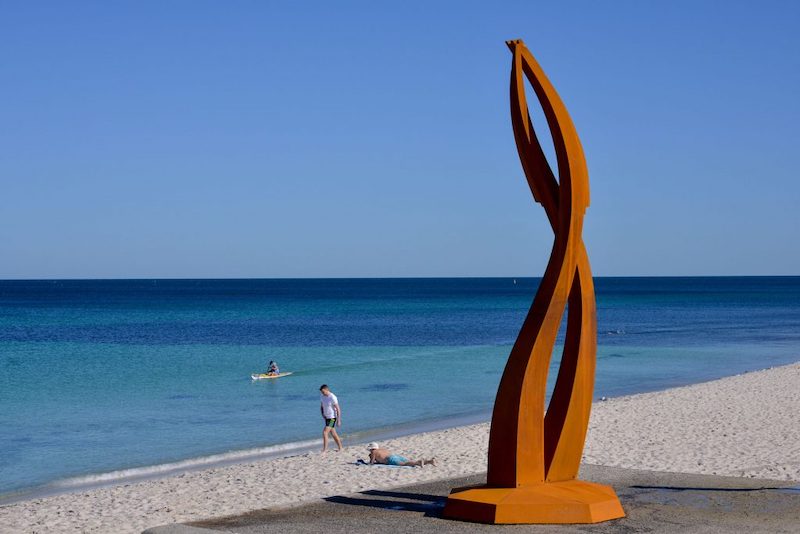 RM Ron Gomboc, Embrace As One. Sculpture by the Sea Cottesloe, 2020. Photo Clyde Yee.
MARCH
The 17th annual  Sculpture by the Sea, Cottesloe (WA) will be staged at Perth's beloved beach from 5–22 March 2019. Dates for the Bondi festival are yet to be confirmed.
WOMADelaide 2021 (SA) will go ahead in a new Adelaide CBD Park Lands venue from 5–8 March with a new line up of COVID-safe sunset concerts, a departure from the format that audiences have come to know. 'It has become clear, in light of the global pandemic, that it would not be possible to present the full festival across seven stages in Botanic Park,' said director Ian Scobie. The WOMADelaide 2021 Sunset Concerts series line-up will be announced in the coming weeks.
The Sydney Opera House has announced the first line-up for its annual All About Women festival (NSW), taking place on International Women's Day. It will be held on 7 March 2021.
Castlemaine State Festival  (VIC) will take place 19 March – 4 April, running alongside the Castlemaine Fringe.The festival program will be announced on Tuesday 19 January.
Melbourne International Comedy Festival (Vic) is set to return 24 March – 18 April 2021 across multiple venues.
Canberra's BOLD Festival (ACT), which provides a platform for the work of older and still practicing artists to celebrate their longevity and the health impacts of dance and creativity, will return in March. Dates are yet to be published, but the festival is confirmed as going ahead.
Brunswick Music Festival (VIC) will return 5–14 March 2021. In a shorter 10-day format (taking in the Labour Day long weekend) BMF 2021 will focus on creating opportunities for people to gather and connect IRL (in real life) with a stacked program of live music experiences. Emily Ulman will curate the 2021 program. Full program details will be announced in February.
Newcastle Fringe Festival (NSW) was one of the first cultural festivals to close due to COVID, cancelled just two days before opening in March. The Fringe returns 17 – 21 March 2021, and larger, COVID-safe venues have been sourced. Presenting all genres including circus, children's theatre, burlesque, stand-up, music of all styles, theatre, dance, and poetry.
Ten Days on the Island 2021 (TAS) will be a journey across the island to celebrate and unify communities after a tumultuous year. The Festival, which runs from 5 – 21 March, will follow the three-weekend model. In 2021, Ten Days on the Island will celebrate its 20th year, and will be the second for Artistic Director Lindy Hume.
Melbourne Design Week will be held 26 March – 5 April 2021. With the theme 'Design the world that you want', NGV has asked designers which world will we make together when we know tomorrow will be very different to today?
Melbourne Queer Film Festival has announced plans for its 2021 season, with an in-person festival returning in March 2021 and a larger festival planned for the final quarter of 2021. MQFF Together will screen from 11 March – 21 March 2021 at Village Cinemas Jam Factory and Cinema Nova.
Pause Festival, promising that it will be 'broadcasting the future of innovation to the world', will return 1–12 March 2021 with many speakers already confirmed.
Bringing artists, communities and audiences together, FUSE will showcase the City of Darebin as a dynamic hub of creativity from 11 – 28 March 2021. FUSE Autumn will include 20 events across live music, visual arts, family events, performance and sustainability.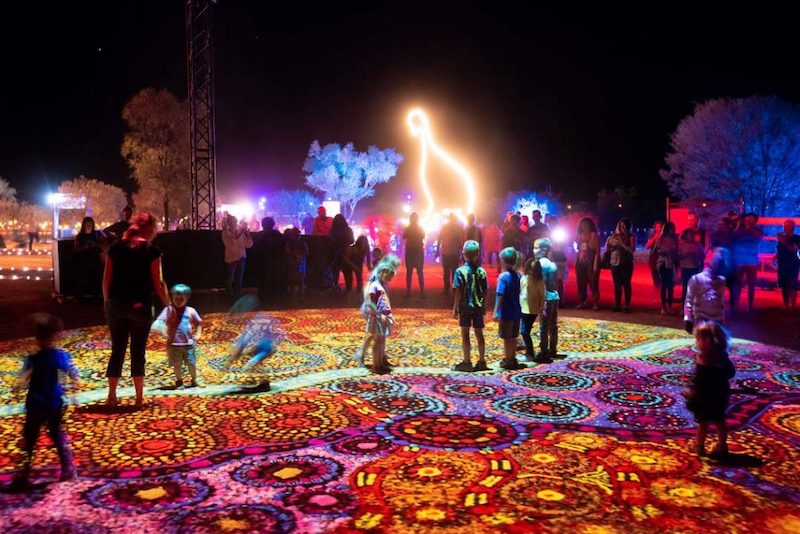 Desert Park Opening Night 2020, Parrtjma. 
APRIL
Usually held in January, the 2021 Midsumma Festival (VIC) Australia's premier queer arts and cultural festival will return in 2021, for the special one-time dates running between 19 April and 5 May, with Midsumma Pride March on Sunday 23 May. Details.
2021 Byron Bay Bluesfest have released their dates, 1–5 April (Easter) and promise a strong local line up from the Teskey Brothers to Dami Im.
Supercell Festival of Contemporary Dance (QLD) – a festival of contemporary dance – is aiming to go ahead again in 2021, usually held in March.
Parrtjima – A Festival in Light (NT) will be returning 9–18 April 2021. The festival is held in Alice Springs Desert Park and its surrounds, and is a celebration of Central Australian Aboriginal art and culture.
Due to launch in April 2020, Sculpture at Scenic World (NSW) was rescheduled to take place at Katoomba in the Blue Mountains from 1 April – 2 May, 2021. Tickets purchased for Sculpture at Scenic World 2020 will be valid for entry to the 2021 exhibition.
Fremantle International Street Arts Festival (WA) is Australia's largest dedicated street theatre festival and is held over Easter 2 – 5 April.
Four Winds Easter Festival (NSW) has been scheduled for 2 – 4 April and represents a great way to support the South Coast community that was rocked by bushfires in 2020.
The Australian Heritage Festival (National), hosted by The National Trust, is back for 2021. From 18 April – 19 May 2021 we will be celebrating the theme of 'Our Heritage for the Future'. Councils, community groups, clubs, historical societies, libraries, museums, galleries, theatres, artists and businesses are invited to create and promote events.
Sydney Comedy Festival (NSW) returns 19 April – 16 May 2019. The festival is staged each year across multiple venues, including the Sydney Opera House, Enmore Theatre, The Concourse Chatswood and Riverside Theatres in Parramatta.
Perth Comedy Festival (WA) is back and will run from 19 April – 16 May this year.
Canberra International Music Festival (ACT) is an annual classical and contemporary art music extravaganza in the nation's capital, and with a focus on premiering new works and featuring diverse voices. Tickets are on sale now for CIMF 2021, which will be held from 30 April  – 9 May 2021 for ten days of music.
MAY
Bright Cabaret Festival (VIC) returns to the regional Victorian town of Bright, at the foothills of Mount Buffalo, from 6–8 May.
Regarded as one of the country's best chamber music festivals, Coriole Music Festival (SA) has announced that it will go ahead in May at Coriole Vineyards in McLaren Vale, South Australia.
The Anywhere Theatre Festival (QLD) is planning to go ahead from 6-23 May with a range of performances in the nooks and crannies of Noosa, Sunshine Coast and Brisbane – anywhere that's not a traditional theatre.
Semi Permanent (NSW) returns Carriageworks, Sydney to 21 – 23 May with the theme RESTLESS.
The Head On Photo Festival (NSW) usually takes place in Sydney during the month May across multiple venues. It pushed ahead in 2020, so plans for 2021 are looking good.
DreamBIG Children's Festival will inspire curiosity and wonder as children reconnect and return to the world of art. They unveiled their 2021 schools program this week, with more than 50 shows, events and workshops being held from 19–29 May 2021. DreamBIG Children's Festival Creative Producer is Susannah Sweeney and more than 2000 performers and students are on board for 2021.
Scribblers Festival (WA) returns in 2021. The fourth iteration of the annual literature and arts festival for young people has moved, with the Scribblers Festival Schools Program to take place at Subiaco Arts Centre over 3–7 May 2021, followed by the Scribblers Family Weekend 8–9 May 2021.
MELT Festival Of Queer Arts And Culture (QLD) and the MELT Portrait Prize will return in 2021, shining the spotlight on LGBTQIA+ culture. The 12-day festival will celebrate visibility and inclusivity among the community at Brisbane Powerhouse 19–30 May, 2021. Guest Director James Lees, who previously programmed MELT in 2015, 2017 and 2018, will again spearhead a diverse and engaging festival experience in 2021.
Taking the place of the Melbourne International Arts Festival and White Night Melbourne, RISING (VIC) is a major cultural event for the Asia Pacific Region created by a diverse team of local, national and international artists and curators. RISING will begin on the evening of the total lunar eclipse in May 2021. The inaugural festival will take place 26 May – 6 June 2021.
JUNE
The Adelaide Cabaret Festival (SA) runs from 11 – 26 June. Scottish-American entertainer, Alan Cumming, is the first-ever international Artistic Director in Adelaide Cabaret Festival's history, and his new show, Alan Cumming Is Not Acting His Age
(Life is a middle-aged cabaret) is sure to delight. Tickets for this and other early release shows are now on sale.
The inaugural Perth International Cabaret Festival (WA) will be at His Majesty's Theatre 19-27 June, 2021.
The dates for Dark Mofo (TAS) have not yet been announced (usually held in June), but the festival has said it will be going ahead in 2021. If you've not yet attended what's become known as Tasmania's must-do winter pilgrimage, perhaps this will be your year?
The Alice Springs Beanie Festival (NT) runs from 25-28 June, with the program released in late March. This year will be the 25th Beanie Festival with the theme for 2021 'Yarning Myths and Legends'.
After cancelling in 2020, Melbourne Cabaret Festival (VIC) has announced it will be returning in 2021, from 16 – 27 June.
JULY
Running from 2–11 July in 2021, Darwin Fringe Festival (NT) is a celebration of the Northern Territory's independent arts scene. Program details will be announced later this year.
The Adelaide Guitar Festival (SA) returns 4 – 25 July led by Artistic Director Slava Grigoryan. The festival is made up of regional roadshows, free and low-cost workshops, masterclasses, artist's talks, panel discussions and programs for emerging musicians, all culminating in a final weekend celebration of curated ticketed performances showcasing the world's finest guitarists at Adelaide Festival Centre.
The Australian Festival of Chamber Music (QLD) will take place in Townsville, in tropical North Queensland from 23 July – 1 August under Artistic Director Kathryn Stott. 2020 tickets can be transferred to the 2021 event.
Garma Festival of Traditional Cultures (NT) is Australia's leading cultural exchange event. It is held annually onsite at remote Gulkula, a traditional meeting ground in Arnhem Land, and this year runs from 30 July – 2 August.
Moved this year from February, the Brisbane Comedy Festival (QLD) will be held in 2021 from 16 July – 8 August, at venues including Brisbane Powerhouse, The Tivoli and The Fortitude Music Hall.
A new annual winter festival will take over Adelaide's city streets, laneways and buildings from July 2021. Featuring light-based works, art installations, immersive technology, music, performance, discussions and ideas, Illuminate Adelaide (SA) will run over two weeks and three weekends. South Australians Rachael Azzopardi and Lee Cumberlidge join forces as co-founders and Creative Directors.
AUGUST
Usually staged May-June, Vivid Sydney (NSW) has pushed back a little this year, to ensure it can again hit Sydney's harbourfront and beyond. With dates confirmed for 6 – 28 August 2021, the iconic light festival is accompanied by a curated ideas and music festival.
The Gold Coast's signature arts and cultural festival Bleach* (QLD) returns from 12 – 22 August. It will celebrate 10 years of Bleach*.
Darwin Festival (NT) is always a highlight in the annual cultural calendar and returns in 2021 from 5 – 22 August. It's a celebration of music, theatre, visual art, dance, cabaret and more in the tropical city of Darwin and includes the iconic NATSIAA Art Awards presented by the Museum and Art Gallery of the Northern Territory – the defining moment in the Indigenous art calendar in Australia.
South Australian Living Artists Festival (SALA) is held across Adelaide and its regional surrounds each August. The festival's 2021 dates are yet to be confirmed. Expressions of interest are opening soon.
Established in 1962, Cairns Festival (QLD) is traditionally held in late August with a mission to support artists and their creative process, grow venue audiences, and engage and entertain the people of the Cairns Region. It returns for 10 days in 2021 from 17 August – 5 September.
Cairns Indigenous Art Fair (CIAF 2021) will be held from 17-22 August.
This year's Gympie Music Muster (QLD) has a huge artist line up and will be held at the Amamoor Creek State Forest from 29 August 2021.
The Ballarat International Foto Biennale (VIC) is Australia's leading photographic festival showcasing work from significant international and Australian photographers that is new, previously unseen in Australia or contextualised afresh. Running from 28 August – 24 October 2021.
Les Sculptures Refusées at Q Station – North Head at Bondi –  from 14 October – !8 November. It will presented the works not selected for Sculpture by the Sea.
SEPTEMBER
Sydney Fringe Festival (NSW) runs from 1–30 September every year. It is the largest independent arts festival in NSW. While it had to cancel 2020, the festival is working towards a 2021 delivery.
Desart is the peak arts body for Central Australian Aboriginal Arts and Crafts centres. It brings together artists, arts workers and arts lovers for three days of total immersion in the artwork and stories of Aboriginal art from the desert, in Alice Springs. This year it pivoted online with great success. While dates have not been released for 2021 yet the annual Exhibition, Symposium, and MarketPlace – Desert Mob 2021 (NT) is expected to be held in September again.
Melbourne Writers Festival (VIC) will return this year after moving their program on line in 2020 with new director Michaela McGuire at the helm.
Sydney Contemporary 2021 (NSW) will be held at Carriageworks from 9–12 September. After a successful digital pivot this year, the fair will push ahead to deliver its seventh edition in 2021. It is Australia's largest and most internationally diverse art fair.
Taking place in September (dates to be confirmed), Sydney Design Week (NSW) will return in 2021.  Previously titled Sydney Design Festival into a dedicated program focusing on the local Australian Design industry is lead by the Powerhouse Museum. Details to come.
Brisbane Festival 2021 (QLD) will be held across September. Some early release program announcements have been made, including the world premiere of Queensland Theatre's Boy Swallows Universe, adapted from Trent Dalton's acclaimed book of the same name.
Queensland's largest sculpture event, SWELL Sculpture Festival (QLD) returns 10–19 September, and is presented at Currumbin Beach and Helensvale Library, Gold Coast. The festival started in 2002 and attracts around 265,000 visitors annually. It is currently calling for entries.

The Unconformity, will return to Queenstown (TAS) this year.
OCTOBER
Traditionally running in October, Melbourne Fringe (VIC) is an annual smorgasbord of cultural delights, featuring the best of the city's independent artists as well as performers from interstate and overseas.
Held in the culturally adventurous regional Victorian city of Bendigo, Bendigo International Festival of Exploratory Music (VIC) will 're awaken' in 2021, with an emphasis on premiere or rarely-performed longform works and innovation in composition.
Mullum Circus Festival (NSW) held in Mullumbimby NSW returns 24 – 26 October. It follows the National Training Program 20-23 September. The Festival is staged every 2-years in the Byron Shire. Expressions of interest are open.
The Unconformity (TAS) is a unique contemporary arts festival exploring the paradoxes of Queenstown, a small mining community on Tasmania's wild and mountainous West Coast. The biennial arts festival postponed its 2020 edition to 15-17 October 2021.
Melbourne International Jazz Festival (VIC) runs from 15-24 October this year, a departure from its usual winter timing. Program details have yet to be announced, but expect the festival to be back in the physical world after its digital 2020 offering.
Sydney Craft Week (NSW) will return in October across various venues. This 10-day festival celebrates the beauty of the hand-made and the pleasure of making.
Since its inception in 2015, Tarnanthi Festival (SA) has placed particular emphasis on the agency of artists and on foregrounding the artist's voice. In 2021, it will involve an inspiring focus exhibition at the Art Gallery of South Australia (15 October 2021 – 30 January 2022). The Tarnanthi Art Fairwill be held from 15-17 October 2021, and in a first Tarnanthi Statewide Festival will be held from October – January, involving dozens of partner venues.
Liveworks Festival of Experimental Art (NSW) is usually a 10-day program of performances, installations, parties, workshops and conversations, held in mid-October at Carriageworks. Dates for 2021 are yet to be confirmed.
OzAsia Festival (SA) continues to play a significant role in introducing new contemporary arts from Asia to audiences in Australia, and is staged across multiple venues in Adelaide. Usually held annually in October, dates are yet to be confirmed.
And don't forget that one of the hottest regional arts festivals Cementa returns to Kandos (NSW) in October (dates to be announced).  It will feature the same mix of performance, installation, sound, video, community engaged and socially aware artworks, all devised to specifically relate to the context of exhibition: 'the former cement town of Kandos and the region in which it is situated'.
Celebrating the best of Australian and international sculpture, Lorne Sculpture Biennale (VIC) runs from 30 October – 21 November 2021. Under the artistic direction of Graeme Wilkie OAM, the 2021 festival will explore the intersection of nature, history and social connection to Lorne and the Great Ocean Road through the theme 'A sense of place'.
NOVEMBER
DESIGN Canberra (ACT) returns 9 – 29 November 2021 with the theme Transformation, creating momentum to build a more resilient, connected, creative and responsible way of living. The festival theme arose from planning for Craft ACT's 50th anniversary in 2021. Expressions of Interest for DESIGN Canberra 2021 are open until March.
Feast (SA) , Adelaide's queer cultural festival will return 6 – 18 November 2021 with the program to be announced shortly.
Usually held in November each year, the Sydney Architecture Festival (NSW) is working to return the event in 2021, having been forced to cancel last year.
DECEMBER
Presented by the Flying Fruit Fly Circus, the Borderville Circus Festival (VIC/NSW) is held in early December each year. The 2021 festival will take place under the Big Top in Hovell Tree Park, Albury and at The Cube Wodonga from 5-18 December and will focus on Australian and local circus artists, highlighting the resilience, ingenuity and optimism of the Fruities and its regional cultural community.
Woodford Folk Festival (QLD) sees out the year, and sees in the New Year in style. Stay tuned for program details.
Understandably, many arts events are taking it slowly in announcing dates and programs given COVID is still lingering. We will update this article throughout the year as announcements are made. 
What did we miss? Email updates to editor@artshub.com.au