British artist Keith Tyson on a visit to Melbourne's Tapestry Workshop in 2015; photo supplied courtesy the artist and ATW
No, we are not talking about fashion exhibitions when we refer to textile art entering the art museum domain. Rather, textile art could be described as a sleeping giant slowly re-emerging.
Next week (29 November), a new work by British artist and Turner Prize recipient Keith Tyson will be cut from the loom at the Australian Tapestry Workshop (ATW) in South Melbourne.
The tapestry, Gordian Knot, is a private commission by Elisabeth Murdoch, and work started on it in 2015 and has taken the team of weavers 2,064 hours to complete.
Tyson works in a wide range of media, including painting, drawing and installation, but this is the first time he has turned to tapestry as a medium. It is also the first circular work undertaken by the Australian Tapestry Workshop, which has been assisting artists in creating their vision for over 40 years.
Turner Prize to Tapestry Loom
Tyson first visited the ATW in early 2014 to meet the weavers and get an understanding of the process of tapestry weaving.
ATW explained: 'The weavers worked on a range of samples using some experimental weaving techniques to show the artist an indication of the different ways his initial design ideas could be realised in tapestry. The information that Tyson gathered on this first visit was instrumental in the final design he created.'
Tyson said during that early visit: 'I do not see this as simply a diffusion of my painting but a new way of making an object in its own right. The weaving together of the various strands, the strata of compressed time forming slowly into an image, all form a prefect conceptual fit with themes I have always been fascinated with.'
Gordian Knot is a 244 cm diameter tondo. It draws on the legend associated with Alexander the Great that is often used as a metaphor for an intractable problem. In this design a central knot of fibres come together to form a modern day Gordian Knot. Biological, technological, cosmological, mythological and sociological evolutions are woven together from the various strands, the strata of compressed time forming slowly into a reflection of the world.
The background colour is designed to recede into the display wall so the complex and colourful knot stands out. The weavers on Tyson's commission were Sue Batten, Chris Cochius, Pamela Joyce, and Milena Paplinska.
Tyson's work in held in a number of collections including The Museum of Modern Art, New York, Tate Modern, London and the Muse National d'art Moderne, Centre Georges Pompidou, Paris. He is represented by Galerie Vallois, Paris and Pace Gallery, New York.
Weaving a medieval path to now
At one time, tapestries were a highly prized medium, a way for nobles and kings to display their prestige and wealth.
Likewise, contemporary artists turning to tapestry is not a new thing. We only need to look back to Picasso, who produced his first tapestry in 1955, a facsimile of his iconic painting La Guernica commissioned by Rockefeller – the first of 18 he commissioned. Matisse, Braque, Léger, Miró, Chagall, Calder and Derain all had a go at the medium.
Closer to home, John Coburn is Australia's most prolific tapestry artist. In an interview with artist and art historian James Gleeson he said: I think that my style of art was partly formed on tapestry. You know, that I did the sort of work I did partly because I liked tapestries and I wanted my paintings to be as rich as tapestries. I never thought it was possible at that time for an Australian artist to design for tapestry.'
That was in 1956. By 1966 Coburn had produced his first three tapestries with Aubusson weavers. He made well over 50 tapestries in France and more than 25 with the ATW, including a commission for Parliament House in Brisbane.
His most famous were the tapestry curtains for the Sydney Opera House – The Curtain of the Sun designed for the Opera Theatre and The Curtain of the Moon for the Drama Theatre – which were sadly not used for many years but have been refurbished and rehung elsewhere in recent years.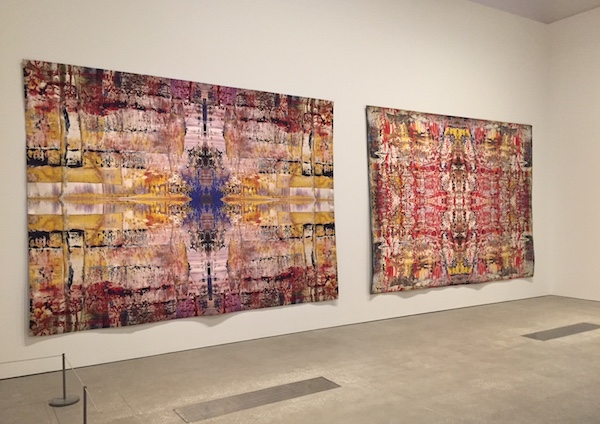 Two Gerhard Richter tapestries presented in GOMA's current survey exhibition of the German artist in Brisbane (2017). Photo: ArtsHub.
Contemporary punch in yarn
Giving the medium a more edgy, high-end perspective are artists like Grayson Perry and Gerhard Richter, who have embraced tapestry as an expressive medium.
Four of Richter's expansive abstract tapestries, which take their cue from his paintings, are currently on show in the Queensland Art Gallery / Gallery of Modern Art's exhibition survey of the iconic German artist.
Read: Review of Gerhard Richter – The Life of Images
Perry unveiled his tapestries for Australian audiences in the Museum of Contemporary Art survey, Grayson Perry – My Pretty Little Art Career (2015), with the monumental six-part tapestry The Vanity of Small Differences, which transports William Hogarth's 18th century satire about the British class system, A Rake's Progress, to contemporary Essex.
Like Tyson, Perry also won the Turner Prize but for his ceramic urns, which he is better known for. He said when in Sydney for his exhibition: 'When people think of craftsman they posit an idea of perfection – for me craftsmanship is a dialogue in material and allowing the material to fight back – and that is the poetry of craftsmanship.'
Installation view of Grayson Perry's tapestries at the MCA, Sydney (2015). Photo: ArtsHub.
He continued: 'I like the fact that when you put the digital image into something wayward like yarn – it fights back. That tapestry will never be a perfect rectangle on the wall; it will always be like a curtain – a bit skew-whiff.'
Perry began creating his socially and politically charged tapestries in 2009, sketching them digitally on a computer and then having them woven in Flanders.
Read: Beyond the frock with Grayson Perry
Clearly, tapestry as a medium continues to have an appeal for contemporary artists and collectors, and has the capacity to communicate the complexities of nuances and narratives that we expect of art making today. Plus, given its ability to be produced in editions, the ease and complexity of design enabled by digital technologies, and the fact that it is more easily freighted internationally than a painting of the same scale – which is why the Richter tapestries made their way to Brisbane – it would be logical to say that tapestry is here to stay, and should, we suggest, become increasingly viable within a museum and market sector.