Brisbane Festival's 2023 opening night event was a positive start to the Festival, with quality entertainment, including free events designed to entice the whole community outdoors throughout September. On this first day of spring in the balmy late-afternoon sunshine of Brisbane's Southbank Parklands, there was already a distinct sense of excitement and anticipation in the air as to what we may expect this year.  
Being Friday afternoon and the end of the working week for many, Southbank was particularly busy. The Parklands were also being prepared for Saturday night's big event, Riverfire, attracting thousands to vantage spots around the river for this annual city firework display. At the Piazza, well-heeled Festival supporters and sponsors, artists and the arts community gathered for early evening drinks and to attend performances in and around the Festival Garden.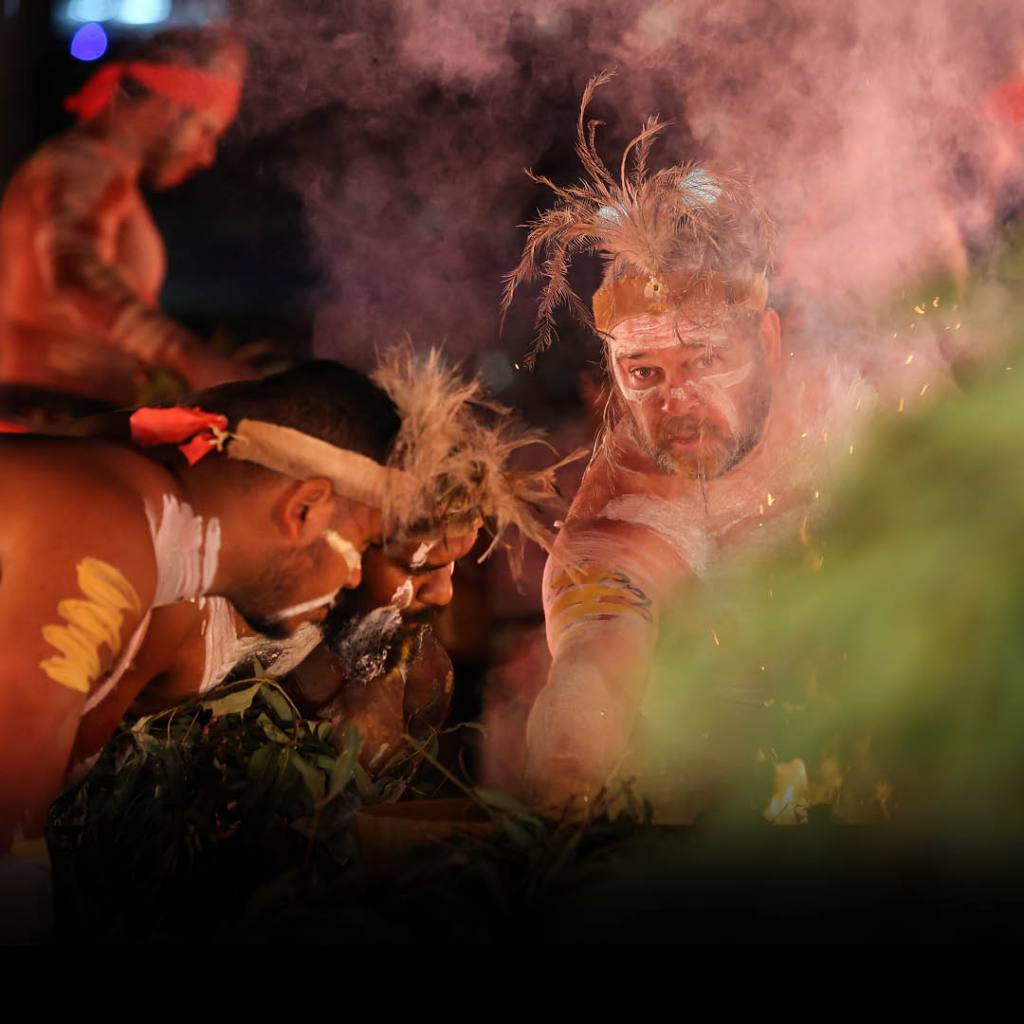 Jarrah (Mother Earth) was the key opening event, a gathering of First Nations peoples in South East Queensland, which honoured and paid respects to the Brisbane Aboriginal and Torres Strait Island communities. Under the expert guidance of local Yuggera and Turrbal man, Shannon Ruska, the creative director and custodian of Aboriginal company, Tribal Experiences, we were treated to a ceremony that was more comprehensive than a Welcome to Country.
Through a series of stories, song and dance performances, with both a fire dance and a smoking ceremony, Jarrah helped to cleanse a path for the Festival to connect to Country in an inclusive and open-hearted way.
The Gathering of Nations ceremony with Ruska introducing representatives of neighbouring nations in the Pacific was a welcome addition. This commenced with a Welcome to Torres Strait Islander brothers and sisters and was followed by people from Tonga, Samoa, the Cook Islands and New Zealand Aotearoa. Each group asked to be allowed onto Country in their language and proceeded on acceptance with a ceremonial dance and song.
Being on the banks of the Brisbane Meanjin River as dusk fell, where the First Peoples of Brisbane have gathered for more than 65,000 years, this was a moving and spiritual ceremony that was beautifully staged and delivered. The addition of our neighbours from some Pacific nations gave Jarrah a special feeling of community and highlighted the importance of ceremony.
The next major event of the evening could not have been more different culturally with its nod to Hollywood and US films. Led by Naomi Price and Adam Brunes, Brisbane's home-grown Little Red Company is expert at creating musical theatre festival shows to engage the community. Its hit show Skyfall at last year's festival, based on music from the James Bond franchise, was followed this year with There's Something About Music.
Designed as a homage to romantic comedy soundtracks, There's Something About Music was an unashamedly pop culture extravaganza. Staged in Southbank's semi open-air Piazza, this was a cabaret-styled event, with some glittery costumes and nightclub lighting. The concert was sung and presented by four versatile, terrific singers – the ever-popular couple of Naomi Price and Luke Kennedy, joined by talented local artists, Marcus Corowa and Irena Lysiuk. Additionally, the show had a first-rate backing band of five superb musicians on keyboards, guitars, drums and double bass.   
Many of the most well-known rom-coms and films were in the song mix, including such favourites as When Harry Met Sally, My Best Friend's Wedding, Notting Hill, Bridget Jones's Diary, Bridesmaids, 10 Things I Hate About You, Legally Blonde and Pretty Woman.   
Their songbook was extensive but some highlights included Price's excellent 'All by Myself' from Bridget Jones', while her and Lysiuk's 'I Say A Little Prayer For You' was a sure-fire winner. Kennedy sang the classics 'It Had To Be You' and 'The Way You Look Tonight' with fine phrasing and perfect delivery. And Charles Aznavour's 'She', the theme from Notting Hill, showed off to great effect the classically trained voice of Corowa. The four voices blended extremely well with some excellent harmonies. Their final medley of hit tunes had the audience on their feet dancing in the aisles and between tables, while singing along.
READ: Commitment to community at the Brisbane Festival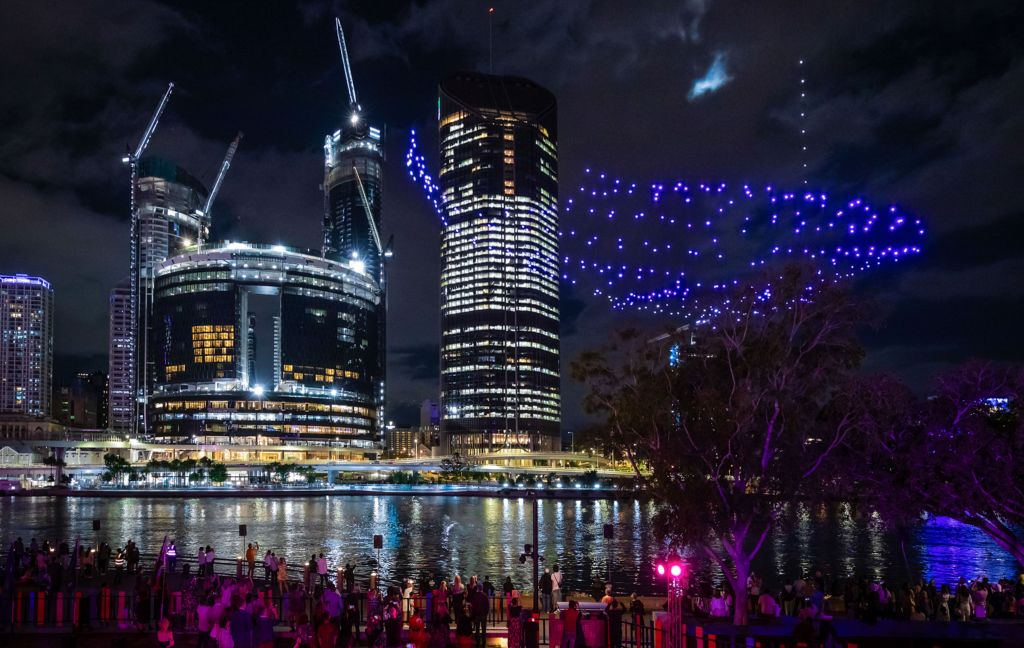 The audience spilled out into the night to encounter a unique and quite amazing event that was delivered over the Brisbane River. Nieergoo: Spirit of the Whale was a newly created event by Tribal Experiences and SkyShows that helped to shape the ancient stories of time and place in a 21st century context. In the annals of the Dreamtime and Aboriginal mythology, the narrative of Nieergoo: Spirit of the Whale told the story of how the islands in the Brisbane River were created through the spearing of a whale by a bird.
Traditional Owner and storyteller, Shannon Rusak, was again the narrator, alongside an ethereal original score composed by Guy Webster. The pièce de résistance was the amazing and stunningly beautiful visuals that were created high above the Brisbane River, where some 400 drones were released into the atmosphere.    
Digitally programmed, this three-dimensional multicolour drone show lit up the sky with shapes of the whale, bird and other images, flying and swooping, helping to illustrate the accompanying narrative and music. While only lasting some 10 minutes or so, it was a marvellously designed, brilliantly delivered show and bodes well for future events of this kind.
It was a fitting ending to the opening night, showing the diversity of the Brisbane Festival program and the range of shows and events we can expect over the next 24 days.
The Brisbane Festival opened on 1 September and continues throughout the city until 24 September 2023.
There's Something About Music will be performed at the Piazza, Southbank until 10 September 2023.