Writers, could this be the year you win that big prize or crack a prestigious publication? If you are thinking of entering a writing prize or competition in 2021 then populate your calendar with these prizes and opportunities.
Please note that some opportunities are listed based on when submission deadlines are open or closed, while other awards are listed by the date on which winners are announced.
January
Furious Fiction (monthly)
The Australian Writers' Centre's Furious Fiction Challenge, which started on 3 January will propel you into 2021. On the first Friday of every month, a set of story prompts are emailed through and you'll have 55 hours to submit your best story under 500 words for a chance to win $500. Entry is free. The next challenge will open 5 February.
The Kat Muscat Fellowship (entries close 10 January)
Presented by Express Media, The Kat Muscat Fellowship offers professional development up to the value of $5,000 for an editorial project or work of writing by a young person of an underrepresented gender. The Fellowship aims to continue Kat Muscat's legacy.
ABR Calibre Essay Prize (entries close 15 January)
With $7,500 in prize money, the Calibre Essay Prize is one of the world's leading prizes for a new non-fiction essay. Entries close on 15 January.
ABR Peter Porter Poetry Prize (announced 16 January)
First presented in 2005, this poetry prize is now worth a cool $10,000. The winner of the Peter Porter Poetry Prize will be announced at streamed online ceremony on 27 January with the shortlisted poems appearing in the 2021 January/February issue of Australian Book Review.
Kuracca Prize for Australian Literature (entries close 18 January)
In honour of Aunty Kerry Reed-Gilbert's achievements as a brilliant storyteller in multiple genres, Overland literary journal has created a new prize rewarding excellence and generosity in Australian writing, irrespective of form and genre. This new competition encourages excellent and original works in fiction (up to 3,000 words), poetry (up to 88 lines), essay, memoir, and creative non-fiction (up to 3,000 words), cartoon or graphic stories, and digital or audio storytelling are also welcome. A winner will be awarded the first prize of $5,000, as well as two runner-up prizes of $1,000 each.
ABR Elizabeth Jolley Short Story Prize (entries open 21 January)
Worth a total of $12,500, the prize is open to anyone in the world writing in English for short stories between 2,000 and 5,000 words.
FEBRUARY
The South Coast Writers Poetry Prize 2021 (entries close 1 February)
In partnership with the Wollongong Art Gallery exhibition of the same name, the SCWC Poetry Award 2020 seeks poems responding to the theme 'every body'. The 2021 prize submissions opened 1 September 2020 and will close shortly. Winners will be announced on 27th March 2021 at an event at the Wollongong Art Gallery. The winner will receive $1000.
Victorian Premier's Literary Awards (announced 1 February)
One of Australia's richest literary prizes offers $25,000 for each of the main award categories, plus $100,000 for the overall winner. There's also a $2,000 People's Choice Award that you can vote for until 5pm Monday 18 January. Submissions from publishers and writers are open in September each year for titles published between 1 January and 31 December of the same year.
Black&write! Fellowships (entries close 1 February)
The State Library of Queensland's black&write! program offers two fellowships for unpublished manuscripts by Aboriginal and/or Torres Strait Islander writers. Entry is free for these fellowships, and the winners receive $10,000 in prize money, manuscript development with black&write! editors, and publication opportunity with Hachette Australia.
Voices of Women Monologue Competition (closes 2 February)
Presented by Voices of Women, this prize has a cash award, and presents monologues in film and live events, including a USA collaboration. Accepts entries of up to 800 words.
Carmel Bird Digital Literary Award (entries close 7 February)
Auspiced by Spineless Wonders, the Carmel Bird Digital Literary Award is for short story collections up to 30,000 words in length. The winner gets $3,000 cash and two runners up will get $1,000 each, as well as digital publication.
The Russell Prize for Humour Writing (entries close 8 February)
Presented by State Library of NSW, The Russell Prize for Humour Writing was established at the bequest of Peter Wentworth Russell to promote humorous writing with the winner receiving $10,000 with the inaugural children's award for primary school aged children valued at $5,000.
Western Australian Premier's Book Awards (entries close 8 February)
Managed by the State Library of Western Australia, these awards offer four categories and more than $100,000 in total prize money. Made available by the Western Australian Government, the awards support excellence in West Australian writing. The winners will be announced during the Disrupted Festival of Ideas 2021.
Overland Nakata Brophy Prize for Young Indigenous Writers (entries close 16 February)
Presented by Overland magazine, in 2021 the prize will be awarded to the best poem by an Indigenous writer who is 30 years or younger. First place is a $5,000 prize, publication in Overland's print magazine, and a writing residency of up to three months at Trinity College, the oldest student residence at the University of Melbourne. Two runner-up prizes of $500 may also be awarded.
KYD New Australian Fiction 2021 (closes 26 February)
The third print anthology of short fiction is now open for submissions. KYD's  New Australian Fiction 2021 will showcase stories from Australia's best and brightest established and emerging writers.
Book Links Award for Children's Historical Fiction (closes 28 February)
Book Links celebrates outstanding work of fiction that increases the awareness and understanding of history in children. The Award is a prize of $1000.
Overland Judith Wright Poetry Prize (announced February)
Worth $9000, the 2021 prize has closed for entries (November 2020) but Overland will announce winners in February. The major prize is $6000, with a second prize of $2000 and a third prize of $1000. All three winners will be published in the first issue of Overland's print magazine of 2021.
Overland Neilma Sidney Short Story Prize (announced February)
Worth $5000, the 2021 prize has closed for entries (November 2020) but Overland will announce winners in February. The winning story will receive a $5000 first prize and be published in Overland's first print issue for 2021. Two runners-up will each receive $750 and be published at Overland online to coincide with the release of the first print issue for 2021.
The Prime Minister's Literary Award winners for 2020. Photo via Prime Minister's Literary Awards.
March
2021 Hazel Rowley Literary Fellowship (announced 3 March)
In honour of biographer Hazel Rowley, this fellowship is valued at $15,000, and supports Australian writers working on biography projects. The winner of the 2021 Fellowship will be announced at Adelaide Writers Week.
Indie Book Awards (announced 22 March)
The Indie Book Awards reward the best Australian writing as chosen by Australian Independent Booksellers. The shortlist for 2021 was announced in January.
Ada Cambridge Writing Prizes (entries close 31 March)
As part of Willy Lit Fest this prize is celebrates19th-century Australian writer Ada Cambridge. Entries for Prose and Poetry is open to all writers living in Victoria.
Cornish Family Prize for Art and Design Publishing (announced March)
The prestigious $15,000 international book prize is being offered as part of Melbourne Art Book Fair at the National Gallery of Victoria, being held this year 26-28 March 2021, with additional $1,000 prizes for five finalists. The winner will be announced at the Fair.
April
Island Nonfiction Prize (entries close 11 April)
Thanks to the support of the Copyright Agency's Cultural Fund, Island Magazine have launched the inaugural ISLAND NONFICTION PRIZE. The winning writer will receive $3000 and their work will be published in Island issue 162, due for publication in July 2021.
Newcastle Short Story Award (entries close 14 April)
Presented by the Hunter Writers Centre, this prize has $7,800 is up for grabs, the Newcastle Short Story Award accepts entries of up to 2,000 words.
The Fogarty Literary Award (entries close 18 April)
The Fogarty Literary Award is proudly sponsored by the Fogarty Foundation and Fremantle Press. The prize is biennial and is awarded to an unpublished manuscript by a Western Australian author aged between 18 and 35 for a work of adult fiction, narrative non-fiction or young adult fiction. The winner receives a cash prize of $20,000 and a publishing contract with Fremantle Press.
NSW Premier's Literary Awards (announced 27 April)
Entries for the 2021 awards closed in October 2020. The shortlist in each category will be announced in March and the winners will be announced at the State Library of NSW. The prize pool for these Awards are at $305,000.
Australian Book Industry Awards (winners announced 28 April)
The ABIA award ceremony is Australia's book industry's night of nights. Nominations are open from 12 January, with the longlist announced on 2 March, and the shortlist on the 12 April.
The Stella Prize (announced April)
The Stella Prize awards the best book by an Australian woman, fiction or non-fiction, with $50,000. The 2021 Stella Prize longlist and shortlist will be announced in March, and the winner in April.
Furphy Literary Award Short Story Competition (entries close 30 April)
This year Furphy Literary Award returns to support emerging writers with an increased prize pool. The theme for 2021 is 'Australian Life (in all its diversity)'. The competition welcomes fiction and non-fiction entries under 5,000 words.
MAY
Questions Writing Prize (entries close 1 May)
Part of the Future Leaders initiative, the prize recognises a young Australian writer aged 18 to 30. Both fiction and non-fiction submissions are accepted (1,500-2,000 words), with a $2,000 prize for the winner. Free to enter.
The Australian/Vogel Literary Award (entries close 31 May)
One of Australia's richest and the most prestigious awards for an unpublished manuscript, the Australian/Vogel's Literary Award offers a $20,000 prize and publication with Allen & Unwin to a writer aged under 35. Entries for the 2022 award will be open from 25 January.
The Next Chapter (entries open 6 May)
The Wheeler Centre's development scheme The Next Chapter will open in May 2021 and usually closing mid-November. Each of the 10 successful applicants will receive $15,000 and a mentorship in 2022.
JULY
Miles Franklin Literary Award
Often touted as Australia's most prestigious literature prize, the 2020 Miles Franklin will be announced in July, with a longlist released in May and shortlist in June. Applications from publishers are typically open through October and November.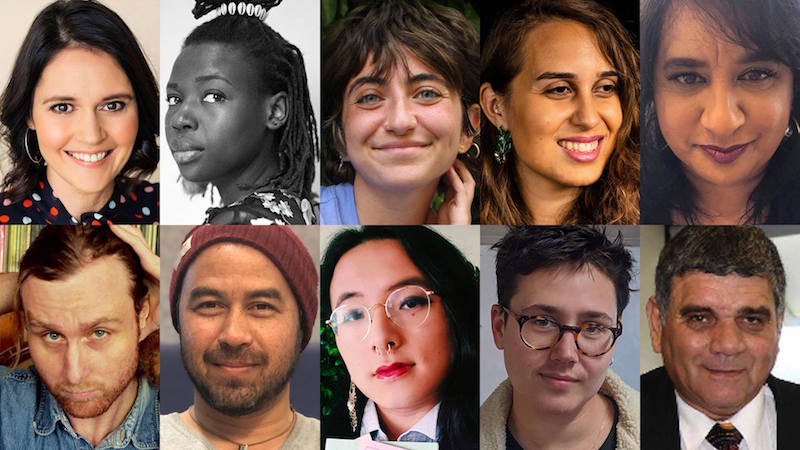 The Next Chapter 2020 recipients: Sharlene Allsopp, Bigoa Chuol, Lujayn Hourani, Allanah Hunt, Angelina Hurley, Tim Loveday, Khin Myint, Mia Nie, Oliver Reeson and Jonathon Slottje. Image courtesy of The Wheeler Centre.
AUGUST
Hachette Australia Prize for Young Writers (closes 12 August)
Open to Australian secondary school-aged students the prize recognises writing excellence in three categories: Fiction, Creative Nonfiction and Poetry. Entries can include writing for readers of any age.
The prize winner in each category will receive $500 courtesy of Hachette Australia, publication of their work on the Express Media website, plus their names and an acknowledgement printed in Voiceworks, Australia's premier youth literary journal. Fifteen shortlisted writers will also be invited to participate in a writing masterclass, attend an exclusive Q&A with Prize Mentor Danielle Binks, as well as receive a book pack of YA Titles courtesy of Hachette Australia.
The Helen Anne Bell Poetry Bequest Award (closes 20 August 2021)
This year the award offers an increased prize of $40,000 for a collection of poems by an Australian woman poet and its publication by  Vagabond Press. This is the fourth biennial award made under the bequest, and it is now the richest poetry prize in Australia.
Women poets  are invited to submit a collection of poems between 50 to 80 pages. The work should broadly deal with Australian culture in some way; otherwise, there are no restrictions on the subject matter.
CBCA Book of the Year Awards (announced 21 August)
The Children's Book Council of Australia will present its Book of the Year Awards across six categories. Before the announcement in August, notable entries will be released on 25 February and a shortlist on 31 March.
The Affirm Press Mentorship Award (closes 15 September)
This year's Award will focus exclusively on contemporary middle-grade (9+) and young adult fiction. Affirm Press are keen to see a wide range of diverse and authentic voices that aren't always represented in mainstream publishing.
The three winning submissions will receive a week's residency and manuscript development at Varuna, the National Writers' House. The Affirm Press editorial team will be in residence with the writers to provide in-depth manuscript development and feedback, as well as establishing ongoing relationships with the winners.
The Speculate Prize (closes 1 September)
Submissions are now open for The Speculate Prize, a new national award aimed at writers who explore the expansive possibilities of literature: those who imagine other worlds—other realities—that may even exist within our own. Writers are encouraged to embrace new literary modes and extend the possibilities of the novel and short story form.
The winner will receive $5000 prizemoney, a mentorship from Giramondo Publishing and a week-long residency at RMIT's McCraith House on the Mornington Peninsula, Victoria
SBS Emerging Writers' Competition (closes 16 September)
SBS is looking for the next generation of diverse Australian writers. The theme this year is 'Between two Worlds'. The competition is open to those currently living in Australia, are aged 18 or over and have never published a book. Prize-winners will be selected by our judges, Miles Franklin Award winner Tara June Winch and award-winning author Behrouz Boochani.
The winning submission will be awarded a $5000 prize, as well as having their story published on SBS Voices. There will also be a $3000 prize awarded for second place, and two honourable mentions will each receive $1000.
SEPTEMBER
Queensland Literary Awards (announced September)
Presented by State Library of Queensland, these awards celebrate outstanding Australian books and authors. The top prize is the Queensland Premier's Award for a work of State Significance, for which the winner receives $25,000. The 2020 winners were announced 4 September 2020.
The Olga Masters Short Story Award (announced in September)
With the continued support of the Masters family, The Olga Masters Short Story Award is now administered by South East Arts, in partnership with The South Coast Writers Centre, and Island Magazine. The Award welcomes entries from writers of all ages resident in Australia. Seeking short stories (2000 to 4000 words) on the theme of life in rural Australia.
Aniko literary Magazine (closes 30 September)
Aniko is opening for submissions from 1-30 September. The theme is Fantasize. Genres: poetry, fiction and creative non-fiction. Word limit: 50 lines (poetry), 1500 words (fiction/non-fiction). Payment: $125 (AUD) per published piece. Entry is limited to two pieces per person.
OCTOBER
The 2022 NSW Premier's Literary Awards (entries close 5 October)
They are the richest and longest running state-based literary awards in Australia and cover all genres of writing. The total pool of $295,000 prize money will be divided into ten categories.
Colin Roderick Literary Award (announced October)
One of Australia's oldest literary awards, the $20,000 prize recognises an original book, verse or prose, that deals with any aspect of Australian life. The shortlist will be announced in July ahead of the winner in October.
Readings Prize for New Australian Fiction 2021 (announced October)
The 2020 winner was announced on the 29 October of last year, and celebrates new Australian Fiction. To be eligible for the 2021 Prize, books must have been first published between 21 July 2020 and 21 July 2021.
Nillumbik Prize for Contemporary Writing ( entries close 7 November)
Entries for the 2022 Nillumbik Prize for Contemporary Writing (NPCW) are now
open, with $18,000 available in prizes to be awarded for best short stories and best poems (both with open, local and youth categories).
NOVEMBER 
KYD New Critic Award (entries close 30 November)
The KYD New Critic Award is open to critics working in all fields of arts and culture. The winner will receive $1000 cash prize and a regular paid column 5 long-form articles at $400 each. The 2021 winner was announced in December 2020.
Book of the Year Award (announced in November)
Established by the Small Press Network, and formerly known as the Most Underrated Book Award, this award celebrates the hidden gems of Australian publishing. Sponsored by ArtsHub in 2020, the award was announced in November. Entries for the 2021 iteration will open in February and any book published by a member of the Small Press Network is eligible. In 2020 ArtsHub was a co-sponsor of the award.
Walkley Awards (announced November)
The Walkley Awards for Excellence in Journalism recognise and reward the best in the craft. Entries usually close around August.
Richell Prize for Emerging Writers (announced November)
Presented by Hachette Australia in partnership with The Guardian and The Emerging Writers' Festival, the Richell Prize remembers Hachette's former CEO, Matt Richell. It's open to unpublished writers of fiction and narrative non-fiction, and the winner receives $10,000 in prize money and mentoring and manuscript development with Hachette.
Deborah Cass Prize (announced November)
The $3,000 Deborah Cass Prize is awarded to a writer from a migrant background. The 2020 prize was announced in November.
The 2022 Boundless Indigenous Writers' Mentorship (closes 22 November 2021)
This joint venture between Text Publishing and Writing NSW, the mentorship is now open. It was established in 2019 to discover and nurture a new Indigenous voice in Australian literature in fiction or non-fiction.
DECEMBER
Prime Minister's Literary Awards (announced December)
The PM's literary awards celebrate Australian talent and literature with winners in each category awarded $80,000 tax free. Shortlisted entrants are awarded $5,000 tax free. Last years winners were announced in December 2020.
Dates to be confirmed
Several prizes and opportunities have not yet announced dates and details as of January 2021.
ACT Book of the Year
The 2020 winner will be announced in early 2021 with the prize usually closing later in the year.
University of Canberra Vice-Chancellor's International Poetry Prize
This prestigious poetry prize did not run in 2020. We will check back for details of the 2021 iteration.
Lane Cove Literary Awards
Lane Cove Council offers literary awards across several categories, including short stories and poetry. Due to the current pandemic, the 2020 iteration was cancelled. The Lane Cove Literary Awards will recommence in 2021.
OTHER RESOURCES
Joining a writers' centre will keep you updated on opportunities in your area, while Books+Publishing keeps track of news with more of a publishing industry focus. The Australian Society of Authors also has a handy list of organisations and industry bodies that support writers.
Libraries and local councils will have newsletters promoting their grants, competitions and other opportunities so join relevant mailing lists to keep you in the loop. There is also funding and support available through the Australia Council, and State Government funding bodies such as Creative Victoria, and Create NSW.
What did we miss? Email updates to editor@artshub.com.au.