Rachel Healy feels like she's time travelled.
Having recently visited Europe and the UK alongside her co-Artistic Director Neil Armfield, seeking out work for the Adelaide Festival, Healy has firsthand experience of the ways vaccination passports will facilitate the return of live performance to local stages.
'We said to each other while we're away, it's like we've time travelled, because we can see how Australia is going to operate in six to eight months; we can see the future,' she told ArtsHub.
'We felt like we've seen Australia in eight months' time but we've also just come back to Australia where the sense of devastation is so clear and morale is at an all-time low. And so we've been wanting to convey, not just optimism, but that we feel there is real reason for hope. We think reopening can be done, and it can be done well.'
Armfield and Healy's trip took in festivals and public events both in theatres and on outdoor stages, in France, Spain, Germany, Holland, Belgium, Switzerland, Monaco, London and Edinburgh.
'And I would say that the experience in France, Spain, Germany, Belgium and Monaco felt organised, cohesive, consistent, and thorough,' she explained.
FORGING NEW HABITS
Healy compared the process of showing tickets, vaccination passports and proof of identity as being akin to adjusting to air travel immediately after the September 11 terrorist attacks, when bag checks suddenly became the new normal.
'Showing proof of vaccination or proof of a negative COVID tests taken 48 hours prior – but 90% of it was about proof of vaccination – became normalised,' she said.
Front of house staff or in some cases volunteers, depending on the festival, created a barrier to entry outside each venue.
'You could not really go near the theatre without having a bag check first, so somebody would do that and then you'd move a couple of paces onwards, and then somebody would check your vaccination proof, and also your ID, to make sure that the names were the same. And it was done, particularly in France, so seamlessly,' Healy explained.
'I mean, people were still arriving as they do at ten to eight or five to eight. And people were still able to move through those processes, take their seat, and the show would start on time.'
'We've been wanting to convey, not just optimism, but that we feel there is real reason for hope.'

Rachel Healy, Adelaide Festival
Once inside a venue, which were almost always running at full capacity, mask-wearing was strictly policed. 'In a friendly way but with absolutely no exceptions under any circumstances,' Healy said.
'In European theatres there's often no air conditioning, and once Neil pulled down his mask by about two centimetres below his nose, not even for two minutes. And immediately, there was a front of house person by his seat saying, "Can you please put your mask on properly?" And so it was terribly friendly, but absolutely no question that the key principles were proof of vaccination and mask wearing. And with that in mind, everything went ahead really seamlessly'
This consistent approach across Europe made her feel safe and secure, Healy said.
'Everybody felt really, really safe and the theatres were completely full. And it was in counterpoint to London, where they have not mandated these sorts of regimes which were mandated in most of the European countries that we visited.'
As a result, Healy said she felt constantly anxious in the UK, especially in London. 'I was really fragile. I was bursting into tears, constantly anxious about getting sick, but I wasn't like that at all in Europe because of all the protocols I've described.'
Read: Artist-driven vaccination campaign urges audiences to play a part in pandemic recovery
In London, Healy said, instead of mandating a uniform approach to COVID-safe protocols, the government had devolved responsibility to individual theatres, shops and bars.
'That meant that there was a high level of confusion and a much greater sense of uncertainty about whether it was safe to go into the theatres,' she said.
'I mean, there are websites that say, "this theatre insists on proof of vaccination," but then other theatres, such as the National Theatre, don't insist on it. And because there was confusion, it created a sense that perhaps it wasn't safe to go back into the theatre, and consequently many theatres were reporting that they were not getting the kinds of attendances that they had hoped for.'
As a result of the British Government's ideological belief in self-determination, Healy said, audiences seemed to be reticent about rushing back to the theatre.
'It seems to have had this impact on the psyche of a community that were still coming through Delta, and who seemed to be saying, "This is possibly not something that I can do safely and I'll just wait". And I'm sure it will work itself out, but it was really, really clearly different going to the theatres in Europe compared to going to the theatres in London.'
Read: Are arts workers at risk in compulsory vax policies?
As a member of the Federal Government's Creative Economy Taskforce, Healy is keen to share her recent experiences with the broader sector. She's also confident in introducing a European-style model of mandatory mask-wearing and vaccination passports at Adelaide Festival next year.
'Having seen how it's worked, I am fully in support of individual arts organisations and festivals declaring proof of vaccine as being a condition of entry. At the Adelaide Festival, we are a statutory authority so we work in partnership with SA Health and we adopt the protocols that they request of us,' Healy told ArtsHub.
'However having said that, I have observed a number of the music festivals come out and announce that they will be adopting a proof of vaccine or proof of negative test for their music festivals, and I'm fully in support of that and I think that it is about keeping our community safe.'
THE NEED TO TRAVEL
Given the number of COVID tests and days in quarantine required to travel to and through Europe at the current time, some might question why Healy and Armfield had to leave Australia at all.
'What was extremely clear – and we knew this even before we left – is that once theatres and festivals and events start opening up, there is an absolute lolly-scramble for the best, most interesting, most original new work; work that that responds to some of the questions that artists around the globe have been asking and answering in the middle of a pandemic,' Healy said.
Such work included artists making intimate works for very small audiences, and works in which pandemic life was explored sub-textually rather than overtly. 'And also works about power, and how power is wielded,' Healy added.
'And speaking pragmatically, if we had not gone – if we'd waited for recordings of the work – I don't think there would have been an international festival in 2023. Because, of the work that we saw, at least half of the things that we were really interested in had already been booked up throughout 2023.'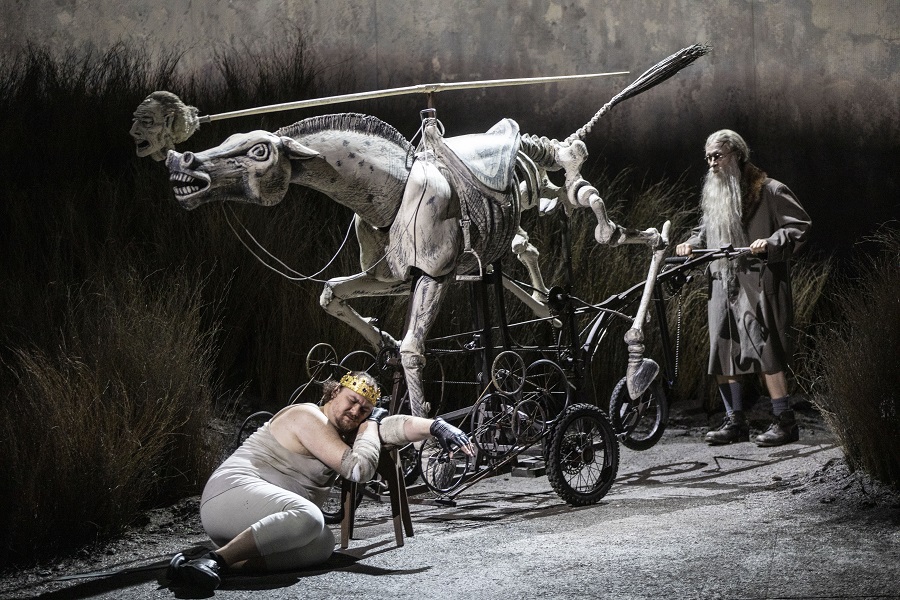 The opportunity to travel internationally while Australia's borders are still closed for most people was 'an incredible privilege,' Healy said sombrely.
'We were so aware and appreciative of both our Board's permission to travel but also the Federal Government's permission to travel.
'We were originally knocked back, and it was only when we submitted a second time, with more information but also a letter from our Premier, talking about the importance of the Festival to the state, that we were granted approval. And it was an incredible privilege to be able to gather that intelligence, to talk to artists, and to experience the kinds of things we did,' she said.
While the full program for the 2022 Adelaide Festival is still under wraps, one of the key works featured in the festival was announced this week: Barrie Kosky's production of Nikolai Rimsky-Korsakov's The Golden Cockerel.
Kosky has previously directed two sell-out Adelaide Festival opera events: Glyndebourne Festival Opera's production of Saul in 2017 and the Komische Oper Berlin production of The Magic Flute in 2019.
Healy said of the new work: 'Political satire, sardonic humour and surreal burlesque, The Golden Cockerel is an opera tailor-made for Barrie Kosky. It's wonderful to again be co-producing with Festival d'Aix-en-Provence and it was thrilling to witness French audiences return to the theatre with such gusto and excitement when The Golden Cockerel opened at the magical Théâtre de l'Archevêché in July. We can't wait to bring the same experience to Adelaide Festival audiences in March 2022.'
The Golden Cockerel will play at the Adelaide Festival Theatre from 4-9 March 2022. The full Adelaide Festival program will be launched on 26 October, with the festival running from 4-20 March 2022.