Launched in Adelaide this past weekend, to coincide with the Tarnanthi Festival of Aboriginal and Torres Strait Island art, UPLANDS is an outstanding new digital resource debuted by the not-for-profit organisation, Agency.
Described as 'an immersive digital resource that celebrates and shares Aboriginal and Torres Strait Islander artistic and cultural practices with the world,' UPLANDS revolutionises not only how we engage with art centres, but also how we understand them.
Agency CEO Kade McDonald tells ArtsHub: 'UPLANDS provides a unique and compelling insight into an otherwise fairly "inaccessible" (geographically speaking) world. We wanted this resource to champion the not widely known reality that art centres are quite often the beating heart of community and more than just places to make and sell art.'
Jump to:
Virtual visits deepen understanding
UPLANDS has been two years in the making, and the project was developed in partnership with over 20 remote First Nations art centres stretching across Western Australia, South Australia and the Northern Territory, stretching to the extremely remote, Groote Eylandt.
This starts to make sense visiting the website, which offers the most fantastic satellite zoom-in map pinpointing the location of each art centre in relation to the others and our coastal centres. It adds a level of reality for the virtual visitor, in terms of the scale and distance – which is often spoken about but not "felt" until journeying on Country – allowing one to zoom in on these small remote towns. Agency describes the experience as "digital twinning".
Where this gets really exciting is the visitor to UPLANDS can then deep dive and take video fly-throughs of the art centres – some of which are not open to travellers or passers-by on the open road.
Read: Tarnanthi 2023 weaves personal stories with skyward visions
This "virtual visit" is backed up with a swag of interviews with artists and arts workers – over 150 first-hand accounts. It is an incredible resource, and the first of its kind for the Indigenous visual art sector. McDonald explains: 'By embedding over 150 artist and arts worker interviews into the resource, the diversity (and staunch singularity) of stories shared, really supports this notion of being a place of community, culture, intergenerational learning, economy, respite, well-being and care.'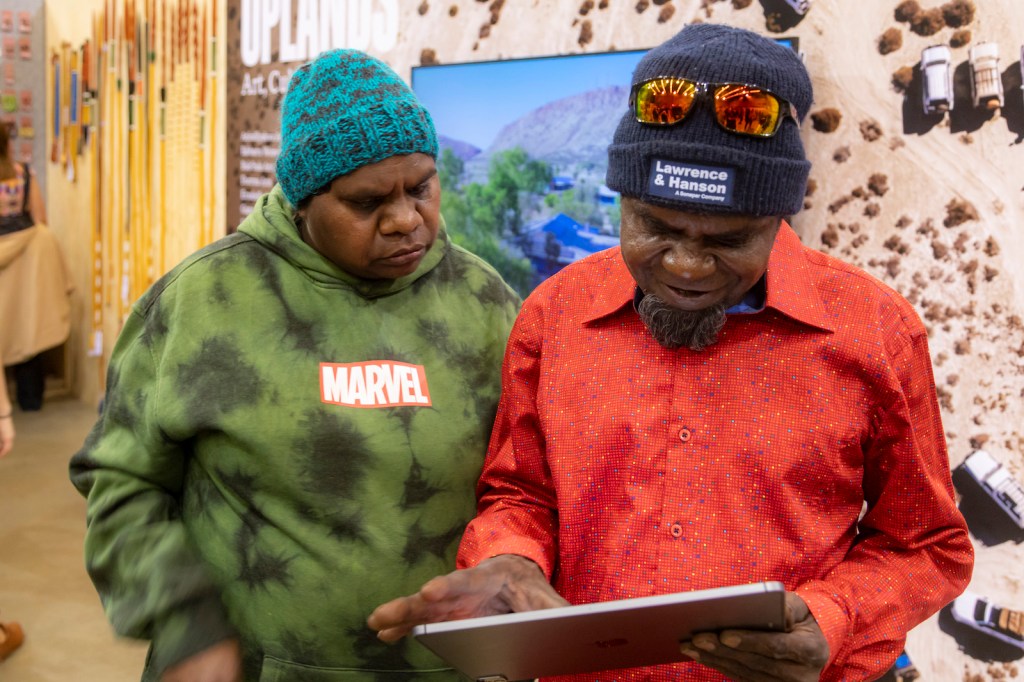 Upskilling on the ground
UPLANDS has been developed in partnership with the leading Melbourne immersive tech company Phoria to map the art centres. Agency also engaged the services of Terri Janke and Company to work with the partnering art centres to develop the ICIP (Indigenous Cultural and Intellectual Property) protocols for the project.
Agency also worked closely with digital design agency Pondr and leading branding agency Studio Ongarato to build and enhance the user experience.
McDonald says, '[It] was imperative that digital skills transfer was offered as part of the program. Agency's team spent time with artists and arts workers on the ground to teach individuals to use the mapping technology and, in some cases, arts workers mapped 90% of their spaces using the Matterport immersive mapping technology.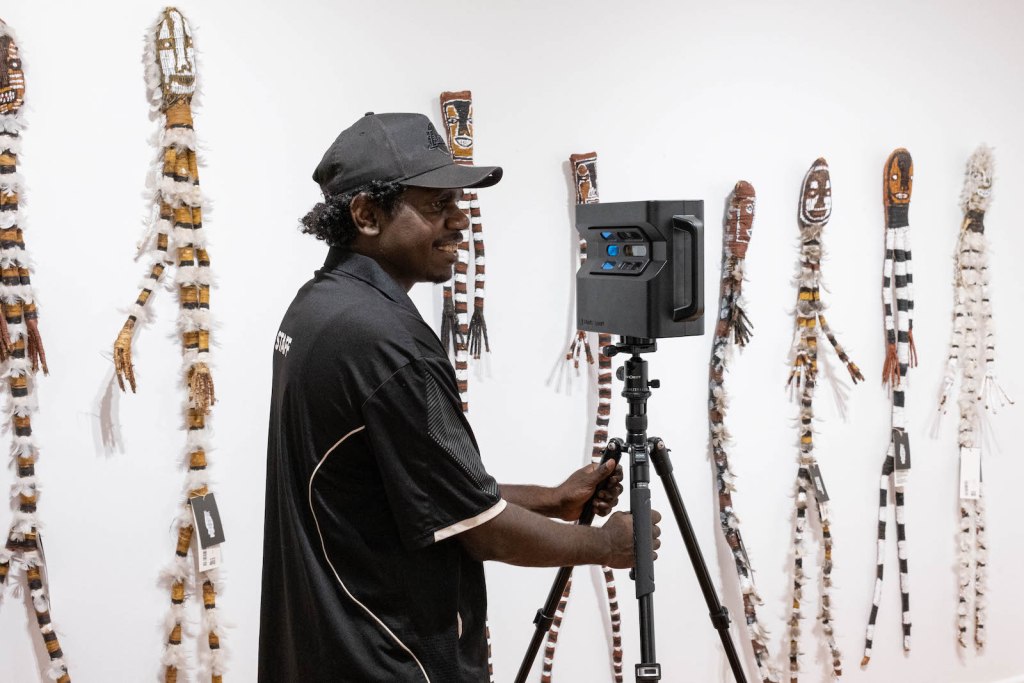 'An example of this was Ricky Ankin from Maningrida, as pictured here, and also Elouise Lalara from Anindilyakwa who speaks at the end of her interview about mapping the space,' he continues.
A game changer for art centres
Devised in partnership with art centres in response to the digital divide, UPLANDS' aims are both economic and educational.
'The immediate outcome that we hope for UPLANDS is that the resource helps integrate more First Nations voices, perspectives and lived experiences into mainstream media and to build more understanding, empathy and positive stories about Aboriginal and Torres Strait Islanders, particularly in the current climate post referendum,' McDonald tells ArtsHub.
UPLANDS is also a fantastic resource for curators, both First Nations and non-Indigenous curators at home and abroad, who would not get a chance to go to these places otherwise. Plus, there is a goal to better connect UPLANDS with the education sector and the Australian Curriculum.
McDonald adds that there is also the hope, 'that people will be excited about what they see and want to have a browse of the art centres' shops and support the ethical production and sale of Aboriginal and Torres Strait Islander art!' – including in a global market.
Looking to the future, the organisation's aim is not to stop with these 20 art centres.
'Our goal for UPLANDS is to include more art centres on the resource. This funding was finite and the featured art centres to date were selected via expressions of interest (EOIs), but others have already expressed interest in being part of the resource and this is something we're focused on – attracting more funding to continue to grow the current representation of art centres across the country,' concludes McDonald.
Participating art centres include: Anindilyakwa Arts (Groote Eylandt), Bábbarra Women's Centre (Maningrida), Bula'bula Arts (Ramingining), Durrmu Arts (Peppimenarti), Ernabella Arts (APY Lands), Gapuwiyak Culture and Arts (Gapuwiyak), Hermannsburg Potters (Hermannsburg), Ikuntji Artists (Haasts Bluff), Iltja Ntjarra Many Hands (Alice Springs), Jilamara Arts and Crafts (Melville Island), Kaiela Arts (Shepparton), Mangkaja Arts (Fitzroy Crossing), Marrawuddi Arts and Culture (Jabiru), Martumili Artists (Newman), Milingimbi Arts and Culture (Milingimbi Island), Munupi Arts and Crafts (Melville Island), Spinifex Arts Project (Tjuntjuntjarra), Tangentyere Artists (Alice Springs), Waringarri Aboriginal Arts (Kununarra), Waralyirti Artists (Balgo), Yarrenyty Arltere Artists (Alice Springs).
For more information, head to UPLANDS.
UPLANDS was funded through the Australian Government's RISE initiative and the Indigenous Visual Art Industry Support (IVAIS) program.