May Ray, Optic-Topic. Courtesy of GianCarlo Montebello.
When we think of jewellery it is usually as body adornment or a status symbol, perhaps an expression of love or a sentimental reminder of the past. Largely, it sits under the mantle of fashion, power and accessories.
However for some, jewellery is art. Amanda Triossi, Vogue UK's jewellery editor, notes that the great artists of the 15th and 16th centuries all trained in fine jewellery. She compared the importance of jewellery to that of a revered oil painting. With time this training requirement has ceased to exist.
The connection is not surprising. The creation of a fine piece of jewellery requires an understanding of materials and form, composition, a command of aesthetics, design application, workmanship and originality.
Triossi added: 'All these ingredients together make something exceptional – it's this that defines a work of art.'
The team "wearable art" has gained traction in an attempt to better bridge the gap between artists and jewellers, and to elevate the practice from its craft foundations.
Author Marbeth Schon traces the emergence of the wearable art movement as far back as the1930s. Her book, Modernist Jewelry 1930-1960: The Wearable Art Movement (2004) explores unique and innovative wearable art objects created by Surrealists, Cubists, Abstract Expressionists, and other modernist artists working in the middle decades of the 20th century.
We are seeing more of the "frocks and rocks" approach to exhibition programming today. In 2012, The Bass Museum of Art, Miami's exhibition From Picasso to Koons: The artist as jeweller challenged the long history that jewellery held within the craft tradition, turning to some of the world's great "brand-name" artists to chisel away at perceptions.
From the pop brooches of Roy Lichtenstein, through to the Cubist jewellery of Georges Braque, abstract pieces by Anthony Caro, Damien Hirst's pharmacological charm bracelet, a Jeff Koons bunny necklace, Picasso's jewels made for his family, Marc Quinn's golden rings, Anish Kapoor's work for Bulgari, or Robert Rauschenberg, Frank Stella and Jenny Holtzer, many artists have embraced the challenge of making artworks that also happen to be jewellery.
Koons created a platinum Rabbit necklace pendant and charm bracelet for a collaboration with Stella McCartney. Rabbit (Necklace Pendant) platinum © Jeff Koons (2005-2009) and Rabbit (Charm Bracelet) platinum, © Jeff Koons (2005-2009); image jeffkoons.com
Curator of that exhibition, Diane Venet stated: 'Great jewellry like great art needs to make a statement … jewelry is not a lesser art, either. It should be about new ideas, new materials, new techniques. Artist-designed jewelry is its own field.'
Locally, Melbourne Now at the National Gallery of Victoria (2014) was a good catalyst for this immersion of design and jewellery into the art museum space, while later this month the first blockbuster in Australia devoted exclusively to jewellery will be held in Canberra.
Cartier: The Exhibition (30 March – 22 July) has been pitted as a "scholarly exercise in curatorship and presentation", presented with the kind of consideration curators would reserve for any exhibition of masterpieces visiting Australia.
It is in sync with a comment by Curator at the V&A Museum in London, Carol Woolton, who said: 'The jewellery world is hidden and rarefied, it needs to be open so people can see and be drawn in and appreciate the stories behind the pieces themselves.'
Melbourne Now had a massive record-breaking 753,000 visitors and Cartier promises to be a popular drawcard also. So what else is happening in this blurred territory, and are gallery-goers heartily receiving jewellery as a "viable" artform to be exhibited?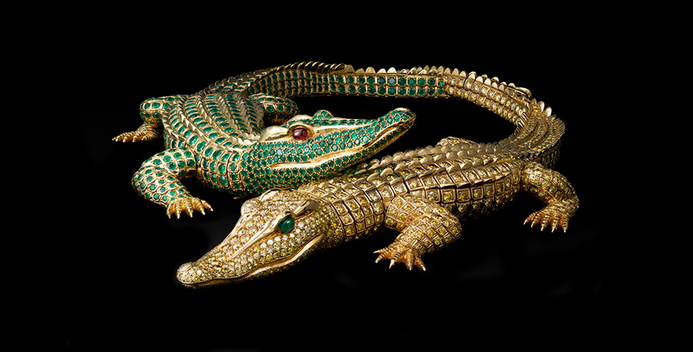 Cartier Paris Crocodile necklace made as a special order for María Félix 1975, gold, 1023 brilliant-cut fancy intense yellow diamonds, 2 navette-shaped emerald cabochons, 1060 emeralds, 2 ruby cabochons, 30 and 27.3 cm (length each), Cartier Collection. Photo: Vincent Wulveryck, Cartier Collection © Cartier
Current exhibitions that feature jewellery as art
Cartier: The Exhibition
The National Gallery of Australia (NGA) takes the jewellery-as-art conversation to a new level by placing it as a core blockbuster in its 2018 program.
Opening 30 March, Cartier: The Exhibition will feature more than 300 examples of masterpieces by the signature Paris jewellery house Cartier, providing a window into the intimate world of Cartier's famous international clients.
'Cartier represents the poetic amalgamation of art, passion and style,' says Pierre Rainero of the Canberra exhibition. Rainero is Image, Style and Heritage Director at Cartier. Not convinced? Then let Dame Elizabeth Taylor make the connection for you: 'The jewellery was glorious, rippling red on blue like a painting.'
Among the gems on display will be Taylor's platinum, gold and Burmese ruby necklace (1951), which is synonymous with the iconic jeweller; Her Majesty Queen Elizabeth's Halo Tiara, which she loaned to Kate Middleton for her wedding to HRH Prince William, Duke of Cambridge; Princess Grace of Monaco's 10.48 carat diamond engagement ring (1956), and Cartier designer María Félix's flamboyant Crocodile necklace (1975), among a few other trinkets.
Cartier: The Exhibition is showing from 30 March until 22 July. Tickets available from Ticketek.
Elizabeth Shaw's Fixed Dog Ring. Broken ceramic, reused and recycled sterling silver; courtesy the artist and Woolloongabba Art Gallery
Elizabeth Shaw: Recycled Narratives
Elizabeth Shaw's contemporary jewellery and objects turn to the philosophy of reuse and upcycling. Made from 100% recycled silver and remounted stones, and broken fragments of consumer jewellery, her work is all about sustainable and ethical jewellery practice in an attempt to break the luxury paradigm – what could be considered the antithesis of NGA's Cartier exhibition.
Shaw's Recycled Narratives exhibition is showing at the Woolloongabba Art Gallery, Brisbane until 31 March, and includes artworks created between 2012 and 2018.
Professor Ross Woodrow writes in the catalogue: 'The jeweller's role has always been to give agency to materials, synergise the past and present and realise aspirations for the future. Elizabeth Shaw has shown through the work in Recycled Narratives that value does not necessarily radiate from the sovereign's crown and the most fruitful place to start a meaningful dialogue with material in contemporary jewellery is to begin by making sense of what we have found and making precious what we think we don't need.'
Woodrow makes the point that the global jewellery market exceeded $183 billion in 2014, driven by consumer perceptions that fine jewellery (as opposed to costume and trade jewellery) is a discretionary luxury that can express social status and wealth.
Bringing it back to the realm of art, then, might be the pendulum swing that we are looking for.
Framed necklace by jeweller-trained artist Lousje Skala; installation view in The Gift, MoAD Canberra
The Gift
A Melbourne-based artist working with contemporary jewellery, Lousje Skala has a series of necklaces in an exhibition at the Museum of Australian Democracy at Old Parliament House in Canberra. The Gift tells the story of Holocaust survivors through objects.
Read: Curating for impact – the gift of the small show
The premise of this exhibition was to choose an object and let it tell a very personal but reflective story of immigration and its gifts. Skala chose a pair of silver Shabbat candlesticks that her mother-in-law, a Holocaust survivor, retrieved. The gauge of the candlesticks, their metal and design, were the points of reference for a series of necklaces she made.
Skala said: 'I became much more mindful of the amount of narrative you can place in a piece of work that you can wear. I loved seeing that portraiture can come through an object, that a story can come though something other than a painting.'
Her work in The Gift was acquired by the National Portrait Gallery, assured of its role as both a portrait and a work of art.
Skala's work has been included in local and international exhibitions including Melbourne Now at the National Gallery of Victoria (2013) and is held in collections including Museum of Applied Arts and Sciences, Sydney and the Musee des Arts Decoratifs, Paris.
The Gift: Art, Artefacts and Arrivals is on long-term display at the Museum of Australian Democracy in Canberra.
Julia deVille
When writing this piece, it seemed an uncanny coincidence that Melbourne artist Julia deVille – known for her taxidermy sculptures and jewellery – posted a new piece of wearable art using a bird on her Instagram feed.
deVille's work is informed by a fascination with the acceptance of death expressed in the Memento Mori jewellery of the 15th to 18th centuries and Victorian mourning jewellery. She uses traditional precious and semi-precious metals and gems and occasionally materials that were once living, such as jet, human hair and taxidermied animals.
She studied at Northern Melbourne Institute of TAFE, and has gone on to win the City of Hobart Art Prize in 2012 and the 2016 Waterhouse Natural Science Art Prize. Her work has been acquired by the National Gallery of Victoria and Hobart's MONA.
Does commercialism kill jewellery as an art form?
The same question could be asked of any media in a highly tuned art market. More interesting is the way that jewellery shops (aka contemporary galleries of artisanal wares) have amplified and further celebrated the bespoke aspect of creating unique pieces of jewellery as an art form.
In 2011, Shizaru opened in London's swanky Mayfair gallery district, specialising in artist-made jewellery. Director of the gallery Simon Sakhai said: 'I am not trying to suggest contemporary jewellery is contemporary art. They are very different things. But jewellery is an art form.'
Closer to home, Courtesy of the Artist in Sydney's Strand Arcade, with artist studios in Surry Hills, subscribes to the same philosophy that their jewelers are artists and, while commercial, there is a altruistic edge to their support of contemporary making now.
Similarly, in Canberra there is Bilk, and then there is E.g.etal, the Melbourne equivalent – a gallery identifying and promoting talent in Australia's thriving contemporary jewellery design movement by putting creativity forward to combat mass production.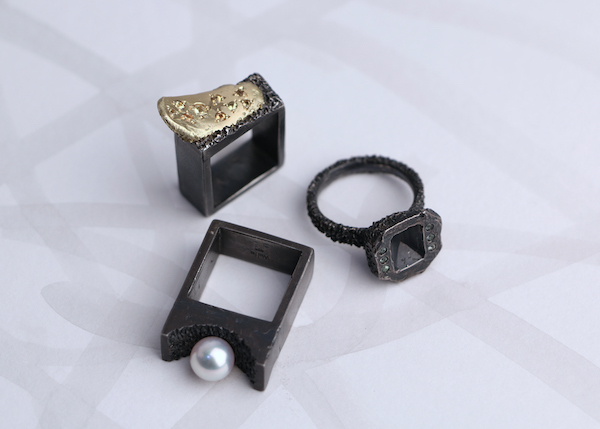 A selection of rings by artist Welfe Bowyer, who is represented by e.g.etal, Melbourne; supplied
'Authenticity over fashion,' has always been the creative mantra behind Emma Goodsir's contemporary jewellery gallery e.g.etal, soon to be in its 20th year of operation. 'We have always championed jewellers with artistic authenticity.'
Established in 1998, e.g.etal launched its Inimitable range in November last year, focused on the unique work of six artists. It represents a community of trained gold and silversmiths who study the rules and then break them – developing new ways of working with precious materials that can't be mass produced or replicated and that often seem strange or shocking to traditional jewellers.
The question at the forefront of their philosophy is: How does Australia retain its status as a key player in contemporary jewellery innovation?
The answer would appear to lie to celebrating the bespoke aspect that artist-jewellers can bring, and to continue to blur the lines between artists operating in the contemporary art world by collaborating across the divide, and exhibiting at both edges of the spectrum.
Meret Oppenheim, Fur Bracelet, 2014; 18k gold burnished, fur, Edition of 15 + 3AP; image GEMS AND LADDERS, photo: Hans-Jörg F. Walter

Artist-jewellers who have smashed the stereotypes
L'Ecuyer writes in her book Jewelry by Artists: 'the cachet of well-known artists has also lent credibility to the idea of jewelry as an art form and helped broaden awareness of art jewelry.'
The impact that artists can make through jewellery is not new. In the spring of 1936, artist Meret Oppenheim proposed the idea of a fur bracelet to iconic Paris fashion designer Elsa Schiaparelli – and the furry metal cuff appeared in that year's winter collection.
In 1956, one year before he would trademark International Klein Blue, the artist Yves Klein began producing Petite Vénus Bleue in an edition of 500, each version mounted within a Plexiglas box outfitted in gold leaf. Whether worn as a brooch or strung as a pendant, the small Klein Venus takes on new meaning, providing something sacred to wear.
Yves Klein, Petite Vénus Bleue, 1956/7; Artware Editions
There are countless examples across history. What appears to have shifted more recently is an awareness that artist-made jewellery can co-exit in the hallowed vitrines of an art museum, the gallery shop, and the bespoke specialist jeweller's studio.
Perhaps we can find the answer to this cultural shift in the words of ex-Sotheby's jewellery expert, Joanna Hardy, who has turned to curating jewellery exhibitions. She believes that it is time jewellers were seen in the same light as other artists. 'Jewellery has had this problem of being seen as a commodity and not an art form, particularly when diamonds feature so prominently,' Hardy said.
Perhaps Damien Hirst, with his diamond encrusted skull For the Love of God, which was unveiled in 2007, helped blur these divides a little further. Hirst collaborated with the Piccadilly jewellers Bentley & Skinner and designer Jack du Rose to realise his skull, made with 8,601 flawless pavé-laid diamonds. How different really is it to the jewels soon to be displayed at the NGA from Cartier?
Hardy continued: 'It's not rocket science, nor are we doing something that has never been done. Rather, creativity has been lacking in recent years as people have been wearing a sort of uniform when it comes to jewellery. But now there are people thinking, "I don't want to put on that diamond line bracelet or pearl necklace like everyone else".'
Wearable art, jewellery as art, artist-made jewllery, object, sculpture – I like this new blurred territory where the hierarchies between art and craft, makers and artists, continue to be chipped aware. Why should creativity and inspiration be exclusive?