Correction: Please note Bus Projects is in the process of relocating and will begin its next chapter with a new Artistic Director soon.
In the last couple of years, we have seen ARIs (artist-run-initiatives) jump through hoop after hoop. While building infrastructure for online engagement and combating long-term pandemic impacts on staffing and resources, ARIs have continued to platform experimental and emerging artistic practices.
At the risk of sounding like a broken record when it comes to funding – as major exhibitions, festivals and events return in full force to 'reactivate our cultural landscape' this year – when are ARIs going to get their due?
After more than 20 years spent championing artists, Bus Projects in Collingwood, Melbourne was hanging by a thin thread when it lost significant multi-year funding. It issued a closure announcement in 2022, when Board Chair Nella Themelios, Samm Sutton and Yongping Ren took over the final leg of its journey from co-directors Nina Mulhall and Jacina Leong.
Shortly after this announcement, Bus Projects received funding from the Australia Council for the Arts, which, along with support from Creative Victoria, has allowed the organisation to stabilise operations and pursue a new future. They are currently in the process of relocating and will announce a new Artistic Director soon.
Themelios tells ArtsHub: 'In 2019, our previous director Channon Goodwin edited a collection of essays about the histories and economies of the ARI sector entitled Permanent Recession: a Handbook on Art, Labour and Circumstance. In my opinion, this concept of a "permanent recession" still remains the aptest way to describe the state of health of ARIs in 2023.'
Several structural and financial challenges stand in the way of ARIs' long-term sustainability, including access to multi-year funding to support core operations, increasing rental costs and reliance on volunteer labour because of scarce resources, says Themelios.
Read: Can arts funding be self-sustaining?
Blindside has also lost major funding from Creative Victoria (though is still supported by the City of Melbourne), and has suffered from sudden rent spikes across the Nicholas Building, its home base since 2004.
Artistic Director and Gallery Coordinator, Martina Copley, says: 'Melbourne was once full of ARIs in various shapes and sizes but, due to rising costs and competition for support, most have relocated or closed.
'ARIs are social and political voices that operate because of voluntary labour. The Blindside board, artistic directors, interns and volunteer team work collectively and strategically to ensure Blindside is responsive to current shifts in making and thinking; [that it is] accessible, promoted, serving artists, educating visitors and student groups. People become weary and dispirited when the work we do goes unrecognised and when, in order to receive funding support, we must continually expand programming without a concomitant boost to our human resources,' continues Copley.
Competition in the ARI scene can be directly linked to how these initiatives are under-resourced, even as artists, arts workers and collectives often share ideas, collaborate and service broad communities. More concerning still is that these struggles are common across different geographical locations.
Shifting perspectives on ARIs
kelli mccluskey, co-founder and co-artistic director of North Perth's pvi collective, highlights the change that's needed in the ARI landscape. 'It's generally assumed that artists who have stepped up to contribute their energies to this really vital space will often do so off their own backs, using their own collective connections and resources to make things happen.
'This leads to short bursts of amazing artist-led activity that can't be sustained long term without ongoing investment and support, so burnout is common. We really need to turn this around and consider championing artists as leaders of practice development, not solely the makers of content,' mccluskey tells ArtsHub.
In addition, 'ARIs seem to often slip through the gaps of funding opportunities or have to try and make what they do "fit" within existing funding parameters,' she says. 'This is largely due to a general lack of understanding within state and federal funding of the value that artist-run initiatives bring to the arts ecology.'
Themelios shares this view, adding: 'A big challenge is overcoming the perception that ARIs are informal, small or impermanent structures and that, therefore, they can live without sustained investment.'
Alternative models forging new pathways
Themelios says, 'Over the last few years, there has been a huge shift in the ambition of ARIs, the way that they operate and the value that they deliver to the arts community'.
Indeed, many ARIs have begun testing out new models and embarking upon alternative structures to support diverse artistic practices.
Constance ARI in North Hobart has operated entirely off-site since 2013, without relying on a permanent brick-and-mortar space.
Co-Chair Priscilla Beck explains: 'Prior to [operating off-site], Constance rented a small gallery space in West Hobart, but this came with significant administrative costs, as well as the cost of rent. And without enough funding, these costs were passed on to exhibiting artists. When we left this space, we were immediately able to flip this model to begin paying artists instead of charging them.'
Constance has been able to make use of Tasmania's vacant real estate to its advantage, inviting site-specific proposals from artists and pairing their works with open public spaces.
But, for others, the situation is not so optimistic, says Beck. 'One of the challenges we have felt from other community-run spaces and organisations in nipaluna/Hobart is the increasing development of the city centre, and the loss of previously affordable spaces. Many other community-run spaces have closed down with the loss of their sites, or have been pushed out of the city (where many of the emerging artists and recent graduates are).'
Sydney's Puzzle Gallery, founded in 2021 by emerging curator Luna Wenxin Xu, also operates from an unlikely venue.
More accurately described as a curator-run-initiative – though photographer Dean Qiulin Li and artist Ksenia Ishenko have also recently jumped on board – Puzzle invites conceptual practices into the alternative garage space, Xu says.
'In the first month after graduating from COFA (now UNSW Art and Design) in 2021, during the lockdown period, I had a lot of time to think about the direction of my curatorial practice,' Xu tells ArtsHub.
'At that time, I came up with the idea of creating a garage alternative space that would be more customised, conceptually strong and free from conventional norms. It would provide a platform for me and other emerging curators like me.'
The connection that a platform like Puzzle provides is especially important, and Xu hopes it also becomes a testing ground for others to gain valuable experience in the sector.
'As an emerging curator, I believe that constantly visiting exhibitions, reading, accumulating experience and submitting applications to various institutions is a necessary path for every curator. Puzzle provides a unique and experimental platform for me and other emerging curators and artists who need to gain that experience,' says Xu.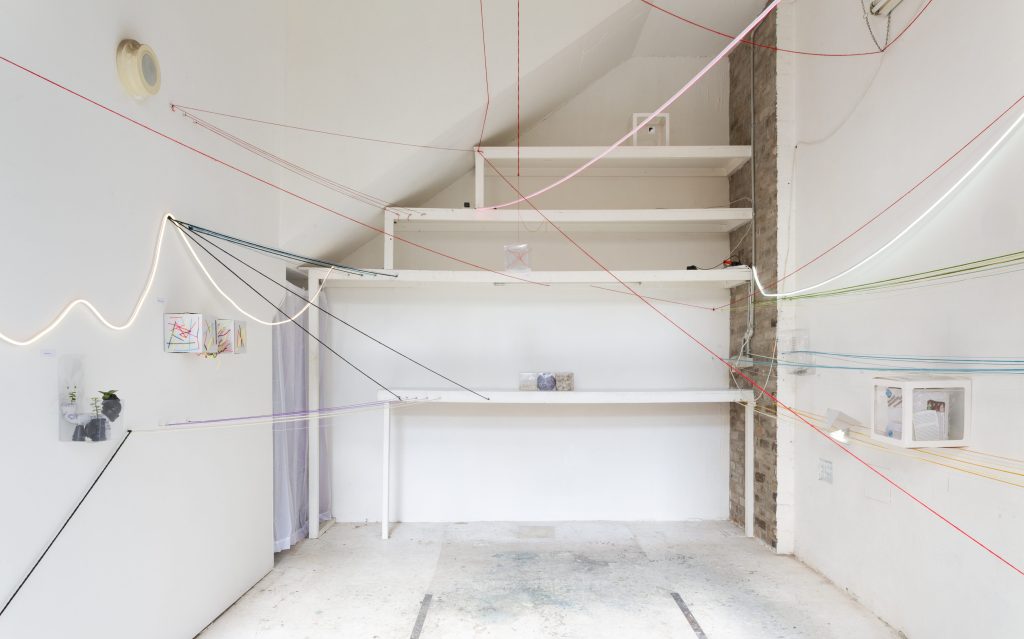 Copley is also seeing this shift to new models for independent art spaces. '[For example] West Space and Gertrude Contemporary no longer call for exhibition proposals; rather there is an intensified curatorial focus, and funding is sought for significant commissions and extended programming. The question of how and whom the ARI model serves is an extremely important consideration, especially at a time when ARIs are needing to reinvent themselves.'
Blindside must now consider moving into alternative spaces after 19 years in the Nicholas Building. While brick-and-mortar spaces are important, they come with a cost, sometimes one that is too great in the face of current financial pressures.
Artist and Chair of Blindside's Artistic Directors, Alex Walker adds: 'Artists are always going to need spaces to show their work; however, I am interested in how we can define these spaces and experiment with how art is presented, without being tied to the white cube.'
This includes off-site programming, like the approach Constance has taken, or alternative gallery spaces, such as a garage in the case of Puzzle. Yet, even for Constance and Puzzle, funding is once again the core consideration for their long-term viability.
Walker continues: 'My personal interest and practice is in site-specificity, so I'm eager to explore more off-site programming and opportunities for artists to work with different spaces, locations and contexts. That being said, I do think it is important to have a home base to work from and provide grounding for the space and its audience, which does pose a challenge in this current climate.'
ARIs are still an integral step for early-career artists
Valuing ARIs really is about valuing the process of experimentation, making and often failures too, rather than simply celebrating an artwork.
mccluskey says: 'Our experience has been that artists will always gravitate to other artists, learn from each other, skill share and expand their practice due to being around other practitioners – emerging and established. This in turn leads to cross-fertilisation of art forms and the best kinds of experimentation taking place – it's often not outcome focused, but process oriented.
'We need spaces to make, test, fail and try again, and for this not to happen in isolation but with the support and creative critique of our peers. We seem to have an abundance of spaces for outcomes via festivals, galleries, pop-ups, theatres, multipurpose venues and so on, but where does the making happen? Where is the process of making valued and supported? Where can we anchor ourselves?'
For a decade (from 2008-2018) pvi collective operated cia (Centre for Interdisciplinary Arts) in Boorloo/Perth, but the building sits empty now. 'It was an old school building on the cusp of the city deemed uninhabitable for humans at the time. With the help of like-minded artists across all disciplines, we made all kinds of work and creative mischief in this space… I still yearn for the lights to come back on again one day,' says mccluskey.
Read: How to grow a small to medium arts organisation
Beck adds that the ARI landscape is often faced with these dilemmas between the amount of amazing creative ideas waiting to germinate, and the limited recourses to support them.
She says: 'It's always a good time to start an ARI (as well as it may never be a good time to start an ARI!)… ARIs are a vital, and in some cases the only, pathway for early-career artists and recent graduates. They often emerge to fill a gap in the arts ecology of a place, and their absence is felt when they aren't there.'
Walkers adds that while Blindside provides opportunities for artists to develop their ideas, 'We also recognise the current climate is not easy for artists and want to ensure we can pay our artists or at least subsidise fees to exhibit, so our program is as accessible and appealing as possible.'
Many ARIs that have operated for over a decade become significant cultural and community venues. Themelios says not only do ARIs 'play a vital role in the career development of artists and arts workers,' they also 'advocate for a more equitable, diverse and inclusive arts sector'.
'ARIs facilitate accessible discourse about the meaning, importance and value of artistic practice, empower the ambition of artists and are vital catalysts for new, experimental and critical practice,' she concludes.
Look out for part two of this story on ArtsHub, in which we will cover the essentials of opening an ARI.