A healthy performing arts community is indicative of the mental well-being of that community, and if that arts community is strong and supported properly, it becomes a vigorous contributor to that society, nurturing the growth of rich, audacious and diverse cultural experiences for all.
It is this very dynamism and vigour that differentiates and distinguishes regional theatre companies from their metropolitan counterparts, and the more one delves into the reasons why theatre companies exist in regional areas, the more it becomes evident that transplanting a metropolitan-style theatre company into a regional area simply does not work.
A metropolitan theatre company is about the presence of the company in the community, whereas a regional company is about the presence of the community in the company. The tyranny of distance means that regional theatre must perforce be a different beast – something which is not generally recognised.
Certainly the unique nature of art making in the regions is not always recognised by funding bodies such as Arts Queensland, whose recent organisational funding round saw only 12.9% of funding reach regional Queensland. In the same round, only one of 18 newly funded companies was regionally based.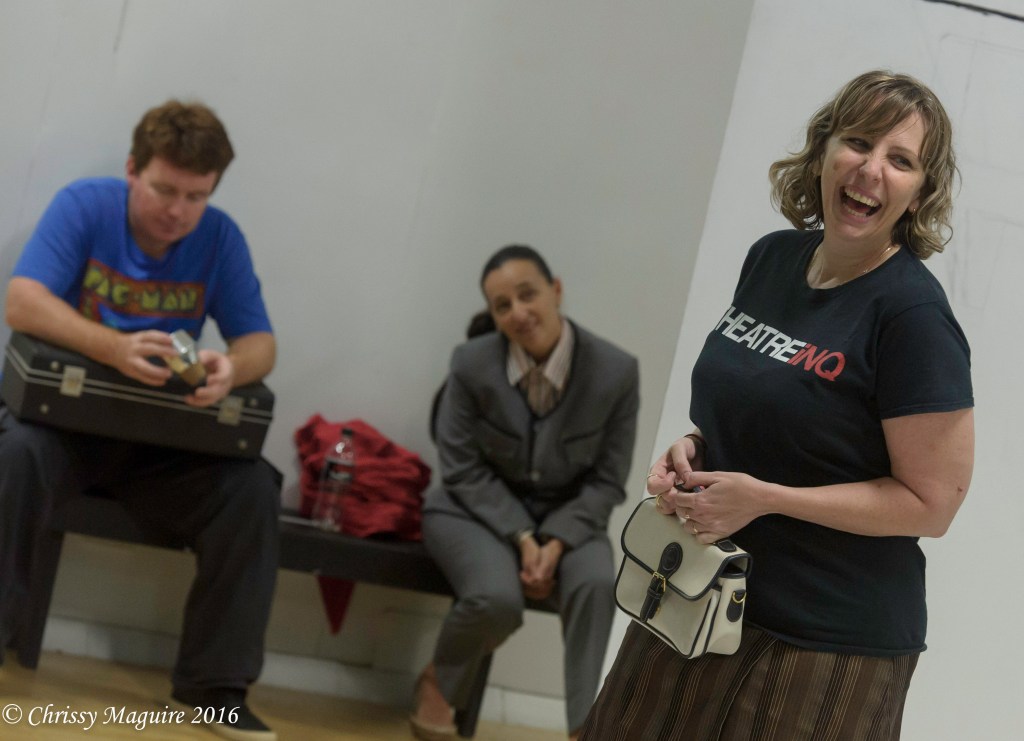 Many regionally based professional theatre companies evolve out of non-professional community theatre groups and begin their lives by offering a cross-section of theatre and cultural experiences, running the gamut of style, writing and presentation. Regardless of the work they make, one truth is apparent: that regional audiences are as entitled to the same diversity, breadth of product and high standards of performance as their metropolitan peers.
Australian regional theatre must be allowed to thrive. It is simply not enough to rely on the occasional one-night-only performances of touring metropolitan companies.
Regional companies naturally lead and respond to their communities, positively reflecting the societies in which they exist and thus remaining nimble and adaptable. But it is clear that in order to attract funding, some regional companies have been forced to adapt according to the requirements of funding bodies rather than the communities they serve. Some have been forced to veer away from their original core business; others are perhaps penalised for not responding to funding body imperatives – all the while having to survive in smaller economies where ticket prices cannot be as high as in the city.
Always it is their people who make the difference. For three regional theatre companies in Far North Queensland, it is the leadership of the company and the perceived investment in their community that inspires buy-in, loyalty and support. While this may not always convert to financial investment, it does translate often to an intense, loyal ensemble and audience.
30 YEARS OF JUTE: SO MUCH MORE THAN PUTTING ON A SHOW
Adamant that regional theatre is so much more than 'putting on a show,' Suellen Maunder is one of the three founders and long-time Artistic Director of the Cairns-based Just Us Theatre Company (JUTE).
A tenacious and committed theatre practitioner, Maunder describes regional theatre's connection to community perfectly. 'The closeness to our community is very important to us. We need to mean something to the community, or we would not exist. In an urban environment, a theatre company is kept alive with a community of artists and theatregoers, but in a regional area we have the entire cross-section of the community involved,' she told ArtsHub.
JUTE's journey began in 1992; two years later it was first identified as a new works company and received its first significant funding. New work is a space which this company continues to occupy. Over the past 30 years JUTE has commissioned more than 40 new works, developed talent through hosting numerous playwrights' conferences and residency programs, and won several awards.
For Maunder that closeness to the community means that JUTE can 'draw writers from the community to tell stories. We work with people who simply want to tell a story – and for that we need to be close to the community.'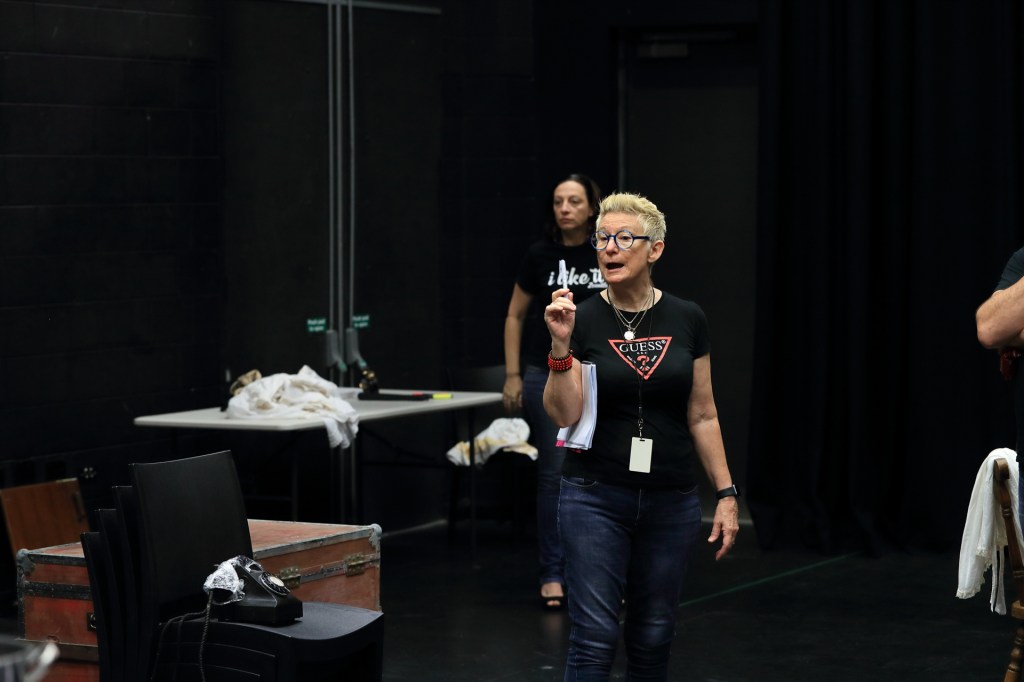 Today, JUTE continues its mission of bringing stories to life and making regional voices heard through script development and creative development programs, seasons of new works, the JUTE Actors Studio (which provides pathways through craft development) and by promoting Indigenous stories by Indigenous writers through the Dare to Dream program.
Maunder's unwavering commitment to Cairns and her support for all arts in the region continues to inspire, but the funding journey has been an interesting one. Successful in the recent Arts Queensland organisational round, JUTE also received a significant increase in funding over the next four years. Conversely, the company lost its Australia Council funding some years ago.
CROSSROAD ARTS: CREATING OPPORTUNITIES FOR PEOPLE WITH DISABILITY
Also receiving an increase in the recent Arts Queensland funding round, Mackay's Crossroad Arts is led by CEO and Artistic Director, Alison Richardson, one of Australia's leaders in community arts.
Richardson has worked extensively as a theatre director and tutor for community theatre companies and is passionately interested in working with people with disability. This led to her appointment at Crossroad Arts in November 2017, where she took over the reins from founding CEO Steve Mayer Miller.
Crossroad Arts began in 1996, delivering a wide range of work with a distinctive quality that reflected the vibrancy of the Mackay region. 'We were all things to all people", said Artistic Associate Autumn Skuthorpe, who has been with Crossroad for 15 years.
In 2012 the organisation narrowed its focus to concentrate on disability and the aged, and five years later conducted a strategic review which led the company to concentrate solely on artists with disability. Now its work is centred around three artistic pillars: artistic development through creating opportunities for artists with disability; community development through workshops; and outreach programs that deliver access to remote and regional communities.
Read: Technology means disability is no longer invisible, but it's not enough
For Crossroads Arts, community is its driving force, Richardson explained. 'Everything we do as a company is underpinned by the belief that creating artistic works that challenge assumptions through inclusive collaboration ultimately builds stronger communities,' she said.
Skuthorpe believes that regional companies can enact change quickly because of that close relationship. As evidence, she points to the sense of ownership the Mackay community has in the organisation, which results in sold-out performances.
'Non-arts people are just as proud of Crossroad Arts being Mackay-based as arts people. We have direct access to the community and they to us,' Skuthorpe said.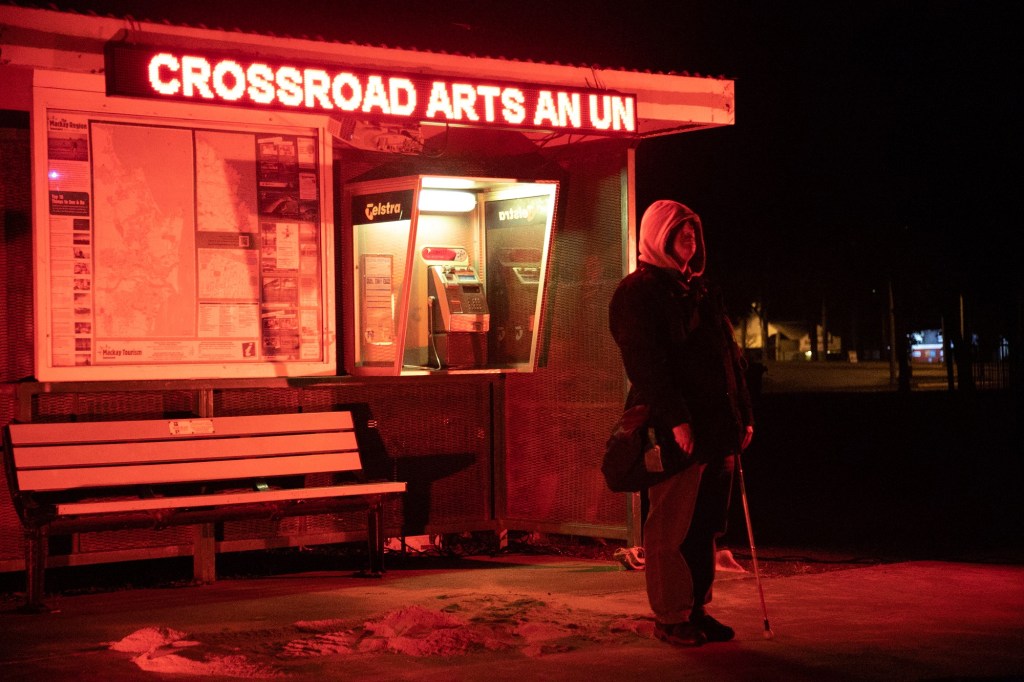 Crossroad Arts is the only organisations in the region that employs artists with disability to create new work and is the largest employer of artists in the region.
Symbolic of the company's approach is its ambassador and artist in residence, Brenden Borellini. An actor, workshop facilitator, photographer and researcher, he was born profoundly Deaf and lost his sight at age nine. In 2020, he received Mackay's Young Australian of the Year award.
Borellini said the company's very existence of the company is crucial: 'If Crossroad Arts did not exist, it would mean there would be no access or support for artists with disability including me. There is no other organisation in Mackay that can support my artistic endeavours and provide the right support that I need to continue my art making,' he said.
THEATREINQ: REVIVAL OF HOLISTIC REGIONAL THEATRE
For co-founder and Artistic Director of Townsville's TheatreiNQ, Terri Brabon, the investment in and vested interest of the community is vital to the success of regional theatre.
'You simply cannot just fly in, take up the job as artistic director of a regional theatre company and then fly out again a couple of years later. The community has to feel that you are committed to the town, the area and its people, and you need to be a part of that community – not just a ring-in,' she said.
Brabon is a passionate advocate and practitioner of regional theatre in North Queensland, and her return to Townsville in 2010 was a major personal and professional commitment for both her and partner, actor and company co-founder Brendan O'Connor. They had both trained in theatre at James Cook University, and previously worked in Townsville with Dr. Jean-Pierre Voos, who for some 30 years had presented a diversity of classical and contemporary theatre in the city.
After Voos died in 2008, Brabon and O'Connor (both members of the Australian Shakespeare Company) literally came back to save the tradition of the annual Shakespeare Under the Stars. It was a massive commitment to Townsville, but their dedication has been rewarded through passionate community support and the growth of an independent, professionally driven theatre collective comprising 40 ensemble members.
Read: Theatre review: Blood Will Have Blood, TheatreiNQ, Townsville
TheatreiNQ has a simple and effective philosophy of high-quality theatre created for and by Townsville. The annual artistic program represents a wide spectrum of work, including an annual Shakespeare production as well as classic, modern, contemporary and new works played to appreciative and loyal audiences.
For Brabon, the company's success is driven by two fundamental principles: that theatre is important for community well-being and that there is great value to art generated in regional centres. She is also conscious of finding ways to attract professional actors to the region, which has resulted in a growing investment in the training of local talent.
In 2012, Brabon and O'Connor devised The Bridge Project, a model which develops emerging professionals and prepares regional talent for highly competitive tertiary education, including structured learning, immersion training, and one-on-one mentoring. Each student also works, trains and performs alongside professional actors from their very first year in the program.
The Bridge Project is born of a passionate desire to pass on knowledge and experience. 'We were once young people standing exactly where they stood, and this is the philosophy at the heart of what we do,' Brabon said.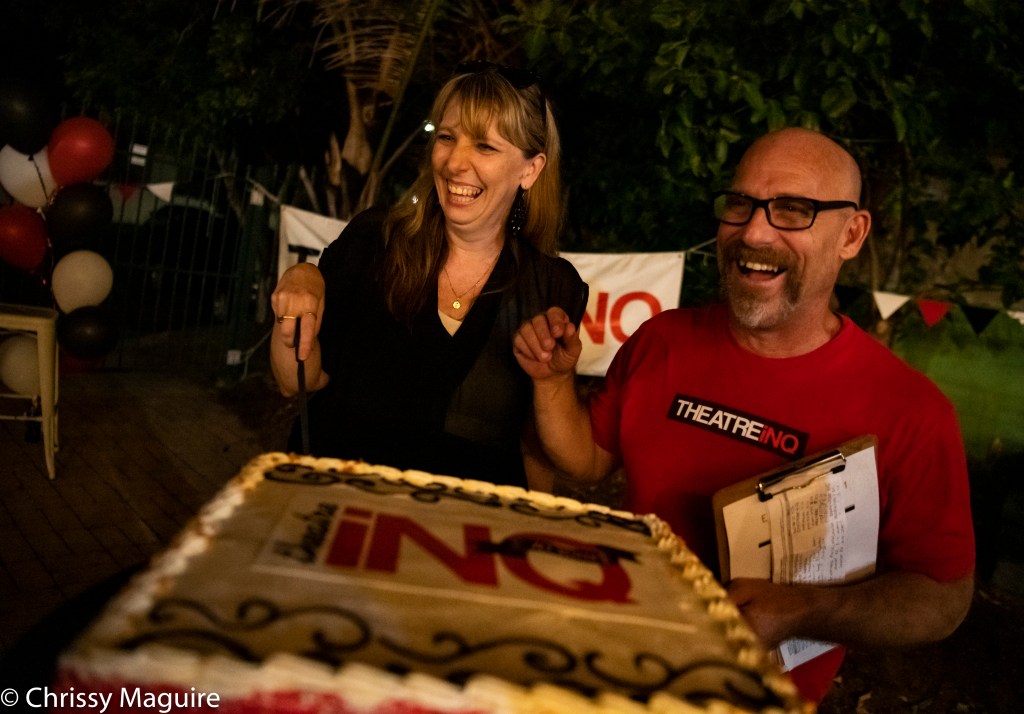 Since its inception nine years ago, 58 students have participated in The Bridge Project, with 43% (25 participants) scoring places and completing training into the top six Australian tertiary performing arts schools: WAAPA (6), NIDA (4), VCA (3), QUT (6), ACA (3) and Griffith (3).
But this is only half the story. These young people also now form the nucleus of returning professionals who jump at the chance to come back and perform with TheatreiNQ, while the company also runs outreach programs for primary and secondary school children in the local community.
Despite this, TheatreiNQ was recently denied organisational funding. The company continues to receive project funding from Arts Queensland and attracts some significant support from the philanthropy sector, but faces difficulty finding money to pay professionals properly – including Brabon herself.
CULTURAL CRINGE IN THE FUNDING TRAIN
Cultural cringe seems to be written into our entire funding system. There is an endemic notion that if the organisation is regionally-based then its work lacks quality and originality; that only an urban-based company can produce anything worthy of consideration by peers and funding bodies.
Alison Richardson remarks that Crossroad Arts suffers from 'a double layer of low expectations. Not only are we regionally-based but there is also disability involved.'
This peculiar nexus significantly eroded when, in June 2021, eight key arts and cultural organisations joined the National Performing Arts Partnership (NPAP) Framework. Of those, half are based in regional or non-metropolitan areas: Artback NT (Darwin), Back to Back Theatre (Geelong), Marrugeku (Broome) and Dancenorth (Townsville).
It took Dancenorth nearly 35 years to disprove the existing cliches about regional companies through the merit of its work, but in Queensland the 'regional cringe' appears to endure. Rarely do any Arts Queensland representatives venture north, resulting in further inequity – typified by the decision that Arts Queensland took back in 2007 to de-fund TheatreiNQ's predecessor, Tropic Sun Theatre, on the grounds of poor artistic merit – despite the fact that no representative from Arts Queensland had seen any production for five years!
Read: The new cultural cringe
I fully concur with the fiery speech made by Circa's Yaron Lifschitz in November 2016 at a Currency House Creativity and Business Breakfast when he observed that 'as a sector we tend to run around trying to fit things into funding models and keeping our overlords happy rather than being bold, vigorous businesses who enjoy venture capital and support. Funding should be investment in our risk, not our certainty. We have to forgive our bureaucrats their risk aversion, that's their system. But we must never internalise it in a Stockholm syndrome of making art to meet the funding. They fund us to take risks, to make impossible things happen.'
Does this mean then that in order just to survive, regionally based companies have to fit into prescribed funding models? Or should the onus be on funding bodies to gain an understanding of what the community and state requires, and tailor the funding model accordingly?
Do those who make funding decisions even grasp the challenges facing the performing arts in places where, for example, a pool of professional talent is not on tap? Providing employment is a basic requirement in creating and maintaining professional standards, and a regional company should not be forced to compromise simply because of its location.
It therefore beggars belief that in the view of Arts Queensland assessors, out of 18 new companies funded in the recent organisational round, only one regional Queensland company was considered worthy of new organisational support: NorthSite Contemporary Arts, an independent contemporary visual arts institution located within Bulmba-ja Arts Centre in Cairns.
One only has to look at the statistics of the organisational funding breakdown to see that there is a gross inequity in funding when comparing Queensland metro to regional funding.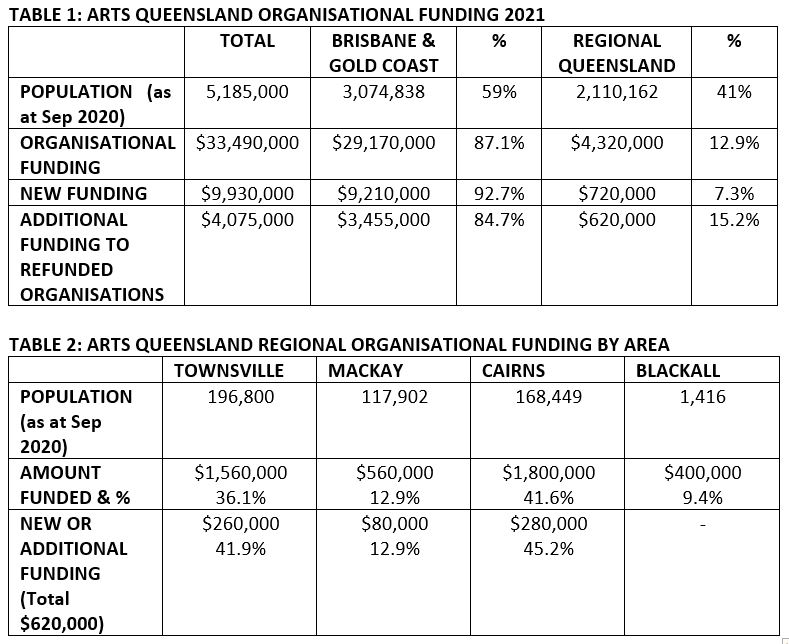 SOLUTION TO THE NEXUS
Clearly, a fresh approach to regional arts is needed – not only in terms of attitude but also to the obligations that Arts Queensland has towards the regions. New voices need to be recognised who are informed about the challenges facing regional companies; change must start with an awareness of such challenges and a willingness to listen and act.
It begins with understanding that regional cities deserve theatre companies that provide access to a full range of genres and cultural experiences. In the major cities there is no need for this kind of focus because there is a choice of urban-based companies who specialise in different areas. A regional city simply does not have that luxury, and urban-based theatre companies tour so infrequently into regional areas that they simply do not fill that void.
Suellen Maunder believes that there needs to be a consortium who can advocate for professional companies in the regions in order to facilitate funding.
'We need to know why they are not investing in the regions,' she said. 'Quite frankly funding to regional areas should be higher as we cannot charge ticket prices at the same level as in the cities.'
Whatever the solution, the boat needs to be rocked, inequities righted and due recognition given to the talent, work and achievements produced in regional Queensland – indeed, all regional Australia.