The Fourth Indigenous Triennial will return in November to the National Gallery of Australia, adopting the theme of Ceremony.
Curator of the exhibition, Arrernte and Kalkadoon woman Hetti Perkins, told ArtsHub, 'Ceremonies are perceived as traditional and historical, yet, in fact, the ceremonial act, whether it be an intimate ritual or public demonstration, is an important part of everyday life.'
She likened it to an iceberg. 'The public part is just the tip of it, and then there is this massive body of knowledge, of stories and history – the intangible things lie below the surface.'
This week the list of 35 artists that will shape the next edition of this important exhibition were announced.
While 35 is perhaps a more modest scale than past editions, Perkins explained: 'Obviously there are different approaches to the Triennial, and a major packed stage operatic view with multiple voices is one way, but curatorially I wanted to take a slightly different approach with not as many artist but to have a broad reach throughout the gallery and grounds, and take up a bit more real estate.'
Perkins said that by punching out of the gallery's white cube format, the exhibition will have a different feel this year.
One such project taken that embraces that idea of ceremony and locality further, is inviting local Ngambri-Ngunnawal custodian Elder Matilda House and her son Paul House to realise a permanent public art installation of traditional Aboriginal tree scarring – murruwaygu – in the National Gallery Sculpture Garden.
'The coolamon that are harvested will then become part of the collection,' said Perkins. 'It was important to me to involve the traditional owners of this Country in the Triennial. But also, Paul has this vision for murruwaygu across the contested sites of the Parliamentary Triangle. My hope is if we do it at the gallery that might help realise that bigger vision.'
Perkins takes that further by inviting artists from the Yarrenyty Arltere and Tangentyere Artists collectives – led by Marlene Rubuntja – and collaborating with Town Camp Art Centres in Mparntwe (Alice Springs), to create a soft sculpture in the form of a Blak Parliament House.
'I wanted to make a point of it and respond to the location of this place. Those town camp artists and mob were at the forefront of movement self-determination and land rights, so it is only appropriate.'
'Growing up in Canberra, and dad working here, I remember the Tent Embassy vivid as a young girl, and that for me those demonstrations and political advocacy and agency has always been the case here since colonisation – and I see it as an act of ceremony as well,' she told ArtsHub.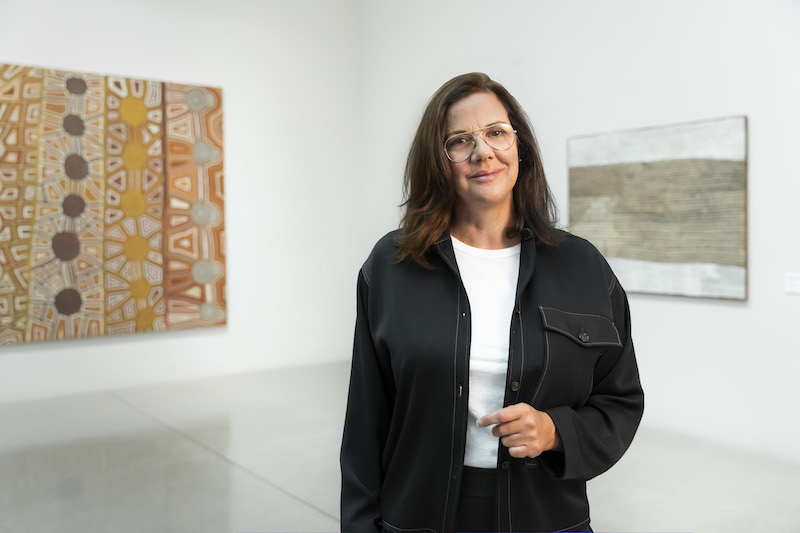 Hetti Perkins, National Gallery of Australia, Canberra. Image supplied.
'The idea of artists as 'radical agents' is central to Ceremony with works that are active, works that are activist, works that activate,' Perkins added.
Perkins noted that 16 of the 35 artists are drawn from collectives, and none have previously been shown in the Indigenous Triennial series.
'Like most work I do, it has been a fairly intuitive process – these shows make themselves happen – and I keep a very open approach to the exhibition and working with the artists.'
Ceremonies are a shared platform
Perkins says she sees Ceremony as the nexus of Country, community and culture.
'It connects those things inextricably. And in the performance of a ceremonial act an aboriginal person is telling stories about being connected to Country, even if not working on Country,' adding that this is why ceremonies survive.
Perkins hopes her Triennial will help encourage an everyday cognisance of ceremony.
'People practicing ceremony doesn't always mean painting-up and singing and dancing. When you are in a ceremony you are creating a different [and contemplative] space; it is also what happens when an artist is working away in studios, on Country, in art centres or on stages – these are more intimate ritualised acts of everyday ceremony.
'The artist SJ Norman put it beautifully: there is Ceremony with a capital C and there is ceremony with a lower case c. Welcome to County is such an important part of our daily lives, a protocol most people observe and embrace in their activities. And that has started to permeate our consciousness [more broadly] as Australians, to being more open to where they are living and working, and the Country they are on.'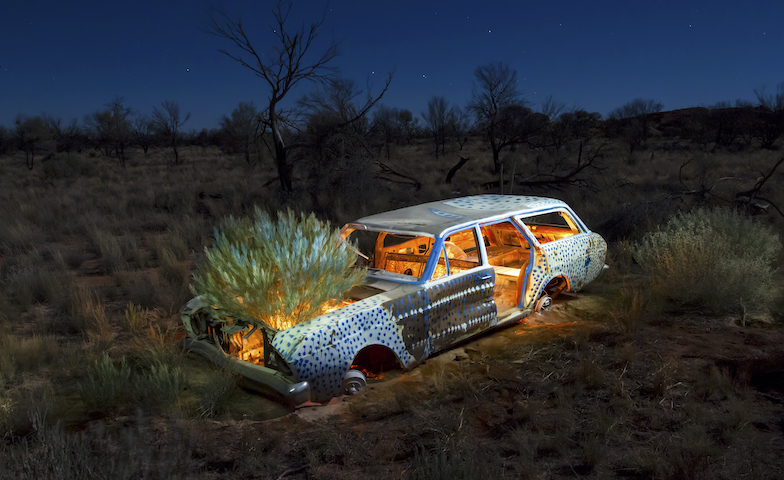 Robert Fielding, Graveyards In Between, 2017. Image courtesy the artist and Mimili Maku Arts.
What you can expect to see
The exhibition will bring together a diverse range of cross-generational artists working both independently and in collectives in a variety of art forms from new screen-based, to sound art, ephemeral piece, to monumental painting.
Dancer and choreographer Joel Bray (Wiradjuri) is developing a new endurance work that explores his embodied relationship to Country as a queer Wiradjuri man.
In a first for the renowned Papunya Tula Art Centre – which celebrates its 50th anniversary this year – Mantua Nangala (Pintupi) is creating a major new triptych depicting a significant ancestral women's site near the salt lake Wilkinkarra (Lake Mackay) in remote Western Australia.
SJ Norman (Wiradjuri) will present his Bone Library performance, where the artist inscribes cattle and sheep bones with Walgalu language, collaborating with locals from the nearby area of Tumut – to interrogate the impacts of colonisation on culture and Country.
Nicole Foreshew (Wiradjuri) is creating an ephemeral work outside the building about healing and in respect to the late artist Boorljoonngali (Gija). It will be an 'cross-culture, cross-generation, cross-Country' artwork that is active at dawn and dusk, and is a ceremony in itself, explained Perkins.
'It is a good example of continuing ceremony. Our culture is so adaptable – its strength is its flexibility, and the connection between new and old is seamless and defies ideas of past, present and future. Ceremony is outside time,' said Perkins. 'It is exciting to have those collaborative projects that do not fit in the Triennial mould, but expand what the exhibition is about.'
There will also be significant works by Darrell Sibosado (Bard), Pepai Jangala Carroll (Luritja and Pintupi), Hayley Millar Baker (Gunditjmara), Penny Evans (Gamilaroi), Robert Fielding (Western Arrernte, Yankunytjatjara), among others.
Perkins concluded: 'My dad used to say, "If you get the chance to speak for your people, just do it, get up and do it. In the ceremonial space things percolate up and you go with the direction it is taking you.'
Ceremony: The 4th Indigenous Triennial will be presented at the National Gallery of Australia, opening 6 November 2021 – March 2022.

Robert Andrew (Yawuru)
Joel Bray (Wiradjuri)
Pepai Jangala Carroll (Luritja and Pintupi)
Penny Evans (Gamilaroi)
Robert Fielding (Western Arrernte, Yankunytjatjara)
Nicole Foreshew (Wiradjuri) and the late Boorljoonngali (Gija)
Margaret Rarru Garrawurra and Helen Ganalmirriwuy Garrawurra (Liyagawumirr-Garrawurra)
Dr Matilda House and Paul House (Ngambri-Ngunnawal)
Hayley Millar Baker (Gunditjmara)
Mantua Nangala (Pintupi)
SJ Norman (Wiradjuri)
Dylan River (Kaytetye)
Darrell Sibosado (Bard)
Andrew Snelgar (Ngemba)
Joel Spring (Wiradjuri)
James Tylor (Kaurna)
Yarrenyty Arltere Artists Marlene Rubuntja (Western Arrarnta), Trudy Inkamala (Western Arrarnta and Luritja), Dulcie Sharpe (Luritja and Arrernte), Rhonda Sharpe (Luritja), Roxanne Petrick (Alyawarre), Nanette Sharpe (Western Arrarnta), Sheree Inkamala (Luritja, Pitjantjara and Western Arrarnta), Rosabella Ryder (Arrernte), Louise Robertson (Walpiri), Cornelius Ebatarinja (Western Arrarnta and Arrernte) and Tangentyere Artists Betty Conway (Pitjantjatjara), Nyinta Donald (Pitjantjatjara), Sally M. Mulda (Pitjantjatjara and Luritja), Majorie Williams (Western Arrarnta), Lizzie Jako (Pitjantjatjara), Grace Robinya (Western Arrarnta)
Gutingarra Yunupingu (Dhuwala)