Jennifer Monk's production Ladies of the Bay was all set to tour regional Victoria when COVID reared its ugly head, putting an abrupt end to its touring season with La Mama Mobile.
'It was devastating to be told we weren't allowed to travel to regional communities to perform the show, as this show was inspired by real people from these areas. It was after our final dress rehearsal, where we were supposed to be packing the set into the touring vehicles, which was the hardest. Instead we were putting set, costumes and props into storage for who knows how long,' said Monk, the production's creator.
Rather than shelve the show they'd worked so hard to create, Monk and her team – the women-led collective Girls Act Good – decided to make a 5-part podcast for La Mama instead. Much like the premise of Ladies of the Bay, which explores themes of friendship, community and the resilience that occurs when tragedy strikes, the group drew grew on their collective strengths and learned how they could turn the play into a podcast instead.
Armed with nothing but sheer determination, a series of 'how to start a podcast resources' and some brand new recording equipment, the cast immersed themselves in the world of audio. But technical challenges soon became apparent as they grappled with makeshift spaces within their homes to tried to capture the most optimal sound.
'It's hard when you're sitting in a cupboard, and you've got everyone else on Zoom and you're trying to react to them,' Monk laughs. 'I had been running my lines every few weeks since March to keep them fresh and now you have to say them sitting down squashed up in a cupboard – it's an awkward thing.'
Unlike being in a space such as the theatre, where sound is consistent, recording from home can throw up a range of variables such as background noise including traffic and a range of inconsistencies in audio quality depending on mic placement and the way you arrange your set up. Monk said she quickly learned the value of recording in one take.
'Try not to record one half of the episode now and the other half tomorrow because you'll notice a difference in your sound, even if it's exactly the same homemade setup,' she told ArtsHub.
Read: Directing plays over Zoom tests the patience
Unlike adapting a production for a podcast where the audio is the focal point, adapting a play for a webisode requires a different skillset yet again.
Rovers, a two-hander celebrating the outback tales of two adventurous women and the theatre touring world, was set to tour in regional Queensland but quickly had to be reimagined once COVID struck.
Creative Director of Rovers and Co-artistic Director of Belloo Creative, Caroline Dunphy, said once COVID hit a plan was devised to film actresses Roxanne McDonald and Barbara Lowing on the road in various locations capturing their spirit in more of an improvised manner. Dunphy worked with writer and Belloo's co-artistic director Katherine Lyall-Watson along with a videographer to film two webisodes which took place in Redcliffe and the Glasshouse Mountains among other beachside destinations.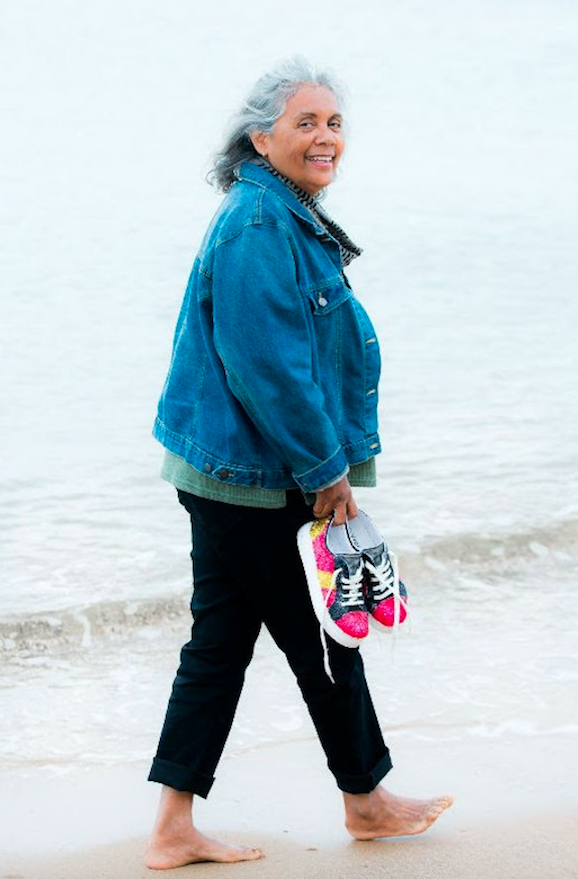 Roxanne McDonald filming Rovers. Image supplied.

'When adapting a script for a web series you've got to be very visually minded and you really have to pare it back,' Dunphy told ArtsHub. 'You're coping with a lot of instantaneous distractions so you have  be ready to move with anything.'
Filming on the beach with waves crashing in the background was the kind of distraction Dunphy spoke of. Unlike a quiet theatre space, the team would often have to think on the fly, re-write the script, and change locations to get the best result.
'Even though we weren't spending time watching rushes, we could look through the lens of the camera and check things we hadn't previously noticed such as beach sound in the background – if it was too loud we couldn't hear the conversation. So we were discussing everything on the spot post-shot,' Dunphy said.
One of the main challenges of adapting a theatre script for a webisode is working out the narrative within a short period of time, especially if episodes only run between five and ten minutes. This is where lots of pre-planning comes in and the ability to work out the direction of the narrative.
'One of the challenges is getting the story arc right. Sometimes there's that little bit of frustration with yourself that you didn't work it out beforehand because you only have one day to shoot. Usually we're used to having weeks rehearsing in the theatre,' Dunphy admits.
Embracing the unknown
While working on a new project with an entirely different format, tensions can often run high, especially as crew adapt and, in Monk's case, worked independently of one another while COVID restrictions were in place. She says the importance of taking breaks can't be underestimated.
'In the rehearsal room when you get frustrated, or it's not working, you stop and you find a different way of doing it. That's something I'm having to learn to do in this process. To be like, "Okay, guys, this isn't working, let's just take five minutes, or let's just have a chat."'
With any new project there's a period of adjustment and Monk says not to overthink the outcome too much, but simply enjoy the process.
'Don't get too worried about it being perfect. Think about why you're making it: Is it to brand yourself? Are you making it just for fun?  As creative people we were making the podcast for fun, but also so the story could live. Because otherwise, we just didn't know when we were going to get to tour again.'
Upon reflecting, Dunphy said the opportunity to make webisodes provided a chance to work across artistic mediums and an opportunity to cross collaborate which may not have happened if the pandemic didn't occur.
'For me it's a really exciting time for collaboration because everything feels much less constricted,' she says of the way COVID has allowed people to work together, albeit virtually.
'I'd always wanted to bridge the gap between theatre and film and by working on webisodes you can be quite malleable as a creative director and producer,' she concluded.