First published in October 2018, Andrea Simpson looked at the political role of artists which we unearthed for our 20×20 series, celebrating our 20 year anniversary with 20 articles that shaped us.
As artists respond to existing cultural and political systems, the art they create can take on political and social elements, becoming a force for political and social change.
In retrospect, the link between art, artists and the politics of the time is intrinsic.
'Artist as activist, as a concept … has a long history despite the commentators and the powers that be – including conservative politicians, conservative media, and indeed mainstream media – who pretend that artist as activist is a relatively recent, relatively radical, and relatively unacceptable phenomenon,' said Mama Alto, the panel host of a Melbourne Fringe Festival and the Wheeler Centre discussion: Acting Out: Art that Changes the World (19 September 2018).
Alto was joined by fellow artists and activists, Steve Lambert and Jax Jacki Brown, for a conversation exploring the concept of artist as activist, and activists as potential culture-changers.
Why activists make great artists
Steve Lambert is the founder of the New York-based Center for Artistic Activism (C4AA), a research and training institute dedicated to making activism more creative and art more effective. Lambert and the team at C4AA conducted research into historical activism.
'We looked at the Deep South [in the USA], and when you look at the Deep South you have to address the church. And if you look at Jesus as a performer and poet – he's pretty good,' Lambert said.
'So we started looking back at all these movements and found that all successful activism has creativity.'
Artist and activist Mama Alto. Photo by Alexis Desaulniers-Lea.
A stand-out of historical activism for Lambert was civil rights activist Rosa Parks. 'What I was taught in school was Rosa Parks was a seamstress, she was the last one on the bus. A white man came and said "I want this seat," and she was like "No, I'm not doing that," and she kicked off the Montgomery Bus Boycott.
'But what the Southern Christian Leadership Conference, the organisation behind it, did was they were creating an image, creating a story.'
Lambert continued 'With Rosa Parks, one, it was a performance, a story, and that story was how they got the movement started. And two, it was the famous photo, of this white guy sitting behind her – and as a kid I looked at that picture and I thought, "There's the brave woman, and then there's the racist white guy."
'As we later learn the famous photograph was taken a year later, Rosa Parks had just won the court case … She knew they needed that photo,' he said.
'Douglas McAdams [Professor of Sociology at Stanford University] described a lot of the civil rights movement as strategic dramaturgy – Martin Luther King had a genius for strategic dramaturgy.'
Read: Spencer Tunick on lending his signature aesthetic to global activism (2018)

Jax Jacki Brown is a disability and LGBTIQ rights activist, writer, spoken word artist, and educator. Brown said she takes motivation from other disability rights activists.
'I suggest people look up Jenny Morris, Laura Hershey, and other artists and activist (particularly from the UK) that were part of the disability rights movement, and the disability arts movement,' she said.
Brown explained that the movement promoted the idea that 'society was the disabling factor in people with disabilities' lives, not their bodies or minds. And they started to think about how we can change some of these notions of what people expect of us.
'For people with a disability, sometimes just being on stage, just being in public saying anything at all can challenge what people are expecting you to say,' she said. 'I think for many people with disabilities being out and about, living our lives is an activism in a sense that we are not expected to be happy to be living lives that are rich, interesting and complex.'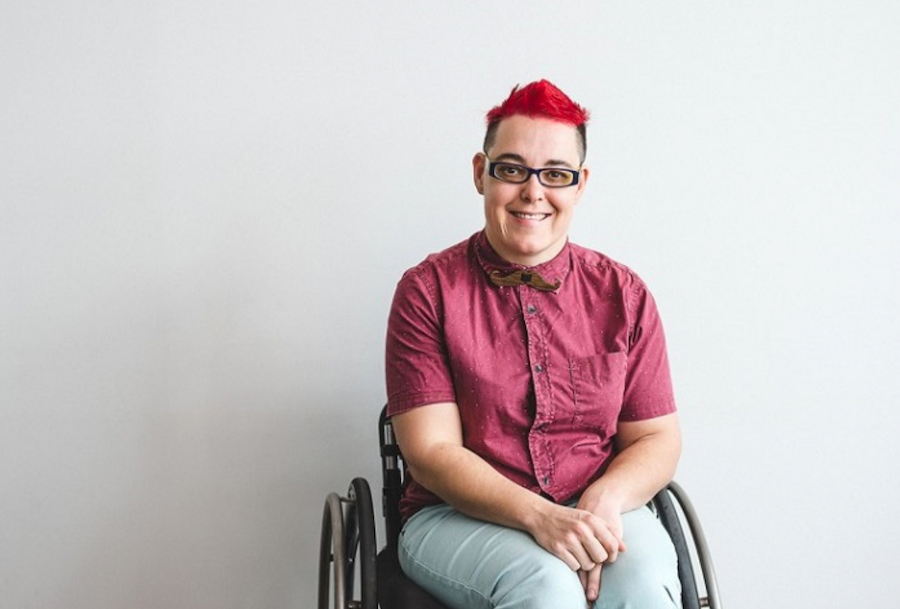 Disability and LGBTIQ rights activist, writer, spoken word artist, and educatorJax Jacki Brown. Photo by Breeana Dunbar.
Cloaking the politic in the art
As a disability and queer rights activists Brown's practice is multi-disciplinary. Along with performing 'dirty, queer poetry', Brown is a member of the Victorian Ministerial Council on Women's Equality, the Victorian governments' LGBTI taskforce, and other advocacy groups.
'I hope to change people's perspectives of disability and get them to think about it, not through the stereotypes of disability, but through a human rights lens,' Brown said.
'I think, "Is that part of my arts practice? Is that artistic even though a lot of people would say it falls outside of the realm of what we would traditionally think of as an arts practice?"
Listen: Arts, activism and audio: The ArtsHubbub episode two (2020)

'But alongside that, I also have my spoken word performance which I do. Which is kind of like my dirty, queer arts practice … I want to get people thinking about disability and sexuality in a funny, entertaining and interesting way that isn't so focused on big ideas,' she continued.
'It's really interesting for me to reflect, and to think about the two very separate elements of my life and my work, and how I use them differently. And what spaces they enable me to take up in a different way.'
Mama Alto conceded that their was power in the way people received a particular message. 'It's my feeling, instinct, belief that art is a much more comfortable, accessible, and perhaps a sneaky way to package these ideas, in a way that is more easily responded to, more easily felt.'
She explained that academic ideas may be inaccessible for some people 'for various reasons – across ability, across education, across class, across dogmas or socialisation that they have been raised with.  
'I think it's a very interesting idea that art can have a greater communicative power for social change than perhaps other forms of communication like academia, or mainstream media.'
Mama Alto
Lambert added, '[It's] because art and activism have always worked together, culture and policy – you cannot change the policy without changing the culture.
'We tend to think of these things as separate, but they always move together. And so by changing the culture you are creating social change, or influencing policy.'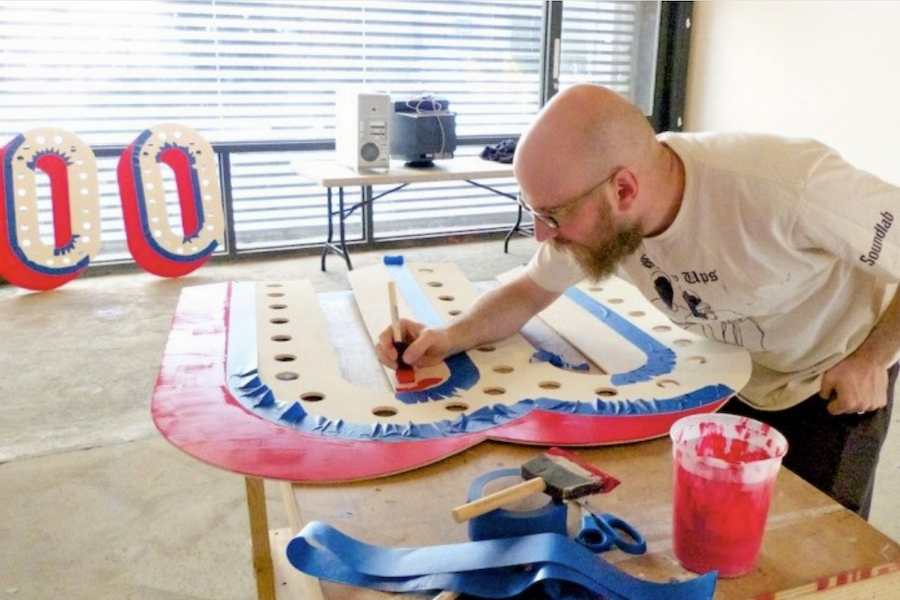 Activist, artist, and educator Steve Lambert. Photo via visitsteve.com
Mama Alto asked Lambert, 'Is it the case that art can often be used to cloak the politics from regressive conservative authoritative, draconian powers that be?'
'Absolutely,' Lambert answered, before going on to share his experiences as an educator in social activism.
'The most recent program was in West Africa. There were a lot of theatre producers that were very frustrated about corruption in the country. They made plays about the corruption. And we said, "You're doing this, but let's see how we can actually make work that changes the corruption."
'So we broke down ways, to show that you're not just saying, "Wow look at this problem, it's bad" but instead you can say: "Here's this problem, and here are the steps we can take to make it better," and incorporating that into the work.'
Read and remember: Sydney Biennale faces Transfield boycott threat
(Ben Eltham, 2014)Lambert continued: 'We did a workshop with artists in St Petersburg and we were really anxious … What we do with people in these workshops doesn't read like politics, people that we worked with in Kenya was a very funny performance – it didn't look like any kind of political action, it doesn't look like a march.
'In Skopje, Macedonia, which is a very regressive place for LGBTIQ people, the action that we did in the park looked like a party in the park, but if you hung out there, there was a subtext, and a message.
'And police would often come, and they don't know how to read it, so they'll leave.'
Mama Alto added, 'In my experiences of arts and activism in my own practice, I've always felt as if there were two distinct but interacting streams in what we do.
'One is educating people to change their viewpoints and perceptions. And one is empowering people or validating the lived experience of people who have those same lived experiences of marginality.'
This article summarises some of the ideas presented at a panel presented by The Wheeler Centre, Melbourne Fringe and Arts House, Acting Out: Art that Changes the World, on 19 September 2018.