La Boite's Lysa and the Freeborn Dames is lighting designer Katie Sfetkidis' latest project. Photo: Dylan Evans.

Illuminating sets, performers and action; emphasising mood and indicating time and season; lighting designers play a significant role in any stage production. But how does one learn the craft, and what sort of training is available for artists who wish to paint stages with light?
Lighting designer Katie Sfetkidis, whose work can be seen in the current La Boite production Lysa and the Freeborn Dames, said that lighting design was definitely something she fell into by accident.
'During my undergraduate studies at Melbourne Uni, I got involved with Union House Theatre, starting out as a musician/music director for musicals. (I started in a music degree and then transferred to Art History). I really wanted to about theatre and maybe become a director, so I decided I would try out a bunch of creative roles to learn more about theatre. A friend of mine was doing lighting and I thought that looked fun, so I started with lighting and just kept doing it.
'Susie Dee was the artistic director at UHT at the time and she really supported me to persue lighting more seriously, organising a number of mentorships with professional lighting designers Efterpi Soropos and Richard Vabre. It was a really great environment to learn in because I got lots of hands-on experience and I got to work on lots of different shows, with lots of people – some of whom I still work with today.
'I also got to work with Susie on a number of Union House Theatre shows in my final year and this gave me a real taste of what a career in lighting might look like. From there I did a post-graduate diploma at the VCA, where I got to hone my skills and meet a bunch of great people, and then I started working,' Sfetkidis told ArtsHub.
Benjamin Cisterne has worked as a lighting designer for over 15 years, splitting his time between exhibitions/museums and the performing arts. He is especially well known for his work in dance, and is currently working on The Australian Ballet's Spartacus.
Like Sfetkidis, Cisterne also fell into lighting design: 'I started out in high school and then attended a TAFE called Bradfield College, which got me hooked into the Sydney theatres in the Cross such as Griffin and Darlinghurst. I was also very nerdy when it came to techy stuff and whenever I got my hands on a bit of equipment or a phone or a computer, I immediately wanted to see how it worked and what it could do. So I ended up working as a general tech hand for a few Sydney companies and independent venues doing the lights and sound.
'I was hooked on watching the lighting designers and working out what they were doing, and I probably could have followed that path for a few more years, but one particular LD (Joe Mercurio) took me under his wing and then encouraged me to go to university to study Lighting Design. This was the best advice I ever received. Uni was a great experience for me. I went to the WA Academy of Performing Arts (WAAPA), which offered a full-time, three-year course dedicated to Lighting that was run by TAFE and through Edith Cowan University. This was fantastic because the course was vocational but also involved academic study,' he explained.
'I first was there under Mark Howett and then Efterpi Soropos (these were the head lecturers in the lighting department) in addition to many other fantastic teachers and tutors. I found that although I was and always will be a techy nerd who enjoys making things work, I also have an interest in art and performance. I learnt that designing with light is about being part of a collaborative creative team that has something to say about the form. WAAPA has an excellent dance department and as an aspiring lighting designer, I undertook a secondment with Bluebottle In Melbourne where I worked for the next eight years before moving on to become an independent designer,' said Cisterne.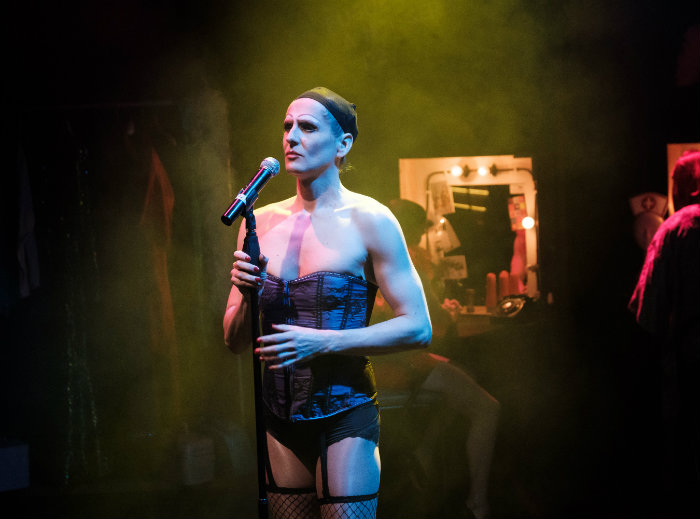 A scene from Torch Song Trilogy at Darlinghurst Theatre Company's Eternity Playhouse. Photo: Clare Hawley.
Working and living in Sydney, Benjamin Brockman is a lighting and set designer whose latest project is Torch Song Trilogy at Darlinghurst Theatre Company's Eternity Playhouse. Describing himself as a 'super theatrical kid' when he was younger, Brockman said he always wanted to work in theatre, though initially he expected to end up in front of the lights instead of designing them.
'I worked on various productions through Years 11 and 12, and I got to see that it takes an army to put on a show. I loved theatre so much that I wanted to give everything a go. I stage-managed, designed a few sets, did some costumes, acted (badly), and attempted some of my first lighting designs. Like every good theatre nerd I spent all my time at the school theatre. I had fallen in love with creating the work rather than being in it. The nights spent flicking paint on a floor with a few friends were some of the best nights of my teen years,' Brockman recalled.
After a drama teacher told him about the existence of performing arts institutions such as NIDA, WAAPA and the VCA, Brockman realised that his love of theatre could become a career. At 18 he was accepted into NIDA and spent the next three years studying his Bachelor of Fine Arts (Production).
'Having graduated I actually started my professional life as a Stage Manager/Production Coordinator working in the production department at Griffin Theatre Company under the artistic directorship of Sam Strong. I spent two years working at the company. I met and closely worked with a lot of amazing directors and designers. Sam was an awesome guy who wanted me to explore other aspects of theatre. So on the side I was lighting shows with friends that I had made at NIDA for a bit of fun; working in Rooms with Power Points in Bondi Pavilion and Concrete Bunkers at 107 Projects. In some ways I have Sam to thank for pushing me to explore my potential in other areas of live performance,' Brockman said.
'I was in my second year out of Uni and still working at Griffin and designing shows on the side when I was awarded the BBM Youth Movement Scholarship. The scholarship was to travel to London to do work placements in theatre. Because I was working at Griffin, the home of Australian plays, I really wanted to do my placement at the Royal Court Theatre in London, the birth place of many famous plays. But it was while working at the Royal Court and being exposed to a diverse range of theatre that I had a light bulb moment and decided I no longer wanted to be a stage manager but I wanted to be a full time lighting designer. I decided to come back home and get to work attempting to make my mark.'
Read: Career spotlight: Stage manager

Consequently, after returning to Australia and with some money saved up, Brockman embarked on the next stage of his career. He took on everything he could, working on 24 indie theatre productions in 2014 alone. At the end of that year he worked on his first big lighting design job, on Smurfs Live on Stage, travelling with the production to Macau and Dubai.
'It was the biggest show I had ever done and in hindsight I was not ready, but I definitely learnt how to swim by being thrown in the deep end (and the best part: it topped up my coffers so I could do it all again in 2015). That year I designed 32 shows, which was one of the craziest things I ever did. I was just trying to get my name out into the world and build up my portfolio. It seemed I had an eye for Lighting Design and many people really liked what I was doing. From then on I kept getting more and more work. The shows kept getting bigger and bigger and I started to get more paid jobs.
'Flash forward to 2018 and I am now a full time Lighting Designer, having worked for some amazing companies like Griffin Theatre Company, Darlinghurst Theatre Company, Legs on the Wall, Ensemble Theatre and many amazing independent artists. My career is still only in its early days and I look forward to what life has to offer,' Brockman said.
Formal training vs learning on the job
Clearly, as the career arcs of the three designers have illustrated, formal training at a tertiary institution is valuable in developing a career in lighting design. But what about learning on the job?
According to Cisterne, a mixture of both is valuable. 'I received formal training and then worked collaboratively in the Melbourne industry over the next 10 years. There are a few of degrees currently on offer, all of which have great heads of departments. I would suggest studying first, if for no other reason than to be at arts school and develop as a person and as a contributor. It's a good idea to be surrounded by peers and to be part of the community to learn the basics and history of lighting design. I then recommend getting training as a junior assistant to a designer, or in a company or even at a venue.
'In my experience, in this slow-burning career, it's important to work with collaborators first. If I had worked on some of my current projects when straight out of uni, I would have only just been able to complete the job. I wouldn't have achieved all that I have now,' he said.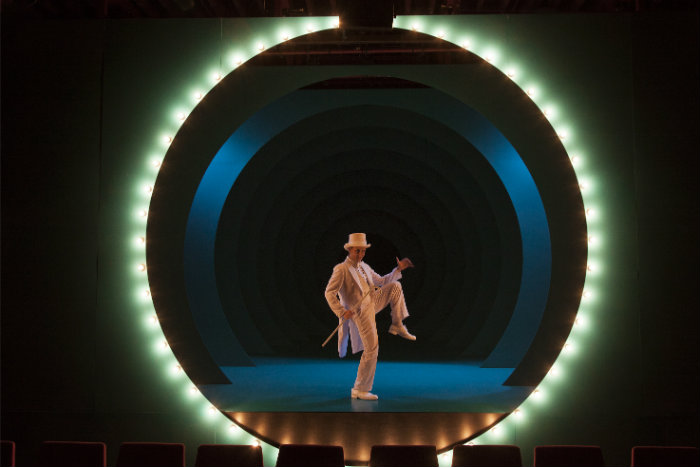 Sfetkidis describes working on the Malthouse production Meme Girls as a career highlight. Photo: Pia Johnson.
Sfetkidis is a core member of queer theatre collective Little Ones Theatre, which grew out of student theatre networks. She notes: 'Most major performing arts schools offer formal training in lighting design at an undergraduate level but at a post-graduate level I think it may only be VCA and NIDA. When I did my training VCA was the only school that offered postgraduate study. There are also TAFE courses that offer technical skills. Melbourne Uni and Monash Uni still have Student Union-run theatres which are a great place to get hands on learning.'
After graduation, Sfetkidis undertook several internship/secondment opportunities, including working with Paul Jackson through the Besen Family Artist Program at the Malthouse Theatre.
'I also went to the Banff Centre in Canada and did a paid work/study placement with Harry Frehnher; this program is still running and is a great experience – and the best bit is you get paid,' she said.
'In terms of which is better; for me I think it was a combination of both [formal training and on-the-job learning]. I definitely gained professional skills from my formal training, particularly about the different expectations of a lighting designer in a mainstage company compared to the independent sector. Studying at VCA was also a great way to meet collaborators – directors, designers – who I have continued to work with. Having said that, the hands-on learning approach really defined my process and approach to lighting design and has meant in an independent setting I know make things happen,' Sfetkidis said.
To be a good designer, you need to understand your tools and what they can do, Brockman said. Consequently, it is important to learn the basics of how power works, how lights work and the different type of lighting fixtures that exist in order to stay on top of technology as it evolves.
'Even in the short time I have been working as a lighting designer, technology has made leaps and bounds with LED Technology and greater access to Intelligent Moving Fixtures,' he said.
Describing lighting design as 'a mixture of art and maths,' Brockman continued: 'I studied at NIDA where I learnt a lot about how to make lighting rigs work, preparing lighting design plans and paperwork. We were given Lighting Console Programing classes and Basic Design Classes. It definitely gave me an accelerated boost in becoming a designer. I personally think if you want to be a lighting designer then studying at an institution like NIDA, VCA or WAAPA is the best way to learn the basics quickly. These courses will only give you the broad brush strokes, which you can then take onto the job site. This is where you can put it all into practice and start to get a greater depth and understanding of the art form.
I would suggest the next step is to seek out more experienced lighting designers you admire and see if you can shadow with them on shows. Watch how they work and always ask questions. I am interested in seeing other designers' lighting plans and designs still to this day. You can never stop learning from others. This will help you become a stronger designer,' Brockman said.
A day in the life
Like many jobs in the arts, there's rarely such a thing as a typical working day, said Sfetkidis.
'One of the best things about my job is that no day is the same. It depends if I am in production or rehearsal for a show and how many shows I might have on the go at once. In general – during pre-production, my day will include having meetings with directors/designers, attending rehearsal and spending some time in my studio. If I have a plan due I will probably spend a good couple of days in the studio working on this. If I have multiple shows rehearsing at once, I might go to one show in the morning, one in the afternoon and then possibly have a meeting with someone before or after. During a production week, I will typically be in the theatre for about 14 hours a day. Most of the time the lighting designer is the first to arrive (so you can do your fix-ups before anyone else gets in) and the last to leave,' Sfetkidis said.
Cisterne noted that his career in lighting continues to evolve. 'Although I still light a few dance and theatre productions of my choosing, I now spend most of my time lighting museums. I run my own design consultancy and sales company from a home-based office and travel all over Australia and around the world installing these projects.
'On any given day I might be in a dance studio discussing an upcoming production with a choreographer, or running through cues over lunch with a director of a theatre work that's bumping in. I might then spend the afternoon in a meeting with a construction manager on a building site instructing the electrical contractor where I need services fitted off, then in the evening I'll be back in the home office drawing a plan or details for a project that will be built in a few months so needs to be out to tender the following week.
'At some point in the day, I will have also fielded a phone call from a client who needs me to quote on the supply of some equipment before close of business while my four-year old daughter launches off the chair in the office screaming, "DADDY LOOK HOW BEAUTIFUL THIS TUTU IS WHEN I FLY!!"… I make it sound crazy but I absolutely love it, all of it. I love being super busy and always on – I have been thinking about lighting since I was 16 years old,' Cisterne said.
Read: Career spotlight: Casting director
Brockman said an average day 'always starts with an almond milk iced latte,' then added: 'There are two types of days as a lighting designer. The best days are when I only have rehearsals on. During those days I spend a lot of time on my computer staring at little lighting symbols on a plan and answering emails preparing for tech week. You can find me sitting in and watching rehearsals and attending production meetings during the day for various shows. I split my week between projects and try to visit each one every second day. Then I get home at 6-ish and try to have a semi normal life. I consider these days my holidays because it is less stressful and my time can be super flexible.
'But those days are a rarity because at any given time I am working on five projects. I normally have a tech week every second week. So a normal day would be checking emails and trying to answer as many as I can before I head out the door.
'Then I head out into the world and normally stop of at Bunnings to pick up a few things and grab a sausage. Then off to Herkes Electrical to pick up some lighting gel. I then would normally have a few morning design meetings over coffee for different shows, site visits or head off to watch some rehearsals. In the afternoon/evening you can often find me in the theatre rigging lights, in plot or in tech rehearsals working hard getting the show ready for an audience. I finish around 11pm and head home and prepare to do it all again tomorrow,' he said.
Highlights and lowlights
'For me, every opening night is a highlight,' said Cisterne. 'In the week leading up to it, you put every thought into every moment and to hand that over to an audience is such a great feeling.'
That said, a few opening nights really stand out for him, Cisterne continued. 'While working with The Australian Ballet, I experienced my first opening night on the State Theatre stage at Arts Centre Melbourne – seeing a set and lighting design that I collaborated on was a wonderful experience. Over the last three years I have developed a creative relationship with Peter Evans at Bell Shakespeare and I was fortunate to be the LD on Richard III with Kate Mulvany performing the role of Richard. Peter and I were recently reminiscing about the audience's reaction when the lights faded on Kate at the close of the play's first preview show. There was a collective breath before the entire audience stood to their feet. Peter put it well when he said, "that was a good night in the theatre."
'I was the lead lighting design consultant on the upgrade to the First World War galleries (Australia in The Great War) at the Australian War Memorial in Canberra. This was a four-year project that included a complete refit of the galleries, in particular, new dynamic lighting designs to the Dioramas. These are very famous and loved works of art in their own right, so my team and I were thrilled to be working on this project. It's a project I'm particularly proud of as I feel that I was able to really contribute something positive,' Cisterne said.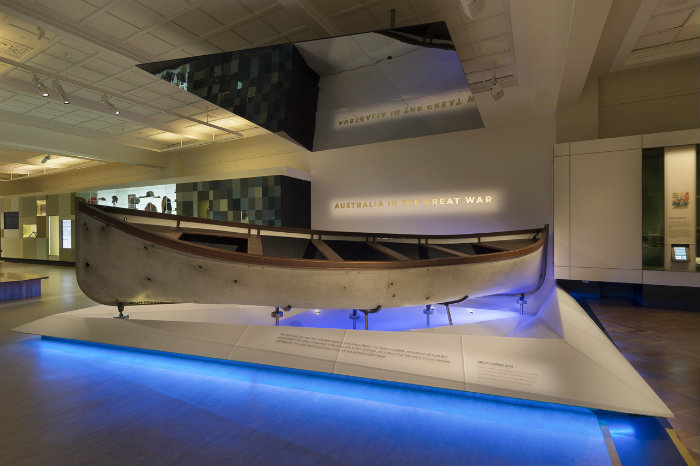 Cisterne's lighting design at the Australian War Memorial. Photo: John Gollings.
Brockman notes that the arts are an interesting mix of business and friendship where lines often blur. 'There have definitely been some emotional times, and working such long hours can be mentally exhausting. When things don't go right, it can be really tough,' he said.
'I try to pour all my energy into each and every show I am involved with. But it was on one show early in my career where I was trying my hardest to collaborate with the director and it just wasn't working. They were criticising every offer I brought to the table, and it became my job just to design the show the way they wanted it. I had very little creative input, it didn't feel like it was my work and I would often beat myself up over it. I have learnt over the years to not take criticism so personally, and when someone critiques your work it isn't an attack on your skill set but it is to make the show better.
'On a lighter note, some of the best moments in my career have been working with amazing people and being in the theatre till midnight having a laugh and a drink while we attempt to do the impossible. I am incredibly lucky to be working in the arts and it is those shows that don't make it feel like a job at all.
'By far the biggest highlight was being asked back to NIDA as a mentor to teach current students doing their final Lighting Designs. I have come to love teaching and sharing my passion for lighting with others. I have had so many amazing mentors in my life that I feel like I have a responsibility to give that back to someone else who is just starting out on their journey,' he said.
Looking back on her career to date, Sfetkidis said: One of my favourite shows to work on was Meme Girls at Malthouse, it was so much fun to work on and the lighting for that show was more like a music concert than a traditional theatre show. The set also allowed me to create some great visual illusions through colour and movement … [and] I got to work with some of my favourite collaborators: Stephen Nicolazzo, Eugyeene Teh and Ash Flanders.
'Recently working on Lysa and the Free Born Dames at La Boite was a real treat, mainly because the show is so inspiring as a piece of contemporary feminist theatre. At one of the previews there were lots of teenage girls, dancing along to the music and screaming out from the audience and verbally reacting to seeing a group of women who are similar to them onstage talking about things that are actually relevant. It had a real buzz to it, like they were at a concert. Working with director Sanja Simić and writer Claire Christian was also amazing; they are both very inspiring women,' she continued.
'The biggest lowlight for me is that there are still very few women designing at a mainstage level. This year, female lighting designers make up less than 20% of all mainstage theatre shows in Australia and there were no female lighting designers for a major opera season anywhere in the country,' Sfetkidis said.
So you want to be a lighting designer?
Sfetkidis offers several tips for those starting out in the industry who may wish to focus on lighting design as a career.
'The best way to learn is by doing things: work on shows and get experience,' she said. 'Trust in your ideas even if they seem a little unconventional. Try things that might be a bit out of your comfort zone. Be prepared for some ideas not to work, even in production week. If you have an idea about something but you can't work out how to do it, ask someone.'
Cisterne said: 'See every performance you can. Go to every art gallery and museum, and see every film you can. Start building a library of intel in your head and start collecting imagery that interests you for any reason. If you can, go to university. Once out of uni, take some time to travel. There are so many opportunities to go on tour and spend time in Europe, Asia or the US. It will enable you to see more of the world. Your career will naturally unfold if you're interested in the industry and become a part of it.'
Brockman urged: 'Always dare to be different and try new things. It is only through trying new things, seeing what works and what doesn't, that you improve your design practice. You can learn more from a failed idea then you can from a successful one.
'I was taught lighting design has simple rules, Front Light, Back light, top Light, Side light, and so on. Lighting Design starts to become exciting when you manipulate and break and those rules. Pushing the boundaries and exploration is what makes a good designer,' he continued.
'When I was studying, my mentor at the time, Verity Hampson, said to me "Front light doesn't have to come from the front." It is something I have never forgotten and it changed the way I saw lighting design.'
The Australian Ballet's Spartacus
Melbourne 18 – 29 September | Sydney 9 – 24 November 2018
australianballet.com.au
Torch Song Trilogy
Eternity Playhouse, 1-26 August 2018
www.darlinghursttheatre.com

Lysa and the Freeborn Dames
La Boite's Roundhouse Theatre, 21 July – 11 August
laboite.com.au