Central Perth is poised for an influx of staff and students from Edith Cowan University (ECU) when a high-tech new education precinct opens in 2025.
ECU's Creative Industries, Business and Technology Campus will be home to over 9,000 staff and students, including the WA Screen Academy and 1,254 students from the Western Australian Academy of Performing Arts (WAAPA).
WAAPA is currently based at ECU's Mount Lawley campus, 6km from the Perth CBD.
The $695 million City Campus will be constructed at the edge of Yagan Square, adjoining Perth Railway Station and Perth's major bus hub, and will offer programs in technology, business, creative and performing arts.
'This is the future of university education — urban, connected, integrated with business and community —part of a thriving city,' said ECU Vice-Chancellor Professor Steve Chapman.
'This campus will deliver the innovative thinkers, adaptive learners and global citizens who will be the leaders of tomorrow,' he added.
The new campus will be a five-minute walk to the city's cultural precinct including the State Theatre Centre, the Blue Room Theatre, the Art Gallery of WA and the new WA Museum.
Read: WA Museum to re-open and redefine standards
Katt Osborne, Executive Director, The Blue Room Theatre, said WAAPA's relocation into the CBD in time for the first semester of 2025 would be 'fantastic'.
'For audiences, there will be more opportunities to engage with the performing arts after work on a nightly basis throughout the year (something that we've been missing in Perth). I think that audiences who engage with students and their work are an excellent way to increase overall appreciation and better understanding of the process of creating art and learning craft,' she told ArtsHub.
'I am also looking forward to strengthening the relationship that The Blue Room Theatre has to WAAPA and their students. The Blue Room Theatre is a place where so many collaborations and conversations are nurtured and to have easier access for students to come and mingle with professionals and bring even more life to our building is so exciting.
'For the local businesses in the cultural precinct as a whole, this is an exciting future to look forward to,' Osborne added.
A three-way deal
ECU will contribute $300 million to the project, while the Federal Government will contribute $245 million as part of the Perth City Deal. The State Government is providing in-kind support through the provision of land.
The project is expected to deliver a $1.5 billion boost to the local economy and create more than 3100 jobs during the construction phase.
The project has been welcomed by the Chamber of Commerce and Industry of Western Australia.
'The university precinct is a fantastic proposal for Perth's economy, which WA businesses have worked hard to support through the Perth City Deal,' said the Chamber's CEO Chris Rodwell.
'Through this pandemic, patronage in the CBD fell by 84%. Google mobility data indicates that foot traffic into our retail and recreation precincts is still around 20% below baseline. However, the challenges for the CBD precede any pandemic. Bringing more bright, creative young people into the CBD will spur wealth-creation in our city, through their creativity and the exchange – and inevitably the commercialisation – of ideas.
'A vibrant university precinct in the heart of the city will improve our draw as a destination for tourism and international education. On completion, up to 10,000 more people will be traversing our retail and business precincts, offering greater vibrancy and economic activity to struggling shops and businesses,' Rodwell concluded.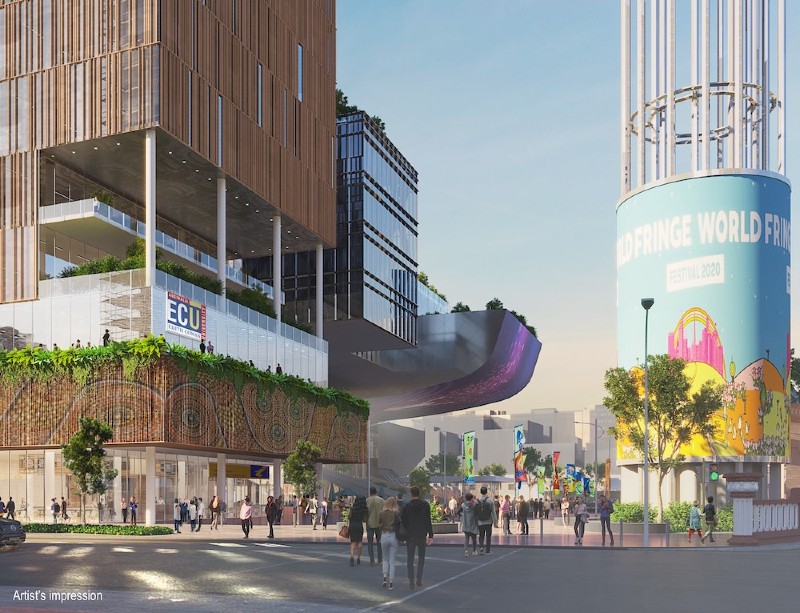 ECU City Campus, artist's impression, Yagan Square.
As well as WAAPA, ECU City Campus will be home to schools, programs and initiatives including:
Chapman said the campus would be designed to provide leading, digitally connected facilities for contemporary teaching, including adaptable spaces for immersive and experiential industry learning.
'ECU City Campus will naturally be a drawcard for students and academics, but it will also provide enormous opportunities for industry integration, including areas like cyber security ensuring the development of a future-fit workforce,' he said.
'This campus will deliver the innovative educational experience that is critical to the development of world-ready graduates and a digital-ready economy.'
Learn more about ECU's Creative Industries, Business and Technology Campus.