Slow Art Collective Archiloom 2018, installation view, Craftivism exhibition at Shepparton Art Museum 2018; © Slow Art Collective, courtesy the artists. Photo Christian Capurro.
When we think of craft it is wrapped up in all sorts of preconceptions, but political activism is usually not one of them.
Craftivism. Dissident Objects and Subversive Forms is an exhibition curated by Shepparton Art Museum in regional Victoria, which has appropriately found its way to our national political heart – the Museum of Australian Democracy (MoAD) in Canberra.
MoAD's Edwina Jans, Executive Producer on the Craftivism exhibition, said: 'As a museum, not just of objects but of ideas, we explore all aspects of democracy, including this notion of craftivism.'
'It is really a beautiful and interesting exhibition that connects with our themes in a very different way. MoAD encourages people to use their voice to be active citizens,' she continued.
The exhibition brings together the work of 17 contemporary Australian artists who utilise craft based materials and techniques with a political intent.
Simply, craft in the hands of these artists is very much a medium of our times.
'They really tap into themes we find people want to talk about, ideas around immigration, the environment, gender and an individual's political agency' explained Jans.
She pointed out the collaged quilted works of Paul Yore, the pixelated hand-stitchings of Michelle Hamer, which question unstable borders, the knitted and fabric coral reef of Hiromi Tango with its environmental message, and Penny Byrne's use of porcelain figurines to think through the current European refugee crisis.
Byrne's work sits across the Craftivism exhibition and the MoAD Collection.
'Many of us have grown up with these mediums. That is what this exhibition is seeking to do – extend thought through the familiar. It also builds on what MoAD has been doing the last couple of years, in displaying textiles and clothing as political documents,' said Jans.
'Take for example Canberra artist Raquel Ormella's contemporary stitched works expressing her views on the world. She uses a medium many people do at home, needlework. It is opening up that conversation for people to see that what they do themselves can have a place in a gallery situation as high end work.'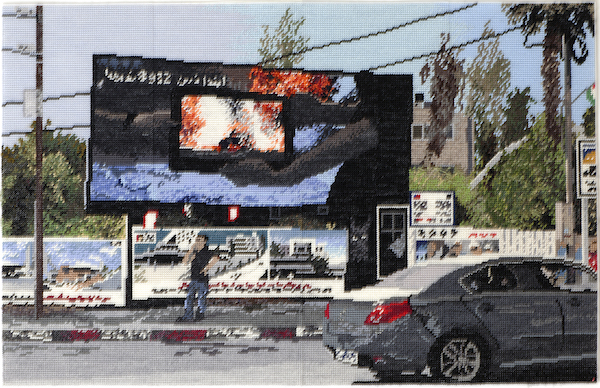 Michelle Hamer Imploding Explosions 2017, mixed yarn on perforated plastic; © Michelle Hamer, courtesy Michelle Hamer
The familiarity of craft ushers an inclusive voice
While the term craftivism might read as a catchy exhibition title, it is in fact, a global movement that has been gaining traction for a number of years.
We are perhaps most familiar with it in the public sphere as yarn-bombing, through iterations of the AIDS quilt, or the Knitting Nanas Against Gas for example. It's that idea of collective empowerment.
'These are people actively bearing witness and voicing opinion for wanting certain things in their world. Craftivism is not threatening, but can have a punchy impact,' said Jans.
In an often intimidating world flooded with opinions, finding a voice through materials that have a familiarity can be a way through – a way to act.
This is captured in the exhibition with ArchiLoom (2018), a three-dimensional installation utilising re-purposed bamboo, recycled rope and various fabrics that is created by the community in collaboration with Slow Art Collective.
Democracy is also never finished.
'Slow Art Collective say they love the unfinished nature of the ArchiLoom. Democracy is also never finished, and proposes the question, "How can I be involved in political change to shape the future of democracy?" That is one of the things we look for when curating our own exhibitions – it is about encouraging our visitor's thoughts and their responses,' said Jans.
Craftivism's touchpoints with MoAD's Collection
While not in the Craftivism exhibition, there are a number of touchpoints across the museum that continue the conversation – the #UDHRQuiltProject for human rights, and the Prime Minister Please quilt, which holds our elected politicians to account.
In these two projects Australian craftivist Tal Fitzpatrick turned to social media, what could be viewed as the antithesis of craft – to make her point.
USA-based craftivist, Stephanie Dunlap, initiated the #UDHRquiltproject. Together with Fitzpatrick, they put the call out to craftivists globally to respond to the Universal Declaration of Human Rights (UDHR). They received 131 responses, and four quilts later, they are in Canberra and inviting local engagement.
'We encourage our visitors to think differently from what they might hear in the news. I had a conversation with a visitor in the exhibition who said she had never actually read the Declaration of Human Rights before, and yet here – through a quilt – it is expressed really personally through the stories of those craftivists. The exhibition motivated her to learn more,' said Jans.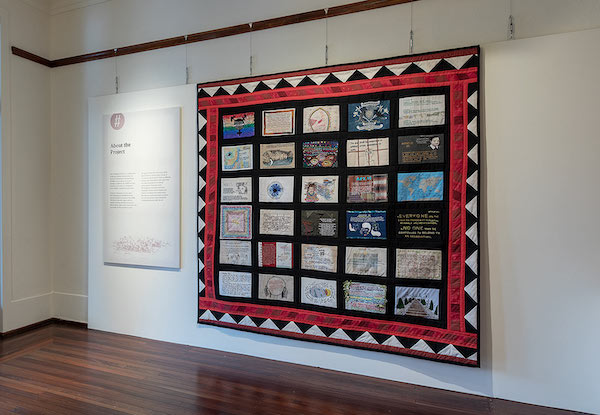 Installation view #UDHRquiltproject at MoAD; Image supplied
Similarly 121 craftivists responded to Fitzpatrick's social media call in the wake of Malcolm Turnbull appointment as Australia's 29th Prime Minister – the fourth PM within three years. They responded with hand-stitched messages on swatches of old suits and ties.
MoAD Director, Daryl Karp believes, 'Over the last decade there has been a large breakdown of trust in our political institutions. One of the best ways to rebuild that trust is to have active and engaged citizens, like the ones who participated in the Prime Minister Please quilt project.'
Jans added: 'Democracy is all about participation. One of the hallmarks of MoAD's exhibitions is always some participatory element that visitors can express their voice and their agency,' added Jans.
Craftivism. Dissident Objects and Subversive Forms is showing at MoAD (Museum of Australian Democracy) in Canberra from 6 September 2019 to 2 February 2020.
Visitors can immerse themselves in craftivism through a range of hands-on craft activities, workshops and community-based events during the exhibition period.
The exhibition is being toured nationally with the support of NETS Victoria.