Image: Republished with permission from missionlocal.com
Sometimes it's difficult to grasp how progressive your workplace is, or the ways in which it could improve, until you've heard stories of how other organisations operate.
After being discriminated against in the workplace, video games composer and sound designer Maize Wallin focused their attention on creating safe spaces for non-binary folk.
'I taught composition and video game audio at various universities in Melbourne for four years before quitting at the end of last year, due to threats and harassment after coming out as non-binary,' said Wallin, who works as a freelancer in the video games industry, specialising in composition, sound design and audio programming.
'Non-binary advocacy is important to me, because "non-binary" is such a huge umbrella term for anyone who isn't solely male or female,' they said.
Wallin's experience inspired them to co-found Non Binary Zone, an organisation which helps ensure the inclusion of non binary people in workplaces and at events.
Read: Queer, trans and gender diverse artists share what it's like to make art
Part of the group's work has been its contribution to the Coming out at Work handbook, which offers tips for non-binary people on everything from writing a CV and cover letter through to the best way of informing your employer about your gender identity.
The group has also been instrumental in designing a poster on the correct use of pronouns, which was used by Film Victoria as part of its Game for Change lunch.
Having resources in the workplace that help employees get used to addressing a non-binary or queer identifying colleague can be a useful tool, as mis-gendering is a fairly common mistake people make, Wallin said.
'Recently I was getting driven from the airport to the conference center, and a colleague said "Call me old fashioned, but I feel weird sitting in the front with a woman in the back," and I said: "Speaking of old fashioned, I don't really do gender. I'm non-binary, my pronouns are they/them.'
Gender representation and language
Last year Museums Victoria set up an LGBTIQA+ Advisory Group to support workplace inclusivity, with some of its recommended changes now being rolled out across other Museums Victoria sites such as Scienceworks and the Immigration Museum.
'The reason we founded the advisory group when we did was because we had a Nocturnal event in December, and it was programmed with a lot of queer artists and we wanted to make sure it was a safe and inclusive event,' said the group's lead contact, Hayley Webster.
In the lead-up to Nocturnal (an ongoing series of after-dark events at the Museum's Carlton Gardens site) the group advocated for gender neutral bathrooms, which are now in the process of being implemented at other Museums Victoria sites.
The group also suggested a staff and security briefing for those who were working with the public at events such as Nocturnal and Midsumma Festival, in addition to all staff on the night wearing pronoun badges.
Melbourne Museums's Manager of Programming, Cynthia Nolan Myers, said such initiatives have been important for anyone entering the space when a queer event is running.
'The first thing the audience will see is security staff standing there with a pronoun badge on. So it's that initial kind of welcome to say, "Everybody is included here, we're not going on assumptions of gender, we acknowledge all genders and preferences of pronouns and this is going to be a space where you are welcome and you are safe."'
Another way the LGBTIQA+ advisory group are working to make changes across the organisation is by looking at the way language is used, said Webster.
'There's a lot of scripted announcements that run throughout our organisation – as you might imagine, because it's a public building –, and traditionally we would have said something like, "Welcome ladies and gentleman, boys and girls." So, we've been looking at that language to see whether we can make it more inclusive.'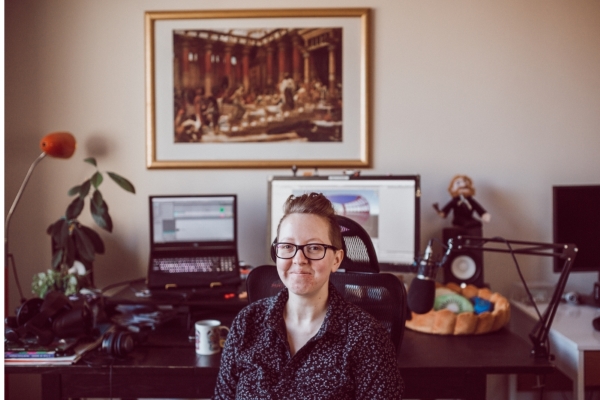 Maize Wallin. Image supplied
The group has also worked with its Audience Insights team around data collection and gender, including the way that language is used in surveys.
'We have made some recommendations to improve inclusivity in the terminology that we were using and the categories that are assigned,' Webster said.
Such incremental changes are making workplaces more respectful and accessible for LGBTIQ people, but take a combined effort to bring into effect.
Wallin said the experience of establishing an organisation like Non Binary Zone, and working with other like-minded people, has allowed them to realise that sensitivity and respect in the workplace is non-negotiable.
'I've been able to feel what it's like to not have my gender invalidated day to day, and it's amazing,' Wallin said. 'I refuse to be part of any small action that impacts someone's day (like their gender not being on a survey) to any large action that can impact someone's life or career (like having to leave a job). The only way to improve my own life is to get other people on board.'