Megan Seres' winning painting, Scarlett as Colonial Girl, which won the 2016 Doug Moran Portrait Prize; courtesy the artist and DMPP
Women were the hand-down winners in key art prizes in 2016.
The Archibald, Wynne and Sulman Prizes set the tone as three women took these traditionally male-dominated high-profile awards presented by the Art Gallery of New South Wales (AGNSW).
Over the 95 years that the Archibald Prize has been staged, only 11 of its winners have been female – the first in 1938, Nora Heysen – and only 12 of the 95 subjects painted have been women.
But this year's winner Louise Hearman was among 25 women selected as Archibald finalists, and in a field of 51 that is a welcomed gender adjustment.
Megan Seres won Australia's most expensive and also the richest portraiture prize in the world last week, the $150,000 Doug Moran Portrait prize with a painting of her daughter Scarlett, depicted as a colonial girl. It's a double win given Seres is an artist working in regional NSW. One news source even revelled in the fact that she was a part-time cleaner.
A third of this year's finalists in the Doug Moran Portrait Prize and also the Doug Moran Contemporary Photography Prize were women.
ArtsHub has surveyed this year's awards and found that of the 44 top awards we looked at, their winners fell in favour of women: 23 to 21, albeit a slim margin. On a cursory look it would seem the balance has finally shifted, especially if we remove the skew of historical data.
It follows a pattern that Elvis Richardson revealed in The Countess Report, which Richardson has been counting gender inequality in the arts since 2013.
Her 2016 figures show that of the 44 prizes we surveyed, women scooped 57% or $813,000 of the $1.4M prize pool. This is an increase from 2014 when women received 47% of the total prize pool of $1.35M but averages for women were much lower – on average women won $14,000 and men $23,000.
Let's take a closer look at those winners, and what that might mean:
The top five $ awards
It is the first time ever that women have won the Archibald, the Wynne, Sulman, and Doug Moran prizes in the same year, with a collective prize pool of $340,000. That means perceptions are shifting at the establishment level.
Of Australia's five richest art prizes, it was an even result of male/female winners.
2016 Doug Moran National Portrait Prize – Megan Seres ($150,000)
2016 Archibald Prize – Louise Hearman (Melbourne, VIC) $100,000
The 5th Basil Sellers Art Prize – Richard Lewer ($100,000, prize with a subject of sport)
2016 Fleurieu Art Prize for Landscape – Tony Albert (presented by Samstag Museum of Art) – $65,000, a non-acquisitive prize
Usually also in this category, The McClelland Sculpture Survey Award was not offered in 2016, a $100,000 biannual Award for outdoor sculpture.
In 2014 three of these five prizes were won by women.
The Countess Report found that of the five richest prizes over the previous ten years up to 2014, 12 women won, or 29%, while men reigned with 64% of the total prize pool, so clearly the trend is on the rise.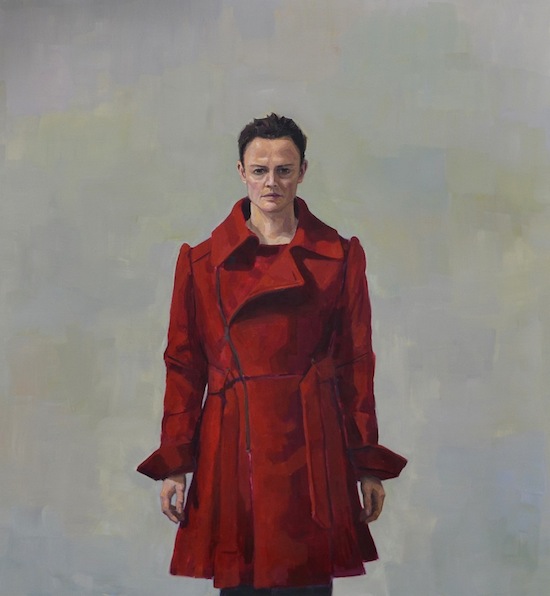 Jenny Rodgerson's winning painting, Bound by the big red coat, awarded the 2016 Portia Geach Memorial Portrait Prize presented by SH Ervin Gallery; courtesy the artist
Women who won
Of the 44 top awards across Australia that ArtsHub surveyed 21 were won by women. If we were to add another two that are exclusive to female entrants – the Portia Geach Memorial Portrait Prize and the Meroogal Women's Art Prize – that number increases to 23. Women also took more of the pie – 57% of the total prize pool surveyed.
What this tells us is that gender is a less hysterical topic within the visual arts than perhaps some other art forms, and the constant pressure to address imbalances – from prizes, to gallery representation to museum shows – has significantly escalated in the past decade in particular.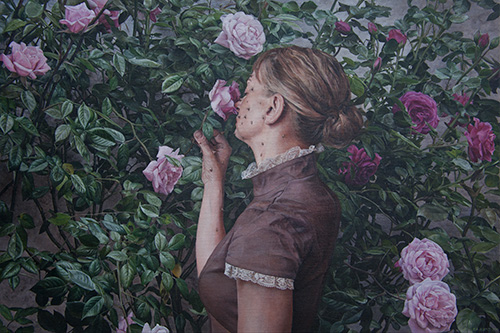 Lisa Adams, Revelation, 2015, ​winner Glencore Percival Portrait Painting Prize Winner 2016; courtesy the artist and Philip Bacon Galleries.
(Due to number of prizes and awards we have only surveyed those over $10,000)​
2016 The Doug Moran National Portrait Prize – Megan Seres (NSW) ($150,000).
2016 Archibald Prize – Louise Hearman (Melbourne, VIC) $100,000
2016 Wynne Prize – The Ken Family Sisters (APY Lands, SA) $50,000
The 2016 Black Swan Prize – Rachel Coad with a photo realistic portrait of painter Waldemar Kolbusz. ($50,000, portraiture prize)
2016 Sir John Sulman Prize – Esther Steward $40,000
2016 Glencore Percival Portrait Painting Prize – Lisa Adams ($40,000, acquisition) presented by Perc Tucker Regional Gallery, Townsville
2016 Blake Prize – Indian artist Yardena Kurulkar ($35,000, presented by Casular Powerhouse, prize for spiritual art)
Hatched 2016 Schenberg Art Fellowship Winner, presented by PICA – Selena de Carvalho ($35,000)
2016 NSW Emerging Arts Fellowship at Artspace and ArtsNSW – Consuelo Cavaniglia ($30,000)
2016 Geelong Contemporary Art Prize – Kate Beynon ($30,000, acquisitive)
Bulgari Art Award presented by AGNSW – Jude Rae ($30,000 and residency)
2016 Redlands Konica Minolta Art Prize – Pat Brassington ($25,000, acquisition)
2016 William and Winifred Bowness Photography Prize presented by Monash Art Gallery – Valerie Sparks (Melbourne, VIC) $25,000
The 39th Alice Prize 2016 – Naomi Hobson (QLD) $25,000, biennial prize
Inaugural Kennedy Prize – Deidre But-Husaim (Adelaide, SA) $25,000, with theme of beauty
2016 John Leslie Art Prize 2016 – Amelda Read-Forsythe (Melbourne, VIC). ($20,000 non-acquisitive prize for landscape)
2016 Indigenous Ceramic Art Award, presented by the Shepparton Art Museum – Gallery Kaiela Artists, Cynthia Hardie and Jack Anselmi, Yorta Yorta (VIC) ($20,000 acquisitive)
2016 Churchie National Emerging Art Prize – Sara Morawetz ($15,000)
Tom Malone Prize presented by Art Gallery of WA – Gabriella Bisetto – ($12,000, Australian glass artists).
2016 Linden Art Prize – Emma Coulter ($10,000 plus tailored mentoring)
2016 Brisbane Art Prize presented by Judith Wright Centre (QLD) – Aimee Nesbitt ($10,000)
…and just for women
2016 Portia Geach Memorial Portrait Prize presented by SH Ervin Gallery – Jenny Rodgerson with a self-portrait ($30,000, non-acquisitive)
2016 Meroogal Women's Art Prize presented by Sydney Living Museums – Linda Dening ($6,000 and residency at the Bundanono Trust).
Males still dominated some prizes
Men still account for 49% of prize winners we surveyed for 2016. A classic example is the highest winner in the male category – The Basil Sellers Art Prize for an artwork with its subject sport. Men have won four out of the five editions, the only female awardee a duo in 2010 for a video work of a female gymnasium. This prize saw its last edition in 2016 – was that about sport being exhausted as a subject?
Generally, from this year's list it would seem the men dominated in landscape painting while the women lorded over the portraiture categories.
Interesting several of these winning works by Men turned to female subjects – such a s Michael Zavros with a portrait of his daughter and Michael Cook, a mother. Darren Sylvester's win last week also had a sympathy with the stereotype of fashion and cosmetic industry.
Key prizes awarded to men in 2016:
The 5th Basil Sellers Art Prize – Richard Lewer ($100,000, prize with a subject of sport)
2016 Fleurieu Art Prize for Landscape – Tony Albert (presented by Samstag Museum of Art) – $65,000, non-acquisitive prize
2016 Telstra Art Award – Harold Joseph Thomas (Bundoo) – $50,000, Australia's most prestigious Indigenous art prize.
The Gold Award 2016, presented by Rockhampton Art Gallery – Imants Tiller ($50,000)
2016 The Doug Moran Contemporary Photography Prize – Johannes Reinhart ($50,000)
2016 Kilgour Prize presented by Newcastle Art Gallery – Peter Gardiner (Newcastle, NSW) $50,000 for a portrait or landscape painting.
2016 Mosman Art Prize – Michael Zavros with portrait of his daughter ($30,000)
The Jacaranda Drawing Award (JADA) presented by Grafton Regional Gallery – Adam Cusack ($30,000, acquisitive)
2016 Fishers Ghost Art Award (Campbelltown Arts Centre) – Darren Sylvester $30,000 (This prize is in its 54th year)
2016 Whyalla Art Prize (Country Arts SA and City of Whyalla) – Paul Snell (Launceston, TAS) $25,000
Sunshine Coast Art Prize 2016 – Michael Cook (Sunshine Coast, QLD) $25,000.
2016 Paddington Art Prize – Rodney Popel ($25,000, acquisitive)
The NSW Parliament Plein Air Painting Prize – Robert Malherbe ($20,000, acquisitive)
Fremantle Arts Centre Print Award – Sam Bloor (WA) ($16,000, acquisitive)
2016 Woollahra Small Sculpture Prize – Todd Robinson (Sydney, NSW) $15,000 acquisitive.
2016 Grace Cossington Smith art award – Mark Titmarsh ($15,000)
2016 Rick Amor Drawing Prize presented by Art Gallery of Ballart – Peter Wegner (Melbourne, VIC) $12,000 acquisitive
Paul Guest Art Prize presented by Bendigo Art Gallery – Peter Grziwotz ($12,000, non-acquisitive)
Deakin University Small Sculpture Award – Geoffrey Bartlett (Melbourne, VIC) ($10,000, acquisitive)
2016 John Fried Award – Eric Demetriou ($10,000, non-acquisitive)
30th Gold Coast International Ceramic Art Award 2016 – Stephen Bird ($10,000, acquisitive)