Image: The Echo of the Shadow via teatrodelossentidos.com

So many shows, so little time. While our regular reviewers will be writing about particular shows in detail, here the ArtsHub editorial team will be discussing shows in brief, in order to provide rolling coverage of festival events. We'll be updating this blog regularly – check in again for our latest impressions.
Teatro De Los Sentidos' The Echo of the Shadow
Australian Centre for the Moving Image, 6-23 October 2016
Rating: 5 stars
Reviewed by Richard Watts
Experiencing The Echo of the Shadow is like experiencing a dream. Entering a labyrinth alone one walks barefoot through the darkness, feeling grains of sand underfoot and seeing your footsteps disappear behind you; later you navigate a forest of bare branches and hanging cloths, listening to the distant splash and gurgle of water and the fluttering wings of unseen birds – or possibly the pages of a book being flipped through somewhere out of sight.
Your interactions with strangers are invariably wordless, often playful, sometimes tenderly transgressive. Shadows caress you. You navigate a haunting and haunted space, relying on touch instead of sight, breathing in the scents of dried herbs and rare spices while feeling different fabrics slide across your face and fingertips.
If the purpose of art is to make you see the world differently, then this richly imaginative, immersive and transporting work by Barcelona's Teatro De Los Sentidos is one of the best works of art I've ever experienced. After exiting its labyrinthine delights in the basement of ACMI, I stood blinking at the city and genuinely wondering, just for a moment, if all of Melbourne was a set and all the people in it players. A magic, perfect and impossible experience that I doubt I will ever forget.
Ex Machina's 887
Playhouse, Arts Centre Melbourne
Rating: 5 stars
Reviewed by Deborah Stone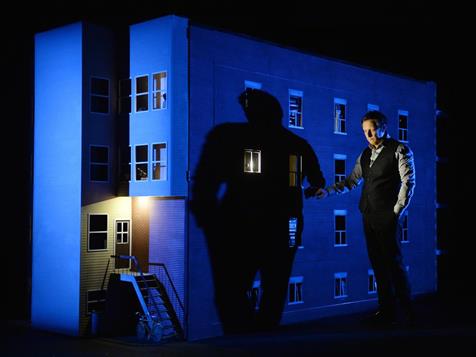 Photo by E. Labbe
The premise for this work is deceptively simple: a middle-aged man recalling an otherwise unremarkable childhood against the somewhat remarkable circumstances of the separatist conflict of French Quebec. But everything is remarkable about this compelling piece of theatre. Robert Lepage is justifiably an internationally-renowned theatre maker. He holds the audience tightly for two hours, moving from narrative to poetry to drama and back with an intimacy that is astonishing in a large theatre space.
Lepage's masterful command of space and language – whether speaking to us directly in English or using surtitled French – and his emotional accessibility are at the heart of this staged memoir, but equal credit must go to the design, projections and puppetry which become his companions. Interacting with the dollhouses of his childhood and playing with the sets of memory, Lepage takes us on a deeply human journey which bores down into the extra-ordinariness of the ordinary. The big picture layering of the Canadian context is never laboured but reminds us simply that each of us lives within a historical and political framework that is at once peripheral and essential to our life experience.
That the house was not full on opening night is probably because it is difficult to communicate what is so special about this jewel of a work. It is Just believe us and see it.
War and Peace
Gob Squad
Malthouse 18- 30 October
Rating: 3 stars
Reviewed by Deborah Stone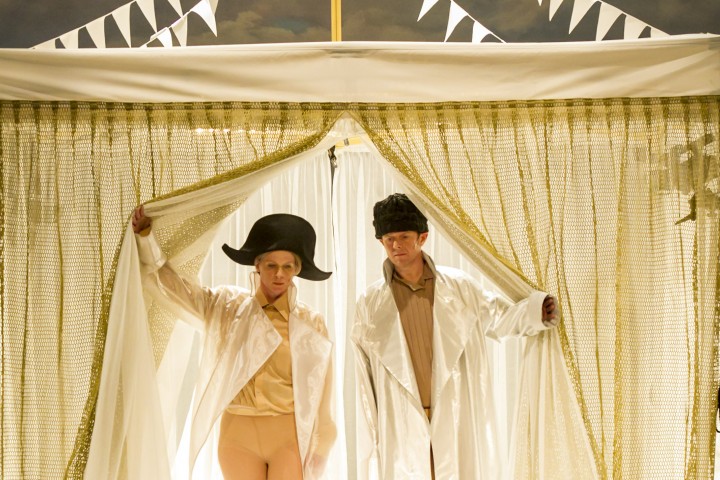 There are some clever ideas in Gob Squad's meditation on Tolstoy's classic – perhaps too many clever ideas. A loose interpretative work highly dependent on the responses of selected audience participants it could have benefited from some tough love to corral the workshop of experimentation into an audience-ready work.
The show begins with a nice piece of fourth wall desecration woven into the idea of the salon and reminding us that we too live in drawing rooms of convention while wars rage just beyond our consciousness. But the shtick goes on far too long and by the time we flip awkwardly into some of the more dramatic elements the point has been made and lost.
We get some fine imaginative dramatisation then in a quick costumed fashion parade which is a smart way of introducing the personalities and types. Fluid acting and clever costume design work very well in this section. The parade morphs into a nice piece of business between Csar Alexander and Napolean (the latter particularly well envisaged in a pregnant actor), a scene that comments on theatre as much as war or peace.
But the good bits are just that – bits. There are too many lulls and chaotic moments for this War and Peace to be a success. It's a great starting point with lots of potential but it needs work.
Read Sally Hussey's more expansive review of War and Peace here.
Lisa Gerrard – The Blank Page
Arts Centre Melbourne, Hamer Hall, 19 October 2016
Rating: 4 stars out of 5
Reviewed by Richard Watts
Best known as one of the co-founders of Dead Can Dance (formed in Melbourne in 1981) and as a composer whose evocative voice and music has memorably featured in such films as The Mist and Whale Rider, Lisa Gerrard's rare concert in Melbourne had the air of ceremony about it – an impression aided by the silent, reverent audience and her own poised appearance, standing regally on stage swathed in fabric like a Greek goddess and barely speaking save to sing.
In songs such as 'Yulunga' and 'Sanvean', Gerrard's remarkable voice – sometimes sonorous and melancholy, at other moments shimmering and haunting – flooded Hamer Hall with sound. Her backing musicians enriched proceedings with dulcimer and shakuhachi, cello and keyboards, enriching and enchanting the audience.
Not every moment was perfect – Anne Norman seemed slightly out of time when playing the cymbals on the dramatic 'Cantara' – but overall this was a rich and rewarding concert, ranging from the transcendent 'Host of the Seraphim' to the almost blues-like torch song, 'Sleep'. Audience members left delighted and inspired.
Le Patin Libre's Vertical Influences
O'Brien Group Arena, Docklands, 15-22 October 2016
Rating: 4 ½ stars
Reviewed by Richard Watts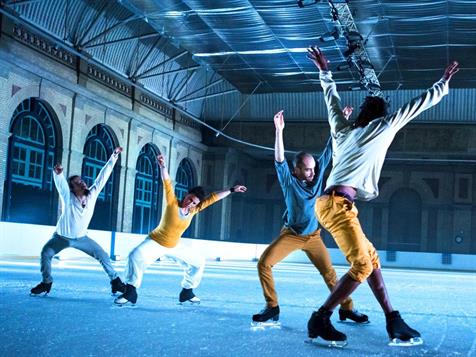 Photo by Alicia Clarke Dance Umbrella.
Created by French-Canadian company Le Patin Libre ('The Free Skate'), Vertical Influences isn't just an exhilarating and surprisingly moving show – it's also a radical reworking of ice-skating, rending it as an emergent art form instead of simple entertainment.
By stripping away the sequins and structure of competitive figure skating, and the costumes and characters of Disney on Ice, the company has created a double-bill which focuses on the simplicity of speed, a purity of movement, and a precision and gravity unique to movement on ice.
The production consists of two works, each approximately 25 minutes long. The first, Influences, sees the audience seated in the bleachers of the O'Brien Group Arena; an unlikely and sterile setting for a rich aesthetic experience to say the least. But by the end of the performance, thanks to adept lighting and an atmospheric soundtrack, as well as the enviable physicality on display, the venue no longer matters. Instead, one's focus is solely on the swift movements, the stunning spins, the gliding flight of five casually-clad skaters across the ice. Influences begins with almost military precision, with a subtle focus on structure and teamwork, and ends with movements that are softer, more organic and harmonious, but is always beautiful – bodies sailing across the ice rink's furthest limits.
The second piece, Vertical, is even more striking and sees the audience actually seated on chairs on the ice – I recommend dressing warmly, and sitting as close to the front as possible in order to be fully immersed in the spectacle. Watching the skaters glide through the mist, hearing the soft grind of their blades on the ice, being sprayed with a soft shower of ice crystals as they synchronously swoop and dive and circle before you – it's a sublime and breathtaking experience; fast, fun and thrillingly beautiful.
Buried Country: The Story of Aboriginal Country Music—Live in Concert
Melbourne Recital Centre, 12-13 October
Rating: 4 stars
Reviewed by Richard Watts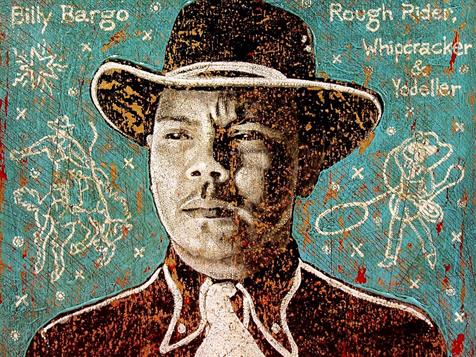 Image by Jon Langford
There was a haunting moment in this celebration of Indigenous Australia's deep-rooted love affair with country music when singer-songwriter James Henry took to the stage to perform songs penned by his grandfather, the late, great Jimmy Little. Henry's resemblance to his grandfather was unmistakable – I heard more than one person seated around me whispering about the striking similarity between them – and as he performed Little's gospel number 'Royal Telephone', followed by the popular 'Yorta Yorta Man', there was a palpable sense of history in the Elisabeth Murdoch Hall; a living sense of connection with the past.
Based on the book of the same name by Clinton Walker, this landmark concert – featuring video clips of interviews and performances from the past as well as a generation-spanning line-up of performers – was an engaging, festive and yet occasionally sombre affair. Highlights included the flirtatious Auriel Andrew embarrassing her grandson, bassist Teangi Knox, with her cheek and charm before singing 'Arnhem Land Lullaby' with conviction and passion; Leah Flanagan's rich, warm and heartbreaking cover of Bob Randall's Stolen Generations anthem, 'Brown Skin Baby'; and an exquisite, sorrowful performance by L.J. Hill of his track 'Pretty Bird Tree', dedicated to his late brother.
Based on the queues for autographs and merchandise in the foyer afterwards, the history of Aboriginal country music has a loyal new audience.
Read Raphael Solarsh's more detailed review of the concert here.
Backstage in Biscuit Land
The Coopers Malthouse, Beckett Theatre, 12-16 October
Rating: 4 ½ stars
Reviewed by Richard Watts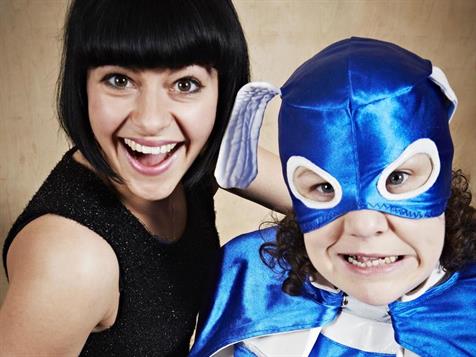 Photo by Jonathan Birch
Despite coming from a place of pain, following a humiliating experience in a London theatre, UK performer Jess Thom's autobiographical exploration of life with Tourette's Syndrome – a neurological condition which results in her saying words like 'biscuit' and 'hedgehog' thousands of times a day – is a joyous, celebratory affair. It's also guaranteed to be a unique performance every time it's performed, with Thom's surreal outbursts and vocal tics leading the show down a different route each night.
Read: Tourette's Syndrome is a laughing matter
Ably supported by sidekick Chopin (puppeteer Jess Mabel Jones), Thom demystifies life with Tourette's in a way that ensures the audience is laughing with, not at her – whether by encouraging staring competitions with those seated next to you, using not blinking as a means of illustrating what it's like to try and suppress her tics; a slapstick approach to eating strawberries; or speaking seriously and quietly about some of the more confronting moments in her life.
Thom is a fearless and charismatic performer; spending an hour in her company is a delight. Her personality, coupled with her more surreal vocal tics, results in an unpredictable and gleefully funny production that I would see again without hesitation.
Les Tambours de Feu
Federation Square and surrounding streets
Rating: 4 ½ stars out of 5
Reviewed by Deborah Stone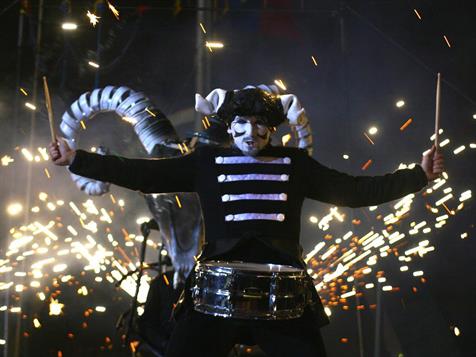 Photo by Raphael Helle
The primal pleasure of the huge crowd running through streets on the heels of a horned devil and a half-dozen drummers was a reminder that however sophisticated we like to pretend to be, the people of Melbourne 2016 are stirred by just the same powers as our medieval forebears and cave-dwelling ancestors.
The Basque company Deabru Beltzak draws on a combination of their own traditional ceremonies and the Catalan custom of the fire run to produce an event that is more ritual than performance. We cannot help but move to the drum beat and follow the horned devil who leads it.
The percussion, fire play and costumes are striking but they are not in themselves what makes Les Tambours de Feu so remarkable. Indeed it's fair to say that a hefty chunk of those who followed the players could barely see anything.
It is the ability of these players to stir up a crowd, to whip up a kind of intensity and closeness that sets them apart from the usual street performance.
There was a powerful sensory loading resulting in an unusual sense of connection and engagement between the thousands who trailed them through the city, jostling for a glimpse of their grimaces and moving to the beats of their drums. The energy of the performance is unrelenting and the resulting sense of uplift not only referenced ecstatic religious experience, it managed to slip a sense of it into the lives of the crowd.
Lady Eats Apple
Arts Centre Melbourne, Hamer Hall, 8-13 October
Rating: 4 ½ stars out of 5
Reviewed by Richard Watts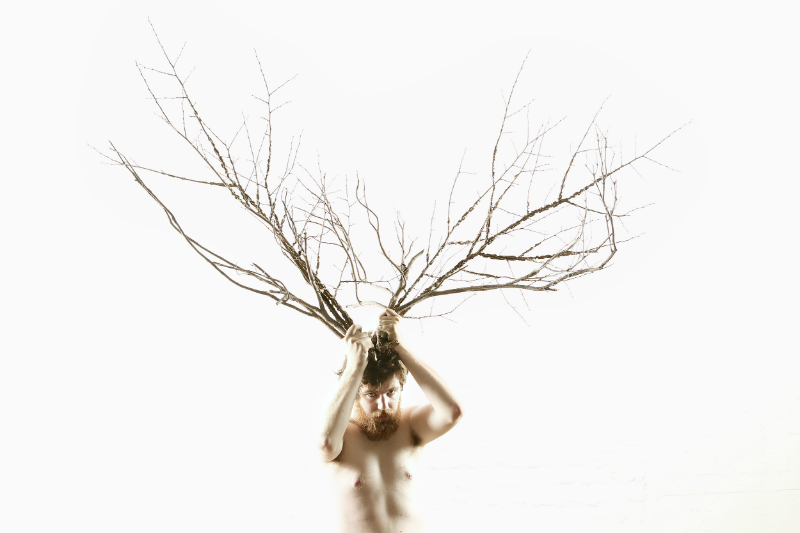 Photo by Jeff Busby.
Adult desires in people with perceived intellectual disabilities are the forbidden fruit of Back to Back Theatre's magnificent new work, Lady Eats Apple. Full of dramatic reveals and mundane juxtapositions, the production is notable for its striking evocations of the metaphysical and the ineffable, as well as its touching portrayal of love and longing.
Scott Price, boasting an impressively Old Testament beard, plays a god fresh from the pages of Deuteronomy, angry and vengeful. After first creating life out of darkness and naming each beast, he then delegates the task of naming to his latest creations, a man and women (company members Mark Deans and Sarah Mainwaring). He also gives them a complex warning about not eating the fruit of the tree of knowledge, which his son (bewigged guest artist Brian Lipson) helpfully suggests reducing to something more catchy, before eventually pleading with God to kill him.
What follows is by turns spectacular, bewildering and beautiful; a scene in which one is constantly aware of something remarkable unfolding just beyond the limit of one's senses, followed by a sequence that's as moving as it is simple, as poignant as it is banal.
The production's final scene, in which Chris Abrahams' composition and Lachlan Carrick's sound design play an especially vital role, is a classic Pietà or lamentation; a simple, haunting and exquisite image – Caravaggio himself could not have done better. The overall result is a haunting work that lingers long after its actors – and the audience – have left the stage.
You and Me and the Space Between
The Coopers Malthouse, Beckett Theatre, 6-9 October
Rating: 3 ½ stars out of 5
Reviewed by Richard Watts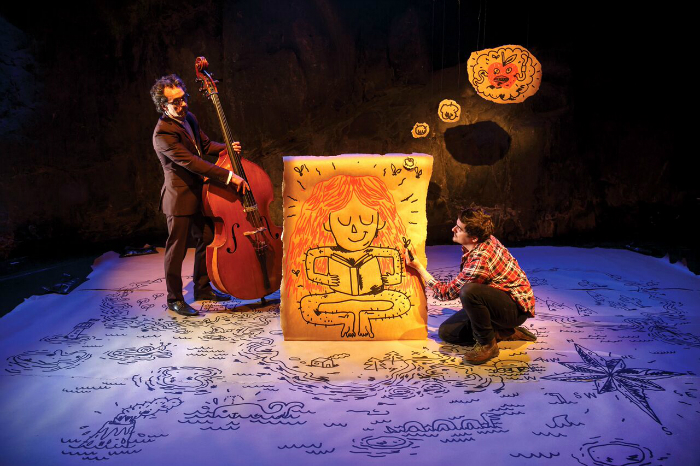 Photo by Peter Mathew.
A new production by Tasmania's Terrapin Puppet Theatre, You and Me and the Space Between is a hopeful and timely story about refugees, drawn from the imagination of playwright Finegan Kruckemeyer and illustrated live on stage by cartoonist Oslo Davis.
When the Proud Island springs a leak, its inhabitants – spurred on by one especially resourceful young woman – are forced to take refuge on the shores of a strange city. Though initial interactions are positive, not everyone welcomes the newcomers and their strange traditions, and tensions quickly build.
Narrator Katherine Tonkin explains the ins and outs of life on the Proud Island (the mention of special buildings set aside for kissing raised a disgusted and delightful 'ugh!' from one young audience member) and details events as they unfold, ably supported by live music played by composer Dean Stevenson. The story's broad brushstrokes are illustrated on a paper screen at the rear of the screen by Davis, with finer details – such as the rising cliffs of the new land the Proud Islanders encounter – brought to vivid life by puppeteer Felicity Horsley. Adults will enjoy subtle references to same-sex relationships and euthanasia, which are presented without emphasis or awkwardness; children will doubtless delight in the imaginative presentation of the story, though its pace might chafe slightly for the youngest (the play is recommended for ages five and over).
Kruckemeyer's evocative script is a trifle wordy – some trimming of the script may assist the work's impact – but Sam Routledge's direction keeps the production moving at an enjoyable pace, Jonathon Oxlade's design charms, and the different elements used to tell the story combine harmoniously and winningly. An engaging opportunity to see a children's picture book come to life.
Our Ladies of Perpetual Succour
Arts Centre Melbourne, Fairfax Studio, until 22 October
Rating: 4 stars out of 5
Reviewed by Richard Watts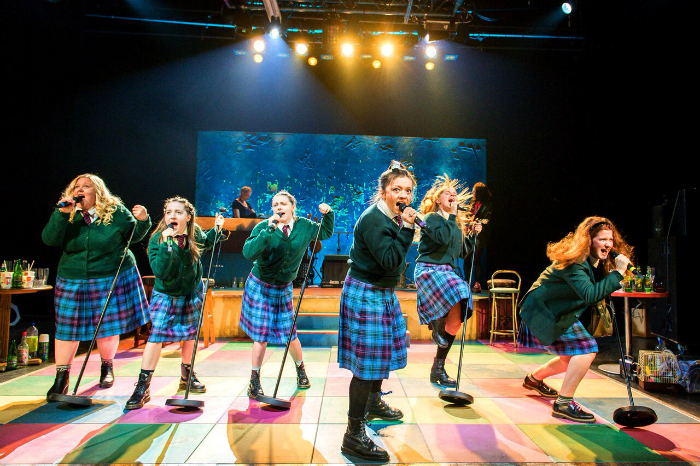 Photo by Manuel Harlan

With the stage dressed as a scuzzy nightclub, the scuffed, checkerboard dance floor overlooked by a DJ booth and peeling walls – and a not-so-incongruous statue of the Virgin Mary (heaven, as the song says, is a dance floor) – the intimate Fairfax Studio is the perfect setting for this raucous, heartfelt production by the National Theatre of Scotland.
The production follows a rambunctious group of teenage schoolgirls from a port town in the Highlands as they travel to Edinburgh for a choral competition. Not only are they representing their school, Our Lady of Perpetual Succour, they're also representing the Lord, warns one of the nuns, so the girls need to be on their best behaviour. But given the amount of booze they've smuggled onto the bus, it's instantly apparent that behaving sedately is the furthest thing from their minds – especially since they're keen to get home in time for a night on the town with a group of horny submariners.
A high school musical by way of Ken Loach, Our Ladies of Perpetual Succour shifts gears effortlessly from foul-mouthed comedy to poignant vulnerability. Performances are thrilling – honest, heartfelt and beautifully embodied – as are the musical numbers, with the actors' singing backed up by a tight three-piece band.
The episodic nature of the narrative, which sees the cast of six playing multiple roles (including bouncers, chancers, drug-dealers and budgie-fanciers) sometimes drags – a tighter script and more rigorous dramaturgy would ensure a more consistently engaging production. Nonetheless, the dramas and hijinks of these foul-mouthed convent girls – whose blazing passion for life is contrasted all too painfully with their shrinking options for the future – coupled with covers of everything from Bartok to ELO, results in a rich and rewarding night at the theatre.
Read Jo McEniery's more detailed take on the production here.
Melbourne Festival 2016
www.festival.melbourne
6-23 October