The Art Gallery of NSW (AGNSW) has recorded over one million visitations since the December opening of its new North Building, otherwise known as Sydney Modern.
It is a moment to pause and ask what is it, then, that drives audiences to commit to a gallery visit, and what exactly does it mean to be a 'destination cultural venue' in our times?
The short answer, says Maud Page, Deputy Director and Director of Collections, is more than mere architecture. 'We have to be a platform for ideas – relevant ideas – and for people to be able to see different views and different knowledges. Younger audiences demand that there's an addressing of the climate crisis, as well as greater discussions around problematic histories,' she explains.
Page acknowledges that a key to attracting audiences is being 'able to offer a broadness when looking at creativity – nationally and internationally – but also to single out those viewpoints that are very current and poignant narratives, and weave them into the visitor experience across all exhibitions'.
When it comes to destination venues, the Yiribana Gallery encapsulates the Gallery's vision to marry 'the inside' with 'the outside'. The Gallery has greatly expanded from the single-lens, single-gallery approach to presenting First Nations artists. Rather it is 'embedding Indigenous knowledge throughout the entire two buildings,' says Page.
'I mean that there couldn't be a more significant location overlooking the Harbour – Yurong – which has always been a destination, but the significance of that location for Indigenous people is a place of learning and of gathering,' she continues.
'It's incredible that we've now got two buildings, and that we can really start to work with the character of each building … and they are very different characters!' says Page. 'What I've loved is that the existing building, the South Building, is absolutely chock-a-block full of people as much as its glamorous sister next door. So, people are not just coming to see the changes; they want to engage with this broader narrative.'
The Gallery is currently showing the ever-popular Archibald, Wynne and Sulman Prizes (until 3 September) and The National 4 (until 23 July).
What does being a destination venue mean today?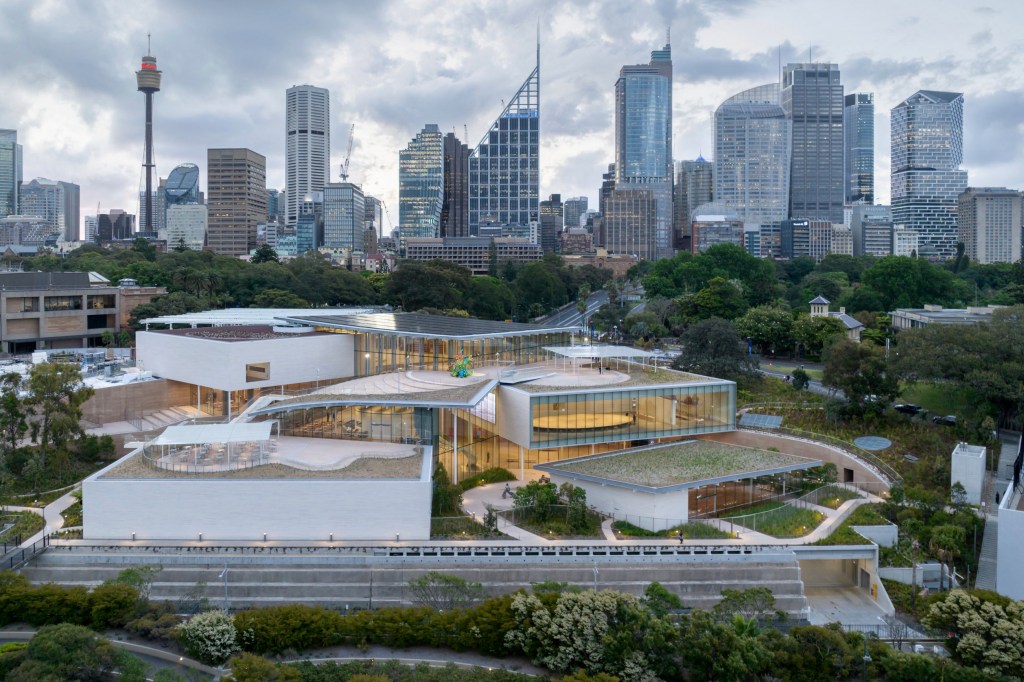 While location is a key factor for any destination cultural venue, being able to offer an expanded and nuanced experience is what will ensure visitors return.
'The fact that there are a lot more experiential shows in the North Building, such as Adrián Villar Rojas' work in The Tank, kids rolling balls of clay with Kimsooja's Archive of mind or the contemplative space that is Lee Mingwei's Spirit House – all of those participatory works are ways to create more dialogue,' explains Page.
'I think too the materiality, from the building's rammed earth walls through to the artworks, offers attention to the handmade, which has almost a reparative aesthetic that is really beautiful. It's about a generosity that is shared by all the artists and a genuineness of hand that's not all pristine and glossy. And I think that allows us to also address more complex things in our history, or in our society,' says Page.
'That depth of cultural understanding is something that we're really proud to be contributing to, and we want to do it with nuance and always through the artists so that it's led in a really different way. You couldn't get that information or that experience or that knowledge or that pleasure anywhere else, but in an art gallery,' she adds.
'The other really key thing driving new engagements is that we've got a curator of music and community, Jonathan Wilson, and he is bringing music into the fabric of everything that we do. It's also another way for us to really expand the mediums that we work with and attract a very different kind of audience to the Gallery,' adds Page.
Pairing blockbusters and collections rethinks how we 'inspire creativity'
Audiences want diverse experiences today, so having collection shows rub shoulders with major international exhibitions offers a dynamism.
This summer, the Gallery will offer audiences the rare opportunity to view the works of Russian abstractionist Vasily Kandinsky – touring from the Collection of the Solomon R Guggenheim Museum in New York – alongside the French artist, Louise Bourgeois, as part of the Sydney International Art Series.
'They're a very interesting pairing,' says Page, 'because they're two artists that are really loved. I would say Bourgeois is the most well-known female artist of our times, and loved because of the deep psychological aspect that she brought to everything that she did. [Her work] strikes a chord with everyone, and particularly with young people.'
Page continues, 'Kandinsky was also trying to look at spirituality and to see how we could be in this world in a different way.'
What is most exciting about these destination exhibitions, says Page, is that the Gallery expands them by activating its own Collection. 'It is this kind of layering of narratives and ideas that audiences are hungry for today.'
She adds that the Gallery will look at the work of Georgiana Houghton alongside these blockbusters. 'We have the largest holdings of her work in Australia. So, you have a woman working in a similar way as Kandinsky, creating incredible abstract pictures, but almost unknown. That visitor journey is so important to us, and it is what continues to bring audiences back – to always discover something new.'
In a comparable way, the Archibald Prize also takes something that is recognisable and then deepens people's understanding of it through familiarity. Page explains, 'The Archie is where everyone feels a permissibility to actually have an opinion. I would like them to feel empowered to have an opinion on everything that we do!'
That 'chatter' around the Archibald, and those larger blockbuster shows, has long driven people through the door, but is also important in creating a cultural presence in our everyday.
Page agrees. 'What I love around this chatter is that it points to what people are thinking are the important people or topics of the time. I think those things can't be underestimated, and that's what's electric – that's what makes visiting galleries relevant,' she concludes.
Dates for the diary
Archibald, Wynne and Sulman Prizes 2023, 6 May – 3 September.
Adrián Villar Rojas' The End of Imagination, The Tank (until 16 July).
Kandinsky exhibition 4 November – 10 March 2024.
Louise Bourgeois: Has the Day Invaded the Night or Has the Night Invaded the Day? 25 November – 24 April 2024.