Contemporary Australian South Sea Islander artist Jasmine Togo-Brisby examines Australia's dark history of plantation colonisation in her dramatic exhibition Hom Swit Hom, currently showing at Artspace Mackay.
The exhibition invites a reconsideration of the history and contemporary legacy of blackbirding from the viewpoint of the South Sea Islander people, whose identity is intrinsically connected to this narrative.
The title Hom Swit Hom is a variation of the phrase 'home sweet home' and reflects the artist's return to her local community after six years living and working in Aotearoa New Zealand; it also echoes the tribal language of her ancestors. Mackay, on Yuwi country, is home to the largest Australian South Sea Islander community, so is an appropriate setting to show these affecting works. The exhibition is curated by Tracey Heathwood, Lauren Turton, and Emily Wakeling.
Togo-Brisby's art practice includes a range of techniques, from photography and filmmaking to sculpture and installations, and is centred around her identity as an Australian South Sea Islander. A fourth-generation Australian South Sea Islander of Ni-Vanuatu ancestry, she is a direct descendant of people brought to Australia – through coercion and force – between 1847 and 1904 from Vanuatu and elsewhere to work on sugarcane and cotton plantations. This practice is known as 'blackbirding'.
'The term referred to the abduction of black people under the darkness of night. It was used in the American slave trade and then became a colloquialism used in the Pacific slave trade that began in 1847 when the first ship came into Sydney Harbour,' Togo-Brisby explained.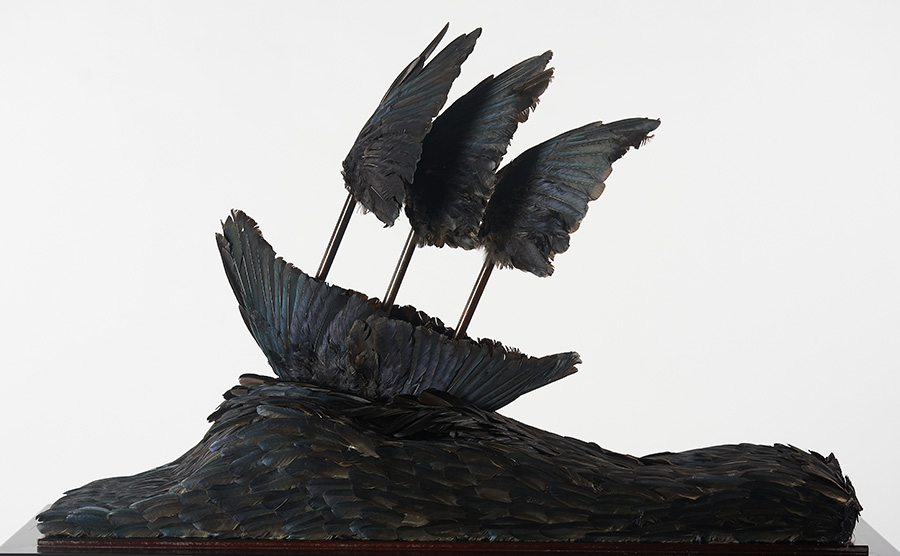 She said there is a process of healing that is vital for herself and her community and her artworks can be a part of that process.
'I really feel that the works can inherently have healing qualities. For me, the visibility that these works bring is a strategy for that healing. There is so much invisibility of our people, and our culture, and our ancestors. Just doing what I'm able to do as an artist and utilising the gallery space for this work, I hope that brings a sense of healing and belonging.'
This aim is shared by the team at Artspace Mackay, who acknowledge the gallery has an important role to play by creating safe community spaces for diverse narratives, truth-telling, and meaning-making.
Through her contemporary arts practice, Togo-Brisby explores new ways to articulate a reimagined history of plantation colonisation in Australia.
One of the exhibition's highlights is Bitter sweet, an installation of more than 100 skulls cast from brown sugar and resin and displayed in a darkened room.
'As an artist, I'm really inspired by using unconventional mediums, and I think it was always inevitable I would use sugar in some way,' Togo-Brisby said.
She worked on Bitter sweet for about three years with each of the skulls cast by hand.
'In 2012, there was a mass grave of our people uncovered on a Bundaberg plantation and there was a lot of emotion at that time, our people were really hurting, so I was really inspired to make the work. The history of our people in the sugar industry has been consistently erased, time and time again.'
There are layers of meaning in each of the works and some pieces feature the artist, her mother, and her daughter. These are personal and community narratives bringing together the past and the present.
'There is nothing like showing the work to your immediate community, the community that you're making it for,' Togo-Brisby concluded.
Hom Swit Hom is showing in the Main Gallery and Foundation Gallery at Artspace Mackay until 27 March.