TARNANTHI Art Fair. Photo credit: John Montesi.
TARNANTHI Art Fair returns to Adelaide this October, providing a rare chance to purchase works of art directly from Aboriginal and Torres Strait Islander artists and art centres.
Presented by the Art Gallery of South Australia, in partnership with BHP, the Art Fair sees over 40 art centres from across the country take over Tandanya National Aboriginal Cultural Institute from Friday, 26 October to Sunday, 28 October.
Artistic Director, TARNANTHI Contemporary Aboriginal & Torres Strait Islander Art, Nici Cumpston told ArtsHub: 'We don't have anything else like it in South Australia – it's really a unique opportunity to see and buy work from remote art centres, and for artists from around the country to meet each other.'
The opportunity to meet with and purchase works of art directly from their creators is especially valuable, given industry concerns around fake art and the growing need for ethical market practices.
'It gives the wider general public a genuine opportunity to engage directly with these artists – these opportunities are rare,' Cumpston said of TARNANTHI Art Fair.
Over 200 artists and art centre managers will be in Adelaide for the Fair, representing diverse practices from the Tiwi Islands, Arnhem Land, Central and Western Deserts, Anangu Pitjantjatjara Yankunytjatjara (APY) Lands, Victoria, the Kimberley and the Pilbara.
View the full list of participating art centres
'It has a flow-on effect for artists to come and witness what everyone is doing around the country and appreciate how diverse other people's practice is as well – how they market their work, the different products people are producing, as well as original works of art for sale,' said Cumpston.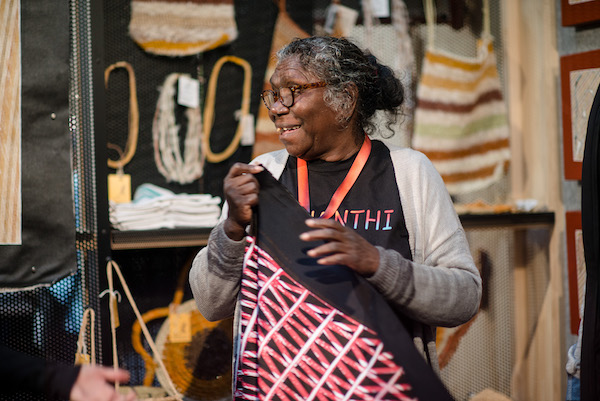 TARNANTHI Art Fair, Faye Matjarra Garrawurra, one of the Directors of Bula'bula Arts with fabric by Philip Gudthaykudthay aka Pussycat. Photo credit: Nat Rogers.
Cumpston feels that TARNANTHI Art Fair's point of difference lies in its design.
'We work very closely with Skein, architects who are also carpenters who design bespoke pods. They give the art centres options to use so that the design is more curated – there's a bit more attention to detail.'
Cumpston said the design focus was a result of the Fair reaching capacity in the location early on. 'We have actually pulled it back and thought about the response art centres had given us. The result is some bigger spaces, and we have talked to people about what it is they will bring – so this year the Fair is a bit more strategic and bespoke.'
For its third edition, the Art Fair will welcome 10 new art centres, including Bábbarra Designs, which represents the community of Maningrida and is home to the 2018 TARNANTHI feature artist, master bark painter John Mawurndjul.
Maningrida Arts and Culture also returns as a participant this year.
'We really wanted to connect the Art Fair with the Art Gallery of South Australia's exhibition of master bark painter, John Mawurndjul. It is an opportunity for people to see how they can engage with an artist and their art. In the gallery they might think, "That's fantastic," but it's a work made and acquired by an institution. By coming to the Art Fair, they can see that they could have similar works within their own collection. It is a way in, and there are many different price points,' Cumpston said.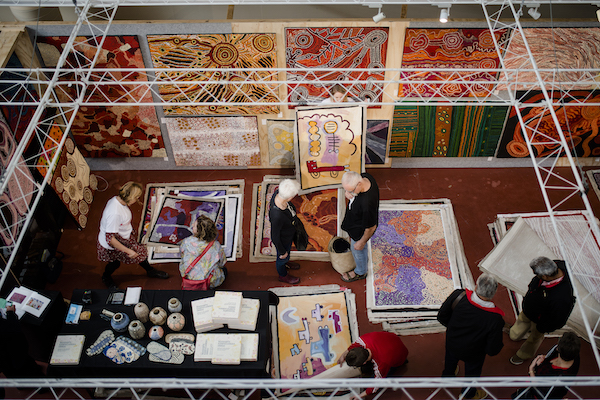 TARNANTHI Art Fair. Photo credit: Nat Rogers.
Art production is a key source of income for Aboriginal and Torres Strait Islander communities. In 2017 the TARNANTHI Art Fair represented 500 artists, generating $810,825 in sales, with profits going directly to art centres, artists and the Purple House Foundation.
'You know the money you are spending is going back to the artists and the works have all been made in good circumstances – the Fair is an ethical process in the making and the acquiring of Aboriginal and Torres Strait Islander art,' Cumpston said.
'I guess what keeps coming back to me, is that it's all about the artists making work and offers an opportunity to continue sharing these important stories more broadly,' she added.
A wide range of works of art will be on offer, from painting to textiles, sculpture, ceramics and jewellery. Works for sale are available at varying prices.
TARNANTHI Art Fair runs from Friday, 26 October 2018 to Sunday, 28 October 2018 at Tandanya National Aboriginal Cultural Institute in Adelaide. For further details, visit tarnanthi.com.au
John Mawurndjul: I am the old and the new is showing at the Art Gallery of South Australia from 26 October to 28 January 2019 as part of TARNANTHI. For public programs, artist talks and events surrounding the exhibition visit tarnanthi.com.au or johnmawurndjul.com.