While many education institutions have had to quickly pivot online in the wake of forced lockdowns with the coronavirus pandemic, for Deakin it's been largely business as usual. They have been 'doing digital' for some time, and are known for delivering distance and online learning, as well as studio-based teaching.
Senior Lecturer in Screen and Design, Rose Woodcock said that solid foundation has placed Deakin in a good place to escalate the way students in its Bachelor of Film, Television and Animation course are currently learning.
While the campus is not currently accessible for face-to-face classes, Woodcock said 'that legacy of being a university founded on correspondence learning, and one that shifted to the digital environment early on, meant that we were quick to have teaching units available wholly online.
'What we now call "the cloud", we've long had, and a really strong sense of building content and materials for our students to access remotely when not "here" in the classroom, from discussion forums, unit guides, links to materials to inspire students and give their learning context,' Woodcock added.
'Put simply, we have always been teaching in a kind of multi-universe,' she told ArtsHub.
Industry optimism and future proofing a next generation
Woodcock believes that animation is really coming into its own, and was already on the rise before the pandemic.
'Because of the COVID situation, and the demands to make content, there has been an incredible rise in the need for people to tell stories quickly. Work for storyboard artists and motion graphic skills have a new appreciation – it can often be done by one person in one room, with internet collaboration to create a 'virtual studio' across team members wherever they are located. And because an animation starts from a blank slate – animators create the story and characters, and are 'world builders' in that respect – animation content comes out of nothing very easily' said Woodcock.
She believes it points to a long term positive outcome for creative industries, more broadly. As one of her PhD students described, 'This is the time for animators!'
Woodcock says that home lab mentality has also come through in the way her students have become more flexible, using whatever is at hand at home to get something on the screen.
'It has made me think that we don't always have to rely on the best software – the software companies sometimes make us think we have to do that – but students going into creative industries have to be adaptable. They need to be creative problem solvers.'  
What studying on campus at Deakin looks like?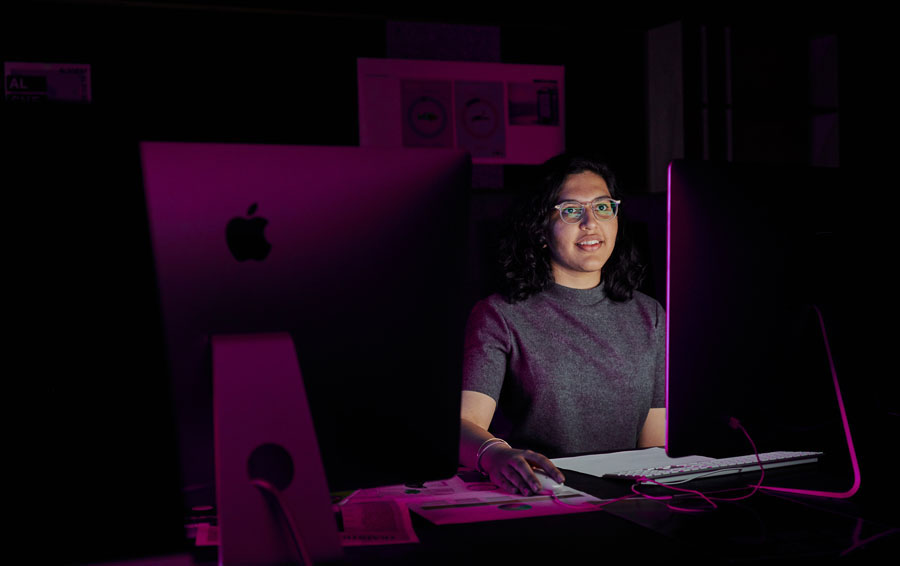 Image courtesy Deakin University.
From the screens of televisions to mobile phones, computers and tablets, film, television and animation at Deakin explores the relationship between the design, production, reception and exhibition of contemporary culture through our newest technologies.
Woodcock explained: 'Our course structure is very pragmatic. Students coming into our degrees have a lot of flexibility in what they can do within their field and outside in other creative disciplines. In some ways, they design their own course. So if I am coming into our film, television and animation degree, but I really like dance, I can find that movement study feeds well into animation and motion capture. So I can pick up dance units as electives to build my skills and create breadth in my animation studies.'
She added that all creative arts disciplines are housed in one building, creating a 'little village' atmosphere.
'Our television studio is a full professional studio with a vision mixing room and capacity to do live broadcasts. We also have the Deakin MotionLab for students wanting to bring motion capture, or virtual reality or augmented reality into their 3D animation. Students also are able to borrow equipment, such as high-end cameras, lighting, sound recording and other gear to work off campus,' Woodcock added.
'Creative risk taking and how to have a curiosity and appetite for new things – these are the skills that enable a graduate to be resilient and adaptable; to be able to communicate and work in teams, and to be inclusive and enjoy cultural diversity – these qualities are really important for the world of work today, and we try to engender them in our students,' said Woodcock.
Real-world learning that makes you work-ready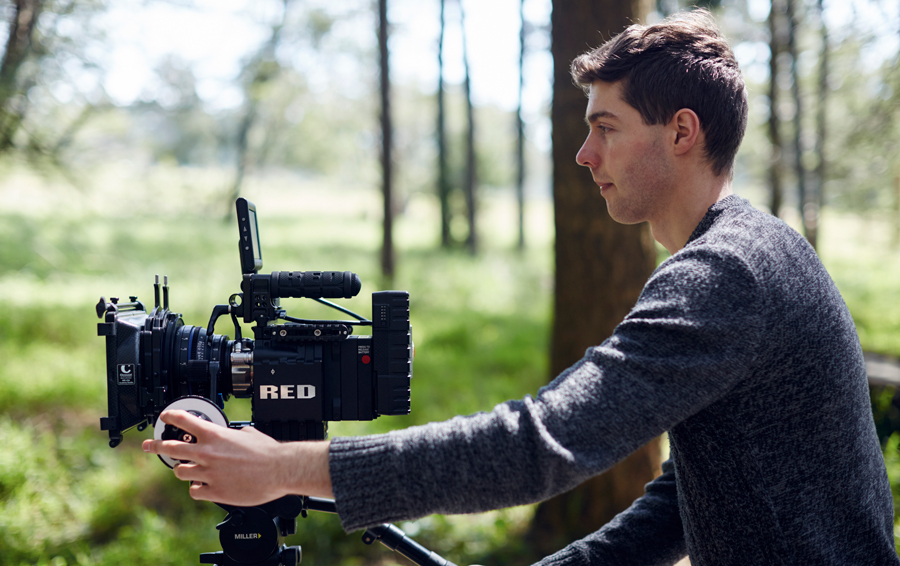 Image courtesy Deakin University.
At Deakin, students are encouraged to stay connected with their future industry through real-world learning and internationally focussed experiences.
That might mean taking a real industry brief and learning how to bring it to life as you master the art of producing and directing for film, television and animation. It might also mean participating in an industry internship programme.
Woodcock explained: 'These give you a taste of what the industry is really like, and network during that time, which is typically 100 hours or more contact time.  We find that particularly in the screen and design area often the first job of our graduates comes out of an internship.'
She continued: 'A great example is the Melbourne International Animation Festival where our students work with the director to curate a festival program. They attend the International Programme screenings and MIAF team discussions, and as part of this internship they produce two 70-minute shot film festival programmes, which are screened in regional centres such as Geelong and Bendigo.'
'Another student worked with the Big Finish Creative studio in Sydney and was invited to participate in their writing room, working on story and character design. While at the time they described it as "terrifying", that student said it taught him what he is capable of,' Woodcock added.
Other real industry examples include the Fox Sports Women's National Basketball League live stream program and the recent ASIFA-Hollywood's 2020 Animation Virtual Showcase. Woodcock explains that the International Animated Film Society is an important advocate for education in animation with an international outreach. 'Deakin students' animations are featured in the Class of 2020 showcase alongside works by students from the California Institute of Arts.'
Learn more about Deakin's film, television and animation courses on the website, or at their August Virtual Open Day.