While the times we live in might still be unpredictable, one thing that's certain is that Parrtjima is fast becoming one of the most important First Nations arts festivals in Australia.
Last year the event, held in Mparntwe (Alice Springs), attracted more than 23,200 attendances, as people flocked to the Central Desert to experience the annual festival of light, music, installations, talks and workshops – an increase from more than 17,000 attendances in 2020. Parrtjima was one of a handful of festivals able to take place in 2021, and the spike in attendance was testament that Australians are keen to engage with the rich culture of the land's First Peoples.
This year, Parrtjima is encouraging visitors to connect with Country once again, but also urging them to raise their gaze to the starry skies above.
Paul Ah Chee is the festival's Director of Cultural Engagement and has worked closely with Parrtjima Curator Rhoda Roberts AO since 2017 to help deliver the event. He says that the theme of Parrtjima 2022, Sky Country, will encourage visitors to discover the enormous desert sky above Arrernte country, to cherish the symbolic values of Arrernte people and how they are connected to the sky.
'Being on Country, and being geographically in the centre of a continent such as Australia, everything feels big; the big skies, and the language, and the songs and stories, and the whole interactive elements that have taken place for thousands of years, but also allow you to connect in a modern sense,' Ah Chee said.
Roberts explained that 'Sky Country' is an important aspect of Aboriginal culture. 'We honour our land, our water, our culture [but] a lot of people haven't heard of Sky Country. Reading the sky helps Aboriginal people understand their place on Country … We thought it would be a really nice introduction to Central Australia and Parrtjima,' she said.
A beacon of hope
Ah Chee noted that visitors to the festival are increasingly staying longer than was previously the case, and that having had a taste of Parrtjima they are also returning more frequently, keen to learn more.
'That is the key to the festival,' he said. 'Parrtjima is starting to get a name – a reputation – as a festival you should go and see. It is an Aboriginal festival, but also a light festival, and for 10 days you can also do other things, like workshops or listen to talks by notable people or have a feed of bush tucker and hear music. It is an all-round experience. It's a beacon of hope.'
While the past few years have forced many of us to readjust our thinking and the ways we do business, the festival's growing popularity has presented its own challenges.
'We have added a lot more components to it – really expanding on what has been done before, and how it can be delivered in a lot more dynamic fashion,' Ah Chee told ArtsHub.
'That has been the challenge for AGB Events [Creative Directors of the event, which is delivered by Northern Territory Major Events Company in consultation with the Parrtjima Festival Reference Group] and us as a collective, to keep on delivering a festival that has collaborative feel with the artists, but also installations that are relevant and current.'
What hasn't changed is the festival's signature – its lightshow on the 300-million-year-old natural canvas of Tjoritja (the MacDonnell Ranges) in Central Australia.
To view the full program for Parrtjima 2022.
Gazing skywards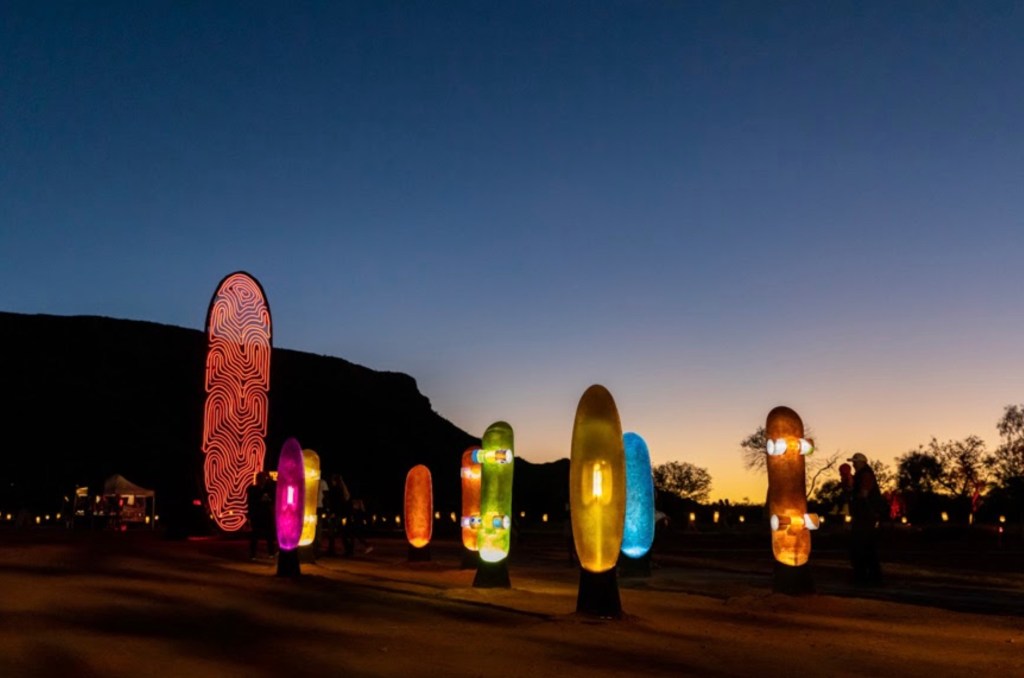 Standing on Country and looking up into the night sky, Ah Chee believes, is one of the best ways to start to understand the enormity of Aboriginal culture.
That spirit that is captured when you stand on Country, and feel that energy, and absorb it, and then make it your own.

Paul Ah Chee, Parrtjima
'People for eons have used the sky as a tool for navigation, for reading the changing of seasons, storytelling and connecting to particular landscapes on earth, and having a better understanding of the universe.
'That is the beauty of it – it's humbling how insignificant I can feel I am in the scheme of things. But that scheme is very inclusive, and we are looking for people to come to Parrtjima to find that inclusiveness and take something away – to find their own connection with the sky and the land, and then take that back to where they come from,' he said.
Ah Chee says this year's festival looks at wind and air and knowledge of aerodynamics, ideas which are reflected in elements of the program, such as a kinetic installation.
'The story of the Whirly Whirly, which traverses the landscape and ends up making a celestial gallery that goes up into the sky; or big Dreaming stories such as the budgerigar dreaming – they spend a fair bit of time in the sky too! – or other works connected with sky stories. As we say, Aboriginal people are the first naturalists, astronomers and scientists.'
He concluded: 'We spend too much time looking down in our lives – at the pavement or our desks. This year is about embracing that whole of idea of taking a pause and looking up.'
Parrtjima 2022 will take place from 8-17 April 2022. Travel packages and program details are now available.