Located on Melbourne's western edge, Wyndham is home to one of Australia's fastest growing Indian communities: more than 10% of residents were born in India, according to the 2016 census, and in total over 27,000 residents declared Indian ancestry.
The Indian diaspora comes with a wealth of artistic skills and experience in both traditional and contemporary disciplines – particularly, in dance.
This week, Dancing Between Two Worlds presents a multi-artform, site-specific journey through downtown Werribee, reframing familiar sites through live performance. The work brings together Indian Australian artists operating across a range of forms, including folk dance, installation art, tabla music, and classical singing.
Curated and directed by Shaun McLeod and Gretel Taylor from Deakin University's School of Communication and Creative Arts, the performance results from a two-year research project facilitating dialogue between Indian dance practices and western contemporary dance.
'Indian dance is incredibly diverse – there are different classical forms, but also many folk forms, and the fluid, hybrid form of so-called Bollywood dance,' McLeod told ArtsHub.
Dancing Between Two Worlds embraces this hybridity and mobility within Indian culture by incorporating elements from different dance forms, while also adding into the mix some of the values of Western contemporary dance and site-specific performance.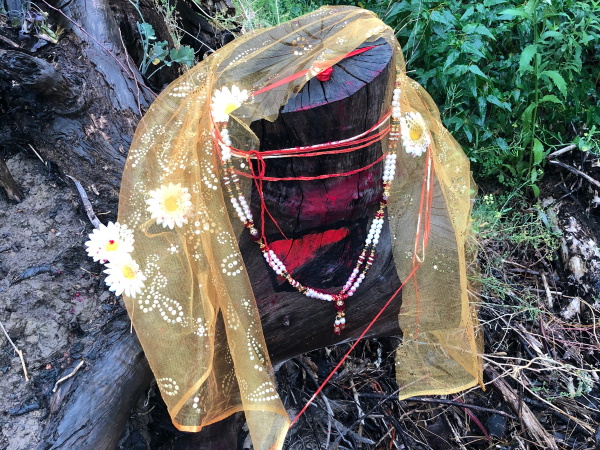 Dancing Between Two Worlds public art installation by artist and Deakin alumna Anindita Banerjee. Photo: Shaun McLeod.
For McLeod, the project has shown him how much time and commitment it takes to produce a true collaboration when different values, training, expectations and processes do not easily merge.
'Contemporary dance is quite a white, middle-class form. It's quite specific about what kinds of vocabulary will be accepted,' he said. 'I had to let down some of my barriers about what can be included in the frame. I've been really enjoying some of the Bollywood dancing – people really relate to the feeling in the form – though it's very counter to the sensibility of Western contemporary dance, which can be much more aloof.'
For many of the Indian Australian participants, creating a site-specific work has also brought challenges. Performing outdoors at sites along Watton St and the Werribee River raises questions of how to pay due respect to tradition when placing work into a new context.
 
Local artists performing as part of Dancing Between Two Worlds. Photo: Gretel Taylor.
In part, the site-specific performance aims to reframe familiar places to highlight the Indian community's positive presence and belonging in Wyndham.
'Places are not just defined by white Anglo kinds of activities and expectations,' said McLeod. 'This is about trying to have people see these places that we're performing in as being defined and marked by people of another cultural background.'
'Places are not just defined by white Anglo kinds of activities and expectations.'
As well as making Indian Australian artistic expression visible to the broader community, Dancing Between Two Worlds also draws the audience down the main street of Werribee, across bushland, and along the river – encouraging the audience to recognise the history of these sites and their First Custodians, the Wathaurang and Boonwurrung peoples.
'It's like the street has been built to turn its back on the river, and I guess we're suggesting, "Let's look two ways, let's look in both directions,"' McLeod explained.
In particular, artist and Deakin PhD candidate Anindita Banerjee's installation in Dancing Between Two Worlds explores being on sacred land, land sacred to Indigenous peoples, and the concept of paying respect. 'The idea that you give credence and credibility to the land, its history, its place in the culture and society, is not foreign [to Indian culture],' McLeod said.
Dancing Between Two Worlds runs from Friday 22 November to Sunday 24 November 2019 in downtown Werribee. Tickets are $10 and bookings are essential.  
If you're looking to chase a creative career, take a look at Deakin's creative arts courses in dance, drama, visual arts and photography. Visit the website for more information.