In the 12 years of the Cairns Indigenous Art Fair (CIAF), this Queensland event has become more than a marketplace: it's a celebration of community, culture, and creativity on Country.
Nestled in the heart of Tropical North Queensland, CIAF 2022 returns in full force with the theme 'Masters of Country: an artistic celebration of Queensland First Peoples' knowledge and resourcefulness of Indigenous plants and trees', developed by Artistic Director Janina Harding.
'Each year the theme acts as a trigger and guide for artists in thinking about how they produce and execute the works,' said Harding.
'Queensland has the most diverse Indigenous species of any state or territory, with 14,000 known [botanical] species. It's not a coincidence that Queensland's First Peoples have an innate connection with Indigenous plants and trees,' she added.
New possibilities from restructuring
Time and space are two major aspects that have changed in this year's iteration of CIAF, creating more possibilities for engagement and the staging of ambitious projects.
Bigger than ever, thanks to its new home at the Cairns Convention Centre, more than 50 booths will feature at the headline Art Market event, held daily from 6-10 July.
'[Being in the Convention Centre] has created more opportunities for us to expand the breadth of artists that we are engaging in,' said Harding. 'We're looking at going outside Tropical North Queensland. For the first time, artists are coming up from all over the place, from the southeast corner and into central Queensland. It will be the biggest [art fair] we've ever had.'
If you're a Queensland First Nations artist/craft person, applications to take part in CIAF Art Market are open until 22 April.
When asked about last year's hybrid model, Harding added: 'We're not going to throw [digital programs] down the gauntlet because COVID might be looking like it's settling down … The best outcome of COVID for us is that we have gone digital. It's made us more digital-ready and we've geared up with equipment and training.'
This year's physical and digital programming will complement each other, where both have strong curatorial frameworks. '[This year] it's more about presenting programs on the platform as a separate thing,' said Harding. 'For example we're looking at making a documentary on the fashion showcase [rather than just a livestream] … It's not going to be the same as what we've been doing in previous years.'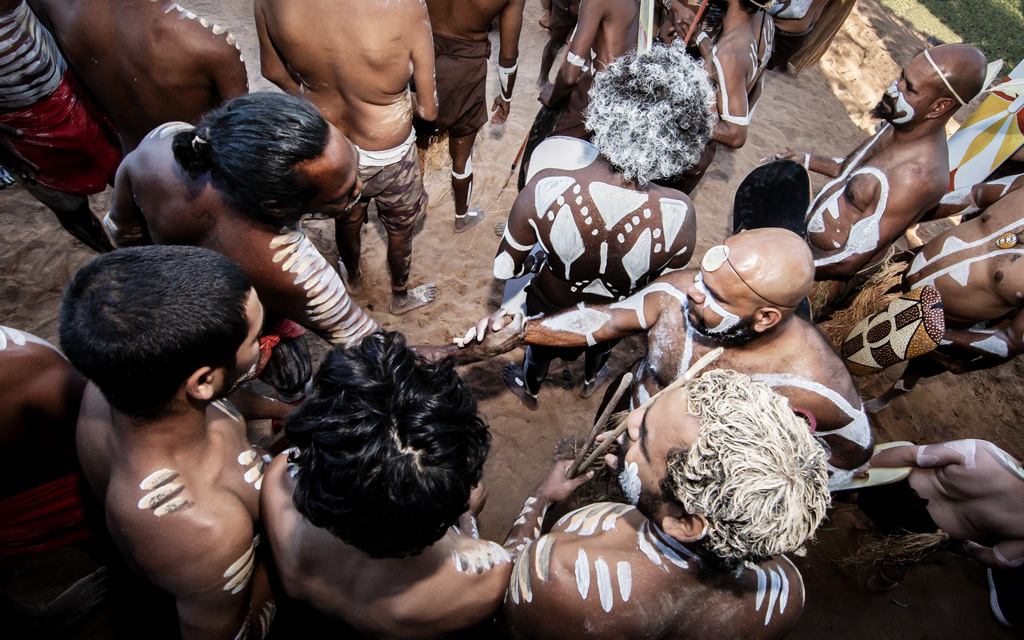 In addition, CIAF 2022 will be open for an extra day and kick off the festivities on Wednesday night, 6 July. The new space has prompted Harding to rethink CIAF, where the venue's availability will allow those participating in the fair to 'to engage more with that longer length of time.'
She continued: 'Often when you go to a festival it can be like you go from one thing to the other, bang, bang, bang, where [the five days] gives people a bit more breathing space.
'The beauty about coming to Cairns is that you actually get a chance to immerse yourself – see artists with the people, with the culture – and have community around you … [People in Queensland] are tired and they want to get out of the lounge room.'
The Collectors and Curators program will also return, inviting sector professionals to participate in a curated itinerary of programs, get to know the artists and the arts centres, and for them to build that network.
Participants will be going to Yarrabah Art Centre to visit the newly-built gallery, and get a preview of the fair and satellite exhibitions before they open to the public.
Curatorial Associate and artist Teho Ropeyarn, who will be leading the program, told ArtsHub: 'Queensland is sort of disconnected in terms of distance to the rest of Australia, so this program allows collectors, buyers and curators across the spectrum to come up and stay for the week.
'They [get to] connect with artists and art centres up here in the north. It might not always be an instant buy but they often follow [the artist's] careers and support them in other opportunities down the track.'
What to look forward to at CIAF 2022
Apart from visitor favourites, such as the CIAF's Fashion Performance and Art Market, the Big Sculpture Showcase is a new $200,000 commissioning initiative supported by the Queensland Government, which is bound to be a showstopper this year.
Eighteen large scale sculptures will be installed in the connecting hallway of the Cairns Convention Centre, set to create an experience of awe and wonder.
Harding said: 'It's going to be like an indoor sculpture park – people can walk around, engage with these works that are all different sizes and presented in different ways. For example, some will be on a plinth, others will be hanging from the ceiling … we've left it open for the artists to choose their approach.'
Ropeyarn added that the inaugural project allows artists to think outside the square a bit more.
'There is a mix of first-time sculpture artists and those who have made sculptural works … While offering artists that technical support, we allowed them to work freely and explore what they want to make for the project,' said Ropeyarn.
Focusing on Country, the utilisation of natural materials and traditional practices flow through these works, such as Rhonda Woolla's flower-feather bouquet Punth-Paam (Feather Flower).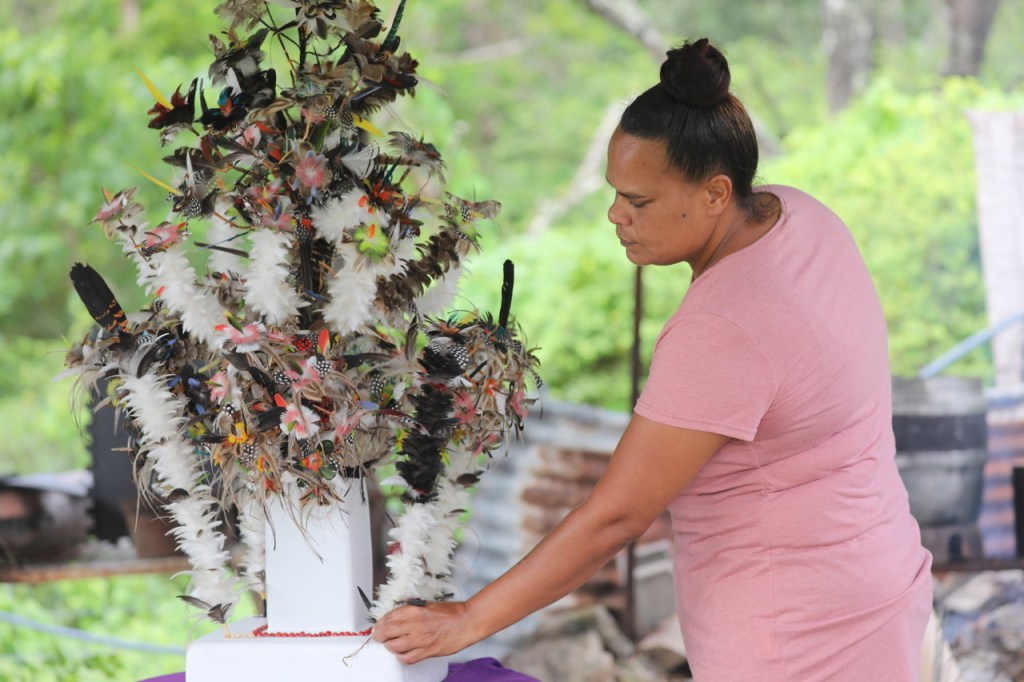 'Woolla has made bouquets that are quite small in the past and with this project she was able to upscale it into an installation,' Ropeyarn explained. 'We also did a callout for feather contributions for the work and they have come from around the country.'
The breadth of project participants capture the diversity of the region, said Ropeyarn, including 25 of Queensland's dynamic artists and art centres, including collective works from Pormpuraaw, Girringun and Aurukun Art Centres.
'[The artists] all have traditional connections to Queensland,' Ropeyarn added. 'You've got David Jones in Brisbane, Shirley Macnamara out west, then there are quite a few local artists from Cairns, Cape York and the Torres Strait.'
Also included will be the work of Zenadth Kes Gordonvale artist Francois Lane, who has created a 2-metre high aluminium work with reclaimed fishing nets, honouring her grandmother's Meriam Dauar ancestral homelands.
In addition, Lane will be curating a highly anticipated retrospective exhibition that brings together photographs, videos and actual garments from past iterations of the CIAF fashion showcase since 2014.
'That's an exciting show this year,' said Harding. 'People are excited just hearing about it because of all the memories of seeing those pieces back then.'
The exhibition will be an opportunity for CIAF regulars and newcomers alike to experience the awe-inspiring pieces first-hand. Alongside satellite events, themed artist talks and vibrant performances, CIAF 2022 is bound to create an unforgettable cultural experience in the heart of Tropical North Queensland.
CIAF 2022 runs from 6-10 July with the full program soon to be announced. Follow the latest updates on the CIAF website.