The Lake Macquarie City Art Gallery closed in April this year, but not because of dwindling support. On the contrary, the popular gallery has used the past months to refurbish, rebrand, and relaunch as a new entity – Museum of Art and Culture Lake Macquarie, or MAC, playing off the colloquial name for Lake Macquarie.
'The gallery's name change is all about engagement, and it's aimed at getting the community to relook at the gallery as something much broader,' said Jacqui Hemsley, Manager Arts, Culture and Tourism.
Located just under two hours from Sydney, and a short hop from the Hunter Valley and Newcastle, Lake Macquarie City Council gets the impact that cultural tourism can have on a community.
Hemsley told ArtsHub: 'We found that 25% of the visitation leading up to the gallery's closure were visitors from outside the region. For us, defining MAC as one of our premier showpieces was a natural progression, but it also acknowledges that the gallery has contributed positively to the economy of region – that is important to this new rebrand.'
The gallery's revision has not happened overnight. It builds on activity in 2015, when the first stage of the gallery's expansion occurred.
Turbo-boosting that vision, in sync with growing community and tourism demands, the latest stage of the gallery's makeover includes an expanded collection storage area, an additional 200sqm of exhibition space, improved audio technical equipment, and expanded decking for the café and function area.
The $2.3 million project has come in on time and within budget, and was launched to the public with a weekend of celebrations on 24-25 November.
'The refit has been very practical in definition,' said Hemsley. 'While it started as a needs-based project, it was always envisaged as a staged roll-out that tapped into the life of the building as it grew.
'Like most regional galleries, they outgrow their spaces. But more interestingly, visitor expectations have changed in that past five years – galleries today are places where people gather, engage, have a coffee and, importantly, stay,' Hemsley said.
Many of the changes have been also been operational.
'Lake Macquarie is often confused with Port Macquarie. Part of the rebrand was to create a stronger identity in a fun way. Using the term Museum in our new identity is also about showing that we have a collection, and that we are creating a legacy for this community,' Hemsley explained.
MAC has also chosen to acknowledge its strong connection to Aboriginal culture and heritage by adapting the name yapang (yah-pung, meaning 'path, journey') to signal an ongoing commitment to Aboriginal programming, now more formally embraced.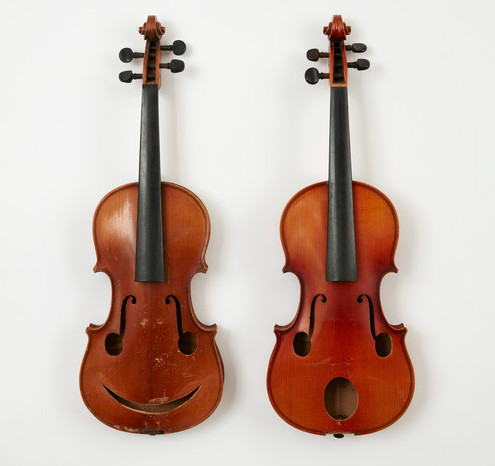 Nell, if you could hear the sound of my violin you would know how I feel (2015). Courtesy of the artist and STATION, Melbourne. © Nell
Understanding the pressure points for grown
While finalising the launch of the new brand and strategic plan, the historic Awaba House, which adjoins MAC and is used for community functions, was razed by fire (August 2019).
'We have had a symbiotic relationship with Awaba House; it was like we lost that arm of us. It forced us to acknowledge its essential part of our visitor experience, so we thought very entrepreneurially about this. We purchased a marquee, got a liquor license, and changed how we engage with families, with a lot more weekend and public programming,' Hemsley said.  
'It's not just about parties; it is about clustering purpose – for people to come, eat and engage – this is the new vision we want MAC to be,' she added.
Visitors will get a first taste of this at the re-opening celebrations, which include exhibitions, artist talks, tours and bespoke markets.
For the first time MAC will unveil its new dedicated, permanent Collection Gallery, which will be a powerful education tool for schools and visitors to the region.  
'We weren't engaging with our schools as best we could, so that has been a really strong focus looking forward,' said Hemsley.
be. (YOUR COLLECTION) be remembered, celebrates MAC's two most significant gifts: the Ruth Spenser Komon Bequest (of the Dobell collection) and the recent Shirley Firkin Bequest (comprising works from the 1960s-70s by artists such as Charles Blackman, Arthur Boyd, Robert Dickerson, Tom Gleghorn and Margaret Olley).
It uses innovative collection-display models to ensure contemporary relevance of the collection, but MAC has also worked with art historian Dr Damian Smith to ensure that questions are asked of the past in light of the future.
This kind of rethinking sits across the whole new MAC brand. The exhibition, us. universal stories champions contemporary art practice and living artists, but also speaks of the human condition and stories of our time.
It includes works by Abdul Abdullah, Abdul-Rahman Abdullah, Lottie Consalvo, Sam Jinks, Richard Lewer with Felicity Law, Angelica Mesiti, Nell, Michal Rovner, Alex Seton, Chiharu Shiota and Christian Thompson.
Completing the "pillars" of this new vision is the exhibition we. wiyelliko, which explores the responses of contemporary Aboriginal artists to their environment, in particular the MAC's home region.
It reminds visitors that listening, watching and conversing with the earth is how Aboriginal people survived and thrived, and is the foundation for all cultural knowledge and customs.
All three exhibitions will remain on show over the summer into 2020.
Hemsley said the MAC rebrand is part of a much bigger rethink of arts and culture in Lake Macquarie, including a multi-arts space to open opposite the Gallery next year. The two buildings will be linked by a shared pathway and sculpture trail.
'We want people to stop at the Lake and for locals to be proud of it,' Hemsley said. 'With a new dynamic audience and site, it is about changing the community's perception of itself.
'It is about knowing where the art galleries are for me; to know where live music is for me. You don't have to go to Sydney to see a show and stay the night.
'MAC takes on that role, and wants to really push forward to rich local cultural experience,' Hemsley concluded.