Young readers are no longer just interested in age-appropriate fiction. They're also keen to have – and be part of – tough conversations around death, love, divorce, the environment and their identities.
'Children's literature continues to tackle the big issues confronting young people today,' said Senior Lecturer in Writing and Literature at Deakin University, Dr Paul Venzo.
Deakin is committed to reflecting this in their curriculum.
'Deakin offers the only children's literature major at an undergraduate level in Australia – in the Southern Hemisphere. This is something that Deakin does that is quite unique and we have an incredible team of experts working in this area – and that reputation attracts fantastic students,' Venzo told ArtsHub.
Children's literature has come a long way since 18th and 19th century stories about the lives of the saints, designed 'to inculcate in children the idea to be well behaved,' Venzo said.
'The important shift for Western reading audiences came in the mid 20th century, when children's literature began to take a more holistic approach, allowing the child to express themselves and be a bit more "free range" in their emotions.
'In our courses, we talk to students about the history of children's literature, to understand the strategies used when writing on these topics, and how to deal with issues that traditionally might have been viewed as controversial or taboo', he explained.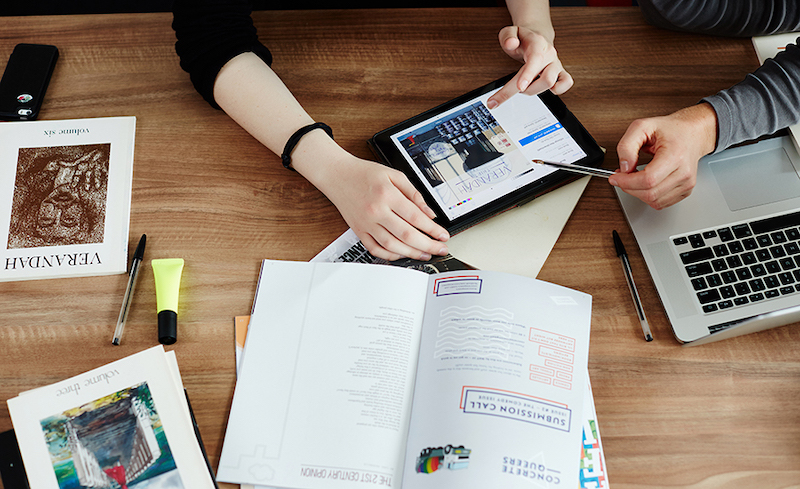 Students working on Deakin's Verandah Journal showcasing the best work of emerging writers and artists. Image supplied.
Staying ahead of shifting tastes and social mores
Venzo said that Deakin's staff are 'making sure that our students are really well equipped to invest in those areas of interest to them, and to think about how they might engage big ideas.'
He continued: 'We see people really pushing the envelope and taking up in real time the issues of the day. We only need to think of the picture books about COVID-19 that came out at same time as awareness of the global pandemic was still relatively new – there was very little lag at all.'
Deakin's lecturers also encourage their students to think carefully about their own place in the world and how that might be reflected in their fiction.
'One of the things we try and engage in is thinking about the mindfulness required when we write, and how important it is for our students to write and reflect on their own intersectionality,' said Venzo.
'One text we use at Deakin is the Dr Seuss book The Lorax, one of the early environmental texts that emerged in the early 1970s. While it is not a "perfect" text in terms of talking about climate change or consumerism, it is a great example of bringing those ideas together.'
Venzo brings his own experience bringing complex ideas to young adults, offering knowledge to pass down to students. He is currently working with a Deakin marine scientist, Dr Prue Francis, to create a non-fiction picture book on the Great Southern Reef. 'It is important to get that balance between telling a great story and getting the facts right, and what it means to work with editors, a publisher and an illustrator. As a writer you might have a strong idea of what you want to say, but you have to work with a team to ensure it is accessible and the language is right. These are invaluable lessons for our students'.
Venzo said his research with Deakin colleagues also demonstrated a growth in LGBTIQ+ voices.
'We are now seeing much greater diversity in the writing picked up by publishers,' he explained.
'What we now term Queer Young Adult Literature may include stories of young protagonists whose sexuality is just part of the overall frameworks and not always central to the story itself. Young adult trans memoir is an interesting new genre, in which young trans people self-represent and tell their own stories.
Venzo said a great example was the book, Meet Me at the Intersection, released a few years ago and used as a teaching text at Deakin. An anthology of writing by Australian authors, it is aimed at young adult readers and features stories about intersectionality, race, gender, disability and sexuality.
'It is heartening when thinking about creating safe spaces. It's so important that those voices are heard,' Venzo told ArtsHub.
He believes we are heading in the right direction when it comes to increasing representation of diverse voices, but added that there is still work to be done in nurturing literature that is reflective of contemporary society.
'I am always delighted by the great diversity of ideas our students bring and their willingness to engage with complex ideas and topics, and that bodes well for the future,' Venzo said.
'In terms of the publishing industry and what we call "rainbow family picture books," it is a benefit to everybody to know where the gaps are. We can do some work with our students to bridge those gaps, but publishers also need to pick up on stories called for by the marketplace.'
Lean more about Deakin's writing and literature courses.