No one would argue that the past year has been easy for museums and galleries, either operationally or financially.
In many ways, we have been forced to do more with less; to reinvent ourselves in a digital golden age, to juggle staff and volunteers with closed doors, and to persistently sell the value of arts and culture when our communities need connection most.
'We knew immediately that the IMAGinE awards needed to recognise the hardships that museums and galleries were facing this year and decided to reconfigure them to highlight the resilience and innovation that was being demonstrated in dealing with these many challenges,' said Michael Rolfe, CEO, Museums & Galleries of NSW. 
The IMAGinE awards are unique in that they take stock of the past year's highlights – from exhibitions to professional achievements – across NSW's small to medium gallery and museum sector as well as the larger cultural institutions.  More importantly, these are the awards that recognise the people who work in the sector, and the contributions they make.
'IMAGinE celebrates all institutions and pays homage to those organisations run by volunteers, with limited budgets and minimal resources.'
Michael Rolfe, M&GNSW
M&GNSW are currently calling for nominations, which close 31 August. This year the fee for nominations has been removed and, in a first, cash prizes will also be awarded for prospective projects.
Rolfe told ArtsHub: 'We decided to totally rethink the awards this year and redirect the budget, to give back to the museums and galleries in the state who have suffered significantly recently.'
'The nominations that organisations are submitting are perfect examples of the value of arts and culture especially during the pandemic and we are excited by the level of excellence and engagement these projects demonstrate,' he said.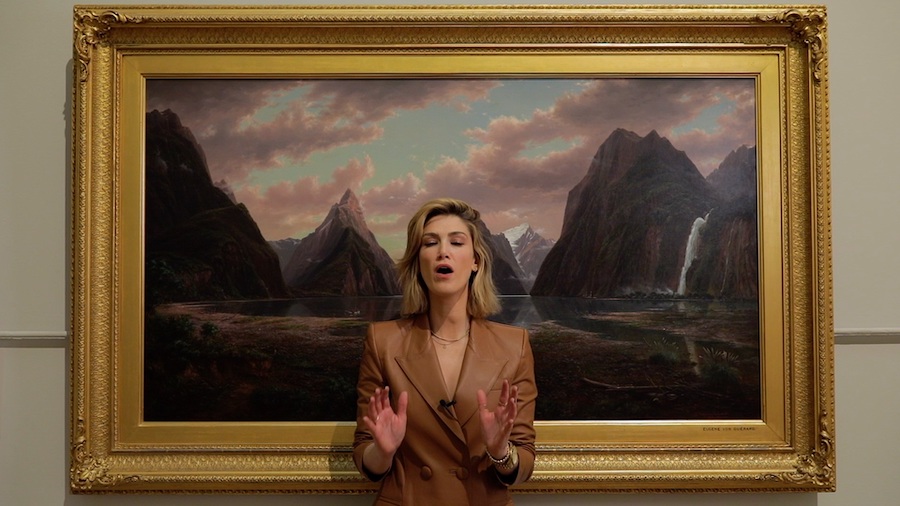 Still from Together In Art Performance by Delta Goodrem in the Art Gallery of NSW Grand Courts, 2020. Photo: Matt McGuigan/Hospital Hill courtesy of AGNSW.
Imagination as the foundation to celebrating success
An initiative of M&G NSW, the Awards this year have responded by redesigning their parameters, focussing and celebrating resilience, innovation and creativity of galleries and museums in the face of hardship.
The Imagination award, a new category for this year, is searching for innovative concepts which use a museum or gallery in new ways, or projects that appear in unexpected spaces, or in landmark sites, reimagined ideas which will involve and inspire local communities, utilise technology to counteract physical isolation or connect with new audiences.
This new award category also comes with a $3,000 cash grant to help make the winning ideas a reality.
As well there is the Innovation & Resilience award category, which recognises the outstanding efforts of museums and galleries during hardship and celebrates excellence and innovation in exhibition practice, resilience building projects and engagement programs.
Rolf explained: 'M&G NSW's own research shows that many organisations have suffered significant financial losses and have been forced to cut exhibitions programs as well as a loss of staff and volunteers as a result of the COVID pandemic following a devastating bushfire season that also affected many of our regional communities.
'The IMAGinE awards provide a unique opportunity to acknowledge and celebrate the extraordinary work that occurred across the sector, whether it was new initiatives or part of planned and ongoing schedules, despite the hardships of the past year.'
These awards offer a unique opportunity for museums and galleries in NSW to advocate, promote their achievements and raise their profile within the sector and the broader community.
Rolfe continued: 'We're aware that there have been some incredible initiatives across the state by organisations going above and beyond to deliver their programs, connect with audiences and communities, and to ensure the sustainability of the sector so we are really looking forward to seeing the submissions.
'We encourage everyone to submit a proposal for the Imagination category. It's free to enter and it's not about how polished the submission is; it's about the quality of the ideas. Hardship can inspire great ideas and we can't wait to hear what people come up with,' Rolfe said.
Nominations close 31 August 2020. Find out how your organisation can be part of this year's IMAGinE awards.