It just so happens that the first Floating Land biennale Noosa Regional Gallery Director, Michael Brennan attended was also the one he was tasked with curating.
Brennan moved to regional Queensland in 2018. Previously the Artistic Director of La Trobe University's Museum of Art and a founding director of Melbourne's Trocadero Art Space,'within four weeks of being offered the position [at Noosa], we were Queenslanders,' he tells ArtsHub.
Floating Land is Noosa's cornerstone art-in-the-environment event, launched in 2001 by then Noosa Regional Gallery Director, Kevin Wilson. This year, it will be presented in extended format from 24 June to 30 July to make the most out of the region's fine weather and school holiday season.
For this third iteration under Brennan's direction, the event has matured in terms of a dynamic artist line-up and programming, but 'something that kept resonating with me is that Floating Land is about placing artworks temporarily in the environment, without leaving a physical trace at the conclusion of the event,' he says.
'I started thinking about the projects that we put together as being collaborations between artists and environments, and I really wanted the works to speak to the place in a site-specific way – they couldn't just appear anywhere,' Brennan continues.
One example this year is Hoda Afshar's large-scale photographs of detained, stateless men on Manus Island, Papua New Guinea, set against the Noosa River with its row of luxury mansions. It speaks volumes to the core of the 2023 Floating Land theme, 'Us and Them'.
Another project is by local artist Kim Guthrie, who took notice of a camping site in Noosa where many homeless people found makeshift shelter. Guthrie's photography documented the closure of the site and the impact it had on people, speaking to both the region's natural and social landscapes.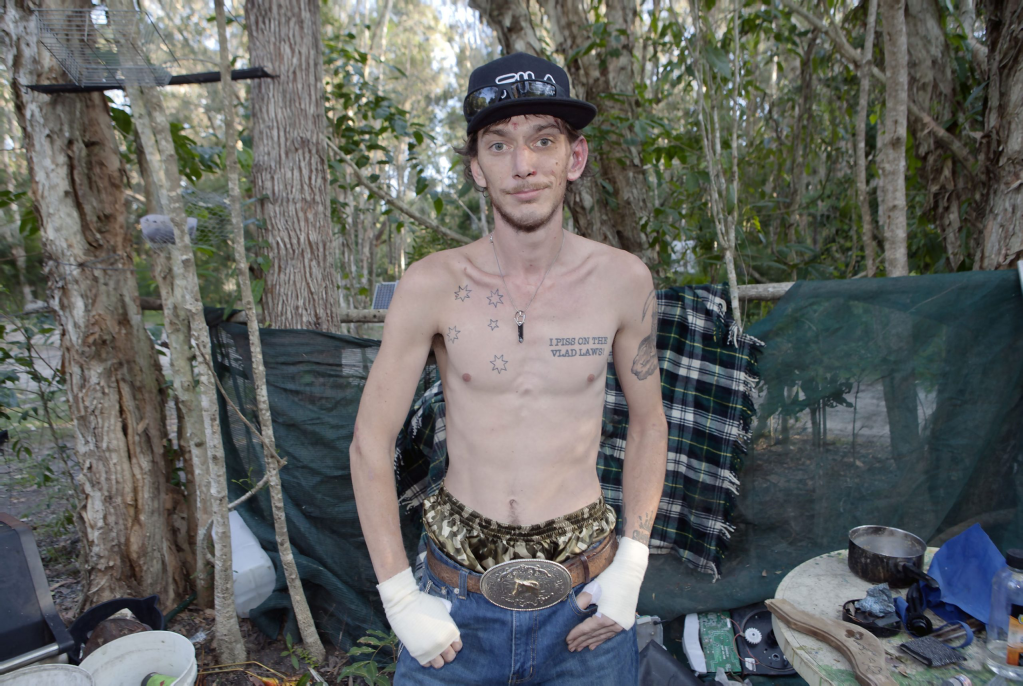 These stories and narratives may seem starkly different from one another but, Brennan says, 'What Floating Land does really well is that individual projects have their own thing going on, but the conversations that open up between projects are just as interesting and you start to see major themes emerge.
'I really started to see this notion of the "other" and these frictions in society that have been amplified over the years… These battles of self-interest can be the impetus for mistreatment of the environment as well.'
Brennan continues: 'I hope this project causes some discomfort. But when you move past that gut reaction to the work, I hope it opens up the space to step into someone else's shoes and see their perspective – to find a common ground across different parts of the community.'
The free, Noosa-wide public event will also present a broad series of programming, including artist talks and a Floating Land debate at the opening event. Two teams of artists and arts workers will go head-to-head on whether identity drives us further apart, or brings us closer together. Participants include Louise Martin-Chew, Fiona Foley and Jordyn Burnett, against Deborah Kelly, Van Thanh Rudd and Amy Sargeant.
Local tour operator, Joel's Journeys will also offer a curated trail throughout the five-week event for ease of access across several Floating Land installation sites, with short stops for bites along the way.
Floating Land was a joint winner at the 2022 Gallery and Museum Achievement Awards (GAMAA), and ArtsHub asks Brennan why he thinks the event is so successful. 'One of the things that I'm becoming more enthusiastic about embracing is the unexpected of Floating Land. People can never quite pin down what it is and what it's going to be.'
Floating Land: Us and Them runs from 24 June to 30 July across sites in Noosa, Queensland; free.