A new series of videos will take audiences behind the scenes of the Library's Treasures Gallery, showcasing a selection of artefacts originating from the early history of Australia and the Pacific to more recent events.
Library Curator, Susannah Helman, told ArtsHub: 'We are very lucky at the National Library because a lot of our collection has been digitised and we have already produced a significant selection of online content, well before Coronavirus. That means we have a wonderful archive to draw on, as well as new video content we are releasing.'
The Treasures Gallery is home to such curiosities and historical gems as swimmer Fanny Durack's gold medal from the Stockholm Olympics of 1912, poet Henry Lawson's fob watch, the landmark papers of Edward Koiki Mabo, rare maps, manuscripts, watercolours and books.
One of the videos reveals a silver-plated model of the Snowy Mountains Hydro-Electric Scheme presented to then Governor-General Sir William McKell in 1949.
'What is really great about that model is that it lights up! The original model has electric lights that mark lakes and power stations. As it's not safe to run the 1949 electrics on display, some clever colleagues found a way to mimic them using conservation-friendly LED lights and a sensor. The Library has a large collection of material relating to the Snowy Mountains Hydro-Electric Scheme, including Oral Histories, so those interested in learning more should visit our online catalogue,' said Helman.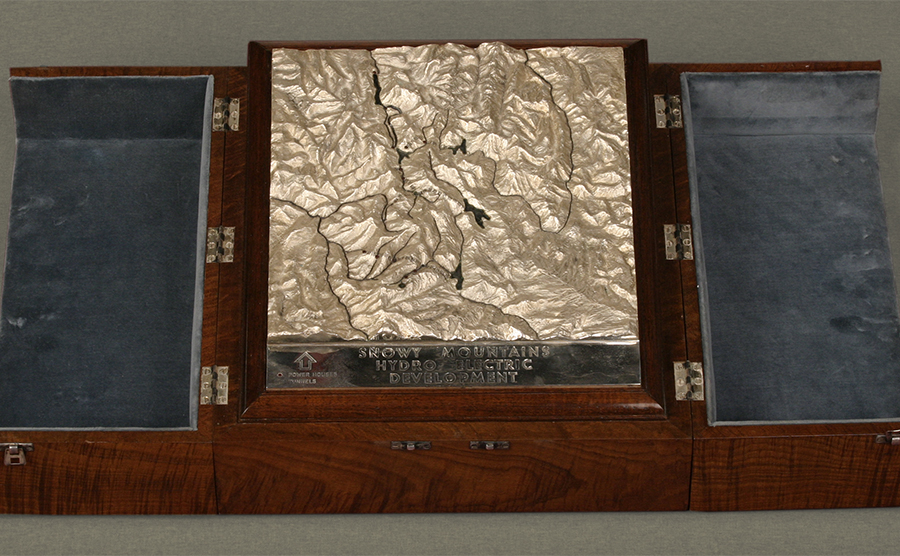 Snowy Mountains Hydro-Electric Authority, Model of Snowy Mountains Hydro-Electric Development, 1949, nla.cat-vn200120 Image supplied.
Helman is hosting this new suite of videos, offering not only her insights and deep knowledge, but also those intimate anecdotes that bring the objects' stories to life.
People by nature are curious, Helman said. 'I think there is something special about getting a personal tour inside the workings of something. At least I really enjoy it, especially when I'm travelling. There are many wonderful stories in the Library's Collections, and we draw on those with our Treasures Gallery displays. Often they are things visitors are not expecting – the library is not all books!'
While the new videos have been recorded since the Library's temporary closure, the online catalogue can be accessed anytime by anyone, and is part of their vision as a national institution.
Library Curator, Susannah Helman, will take viewers behind-the-scenes of the current season's iteration of the National Library of Australia's Treasures Gallery in this series. YouTube.
Among some of the objects highlighted in this video series are five watercolours by the English artist Sarah Stone (pictured top), who painted Australian birds from specimens that were sent back by the First Fleet.
'They have never been displayed before in the Treasures Gallery, but through this virtual tour we can look at them,' Helman explained.
Treasures Gallery display of five watercolours by English artist Sarah Stone, c. 1790, National Library of Australia
'We have a journal by First Fleet surgeon Arthur Bowes Smyth, who was on the Lady Penrhyn. Recently, I've had to choose another page to display, and it got me reading a transcription and our manuscript and asking, "how does the page I'm selecting relate to the whole manuscript?" I realised he only had a short time in Australia, and much of the journal is about the voyage coming out and going back via Tahiti and China–it's really interesting.'
Helman noted that you can 'flip' through the journal online, and also compare it with other versions held at the British Library and the State Library of NSW, while pondering how Bowes Smyth both censored himself at some points and elaborated on details at other moments.
Thirteen objects feature in the video series, which Helman described as having 'a randomness about them'.
'It's not a traditional tour, but snippets of what is on display – sometimes a single object and at other times a bay of objects,' she told ArtsHub.
'Over the years I have given many tours to people, but it is a little different this time talking to a cameraman,' Helman admitted.
'The thing you always have in mind, is "how would I like a tour to be?" You can't assume that people don't have any background in history or on these objects, but also you need to place the objects into some kind of context and keep it fun and interesting.'
While Helman admits that nothing beats seeing the real thing, 'there is something to be said about the different angles that online viewing offers. You have more time to really absorb these objects.'
She added that it is easy for people to also curate their own journey through the Library's resources. 'Our focus is to make the Library's collections as accessible as possible, and we are still open online,' Helman said.
'Creating engaging digital content is a huge part of our normal activity, and we have an existing online following so are building on something already very popular.'
Helman made the point that objects from the Library's Collection tell us so much about our past, but also our future. Even now the National Library of Australia is collecting material to document this current chapter of history.
'Our Curators always have an eye out to collect what will be important tomorrow. We are collecting all the time – not only physical objects but oral histories as well.'  Visit the National Library of Australia to learn more.
The Library warmly thanks their Treasures Gallery supporters. Their generosity has made it possible to bring these treasures to life for the whole community.
The National Library of Australia is tasked with the collection, documentation and preservation of items of national significance, as well as significant non-Australian materials. Since many such items have been digitised, pivoting its programming in response to COVID-19 has been a natural progression.