British artist Bruce Munro says that Darwin has changed significantly since his first visit in 1992. Munro is set to transform the Top End city with an ambitious project of eight, large-scale illuminated sculptures, his first city-wide exhibition to be staged in Australia.
'It's not just about installing disparate light ideas and installations,' Munro said. 'All of this exhibition is about Darwin, connecting different parts of the city and the community.'
'I'm asking a lot I know, but I've learned over the years, let the artwork do its thing and it should bring people together. Become part of the art and the art becomes part of you,' he said.
Northern Territory Major Events Company Director of Arts and Culture, Kathy Burns, told ArtsHub: 'Community engagement is the most exciting and rewarding part of developing projects… [It] gives an event its heart, its strength, its diversity and its uniqueness. This exhibition is calling for people to "Follow the light" to Darwin and as a community, the more people that are on board, the greater the experience we can offer.'
Since opening at Uluru in 2016, Munro's installation Field of Light has attracted more than 450,000 visitors to the Red Centre, leveraging global awareness, while his project Avenue of Honour in Albany used light to honour those fallen in the Great War.
Bruce Munro: Tropical Light will be his third major project in Australia, and opens 1 November across Darwin's CBD and Waterfront precinct.
A 2.5km self-guided walking trail connects each illuminated sculpture, and includes artworks from five local Territory artists. There is also a free audio tour app available for download, giving listeners an insight into the inspiration behind the world-first exhibition. The app features recordings from Munro, local artists and local Larrakia people, whose lands the illuminated sculptures and artworks are displayed on.
Munro has been working on the project for over a year. He said that he approached Darwin like it was 'a canvas'.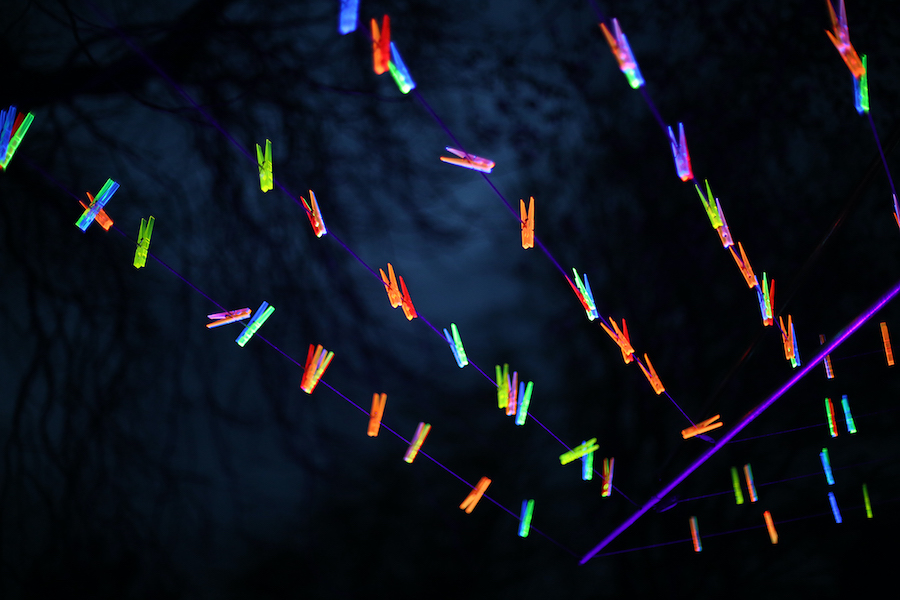 Bruce Munro, Gathering of the Clans (2019). Photo Mark Pickthall; copyright 2019 Bruce Munro Ltd.
'People will see sculptures in a different way in different locations along the exhibition pathway but there is something much more interesting about creating pieces of work that are mostly inspired by the area they inhabit,' he explained.
He described the light sculpture, Telegraph Rose as 'very much a Territorian piece'. Located at Bennett Park, it's comprised of 700 vertical fishing rods laid out in the form of the Sturt Desert Rose, the Northern Territory's floral emblem. A sound recording of the first international Morse code message accompanies the artwork.
For Light Shower, 3,000 lights are suspended at Wave Lagoon Canopies on Darwin's Waterfront in a celebration of the wet season, while Munro describes his Green Flash sculpture as harking 'back to fond memories of first seeing the sun sink into the sea in Darwin and trying to capture the elusive green flash on my camera.'
It is a monumental geodesic sphere from which empty PET bottles are illuminated by a single fibre optic cable.
Bruce Munro, Green Flash; Copyright: 2019 Bruce Munro Ltd
The installation Water Towers (pictured top), made from stacked water bottles, creates a walkway of 30 towers whose colours fluctuate and change. Inspired by Lyall Watson's book, Gifts of Unknown Things, about a young synesthete who sees sound in colour, Munro uses the ability of light to communicate a unique Darwin narrative.
'I've been lucky enough to witness and truly absorb its natural beauty, unique wildlife, welcoming locals and glorious sunsets. All of these incredible experiences both captivated and inspired me to create this exhibition,' he told ArtsHub.
Munro knows the Australian landscape well, having first travelled here in the mid-1980s, eventually becoming a citizen in 1990. A student at Bristol Polytechnic (now the University of the West of England) in Fine Art, he focussed on painting. He was inspired by Australia's light and landscape to embark on a career of lighting and design.
Munro has worked closely with the Northern Territory Government's Turbocharging Tourism initiative to use art to connect people and place.
'I wish more people did this because it's all very well saying, "Oh, come and do a light sculpture and plonk it in my city," but if that sculpture or collection doesn't bear any relation to the area that it's in I don't see the relevance,' he said.
Minister for Tourism, Sport and Culture, Lauren Moss added: 'We had a firm vision about wanting more people to experience the Top End during the traditionally quieter wet season. This is also the time when the Top End comes alive – it's lush, vibrant, moody, and surprising. Bruce has worked with local artists to tell this story, as he has a long-standing relationship with the Territory and this world-first city-wide light exhibition will be sure to draw a crowd.'
Bruce Munro: Tropical Light is a free outdoor art exhibition in Darwin, running from 1 November 2019 to 30 April 2020. It will be presented daily from 7pm and 10.30pm.
A map of the sculpture walk and an audio tour of the exhibition can be downloaded from www.tropicallight.com.au